2013 Fantasy Football Daily Fix, December 4 – Week 14 – Tight Ends and Kickers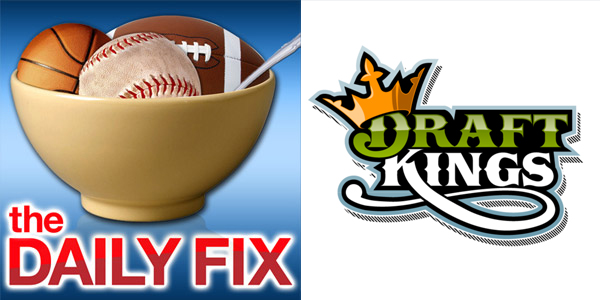 I'm back with the Week 14 DraftKings recommendations for Tight Ends and Kickers. First, a note about a great DraftKings offer. New depositors will get a free ticket into a Millionaire Grand Final qualifier.  So you can get a free game with any deposit you make.  What are you waiting for?
News and Notes
Teams on bye for Week 14: None.
Thursday game: Houston Texans at Jacksonville Jaguars – this is not exactly a marquee matchup, but I'm sure people will watch because what else are you going to do on Thursday night? We lose Garrett Graham (if the Thursday games aren't part of your plays this week) who makes a good.
Aaron Rodgers is practicing, but looks like he has less than a 50% chance of playing this week. Matt Flynn is again taking the first team reps so if you have Jordy Nelson, you may need to sit him as Flynn's noodle arm can't get the ball deep.
Le'Veon Bell now may be able to play after his scary concussion on Thursday night. It would be quite a turnaround for Bell and the Steelers as they have a soft matchup against the Dolphins this week.
Stevan Ridley may be done as a lead RB? Wow…those in dynasty leagues take note and for the rest of the season Shane Vereen is likely the only RB that you can count on in the Patriots backfield.
Sean Lee looks to be back for the Cowboys this week which can only help their struggling defense, especially against the run.
DraftKings Tight End Recommendations
If you've never played on DraftKings before, you can get a deposit bonus by signing up. And there are different options to pick from at DraftKings for any skill level.
Did you know that you can qualify for a million dollar top prize starting with just a $2 investment? It's all right here at the DraftKings Millionaire Grand Final. Wait. Did I already mention that?
Finally, a gentle reminder on the scoring for Tight Ends – this is a PPR site so remember that when selecting players.
10 Receiving Yards = +1PT (+0.1PT per yard is awarded)
Reception = +1PT
Receiving TD = +6PTs
100+ Yard Receiving Game = +3PTs
Fumble Lost = -1PT
2 Point Conversion (Pass, Run, or Catch) = +2PTs
The full DraftKings scoring system is here.
Tight Ends can also be used in the flex position at DraftKings. However, with the entire world of RBs and WRs at your disposal, it would be unlikely you'd have to head to the TEs to pick up a flex play. Jimmy Graham is always in play as a flex option.
Let's take a look at a couple of options at each price point. I'll mention Football Outsiders a lot – the passes per game and yards per game stats I use are from Football Outsiders. Here is the link to Football Outsiders' 2012 stats. FO has updated their stats for 2013 and you can find them here.
The Graham Tier
Jimmy Graham faces the Carolina Panthers in the friendly confines of New Orleans. The Saints are likely still licking their wounds from the debacle in Seattle.  Graham is the second most expensive TE ($7,700) on the market this week, but it's not clear why as he certainly didn't do much last week and the Panthers are tough on TEs. You can do better this week than taking Graham…
The Jeffersons
Rob Gronkowski | Patriots | $8,000 – That's a big salary for a TE, but Gronkowksi is likely to be worth it this week as he gets a Cleveland Browns defense that was strafed by the mighty Jacksonville Jaguars. He's had 16 or more points in each of his last four games. He's  a sure thing to feast on the Browns this week and will be in play for many of my rosters this week.
Jason Witten | Cowboys | $5,300 – If you want to go on the low end of luxury, then think Witten. He's alternated great and poor performances over the last four weeks so if that pattern persists his due for a near 20 point outburst. Now, that's not analysis. However, Witten does have a good matchup against the Bears and their still-depleted LB corps. He should approach 15 points as his floor for this week.
All in the Family
Delanie Walker | Titans | $4,500 – This is a wait and see play as Walker left last week's game with a concussion. If he's deemed healthy, I think Walker will end up on some of my teams. In the three weeks prior to his short week last week, he averaged nine targets and scored 15+ points in two of those three matchups. He gets a superior matchup against the Broncos (third worst in the league versus TEs) and the Titans should need to throw much of the day.
Good Times
Ladarius Green | Chargers | $4,000 – Green picked up his third double digit scoring game last week. He played on 61 of 67 snaps this week and looks like he's a full timer. The Giants have been pretty friendly to TEs and the Chargers clearly see the value of two TE sets (especially with Eddie Royal on the shelf).
Jared Cook | Rams | $3,800 – Cook is our "who is playing Arizona this week" play. Cook exploded onto the scene in Week 1, but has been in witness protection for much of the time since then. However, Kellen Clemens has found him useful as he's picked up double digit point games in two of his last four. He needs a TD to be valuable this week and the Cardinals are giving up over a TD per game to TEs.
Heath Miller | Steelers | $3,800 – If you don't like either of those options, then Heath Miller is also a solid choice. He's got nine or more points in each of his last three games and faces a Dolphins' team that has given up double digit point totals to TEs in two of their last three games.
From Way Downtown
Levine Toilolo | Falcons| $3,000 – Toilolo is back on this list again and he's a deep play only. The Falcons have said they'd like to get him more game action. And they clearly have nothing to play for but next season. Toilolo is the future at the TE position for the Falcons as Tony Gonzalez won't return next season. If you need the salary flexibility, Toilolo could score a TD with a ceiling of maybe 10 points.
DraftKings Kicker Recommendations
Your weekly update on this guy is that he's still not on a roster. Sadly.
A reminder of the DraftKings scoring is below.
There are distance-based bonuses for kickers and no penalties for misses so you can take on risk without penalty.
Extra Point = +1PT
Field Goal 0-39 Yards = +3 PTs
Field Goal 40-49 Yards = +4PTs
Field Goal 50+ Yards = +5PTs
We have the same spread as last week as the most expensive kickers are at $4,000 and the bottom sits at $3,000. A few hundred dollars may not sound like a lot, but every bit counts when assembling your roster. Again, I can't suggest paying too much for a kicker so we'll look at the options further down the line.
Mason Crosby | Packers | $3,100 – Yes, the Packers are bad without Aaron Rodgers. Yes, the Falcons are bad…period. The Falcons are the worst defense against kickers and Crosby has been solid if unspectacular over his last four weeks. He'll likely be the kicker on my teams this week
If you'd rather go the expensive route, Stephen Gostkowski ($4,000) has a fine matchup with the Browns and has nine or more points in each of his last seven games. Alex Henery ($3,000) also makes a nice inexpensive option in a friendly matchup with the Lions.