2014 Fantasy Baseball Daily Fix: April 24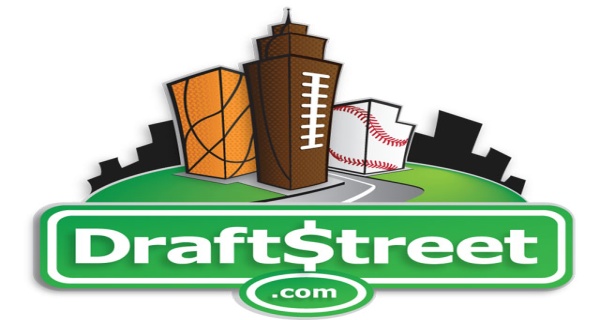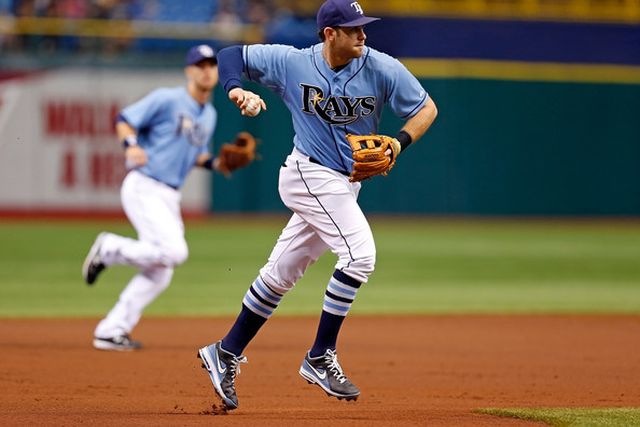 Welcome back to the Daily Fix here at the Fantasy Fix. And welcome to DraftStreet. For those who aren't yet Daily Fantasy baseball players at DraftStreet head over there via this link and join. You can pick up a 100% deposit bonus up to $200 on your first deposit.
I've got some early players in my list so check lineups as there may be a bunch of guys sitting out these early games for some early season rest.
Follow me on Twitter with any changes as lineups roll in.
Draft Street gives you $100,000 to draft a starting nine along with a utility player and three pitchers. DraftStreet features the following scoring settings for its daily fantasy baseball games: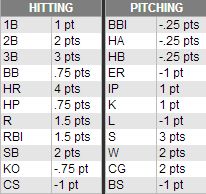 DraftStreet Team of the Day
I'm going to put a roster together with three starting pitchers again as there are some cheap offensive players with great matchups.
Lance Lynn | RHP | Cardinals | – $19,035 – Lynn faces the Mets who are in the bottom ten in K% versus righty pitching (22.8%) and second to last in wOBA (.274). Lynn has a great opportunity for double digit scoring today. Jordan Zimmerman | RHP | Nationals | $17,410 – Zimm gets to face a poor hitting Pads team that ranks seventh worst in K% (23.5%) and near the bottom for wOBA of .287 (fourth worst).
Drew Hutchison | RHP | Blue Jays | $9,715 – Hutch faced the O's earlier this month and came away with 9.5 points on DraftStreet. He's got three starts of nine points or more in his four appearances thus far this season and for this price you can't pass him up.
Alternatives: Edwin Jackson ($11,934) hasn't been great, but the Diamondbacks have been a tire fire this year and now Mark Trumbo is out for a while.  
As for relievers, you shouldn't need to speculate on relief pitchers today. There is enough value in the hitting realm to allow you to pick up three starting pitchers.
Welington Castillo | C | Cubs | $5,813 – Castillo has been very good against right handers this week and gets Mike Bolsinger who was obliterated in his first start of the season.
Alternatives: David Ross ($4,808) is a lefty masher and C.C. Sabathia enters the fray (hopefully without any visible pine tar). Ross isn't the starter, but he could see the start versus a lefty. Also, there are a good number of day games after night games so you may be able to go very cheap on catchers as we could see some backups get some run.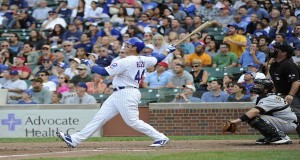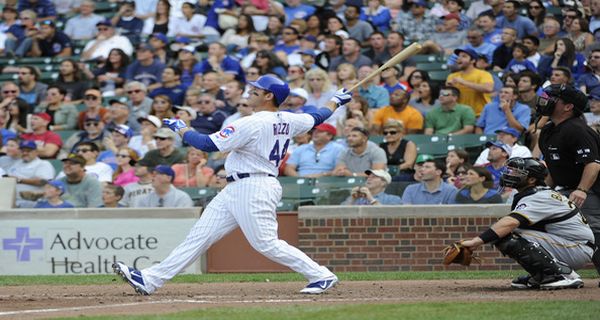 Anthony Rizzo | 1B | Cubs | $7,685 – No, I'm not just going to name the starting lineup for your Chicago Cubs. But, the match up is great and Rizzo has a .423 wOBA through the early season versus righties (career .347) I'd assume it would be much higher if he faced Mike Bolsinger regularly.
Alternative: The Astros' Chris Carter ($2,500) is the cheapest hitter. He's got HRs in back to back games and his salary allows you to do a lot of other things in your lineup. The Pirates' Gaby Sanchez ($5,147) should get the start against lefty Tony Cingrani and he mashes lefties.
Danny Espinosa | 2B | Nationals | $4,208 – Espinosa is getting regular playing time with Ryan Zimmerman out. He's not a world beater, but he's been solid and is batting near the top of the order against lefties (career .789 OPS against). He gets left hander Eric Stults and at this price is a steal.
Alternative: If you want to pay for a second baseman, take a look at Brian Dozier ($7,206) has been on fire so far. His career numbers against lefties are fantastic (.862 OPS), but hasn't shown it yet this year. Perhaps he's due against Eric Bedard.
Evan Longoria | 3B | Rays | $7,192– Longo gets to face Ricky Nolasco who likes to give up bombs. Longoria has been heating up lately and the matchup is in his favor.
Alternative: Mike Moustakas ($5,667) has HRs in back to back games and is likely working out of his early season funk.
Xander Bogaerts | SS | Red Sox | $5,187 – Bogaerts salary has risen as he's warmed up. However, he's still pretty cheap relative to other alternatives and gets a lefty on the mound.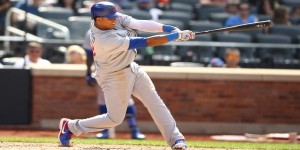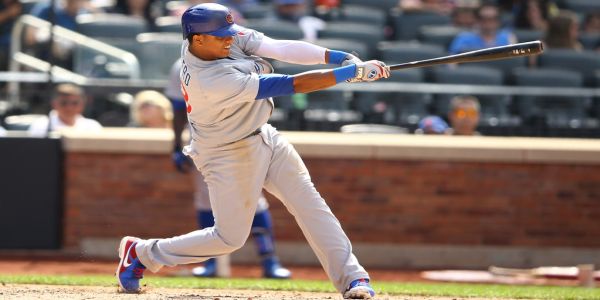 Alternative: Starlin Castro ($5,832) makes another fine option because the Cubs are all good options today.
Rajaj Davis | OF | Tigers | $7,511 – Davis is expensive, but he's been hitting leadoff against lefties and he runs just about any time he gets on base. He's worth the price of admission against lefty Jose Quintana.
Matt Joyce | OF | Rays | $6,706 – Joyce doesn't usually heat up like this until May 1. However, he's been one of the top choices in the OF and gets Ricky Nolasco.  Joyce mashes righties of which Nolasco is one.
Chris Colabello | OF | Twins | $6,039 – Just keep riding the ride until it stops.
Alternatives: J.D. Martinez ($4,901) was just called up and was mashing at AAA. He's always hit lefties well and should get the start. With Trumbo's injury, there will be consistent playing time for Gerardo Parra ($5,733) and will hit leadoff against Edwin Jackson.  Jonny Gomes ($5,176) should get the start against a lefty and Fenway can be a house of horrors for left hand pitchers. Melky Cabrera ($7,780) makes another high priced option who has a favorable matchup in Bud Norris.
Stacking options: The Cubs face someone named Mike Bolsinger. I don't know who that is, but he seems to be in the major leagues to pitch a game. Stack your Cubs. The Rays are also an option at home to Ricky Nolasco.
Good luck on DraftStreet today!