Daily Fantasy Golf Strategy: Farmers Insurance Open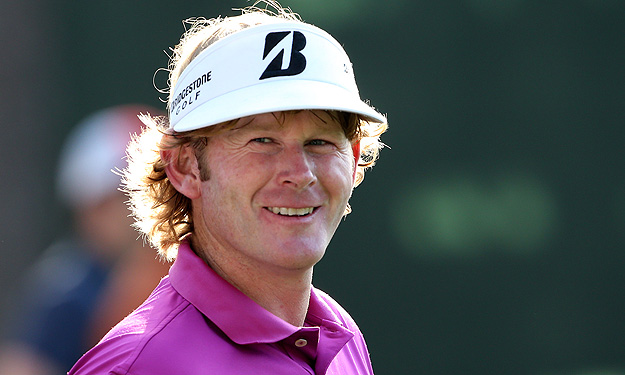 Duf-man is back! It was an exciting playoff between Jason Dufner and David Lingmerth last week, and I was happy to see Dufner succeed. His game looks to be in tip-top shape. We stick in California and head a couple of hours south this week to La Jolla, CA for the Farmers Insurance Open at Torrey Pines. Our friends at DraftKings continue to roll out some fantastic contests. And I'm here to help you win some dough.
It's a great week to check out DraftKings as they have some top notch contests. And it's a great way to try out DraftKings' PGA games as every player makes the cut this week. You don't have to sweat the cut line.
Come on over and take a look.
Tour Stop
No new sponsors. No Saturday cut. But we do have multiple courses again this week. This week's tour stop is the Farmers Insurance Open at the Torrey Pines (South Course) in La Jolla, California. The tournament actually puts players on the North Course for one round and the South Course for three rounds.
The South Course plays at 7,698 yards and a par 72 while the North Course is significantly shorter (and easier) at just 7,052 yards and also a par 72. You can view both courses here. The Tour pros will play a round each on the North and South course on Thursday and Friday. Then, those who make the cut play both Saturday and Sunday on the South Course.
And we have poa annua greens which are relatively rare on Tour with the Frys.com Open, Pebble Beach Pro-Am, and the Northern Trust Open the only other three on the regular rotation. We saw the Barclays, the U.S. Open and Canadian Open last year all offer poa annua greens.
The weather looks like it will be cool and mild with no chance of rain or wind at any point during the week.
Scorecard breakdown: The South Course and the North Course are both par 72s though the North is 600 yards shorter. Both layouts have the familiar par 72 scorecard – four par 3s, four par 5s and 10 par 4s on each course.
Field
We get Jason Day back (yeehaw) and Rickie Fowler is in off his win at the Abu Dhabi HSBC Golf Championship. The rest of the field is solid if not spectacular. But, for us on the East Coast, the sight of sun and no snow is heartwarming.
The full field can be found here.
Also, thanks to GolfOdds.com for the odds this week. If you'd like to see a second set of odds, check out the Betting Zone's odds here – just click on this week's tournament on the left hand pane.
Past Tournament Results
Torrey Pines has been on the Tour schedule since 1968 and the last major renovation was in 2001. So, recent course history should be worth a good bit this week.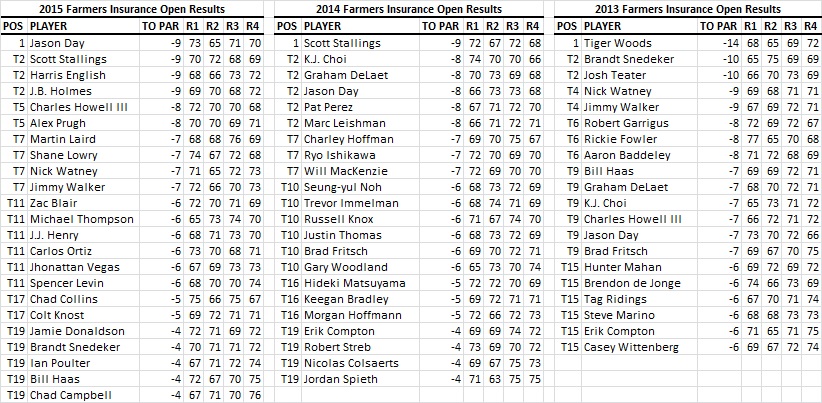 Statistical Review
Let's get right to it. This week, we've got a couple of key stats to focus on (we're still using 2015 stats, but will also peak at 2016's results as many golfers have a few tourneys under their belt by now):
Driving Distance (DD) – It's a bit rare to highlight distance off the tee (especially first), but this week it matters more than most. Of the top 10 finishers last year, eight of them finished in the top 11 in driving distance for the week. In 2014 and 2013, the stat wasn't quite as predictive, but you'll see the top 10 results peppered with bombers. DO NOT concern yourself with Driving Accuracy this week – it's not an issue generally (thanks to Timothy Frank as always).
Par 5 Scoring Average (P5SA) – In reviewing the scoring breakdown for the top finishers, the need to score on par 5s is imperative. In fact, a player can just tread water on the par 3s and 4s and crush the par 5s to contend.
GIR Percentage (GIR%) – However, you can still be a short hitter and succeed here if you make it to the green in time for scoring opportunities. GIR% isn't the best stat in the world to use as there are a lot of ways to make it to the green in time. We'll use it here this week, but it won't be the focal point. It will be used ONLY as a tiebreaker. If you are weighting stats, I wouldn't put more than 5% on GIR%. The focus should be nearly exclusively on Driving Distance and Par 5 Scoring Average.
And each week, we'll look at Strokes Gained: Putting (SG:P) and Strokes Gained: Tee to Green (SG:T2G).
DraftKings Expert Picks
Jason Day | $12,000 – I like Day a lot this week and there isn't a reason not to back him with his success here and his nearly perfect profile. Well, until we saw this about Day pulling out of a practice round because he was so sick. Follow the news to see what comes of Day's illness. Here's hoping it's not related to his vertigo issue he's had for years.
Rickie Fowler | $11,600 – Fowler's win in Dubai is nice, but the travel from there to here makes me a bit worried. He's played Torrey Pines six times and made the cut twice and has finished in the top 10 twice. But, his last two trips have ended with a missed cut and a T61. His profile works, but his recent work here and travel makes me desire to fade him this week.
Dustin Johnson | $11,100 – DJ should be great here. He should be. But, he hasn't been. He has all of the measurable you'd want on this course. But, he's never put it all together. He missed the cut last year and has top two 10s though they were back a few years. I should like him more than I do. Maybe this is the year he gets back to the top 10.
Justin Rose | $10,900 – I sense a theme. Rose missed the cut last year and hasn't ever finished in the top 20 in any of his six tries here. But, he shouldn't have such poor of a record given his length off the tee and ability to score on par 5s. His last official tournament was the Frys.com Open in October (T6) though he did tee it up for the Hero World Challenge in early December ending with a 10-under 62 after struggling through the first three rounds. I can't imagine all three of Fowler, DJ and Rose will struggle to hit value, but it's tough to figure who may come out of the pack.
Brandt Snedeker | $10,700 – And this may be where I make the mistake of trusting current form too much and we see someone like Rose or DJ vault onto the leaderboard. He's been in the top 20 in the last five years including a WIN and two second place finishes. Snedeker will be a core player for me this week. And his current form is fantastic. Form can't last forever, but I think it lasts another week with Snedeker.
Patrick Reed | $10,600 – Reed disappointed last week and is the reminder that form can't last forever. He's only played here once in 2013 and finished T39. So, we'd like to see a bit more experience from a player at the top. He was solid on par 5s last year (28th) and good enough off the tee (69th), but I'd like to see a bit more experience on the course before paying up.
Phil Mickelson | $10,500 – So, about that swing change, eh? Guess it stuck based on Lefty's work last week at the CareerBuilder. Phil has all of the experience that Patrick Reed doesn't – he's started here 26 times and finished in the top 10 in 10 of those starts. However, his recent results here are just short of awful with his best finish a T51 since 2011. His profile fits and if you think the swing changes are real, then he's a top 5 option this week.
Hideki Matsuyama | $10,300 – Matsuyama missed the cut here last year (another theme!) and had a T16 the prior year. His profile works, but his recent form has been spotty including a withdrawal at the WGC-HSBC, a T2 at the Dunlop Phoenix on the Japan Tour and a last place finish at the Hero World Challenge. That is a ton of variables to mix up in your head.
Jimmy Walker | $10,100 – Walker comes in with solid form having put up back to back top 15 finishes. But, he's all or nothing here. He's made only four of eight cuts, but has three top 10 finishes in those four made cuts. Two of those four top 10s have been in the last four years. So, perhaps he's figured things out on this course and can ride his current form to another top 10. I feel more confident about Walker than most in this salary range.
Bill Haas | $9,900 – Haas has owned this course in recent years with his last five finishes looking like this – T9, T4, T9, T43 and T19 (last year). His profile isn't great, but it hasn't mattered for the last five years. And he looked good last week in finishing T9 at the CareerBuilder. He's another core guy for me this week.
Paul Casey | $9,600 – Casey's game works well here (35th in driving distance and 13th in par 5 scoring). He missed the cut here last year in only his second trip (he was T22 in 2002) to the Farmers. So, he has very limited experience here so don't go crazy, but he's got the tools to do well.
Charles Howell III | $9,400 – Another core guy for me. He's 13 for 13 in cuts made here and has six top 10 finishes including two in the last three years. Since the start of the new season, he's finished in the top 20 in six out of seven starts. He never wins, but he's about as safe as they come.
J.B. Holmes | $9,300 – I think we'll see a lot of folks on Holmes, but I won't be heavy on him. And I could be wrong because he had his best finish ever here last year (T2 – his first top 10 in 10 starts here). But, his other results here concern me and I only see him on GPP rosters for me this week.
Graham DeLaet | $9,100 – I like DeLaet this week. I know, I know. I NEVER like him. It's the end of days. Dinosaurs are coming back. But, he looks healthy, he's playing well and has two top five finishes (and two missed cuts) in his four ventures to Torrey Pines. I like him.
Emiliano Grillo | $8,900 – Grillo makes his debut here, but he's seen these greens before. When he won the Frys.com Open in October of last year. He's not long off the tee like we'd want to see here, so he may struggle to score enough. But, he should feel comfortable on the greens.
Marc Leishman | $8,800 – Leishman's profile doesn't look like it should work here, but he's succeeded here in the past. He's made six of seven cuts with three top 10 finishes in 2010, 2011 and 2014. He missed the cut last week so he should be well rested. I'm not on Leishman this week as I'm just not sure how his game has worked here in the past.
Gary Woodland | $8,700 – Woodland is quite the odd duck as he's a long hitter, but is only average on par 5s. He's currently leading the Tour in driving distance this year (in 12 rounds) and finished 12th last year. However, he finished a distant 97th in par 5 scoring last year. He's made the cut in each of his six trips with one top 10 (2014).
Harris English | $8,500 – Which English will show up? The one who tied for second last year at the Farmers or the one we've seen in the new season which has been poor. It's a bit of risk at this price point, but he'll probably be low-owned based on his recent run of play, but he's shown he can perform well here.
Jamie Lovemark | $8,300 – Lovemark graduated from Torrey Pines High School so that might be important this week at Torrey Pines. Many think Lovemark came out of nowhere, but was the number amateur golfer in the world for part of 2007, won the Western Amateur in 2005 and won the NCAA Individual title at USC in 2007. He could be the highest owned player this week, but for good reason as his current form (three straight top 10s), profile (seventh in driving distance and first in par 5 scoring on the Web.com Tour) and experience (his sixth start) here mean he's got a shot to see the top of the leaderboard.
Daniel Berger | $8,200 – BergerTime? BergerTime! If you want to pivot from Lovemark, Berger could be your guy. Berger finished last year at 18th in Driving Distance and 13th in par 5 scoring so he has profile to work. His first trip to Torrey Pines was last year and ended with a T24.
Scott Piercy | $8,100 – Piercy has made three of five cuts at Torrey Pines with two top 20 finishes though none since 2012. His profile looks solid with a 41st place finish in driving distance and 40th in par 5 scoring. And he's made eight straight cuts including his T13 at the Sony Open. However, I'd rather have a bit more course success at this price point.
Shane Lowry | $8,000 – Lowry debuted here last year and finished T7 which is quite the accomplishment for the first time playing this course. And that's about it. He last teed it up in early December and finished T25 at the Nedbank Golf Challenge. So, he could be a bit rusty. I imagine he won't be highly owned as there isn't much to hang your hat on other than his work here last year.
Danny Lee | $7,900 – Lee has made one of three cuts here and his profile doesn't work. I'll pass this week on Lee.
Brendan Steele | $7,800 – Steele has one of the better profiles in the field as he finished last season at 16th in driving distance and 28th in par 5 scoring. He's played Torrey Pines five times and made the cut four of those times with his best finish in 2011. He's had success on other courses with poa annua greens (the Frys and Northern Trust Open) so he makes for a solid choice.
Hunter Mahan | $7,700 – This is Hunter's first start of 2016. Mahan is eight for 11 in cuts made here with two top 10 finishes (in 2011 and 2012). He finished last year at 50th in driving distance and 97th in par 5 scoring. He had a run of four top 15 finishes between 2009 and 2013. He stumbled in 2014 to a T47 and didn't tee it up here last year. I'm a bit worried about the rust for Mahan to start.
Fabian Gomez | $7,700 – Gomez's best finish here was in his debut in 2011 (T65). In fact, he's missed the cut in his other three starts here. And his profile certainly doesn't fit. But, his current form is excellent as he started 2016 with a T6 at Hyundai followed up by a playoff win at the Sony.
Nick Watney | $7,600 – I dig Watney out here on the West Coast – he performs well out here year in and year out. His profile is fine (61st in driving distance and 78th in par 5 scoring) though not terribly impressive. He's finished in the top 10 six of his 11 starts at Torrey Pines including five of the last seven years. He missed the cut last week, but that just means he'll be more of a bargain this week.
Cameron Tringale | $7,600 – Tringale played well to end 2015 with a T2 at the Shriners and T14 at the CIMB. He then opened up his 2016 with a T14 last week. But, the profile doesn't work and he has only one top 10 finish in six starts here and has finished outside of the top 60 spots the last two years.
Patrick Rodgers | $7,600 – Rodgers debuts at Torrey Pines this week and hopes to build on his solid completion to 2015 where he put up four top 20s in five starts (including a T6 at the Frys which also has poa annua greens). He ended last season at 40th in par 5 scoring and ninth in driving distance so he has the skills to succeed.
Si Woo Kim | $7,600 – Kim debuts here this week and comes in on a nice run with back to back top 10s to start 2016. He closed out 2015 with two top 20 finishes. I think he's going to be over owned based on his hot start to 2016 as his Web.com profile is pedestrian with respect to the stats we're looking at this week.
Tony Finau | $7,500 – Like Rodgers, Finau looks significantly underpriced this week. His profile works nicely – seventh in driving distance and 40th in par 5 scoring. He finished T24 last year in his debut and has two top 20s in the wraparound season. He'll be highly owned with his scoring upside this week, but there is a lot to like.
Anirban Lahiri | $7,500 – Another first timer, Lahiri rode an opening round 64 to a T28 last week. He shot back to back 71s to close out the tournament which was a disappointment. He hasn't missed a cut worldwide since mid-July 2015. There's not much data to grab onto other than his seeming inability to miss a cut. He did finish 63 rd last year in driving distance on the European Tour which is solid if not a pure bomber.
Lucas Glover | $7,400 – Glover is a frequent guest at Torrey Pines having played the course 11 times and seeing the weekend seven in seven of those visits. He has three top 10 finishes though not one since his T9 in 2010. He's played six times since the new season started and made five of six cuts with three top 20s including a T17 at the Frys (also on poa annua greens).
Matt Jones | $7,400 – Jones has one of the better profiles for this course, yet is down here at $7,400. He finished last year at 46th in driving distance and 19th in par 5 scoring. He's played here five times in six years and has a top 10 (back in 2009). He missed last year's tournament. He opened up 2016 with a T34 at the CareerBuilder last week. He makes an interesting play this week as his profile should work.
Brian Harman | $7,400 – Harman performs relatively well on par 5s (61st in par 5 scoring) even though he's short off the tee (113th in driving distance). He's made cut in his last two starts here with a top finish of T32 last year. He comes in excellent shape with a T13 at the Sony and T11 at the CareerBuilder. He's had mixed results on poa greens so tread lightly with Harman this week.
Robert Streb | $7,400 – Streb has played twice here and missed the cut and finished T19 (2014). And even though he's generally seen as a par 4 wizard, he finished 61st in par 5 scoring. Paired with his 36th standing in driving distance, he could succeed this week. He missed the cut last week and did miss the cut at the Frys in 2015.
Zac Blair | $7,400 – Blair finished T11 in his debut at the Farmers last year. And it's quite surprising he did so based on his profile. His best work is usually saved for the shorter courses on Tour though these courses do require solid shot making which Blair can offer. I'd tread lightly here and don't be too swayed by his excellent result last year.
Francesco Molinari | $7,300 – Molinari's profile is similar to Brian Harman's (but from the right side of the batter's box). He debuts here and has made the cut in his first two starts of 2016 over the last two weeks. And he's averaged nearly 80 DK points even though he hasn't finished better than T33 in those two starts.
Keegan Bradley | $7,300 – Bradley's profiles seems tailored to the course (13th in par 5 scoring and tenth in driving distance last year). But, he's never done well here with only one top 20 in five trips. Rostering him this week is about his profile and hoping he figures out the course – it does take time at Torrey Pines.
Smylie Kaufman | $7,300 – Smylie debuts here at Torrey Pines, but his current form is solid with top 20 finishes in the last three tourneys. He also finished a solid T10 at the Frys. He was sixth in driving distance on the Web.com Tour last year though only 54th in par 5 scoring. As with most guys debuting this week, don't expect a win, but he has the skills to hit a top 20.
Charley Hoffman | $7,200 – Hoffman is a great driver of the ball (29th in driving distance) and 40th in par 4 scoring. So, the stats say go. He's made nine of 18 cuts here with two top 10 finishes (2009 and 2014). That's not enough as he's also 0 for 3 in making cuts on the new season.
Scott Stallings | $7,200 – I think you'll have to have Stallings in some lineups – he finished second last year and won the year before. It's just tough to get past that recent history. He withdrew last week with an illness, but it is not expected to linger.
Billy Horschel | $7,100 – Horschel has only made two of five cuts here and hasn't finished inside the top 20. His profile is OK, but it hasn't really worked here for him. He missed the cut last week in his first PGA start of 2016.
Patton Kizzire | $7,100 – If you want to look for a Web.com Tour grad who could offer the same value as Jamie Lovemark but at a lower price point, then Patton is your man. No, not that Patton. He finished the 2015 Web.com Tour season at sixth in par 5 scoring and a solid 41st in driving distance. He had back to back top five finishes to start the new season, but is only two for four in cuts made since then. He makes his debut here, but offers some big upside.
Retief Goosen | $7,000 – It's amazing that Goosen has only played here twice in his illustrious career. And perhaps that's telling us something. Avoid even with his excellent 2016 debut (T4) at the BMW South African Open
Harold Varner III | $7,000 – HV3 has the profile to make it work here – he finished the Web.com Tour at 22nd in par 5 scoring and eighth in driving distance. He's carried that profile over to the PGA Tour this year. He was the flavor of the week after his performance at the Sony, but he's probably forgotten after missing the cut last week. I dig him this week.
Andrew Loupe | $6,900 – Variance be thy name. Loupe has three top 10 finishes and three missed cuts in the new PGA season. Loupe is driving the ball well this year averaging over 300 yards and sitting 30th in driving distance over his 18 rounds of the 2016 season. Loupe missed the cut in his only trip here in 2014. He'll probably win you a GPP or send you screaming at your computer screen for using him.
Morgan Hoffmann | $6,900 – MHo? MHoff? The Hoff? Hmm…we'll have to figure that out later. His profile works this week as he finished last year at 45th in driving distance and 40th in par 5 scoring. His record here is uneven with two missed cuts and a T11 in three starts at Torrey Pines. He's got two top 15 finishes in four starts in the new PGA Tour season including his T13 at the Sony two weeks ago.
Martin Laird | $6,900 – Don't go crazy here as his profile doesn't fit. But, Laird has had some success here (especially his T7 last year). And last year he said why he thinks he can play well here even if he isn't the longest hitter (scroll to the bottom to check his quote).
Jason Kokrak | $6,900 – Profile works; course history doesn't show it. He's worth a flyer in a GPP as he SHOULD be able to do well here, but hasn't. Sometimes it takes time to figure out all of the nooks and crannies of a course like this.
K.J. Choi | $6,800 – Choi has made nine of 13 cuts with two top 10 endings (2013 and 2014). Choi is usually rostered because of his safety and not us upside. He's made three of four cuts on the new season and finished T50, T52 and T50. He's also had success at the Northern Trust Open with 15 cuts made over 15 events.
Jhonattan Vegas | $6,800 – Long off the tee and perhaps healthy for the first time in a couple of years, Vegas makes an excellent choice this week as he has had some success here in the past with a T11 last year and a T3 in 2011. He's probably not safe enough for cash games, but I like what I've seen so far from him this year.
Ryo Ishikawa | $6,800 – Want a GPP option who could make you sink or swim this week? Ryo is your man. He's made four trips here since 2012 and his results are T13, MC, T7, MC. So, he should win this week based on his pattern.
Aaron Baddeley | $6,700 – Never play Baddeley. Ever. Well, maybe this week if you'd like. He has finished last year at 11th in par5 scoring and 60th in driving distance. He finished T6 here three years ago, but has since finished 74th and missed cut. He has miraculously made four of five cuts to open the new season after making just 16 of 29 last season across all tours.
Pat Perez | $6,700 – Perez is another graduate of Torrey Pines High School and has played here 13 times. He's made the cut in nine of those starts with two top 10 finishes. But, his current form is awful making only two of six cuts in the new season.
Shawn Stefani | $6,700 – Nice profile, poor current form and terrible course history. Pass.
Luke List | $6,700 – List's Web.com stats say he should succeed here. He finished fourth in driving distance and 37th in par 5 scoring. And his T6 last week means he's on some gamers' minds. I think he might be a bit over-owned based on his work last week and solid profile.
Robert Garrigus | $6,600 – Garrigus has a very nice profile for a player down here. He finished 2015 at 20th in driving distance and 61st in par 5 scoring. He's made three of five cuts to open the new season with a top finish of T33 at the Sony Open. He's played here 10 times in the past, making six cuts and posting one top 10. He's made the cut the last three years at Torrey Pines. He offers a reasonable risk for those going star/scrubs.
Angel Cabrera | $6,600 – Cabrera's profile looks like it should work (28th in driving distance and 24th in par 5 scoring). But, it hasn't as he's made only two of five cuts here and his best finish was last year's T53.
Erik Compton | $6,500 – Compton says his game is locked in. So, if you feel like that's worth something, throw Mr. Compton into a lineup or two.
Ollie Schniederjans | $6,500 – Ollie crushes the ball off the tee so he has a puncher's chance this week. He did not look great last week in his 2016 debut.
Ryan Ruffels | $6,500 – In this space last year I made you aware of a young Aussie named Cameron Smith. Let me do it again this year. Let me introduce you to Ryan Ruffels. Ruffels is just 17 years old. He won a Junior World Golf Championship in 2014….at Torrey Pines. Wait, isn't this week's tourney at Torrey Pines. Why, yes it is! But I told you this weeks ago.
Michael Kim | $6,500 – Another Torrey Pines High School grad, Kim makes his second start at the Farmers and hopes to make the cut this time. He's not long off the tee (65th last year on the Web.com Tour), but did well on par 5s (22nd last year). Unlike Harold Varner III, Kim hasn't translated that profile to the PGA Tour this year.
Carlos Ortiz | $6,400 – Ortiz has missed four straight cuts, but he gets back to poa annua greens which he does quite well. In fact, he's never missed a cut on a poa course on the PGA Tour (in limited attempts) including his T11 last year here. He finished 33rd in driving distance and ninth in par 5 scoring last year on Tour. I think he's safe enough for cash games this week. I'll be rostering him extensively.
Miguel Angel Carballo | $6,400 – Carballo's Web.com tour stats show je was 49th in driving distance and third in par 5 scoring last year. He did finish T32 at the Frys this year which is another poa annua course. Perhaps he can recapture that magic this week.
Wes Roach | $6,300 – Roach's profile from last year's Web.com Tour makes me sit up and pay attention this week. He finished 13th in driving distance and 16th in par 5 scoring. He played here two years ago and missed the cut. He's a flyer at this price, but he could score enough to succeed.
Charlie Beljan | $6,200 – You want to go crazy this week? Well, then Beljan is your man! He finished last year at sixth in driving distance and 28th in par 5 scoring last year. He's played here the last four years and missed the cut each of those trips. And his current form is horrific – in six tournaments he's seen the weekend once. And finished T74.
Good luck this week! Head over to DraftKings to choose your squad for this week.
DraftKings Scoring
Roster size: 6 Golfers
POINT SCORING
Golfers on each team will accumulate points as follows:
Per Hole Scoring

Double Eagle (DBL EAG): +20 PTs
Eagle (EAG): +8 PTs
Birdie (BIR): +3 PTs
Par (PAR): +0.5 PTs
Bogey (BOG): -0.5 PTs
Double Bogey (DBL BOG): -1 PT
Worse than Double Bogey (WORSE DBL BOG): -1 PT

Tournament Finish Scoring

1st: 30 PTs
2nd: 20 PTs
3rd: 18 PTs
4th: 16 PTs
5th: 14 PTs
6th: 12 PTs
7th: 10 PTs
8th: 9 PTs
9th: 8 PTs
10th: 7 PTs
11th–15th: 6 PTs
16th–20th: 5 PTs
21st–25th: 4 PTs
26th–30th: 3 PTs
31st–40th: 2 PTs
41st-50th: 1 PTs

Streaks and Bonuses

Streak of 3 Birdies of Better (MAX 1 Per Round) (3+ BIR STRK): +3 PTs
Bogey Free Round (BOG FREE RD): +3 PTs
All 4 Rounds Under 70 Strokes (ALL 4 RDS UND 70): +5 PTs
Hole in One (HOLE IN ONE): +10 PTs
Scoring Notes: Ties for a finishing position will not reduce or average down points. For example, if 2 golfers tie for 3rd place, each will receive the 18 fantasy points for the 3rd place finish result. Playoff Holes will not count towards final scoring, with the exception of the "finishing position" scoring. For example, the golfer who wins the tournament will receive the sole award of 1st place points, but will not accrue points for their scoring result in the individual playoff holes.
Player Lock Notes: All golfers lock at the time the first golfer tees off on day 1 of an event.
Full rules are located here for DraftKings Daily Fantasy golf.