Daily Fantasy Golf Strategy: The Hero Challenge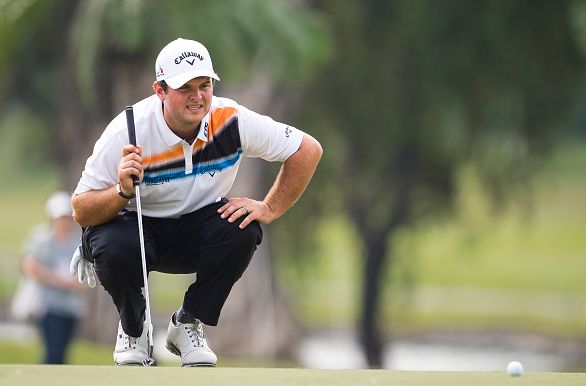 Here we are for the final week of the PGA Tour on DraftKings for 2015. It's a small tournament so my write up will be pretty short. We'll be back to full strength in 2016. Thanks to all who have read and tell a friend!
It's a great week to check out DraftKings as they have some top notch contests for the final week. Come on over and take a look.
Tour Stop
We head to the Albany, in New Providence, The Bahamas. This is the first time any professional event has been held here so we have no data to go on. All reports have it as a par 72 course covering 7,400 yards with five par 3s, five par 5s and a driveable par 4 (which I'll count as another par 3 for the longer hitters). It is a links-style course designed by Ernie Els and his team.
The weather looks like it will bring chances of rain for most of the four days and some wind on the weekend. But, overall it looks like it will be pleasant and weather won't likely play a huge factor.
Scorecard breakdown: It's an odd par 72 course as it has five par 5s and five pars 3s (instead of the standard four of each). So, we need to adjust our thinking a bit this week.
Field
18 golfers. That's it. That's the list.
The full field can be found here.
Thanks to GolfOdds.com for the odds this week. If you'd like to see a second set of odds, check out the Betting Zone's odds here – just click on this week's tournament on the left hand pane.
Past Tournament Results
They don't really matter this week. It's a new course with no history. Perhaps there is something to be learned by those who played well in the past in a small field full of stars. But that might be about it.The tournament was first held in 1999 at Greyhawk Golf Club and then moved to Sherwood Country Club through 2014. It took a one year trip to Isleworth in Florida.
Statistical Review
With no data, we are guessing to some degree, but these are educated guesses so please follow along if you will.
Par 3 Scoring – With five par 3s and a short par 4, if you are wizard on the short holes you have an excellent shot to do well.
Par 5 Scoring – And we have five par 5s, so those who can deal with lengthy holes are valuable as well.
Driving Distance – It's a long-ish course, so we'll want guys who can drive the ball well.
Scrambling – It's a links course so there are some tricky bunkers and the greens are tough so you'll need to be able to put the ball where it belongs.
I also always examine Strokes Gained: Putting (SG:P) and Strokes Gained: Tee to Green (SG:T2G) every week.
DraftKings Expert Picks
It's a small tournament so we'll try something a bit different. I'm going to rank the golfers one through 18 in the order I think they will finish and provide a bit of commentary on their chances this week.
Patrick Reed | $8,800 – This is all about form right now. Reed is on fire worldwide. He's put up five straight top 10 finishes coming and his profile works nicely even if he isn't the longest driver of the ball.
Justin Rose | $9,800 – Rose owns a property here so the thinking is he's played here before. His current form is solid and his profile works just about anywhere.
Adam Scott | $8,300 – Better form than Rose and also owns a property here. I rank him a bit lower than Rose because of the potential for a blow up at any time with the putter.
Jordan Spieth | $11,200 – Spieth crushes par 3s which makes him an automatic choice (beyond his excellent current form and his work against this field last year). He won by 10 strokes last year at the Hero.
Rickie Fowler | $9,100 – Always plays well in star-studded fields and has played sparingly lately. His profile works nicely this week and he could be ignored since he has few recent results.
Zach Johnson | $7,800 – Fantastic links player – that's my angle in for ZJ this week. He struggled last time out at the RSM, but he can score on both par 3s and par 5s.
Dustin Johnson | $10,000 – Ultimate risk reward – could easily finish first or 18th. Crushes the ball, solid links player and good on par 5s. He finished T5 at the WBC-HSBC another no-cut star-filled event.
Brooks Koepka | $7,500 – T2, T18, T22, T10, T3. Those are Koepka's finishes this year on links or links-style courses. Do you like that? You like that. He's a long hitter and does well on par 5s but really struggles on par 3s. If you were curious those links results were from the Dunhill Links Championship, the U.S. Open, Scottish Open, the British Open and the PGA Championship.
Matt Kuchar | $7,600 – Kuchar is a fantastic scrambler which will serve him well this week. He was T8 at the Hero last year so he won't be intimidated by the field.
Bubba Watson | $9,400 – He's never shown up well at the British Open so I worry about his ability to handle this type of course. But the profile works and he could be in contention if his game comes together.
Paul Casey | $8,100 – I don't quite know what to do with Casey this week. He's got the profile and pedigree to put up a top five, but for some reason I like others a bit better.
Chris Kirk | $6,700 – This is a hunch with Kirk based on his solid work at the RSM/McGladrey which is a seaside course that could have some similar conditions to the Albany. He's had three straight top 20s at that tournament and was T19 in his only trip to the British Open.
Anirban Lahiri | $7,100 – His recent struggles (no finish in the top 20 in his last three tournaments) and lack of pedigree concern me this week. He does score well on both par 3s and par 5s so I like him paired with Speith in lineups
Hideki Matsuyama | $8,900 – He finished T2 at the Dunlop Phoenix in Japan so perhaps he's healthy. But, he withdrew earlier in the season with a foot injury and I'm staying away.
J.B. Holmes | $7,300 – Crushes the ball. Scores on par 5s. That's all I've got.
Jimmy Walker | $6,800 – That current form. He has the game to make it work here, but I don't trust him.
Bill Haas | $7,200 – Does well on par 3s, but nothing else seems to fit the course. He doesn't have any links course pedigree either.
Billy Horschel | $6,900 – First tournament since his long layoff due to a back injury. No thanks.
I wouldn't go crazy over at DraftKings, but enter a couple of GPPs as that's where the fun will be this week.
DraftKings Scoring
Roster size: 6 Golfers
POINT SCORING
Golfers on each team will accumulate points as follows:
Per Hole Scoring

Double Eagle (DBL EAG): +20 PTs
Eagle (EAG): +8 PTs
Birdie (BIR): +3 PTs
Par (PAR): +0.5 PTs
Bogey (BOG): -0.5 PTs
Double Bogey (DBL BOG): -1 PT
Worse than Double Bogey (WORSE DBL BOG): -1 PT

Tournament Finish Scoring

1st: 30 PTs
2nd: 20 PTs
3rd: 18 PTs
4th: 16 PTs
5th: 14 PTs
6th: 12 PTs
7th: 10 PTs
8th: 9 PTs
9th: 8 PTs
10th: 7 PTs
11th–15th: 6 PTs
16th–20th: 5 PTs
21st–25th: 4 PTs
26th–30th: 3 PTs
31st–40th: 2 PTs
41st-50th: 1 PTs

Streaks and Bonuses

Streak of 3 Birdies of Better (MAX 1 Per Round) (3+ BIR STRK): +3 PTs
Bogey Free Round (BOG FREE RD): +3 PTs
All 4 Rounds Under 70 Strokes (ALL 4 RDS UND 70): +5 PTs
Hole in One (HOLE IN ONE): +10 PTs
Scoring Notes: Ties for a finishing position will not reduce or average down points. For example, if 2 golfers tie for 3rd place, each will receive the 18 fantasy points for the 3rd place finish result. Playoff Holes will not count towards final scoring, with the exception of the "finishing position" scoring. For example, the golfer who wins the tournament will receive the sole award of 1st place points, but will not accrue points for their scoring result in the individual playoff holes.
Player Lock Notes: All golfers lock at the time the first golfer tees off on day 1 of an event.
Full rules are located here for DraftKings Daily Fantasy golf.