Daily Fantasy Golf Strategy: WGC-Cadillac Championship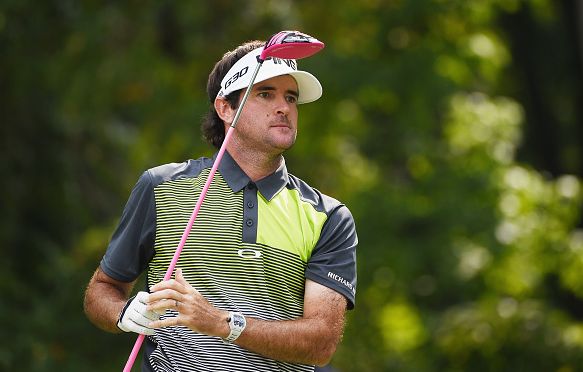 This week the golfers head to a course owned by one of the current presidential candidates. And it's not Bernie Sanders. It's off to Miami, Florida for the World Golf Championships (WGC)-Cadillac Championship at TPC Blue Monster at Trump National Doral. And we have no cut this week! So we won't have to sweat on Friday afternoon. It's another tough course, but that's OK, we don't have to play. We only have to watch. Our friends at DraftKings continue to roll out some fantastic contests. And I'm here to help you win some dough.
It's a great week to check out DraftKings as they have some top notch contests.
Come on over and take a look.
Tour Stop
One week down in Florida means we are one week closer to our first major. But, before we get to Augusta, we need to roll through Miami.
This week's tour stop is the World Golf Championships (WGC) – Cadillac Championship at TPC Blue Monster at Trump National Doral. The Blue Monster is a par-72 course that runs a lengthy 7,543 yards. The course had major work done in 2014 to lengthen the course and bring more water and bunkers into play. And it's another Florida course so we've got bermudagrass on the greens again this week.
The weather looks like it will play some games this week. The wind will be up on Thursday and Friday with Friday afternoon looking like the trickiest time to play. But, check back on Wednesday night to see if there is an advantage to one set of tee times over another.
Scorecard breakdown: It's a par 72, so we only have four par 5s to go with four par 3s and 10 par 4s. You can also go hole by hole here.
Field
It's a WGC even so it will be a star-studded field. We currently have 48 of the top 50 in OWGR standings right now. There will be a couple of guys you've never heard of here, but for the most part it's studs all around.
The full field can be found here.
Also, thanks to GolfOdds.com for the odds this week. If you'd like to see a second set of odds, check out the Betting Zone's odds here – just click on this week's tournament on the left hand pane.
Past Tournament Results
The Blue Monster has hosted this event since 2007, but the major revamp two years ago means we'll focus much of our historical analysis on the last two years.
So, here is the top 20 for the last three years: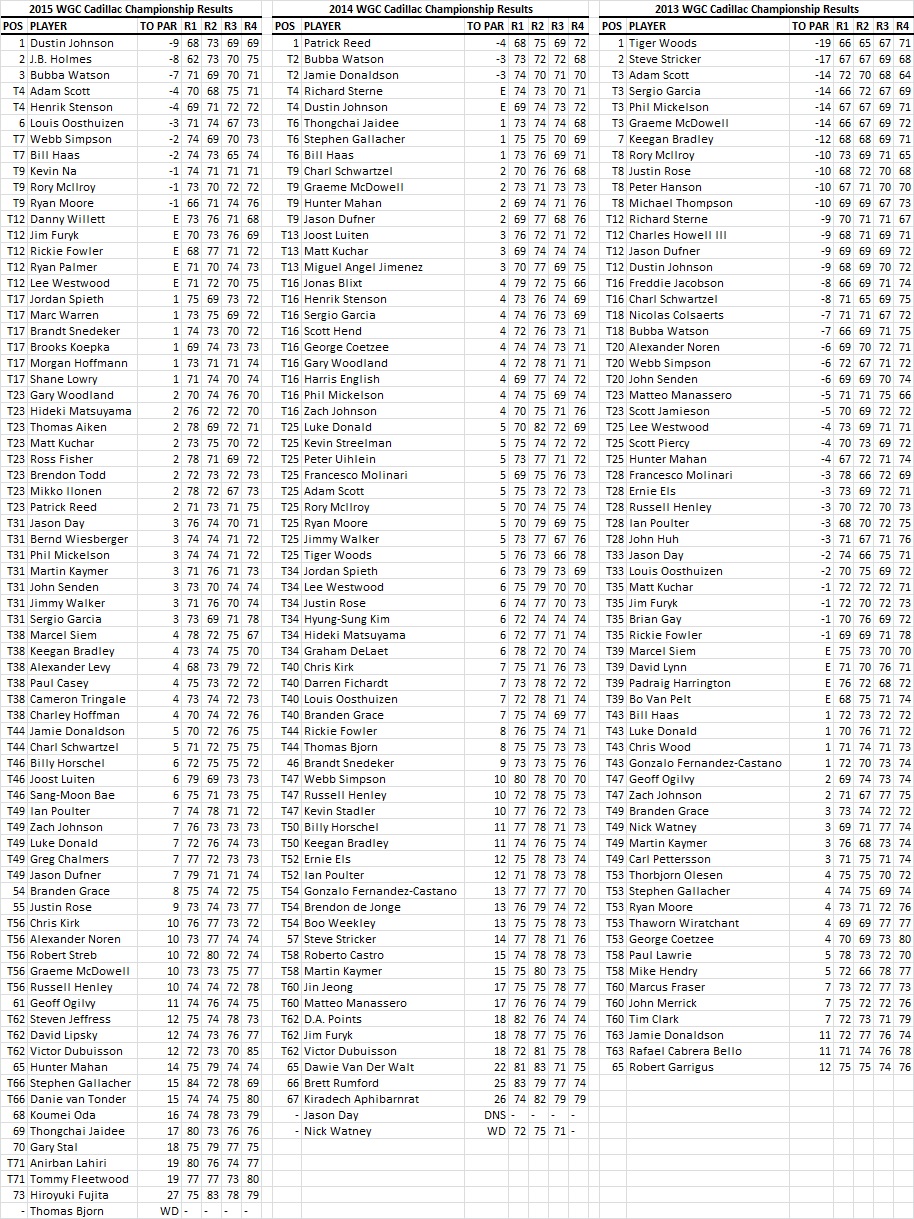 Statistical Review
It's another week of simple stats to analyze, so let's not waste any time.
Driving Distance (DD): It's only two years' worth of data, but so far we've seen bombers dominate at the top of the leaderboard. And at 7,500 yards and with four par 5s at 575 yards or more, we want golfers who can crush it off the tee.
Par 5 Scoring (P5SA): To go with that distance, we need to have golfers who can score on par 5s. As we look back, the par 3s and par 4s offer almost no scoring relief so it's par 5 or bust!
Bogey Avoidance (BA): I might have this at five percent of the model, but we'd like to have golfers who can stay out of trouble. Just like last week, a par is like a birdie on a lot of these holes.
And each week, we'll look at Strokes Gained: Putting (SG:P) and Strokes Gained: Tee to Green (SG:T2G).
DraftKings Expert Picks
Rory McIlroy | $12,000 – Rory finished T25 two years ago and T9 last year at the WGC-Cadillac Championship. But, he's the most expensive player on the board and missed the cut last week. There are cheaper players with better course histories here.
Jordan Spieth | $11,700 – At this price, I can't see rostering him. Even if he was in top form, this is a course that requires length and that's not Spieth's game.
Adam Scott | $11,600 – The putting is not a concern for Scott at the moment. He's up to 50th in SG:P this year after finishing 158th last year. There aren't many golfers who are hotter than the Aussie right now. He finished T25 last year at the WGC-Cadillac, but he was T4 two years ago. Scott finished fourth last year in driving distance and stands eighth right now in the same stat.
Bubba Watson | $11,400 – For most players this week, it's the choice between Bubba and DJ for who to back to win. He's finished in the top 3 in the last two years at Doral since the renovation. He's currently sixth in driving distance and finished second last year.
Dustin Johnson | $11,200 – As you'll see, DJ and Bubba are pretty similar for this week. Johnson finished first in driving distance last year and is currently seventh this year. Since the course revamp, Johnson has finished T4 and won (last year).
Jason Day | $11,100 – Speaking of expensive guys who I won't be rostering, count Day among that number as well. He's never had any success here – before or after the renovations. His only trip in the last two years was last year's T31.
Rickie Fowler | $10,700 – I'll have Fowler in a few spots, but I won't go overboard on him this week. His current form is great – he's made four of five cuts in 2016 and has been in the top six in every event he's seen the weekend. Fowler was T44 at Doral two years ago and T12 last year so he's moving in the correct direction.
Henrik Stenson | $10,300 – Stenson comes stateside for the first time in 2016. The Swede finished T16 in 2014 and then followed up with a T4 last year at Doral. He's played twice in 2016 and has finished T3 and T6. So, current form is good and course history is good. Sign me up.
Justin Rose | $10,100 – Rose's course history at the Blue Monster frightens me off him. Sure, he won in 2012, but since the course was lengthening, Rose finished T34 and T55. His current form is solid so perhaps he can figure it out this year.
Sergio Garcia | $9,900 – Sergio finished T31 last year and T16 two years ago at this event. His second place finish last week helped cure the wounds from his missed cut at the NTO. His profile works, but it's not "elite" for this course. I'd rather have a bit better course history to pair with his profile.
Phil Mickelson | $9,800 – Lefty's made four of five cuts in 2016 and it looks like his swing changes have stuck. Mickelson's profile fits even though he's just 41st in driving distance this year (he was 22nd last year). He finished T16 at Doral two years ago and followed that with a T31 last year. I might actually own a couple shares of Phil this week and I never do that.
Louis Oosthuizen | $9,600 – Oosty! His form is solid with three top 15 finishes in his four 2016 starts. The South African finished T40 here two years ago, but improved to solo third last year. He won in Australia last week so he's making the long trek from Perth to Miami. If that concerns you, then stay off him. But, I'll be in on him.
J.B. Holmes | $9,400 – Holmes looks a lot like Bubba and DJ, but he's much cheaper. He's currently third in driving distance on Tour and finished fifth last year in the same. He finished second here last year in his first trip around Doral since 2010. His current form is excellent with six top 15 finishes in six of his last eight events.
Hideki Matsuyama | $9,300 – He's not 100% healthy and this is not the time to mess with a golfer who may withdraw.
Brooks Koepka | $9,200 – You want a bomber for relatively cheap? Well, Brooks is your man. He debuted here last year with a T17 and he will look to build on that this week. He has two top 10 finishes in his four events in 2016. If you wanted to go with the cheap bomber approach pairing Koepka with Holmes is an excellent option.
Patrick Reed | $9,100 – Reed won here two years ago even though his statistical profile says he shouldn't. He backed that up with a T23 last year. He's a volatile option week to week so he's probably only a GPP option this week.
Justin Thomas | $8,800 – Thomas is listed at 5'10" and 145 pounds yet he bombs the ball (26th this season). That length will serve Thomas well this week as he makes his debut. He comes in off his best finish (T3) at the Honda Classic.
Brandt Snedeker | $8,600 – Sneds won't likely be owned by a lot of gamers this week as he's relatively short off the tee. However, he did finish T17 here last year and his game has been solid in 2016. He's even up seven yards in driving distance year over year. He's an excellent GPP option as few will be on him.
Charl Schwartzel | $8,500 – Charl finished T9 in the first year of Doral's revamp, but disappointed last year with a T44. He finished last year at 24th in Driving Distance and 52nd in Par 5 scoring. Schwartzel opened his U.S. Tour with a T45 at the NTO and he had won two of his last three events prior to heading to the States. Perhaps the rust if off and he's ready to crash the top 10 again.
Matt Kuchar | $8,400 – Kuch's profile works here and he has one solid result and one middling in the two years since the renovation. Kuch finished T13 two years ago and T23 last year here. He isn't long off the tee, but the rest of Kuchar's profile works well. He could be a sneaky play this week.
Branden Grace | $8,300 – So, it was quite a fall from Grace for Branden last week, eh? Hello? Is this thing on? Grace came out and laid an egg on a course he should have done well on. And we're back again on another course where he should do well. And the good news it seems that Grace knew he needed some help after last week's debacle. He hasn't had any success here in four trips and he'll be extremely low-owned.
Jimmy Walker | $8,200 – Walker's played here twice and it's been just the last two years so he's only known Doral after the renovation. And in those two trips, he has finished T25 and T31. Like Kuchar, Walker has a profile that should work here, but hasn't so far. He started 2016 on fire, but stumbled the last two weeks with a MC at the NTO and a T43 at the Honda.
Byeong-Hun An | $8,100 – An is a bomber (24th on the European Tour) who spends his time on the European Tour so most games won't know who he is. At this price point, many will ignore him and go with the more familiar Jimmy Walker or Bill Haas. He's playing well coming and finished 2015 strongly as well.
Kevin Kisner | $8,000 – For being short off the tee, Kisner has done well on par 5s. He's stumbled in his last two events after running off four straight top 10 finishes over two seasons. He makes his debut here and I'll let others roster KK this week.
Bill Haas | $7,900 – Haas is back to back top 10 finishes at Doral on a course he shouldn't have any business contending on. But, he's done it twice in a row so there is something there.
Graeme McDowell | $7,900 – McDowell's played here the last two years and finished T9 two years ago and then T56 last year. But, his game wasn't in the same state it is now. He looked great at the Honda as he cruised to a solo fifth finish so perhaps he's got his game back to succeed again.
Marc Leishman | $7,800 – Leishman's stats look like he should do well here even on the longer layout. The Aussie bounced back nicely from back to back missed cuts with a T5 at the NTO two weeks ago. He hasn't seen the new layout yet and only played here once (in 2010), but it's about his profile and building on his last time out.
Danny Willett | $7,800 – Willett's T12 debut last year is impressive. He was off last week and comes to the States with the Masters clearly on his mind. He closed 2015 on a hot streak with three top five finishes in his last four tournaments. We won at the Dubai Desert Classic a couple of weeks ago. The Englishman finished last year at 69th in driving distance on the European Tour last year which should be enough to succeed again this year.
Billy Horschel | $7,700 – BillyHo has made four of five cuts to open 2016 with two top 10 finishes including his T8 at last week's Honda Classic. His results haven't been anything exciting (T50 and T46) over the last two years at Doral.
Russell Knox | $7,600 – Knox makes his debut at the Blue Monster this year. The Scotsman comes in off a T26 at the Honda and has made three for five cuts in 2016. There isn't really anything in Knox's profile that screams "pick me!"
Harris English | $7,600 – English has made 21 of his last 22 cuts. And that's great..when there is a cut. There isn't a cut this week so some of English's value evaporates. He's only played here once (two years ago) and finished T16. His profile works nicely here and so he's an under the radar option.
Zach Johnson | $7,500 – Johnson's two trips to the renovated Doral ended with a T16 two years ago and a T49 last year. He's not very long off the tee, but he's always done well on par 5s because of his excellent iron play and work around the green.
Paul Casey | $7,500 – When we look at last year's stats, Casey should do well here. When we look at this year's stats….err, not so much. And is current form isn't great – MC, T39 and T43 (Honda) in 2016. So, the form isn't great and he finished T38 here last year so the course history isn't great.
Martin Kaymer | $7,400 – Awful form. Just no need to roster him.
Shane Lowry | $7,400 – Lowry made his debut here last year and finished T17. He's made all four cuts in the States in 2016. He's an average driver of the ball, but has the all-around game to succeed in his second tour of the Blue Monster.
David Lingmerth | $7,300 – Lingmerth is another debutant who doesn't have a lot to recommend him. He finished T53 last week at the Honda after missing back to back cuts. The only thing that you can hang your hat on is his 52nd place in par 5 scoring last year.
Jason Dufner | $7,200 – Dufner hasn't done much of anything since his win at the CareerBuilder Challenge. He's missed the cut in one event and finished no better than T51 in his other three starts. So, his form isn't what we are looking for this week. But, he did finish T9 here two years ago. Interestingly, he's tenth on Tour this year on par 5s.
Andy Sullivan | $7,200 – Sully missed his first cut of 2016, but has run off four straight since then including a solid T26 last week at the Honda. He's shorter off the tee than we would like this week so perhaps he's not the best risk.
Kevin Na | $7,100 – Na hasn't looked good the last couple of weeks so that gives me pause to recommend him. But, that T9 last year here is enticing for a player at just $7,100.
Victor Dubuisson | $7,100 – Dubuisson finished 2015 75th in driving distance on the European Tour. And that's about all he has going for him. He's missed his only two cuts in 2016.
George Coetzee | $7,000 – Coetzee finished T16 two years ago. Check! He's made six straight cuts made in 2016 including a win (two weeks ago) and three other top 20 finishes. Check! His stats profile doesn't quite work out. Well….two out of three ain't bad. I like the South African's current form and his success two years ago.
Danny Lee | $7,000 – Lee debuts here and his profile doesn't seem to work. It sounds like a broken record. Lee missed the cut his last time out and has two top 20 finishes in his six 2016 events.
Rafa Cabrera-Bello | $6,900 – Another relative short hitter from the European Tour, Cabrera-Bello comes in playing pretty well. He's made all four cuts in 2016 and had back to back T2s at the Qatar Masters and Dubai Desert Classic. He's played here twice, but not since the course was lengthened. And his results here (65th and T63) are less than enticing.
Emiliano Grillo | $6,900 – Grillo makes his debut here this week as his form seems to be moving in the wrong direction. He started 2016 with a T18 and then followed up with a T33, MC, T45 and T74 (last week at the Honda).
Robert Streb | $6,800 – Streb's first trek around Doral was last year and he finished T56. Streb finished last year at 36th in driving distance (which was a bit of a surprise to me). He's usually a must-start on when par 4 scoring is important though he's about average in par 5 scoring. He finished T26 at the Honda last week.
Matthew Fitzpatrick | $6,800 – Fitz is also a first-timer at Doral and as a short-knocker off the tee he's going to be challenged to keep up. He's also missed three out of his last four cuts across the European and PGA Tours.
Jamie Donaldson | $6,700 – Donaldson crashed the party at Doral after the redesign when he finished T2. The party crashed him last year when he finished T44. He seems to be rounding into form after missing his first two cuts of 2016. He came to the States and finished T54 and T26 (last week at the Honda). He finished last year at 11th in par 5 scoring average on the PGA Tour which will be helpful this week.
Ross Fisher | $6,700 – Who led the field in birdies last year at Doral? Well, Ross Fisher of course. It would be weird if it was someone else, no? I mean, this is the Ross Fisher player capsule. He finished T23 with all of those birdies so he did find some trouble on the course. And he did finish T3 at the most recent WGC event (WGC – HSBC Champions) in late 2015. He's kind of intriguing in a range where it's tough to find guys.
Bernd Wiesberger | $6,700 – Bernd just doesn't seem to play well in the States unless it's a major. He's missed back to back cuts to start his U.S. Tour 2016. This isn't a major so I'll pass even if he picked up a T31 in his debut here last year.
Soren Kjeldsen | $6,600 – Kjeldsen had some success at the "old" Blue Monster. He hasn't teed it up here since 2010 so we can't rely on that history this week. He's probably too short off the tee for him to make any noise this week.
Scott Piercy | $6,600 – Piercy's only played here once (in 2013) and finished T25. But, that was before the course was extended. He missed the cut last week at the Honda – his first missed cut in 12 tournaments. But, he sits 34th in driving distance on Tour this year (and 41st last year). He also scores well on par 5s so he has a chance this week.
Daniel Berger | $6,600 – Hold your nose, but we're diving back in to Berger. He's made only two of five cuts in 2016 with a top finish of T42 at the Sony. He missed the cut last week at the Honda, but his profile (from last year) seems to fit well here as he makes his debut.
Charley Hoffman | $6,500 – Hoffman's form is not so good. He finished T38 at Doral last year. That's probably C-Hoff's ceiling.
Jaco Van Zyl | $6,500 – Qualified, but will not tee it up this week.
Smylie Kaufman | $6,500 – Kaufman's history on the Web.com Tour says he's a bomber. He's shown some of that on Tour this year. The upside on Kaufman is tough to pass up here at such a cheap price. It is his debut at Doral.
Fabian Gomez | $6,400 – Gomez's profile doesn't fit the course at all. Pass as he makes his debut.
Chris Wood | $6,400 – Wood played here three years ago and finished T43. He closed out 2015 playing well, but 2016 has been bumpy as he's missed three of four cuts and a T8 at the Dubai Desert Classic.
Marcus Fraser | $6,300 – Fraser is extremely short off the tee (207th out of 212 on the European Tour last year) so this probably isn't the course for him. And he hasn't played the "new" Blue Monster, though he did see the old one three times. However, he's playing some of the best golf of his career as he won two weeks ago at the Maybank Championship Malaysia and backed that up with a T15 at Perth last week. He's a wizard around the greens so perhaps he can make up strokes there.
K.T. Kim | $6,300 – Kim isn't long off the tee, but his Blood Type is B.
Kristoffer Broberg | $6,300 – The Swede makes his debut at the Blue Monster this week. He's middle of the table in driving distance on the European Tour and his accuracy off the tee has fallen off this year. The accuracy issue shouldn't cause an issue here and he won't be owned by many players this week.
Kiradech Aphibarnrat | $6,200 – Did you know Aphibarnrat is 45 th in the Official World Golf Rankings (OWGR)? Neither did I. His form is poor coming in with no finish better than T52 in his four 2015 starts
Anirban Lahiri | $6,200 – Lahiri isn't a bomber, but he can do alright (63rd in driving distance on the European Tour last year). He debuted at Doral last year and finished tied for 71st. There were only 73 golfers in the field. His best finish of 2016 was a T28 at the CareerBuilder and he missed the cut last week at the Honda.
Scott Hend | $6,100 – Hend is a bomber (17th last year in driving distance on the European Tour and consistently in the top 10 in prior years) who has had past success at this course (T16 two years ago)? So, why is he down here? Maybe because he's 42? Maybe because he's Australian? I don't know, but use him with confidence in your stars and scrubs lineups.
Yusaku Miyazato | $6,100 – Miyazato finished the Japan Tour at 24th in Driving Distance (282.7 yards) which sounds good, but the distance would have put him in the bottom third of the European Tour. He won the Dunlop Phoenix in late 2015, but there isn't much else to recommend him on his debut here.
Steven Bowditch | $6,000 – He can't POSSIBLY miss the cut. And oddly, his profile fits the course quite nicely. He just needs one low round to make it worth your while this week.
Nathan Holman | $6,000 – Before Marcus Fraser won the Maybank Championship Malaysia, Holman fired 64-65 to lead the tournament after 36 holes. Unlike Fraser, he's much longer off the tee (he finished 39th on the European Tour in driving distance). The Aussie has made three of four cuts to start 2016. He's clearly more qualified than our next guess.
Jordan Zunic | $6,000 – Won the BMW New Zealand Open in March 2015. The 24-year old turned professional in January 2015. Hasn't really been making cuts recently though he was T9 at the Australian PGA Championship in late 2015 (tied with David Lingmerth).
Good luck this week! Head over to DraftKings to choose your squad for this week.
DraftKings Scoring
Roster size: 6 Golfers
POINT SCORING
Golfers on each team will accumulate points as follows:
Per Hole Scoring

Double Eagle (DBL EAG): +20 PTs
Eagle (EAG): +8 PTs
Birdie (BIR): +3 PTs
Par (PAR): +0.5 PTs
Bogey (BOG): -0.5 PTs
Double Bogey (DBL BOG): -1 PT
Worse than Double Bogey (WORSE DBL BOG): -1 PT

Tournament Finish Scoring

1st: 30 PTs
2nd: 20 PTs
3rd: 18 PTs
4th: 16 PTs
5th: 14 PTs
6th: 12 PTs
7th: 10 PTs
8th: 9 PTs
9th: 8 PTs
10th: 7 PTs
11th–15th: 6 PTs
16th–20th: 5 PTs
21st–25th: 4 PTs
26th–30th: 3 PTs
31st–40th: 2 PTs
41st-50th: 1 PTs

Streaks and Bonuses

Streak of 3 Birdies of Better (MAX 1 Per Round) (3+ BIR STRK): +3 PTs
Bogey Free Round (BOG FREE RD): +3 PTs
All 4 Rounds Under 70 Strokes (ALL 4 RDS UND 70): +5 PTs
Hole in One (HOLE IN ONE): +10 PTs
Scoring Notes: Ties for a finishing position will not reduce or average down points. For example, if 2 golfers tie for 3rd place, each will receive the 18 fantasy points for the 3rd place finish result. Playoff Holes will not count towards final scoring, with the exception of the "finishing position" scoring. For example, the golfer who wins the tournament will receive the sole award of 1st place points, but will not accrue points for their scoring result in the individual playoff holes.
Player Lock Notes: All golfers lock at the time the first golfer tees off on day 1 of an event.
Full rules are located here for DraftKings Daily Fantasy golf.