Established in 2009, DraftStreet.com was one of the first fantasy sports websites to offer daily and weekly games for cash prizes. Since officially launching in the summer of 2010, DraftStreet has grown at an incredible pace thanks to a wealth of game options, industry leading rewards and recruiting programs, and strategic marketing partners, such as Matthew Berry.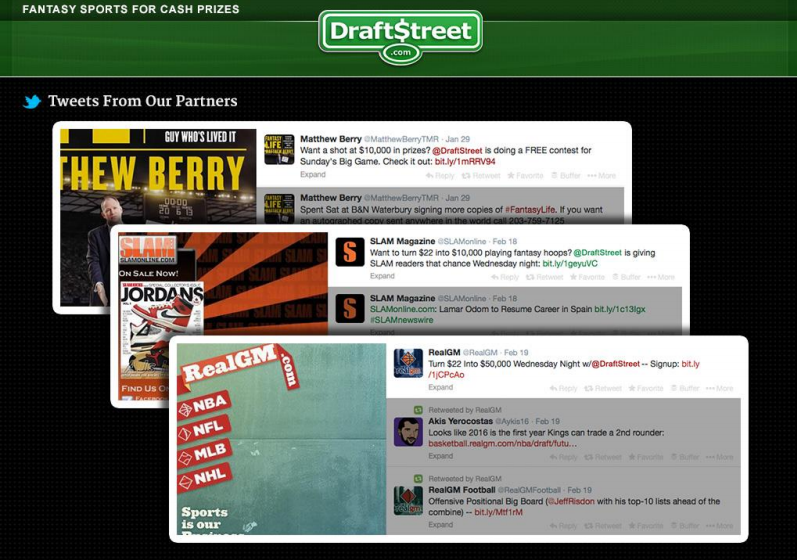 With a premier product and seasoned marketing team, DraftStreet has emerged as an industry leader and continues pave the way in a space that's quickly erupting. DraftStreet has enhanced the traditional fantasy draft styles with the addition of their Salary Cap and Pick 'em style drafts.  All of these make it possible to join hundreds of leagues within minutes.  Sports fans can now get the competitive rush and instant gratification they crave, every single day of the season.
What are Daily Fantasy Sports?
Playing daily fantasy on DraftStreet is similar to season-long fantasy in that you accumulate points based on how the players you draft perform in real life.  There are, however, a number of key differences.
Daily fantasy allows you to draft a new team every time you wish to play.  For example, when drafting a MLB team, the players could be completely different when you play tonight versus next Friday.  In their salary cap style game, each player has a cost value and your goal is to draft the best fantasy team possible while staying under the universal $100,000 cap. Once the games start, DraftStreet has easy-to-follow live scoring so you can follow your players, watch your team accrue points, and see where you land by contests' end. If you win, you're paid out immediately after the last game of the night—it's that simple.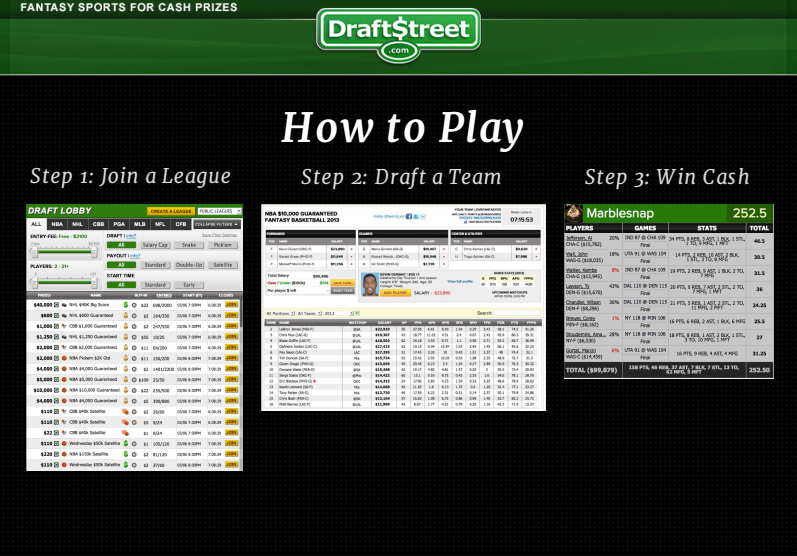 Rewards Program:
DraftStreet is the only major site to offer an extensive tiered rewards program.  The more you play, the more you get back. So, not only are you getting bonus money when you sign up through The Fantasy Fix, but you can opt into their free rewards program and earn cash back every month in the form of "Street Creds" which can be redeem for game vouchers.  This is a huge advantage over the other sites as the rewards program and bonus money makes it more affordable to play at DraftStreet over any other site in the industry.
Games Offered:
For the upcoming MLB season, DraftStreet will offer the largest variety of games, allowing you to satisfy any fantasy craving on any given day.
GPPs (Guaranteed Prize Pools):  DraftStreet was the first to coin the term "GPP" to describe their large field, big money contests where the prize pool is guaranteed no matter how many people enter.  Just to give you an idea of the humongous prize pools we are talking about here.  The winner of the DraftStreet fantasy football championship took home $1,000,000 dollars (you read that right).  The winner of their basketball championship recently won $100,000 and they just announced that they are opening the baseball season with a $100,000 GPP on April 4th that only costs $22 to enter.  They'll also be announcing a much larger fantasy baseball championship later in the year.
Snake Drafts:  A staple of the fantasy sports industry, snake drafts are exactly what you're used to in your season long leagues.  If you're not familiar with snake drafts or daily fantasy sports, they are a great way to get started.  There are anywhere from 2 – 10 person snake drafts where you alternate picks and draft among the day's superstars.  You can join at any time of day and you'll receive an email when the league is full and ready to draft.  The league begins to draft 5 minutes after the last person joins and the draft order is completely random.
Salary Cap:  We covered these early, but these are great for people who like have the option of choosing any player and have the ability to work within a budget to find great value plays at each position.  As long as you make sure you are under the $100,000 salary cap and have a player in every position, you're good to go.  You have the luxury of joining a league and filling out your roster any time before first pitch of the first game.
Pick 'em:  DraftStreet was the first to implement these games as well and they are great for beginners.  There are no salary caps, no position requirements, and no timed draft picks.  DraftStreet has pre-arranged players into separate tiers based on their projections for fantasy points that evening.  You just pick the best player from each tier and in 2 minutes you can have a winning team for the night.
Double-Ups:  Double-ups are excellent for users looking to double their entry fee without a ton of risk.  In these contests, half the field doubles their entry, while half walks away with nothing.  Double-ups are some of the most popular contests on the site, and we recommend beginners try these out to get acclimated.
League Details:
League sizes range from head-to-head all the way up to thousands of people.  You can try them out for free but the cash games range from $1 all the way up to $2100 for the high rollers out there.
Conclusion:
Overall, DraftStreet is a uniquely enjoyable experience that continues to evolve and be a trendsetter in the industry.  They'll even be the first major site to introduce soccer leagues with the World Cup this June.  DraftStreet is growing at an incredible rate with the largest social media following of any site in the industry, and the only verified account to boot.  They'll be at the forefront of the fantasy sports industry for years to come.  What are you waiting for?  Sign up now and keep checking back with TheFantasyFix.com for all the tips and tricks you need to start winning money on DraftStreet.