2013 Daily Fantasy Baseball Fix: May 8, 2013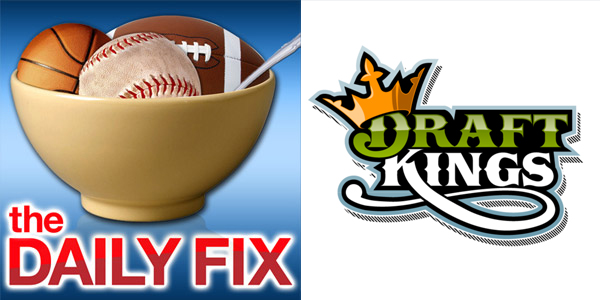 The calendar prattles on, but the good folks at Draftkings are still offering their deposit bonus for playing. Even if you've taken it in the teeth on your full season fantasy teams, you can start anew with Draft Kings. No matter how bad each day goes, you can always count on the next day for a new opportunity.
Today, we will be playing the $11 Double Up. Yes, it's big money, but you have a 50/50 shot of bring twenty dollars back. The beauty of the double up is that you don't have to be perfect to win. You can blow a starting pitcher or a couple of position players and still come out in the money.
My Lineup
Catcher: Nick Hundley vs. Ricky Nolasco  ($3,300)
One of the great things about Draftkings is they make you stay on your toes. Sometimes, the guys you want are not available. Hundley has done a complete 180 in 2013, so it is high time we throw him some love. Nolasco is a nice starting pitcher, but he isn't unhittable.
First Base: Yonder Alonso vs. Ricky Nolasco ($3,900)
Like Hundley, Alonso has been decent in his second full season and Nolasco can be hittable. You should dedicate most of your attention (not necessarily money) to your pitching. When you can save money and still make a decent play you do it.
Second Base: Dustin Ackley vs. A.J. Burnett ($3,500)
Always take advantage when Draftkings hasn't caught up with the times. Ackley was very ordinary last season, but he has started to turn things around with the bat. A.J. Burnett is not necessarily the best guy to make a play against, but again we are talking about saving money.
Third Base: Pedro Alvarez vs. Felix Hernandez ($3,800)
Again, Felix Hernandez is not the guy you want to tangle with, but Alvarez is slowly starting to turn things around on the season. He is quietly on pace to have another 30 home run season even though the batting average is low. All he has to do is connect once to make it worth your while.
Shortstop: Everth Cabrera vs. Ricky Nolasco ($3,400)
We have our third guy going up against Ricky Nolasco. The Marlins are the majors second worst team behind the Astros, so I guess it makes sense to bet against them. Cabrera has the added benefit of being able to swipe a bag or two to give you some good points.
Outfield: Hunter Pence vs. Jonathan Pettibone ($3,900)
Hunter Pence is a steady performer. He's an overpaid and overrated performer, but he is a steady performer. The advantage here is that he is taking on a younger pitcher, so there is a good chance you can get some cheap points out of this.
Outfield: Michael Saunders vs. A.J. Burnett ($3,400)
Michael Saunders has been quietly good over the last year. He has some good power and speed to match it. He won't wow you in any particular category, but he does enough of everything to be a solid play every now and then.
Outfield: Starling Marte vs. Felix Hernandez ($4,300)
Marte has gotten off to a good start this season and should be able to continue it even against the likes of Felix Hernandez. Yes, it isn't normally a good idea to start more than one guy against a staff ace, but sometimes good hitting can beat good pitching.
Pitcher: Felix Hernandez vs. Pittsburgh Pirates ($11,900)
Felix Hernandez is a legitimate ace. Sometimes, you can hit aces, but they make their hay by not allowing things to get away from them. In other words, you will get your points with Hernandez one way or another. You should get 40-50 points from your pitchers, so sometimes you have to bite the bullet and invest heavily in them.
Pitcher: Jake Westbrook vs. Chicago Cubs ($8,000)
He may be only 2-1, but he has a sub 2.00 ERA and he's going up against one of the weaker offenses in the National League. Westbrook isn't a dominant pitcher like Hernandez and others, but he is a steady performer and someone that seems guaranteed to give you some points.
Tuesday Night Highlights
It's early. At least that's what the pundits will say, but this is two years in a row the Los Angeles Angels have gotten off to slow starts. They lost to the Astros 7-6 to drop to 11-21 on the season. Sure, they are still better than the lowly Astros, but they are ten games below .500 and falling further and further behind the front-running Rangers.
Meanwhile, the Braves and Reds are involved in what could be a playoff preview. The Reds won this one as Shin Soo Choo hit two home runs (including one against Craig Kimbrel in the 9th inning). That is more blown saves for Kimbrel in the first six weeks than he had all of last season and an equal amount to 2011.
More than anything, to prove the importance of pitching, we saw three shutouts and another rainout during Tuesday action. Two of the shutouts were 1-0 games with one of them being 2-0. It looks like 2013 might be the year of the pitcher. Pay more attention to the pitching match-ups this year.
MLB.tv Game of the Day
You very rarely get great pitching match ups on top of being against two playoff contenders. The Detroit Tigers and Washington Nationals are battling with the team's top two early season starters going at it. Anibal Sanchez is outperforming Justin Verlander so far on the season while Jordan Zimmerman is besting both Gio Gonzalez and Stephen Strasburg. The Nationals need this one to keep up with the Braves.