2013 Fantasy Baseball Catcher Rankings: Will You Be Bustin' A Posey In The First Round?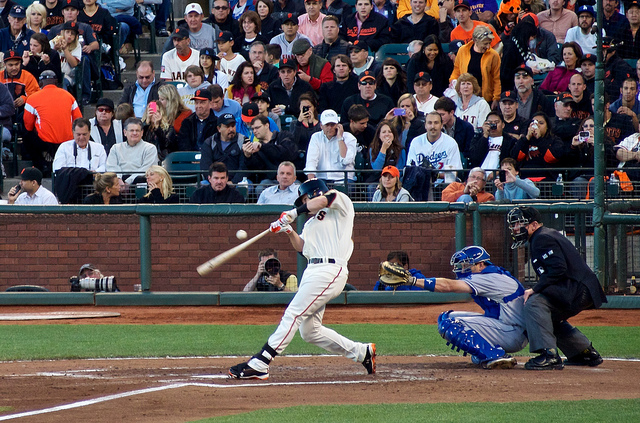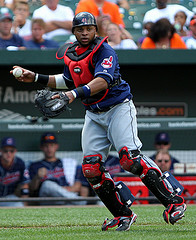 Over the next week or so we will be releasing teasers of our staff consensus rankings with the hopes that you will break the bank and purchase our 2013 Fantasy Baseball Draft Kit to see the full versions, and more importantly, show us your support.
Thanks in advance.
Here are our top ten catchers for fantasy baseball in 2013:
1. Buster Posey | C | SF
Looking for an elite catcher? Posey is your guy. But with a current ADP of ~12, you're going to have to burn an early selection to snag the reigning NL batting champ, NL MVP and World Series champion. Posey triple slashed .336/.408/.549, clubbed 24 homers and knocked in 103 runs in twenty-twelve's historic effort. He drew more walks (11.3% BB%), struck out less (15.7% K%) and hit more line drives (24.7% LD%), each of which contributed to his success. But, the Giant did seem to get a bit lucky with a .368 average on balls in play versus his career .339, so a dip in batting average this coming season isn't out of the question. First base eligibility is another plus for the soon-to-be 26 year-old, making Posey more interesting in two catcher leagues or for those who have a corner infield slot in their lineup.
2. Joe Mauer | C | MIN
Like Posey, Mauer will be eligible at first base in 2013, providing roster flexibility for fantasy baseball owners willing to invest. He's a safe bet to boost your team's batting average while contributing a healthy amount of runs (for a catcher) and RBIs. It's highly unlikely that Mauer will ever match his longball total from 2009 (28), but double-digit marks in that category seems to be attainable. Mauer currently comes with a fifth round price tag in a 12-team format.
3. Carlos Santana | C | CLE
It's not everyday you come across a switch-hitting catcher with power. Well, that's what he's supposed to be, right? Yes, he is still that guy. And although those numbers slid a bit last season, the young catcher struck out less (16.6% K%), got on base more (.365 OBP) and raised his less-than-stellar 2011 average (.239) to a mediocre .252. As of this writing Santana carries an ADP of 60, so if you're looking to acquire his services in your snake draft, you may have to reach for him in the fourth round.
4. Yadier Molina | C | STL
I can never remember which Molina is which, but this is the one whose batting average has hovered around the .300 mark in four of the past five seasons. Drafting Yadier will not only get you an everyday catcher that hits for average and has double-digit homer potential, it will also allow you to take a batting average hit at another position. Molina's ADP of 40 is still a bit expensive for my taste, especially considering the apparent depth at the position.
5. Matt Wieters | C | BAL
Wieters eclipsed the 20 home run mark in 2012 for the second consecutive year, crossed the plate more than 60 times and knocked in 83 runs. The Orioles backstop did however see in an increase in strikeouts (18.9% K%) and a dip in batting average (.249), which is a cause for concern. The power potential makes Wieters appealing to fantasy baseballers in the middle rounds, but I plan on waiting a bit longer to fill this position.
6. Miguel Montero | C | ARI
With Miguel Montero, you're getting a catcher who has posted two consecutive campaigns of 15+ homers, 65 runs, 85+ runs a .282+ batting average. He has been a well balanced contributor in four of the five traditional categories making him an ideal middle-round target with an ADP of 67.
7. Victor Martinez | C | DET
Martinez will probably slide a bit in your draft based on the fact that he failed to play a game in 2012 due to injury, but don't expect him to fall too far. A .300 average with 20 or more homers and close to 100 RBIs seems reasonable for Martinez in the Tigers' lineup should he be at 100% entering Spring Training. Don't sleep too long on this "sleeper." Current ADP: 109.
8. Salvador Perez | C | KC
Perez batted .301, cracked 11 long balls, scored 35 runs and knocked in another 35 in just 76 games in 2012. Project that output over an entire season and you have yourself a top-five backstop. Many analysts are pegging Perez to have a breakout effort in 2013, and after being named Rookie of the Year in the Venezuelan Winter Leagues, they may be right. But, I want to see him take some more walks and put a full-season together before anointing him the next best thing.
9. Wilin Rosario | C | COL
Rosario surged in the second half of 2012, finishing the season with 28 moonshots, 71 RBIs and a .270 average. He's young. He plays his home game at Coors Field and he's screaming up draft boards. Catch him if you can.
10. Mike Napoli | C | BOS
The new Red Sox backstop carries 20-homer potential, if he's healthy. There have been some obvious off-season concerns regarding Napoli's hips, so I'm not sure I'll be taking a chance on Napoli here. Wait.
In conclusion, catcher seems to be deeper than ever this season. So in a single-catcher league I'm treating this position like the "kicker" in fantasy football, I'm selecting one towards the end of my draft. Just for reference, players like Brian McCann, J.P. Arencibia, Ryan Doumit and A.J. Pierzynski each have an ADP of 160+.
Once again, you can view our staff consensus rankings and auction values in our 2013 Fantasy Baseball Draft Kit.
You can follow Alan's nonsense on Twitter @TheFantasyFix.