2013 Fantasy Baseball Daily Fix: July 7th 2013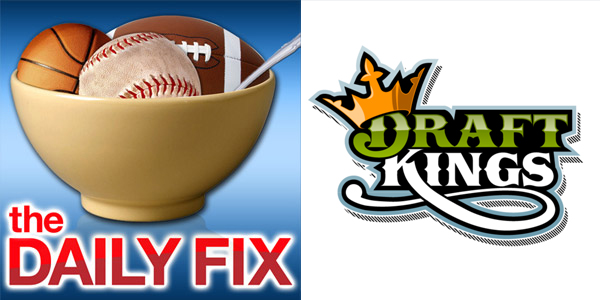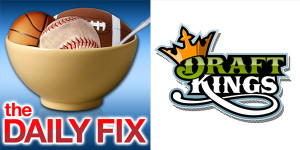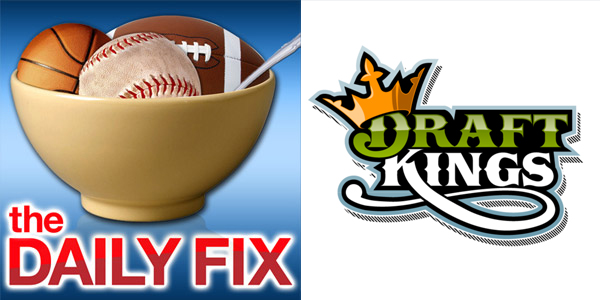 Today I will be playing the Daily Dollar (great for beginners) If you are new to @DraftKings Daily Fantasy Baseball, you can claim your Deposit Bonus here!
Before I get into my @DraftKings team of the day, here are some weather notes for tomorrow's games. –Note rain percentages aren't definitive and are best used as a reminder to check the weather status again on game-day before selecting a player from that game.
BAL @ NYY:  This game has all the makings of a big time offensive showdown. The game time temperature is expected to be 90 degrees with 53 percent humidity increasing the "feels like" to 96 degrees. In addition to the hot weather (which usually means the ball will travel), there will be 11 mile per hour winds blowing out to left field. The heat also means pitchers will likely be laboring and unlikely to throw many innings. Stay away from Jason Hammel and Hiroki Kuroda.
OAK @ KC: Similarly to the prior listed game, this one has the characteristics of what should be a offensive outpour. Another hot day; it's expected to be 94 degrees at game time. The skies, unlike the New York game, are not expected to be partly cloudy; in fact mostly sunny. There are 20 mile per hour winds expected for this game that will be blowing out to left field. Stay away from Luis Mendoza and A.J. Griffin.
Slightly different format today, as I'm going with news and notes first since there were so many; here they are:
News and Notes from around the MLB: *Note* Assume players mentioned that continued on their hot streak last night to be plays that I recommend in Daily today, in addition to the players I have selected for my team.
Injury Notes:
All-Star catcher Yadier Molina of the St. Louis Cardinals, left Saturday's game to undergo an MRI on his right knee, according to MLB.com's Jennifer Langosch. Tony Cruz will start in lieu of Molina.
Minnesota outfielder Oswaldo Arcia left Saturday's game in Toronto after being hit by a pitch in the sixth inning according to the Minneapolis Star Tribune. An MRI on his right hand came up negative but he is likely to sit on Sunday. Clete Thomas will most likely be the replacement if Arcia does indeed sit. This news however does not make Toronto pitcher Todd Redmond a reasonable daily fantasy play, as this hapless Twins team got to Dickey for six earned runs yesterday. (Sorry about that by the way).
Atlanta Braves starting pitcher Brandon Beachy (elbow) threw a successful 50-pitch bullpen session on Saturday, and will be evaluated today (Sunday) regarding when he will embark on his rehab assignment, according to MLB.com's Mark Bowman.
Seattle Mariners second baseman Nick Franklin sat Saturday with a bruised right knee. He's hitting .310 over his past 21 games and could very well sit again on Sunday. He's been an excellent daily fantasy play on Draft Kings, thanks to his good price. I would avoid him  for the time being.
It has been confirmed, according to ESPNBoston.com that Boston Red Sox starting pitcher Clay Buchholz (neck) will not return until after the All-Star break at least. This news is frustrating for his owners, as Buchholz is in the middle of a career season. He remains droppable in shallow ten team mixed leagues, as he's sure to regress once he returns.
As expected, Los Angeles Dodgers outfielder Matt Kemp sat on Saturday with an irritation of the AC joint in his left shoulder. It is unclear whether he will be in the lineup on Sunday, but given that Giants starter Chad Gaudin is notoriously tough on right handers, I would sit him regardless.
San Diego Padres catcher Yasmani Grandal is headed to the 15-day disabled list following a collision on Saturday with Nationals second baseman Anthony Rendon. The Padres official site reports that Grandal damaged both his ACL and MCL and could miss the remainder of the season.
Boston Red Sox shortstop Stephen Drew is headed to the disabled list with a hamstring injury. I am starting Jose Iglesias today and recommend him as a start until he cools down, due to his cool $2,700 salary on Draft Kings.
Unfortunately for the Pittsburgh Pirates, second baseman Neil Walker was removed from Saturday's game due to pain on the right side of his body.  The Pirates aren't giving any additional information at this time. For owners in weekly moves leagues, it is imperative that you check on his status after Sunday and before lineups lock for the week, as he could miss more time potentially. Walker has been struggling, hitting just .244 with only six home runs and one stolen base on the season. He might be worth sitting regardless.
In what comes from the same category as the Stephen Drew injury, the world is indeed round, as Phillies first baseman Ryan Howard is headed to the disabled list with a left knee injury. This is coming off an excellent month of June, so fantasy owners that had a ray of hope for the oft-injured overpaid "RBI machine" are now left scrambling for a replacement option. Darin Ruf is an intriguing daily fantasy play for today and moving forward should he receive the bulk of the first base at-bats.
Milwaukee Brewers third baseman Aramis Ramirez left Saturday's game after injuring himself on a diving catch in the fifth inning, this according to MLB.com's Adam McCalvy. He's likely sitting today, and no, Yuniesky Betancourt and his ludicrous $3,900 Draft Kings salary is not a viable option.
Big Days
Cubs: Alfonso Soriano: 2-4 2 HR, 4 RBI in a 4-1 win over the Pirates. Soriano is hitting .353 with 5 HR, 8 runs, and 13 RBI in his last eight games. He has a Draft Kings salary of $4,900. He faces A.J Burnett today.
Tigers: Torii Hunter: 3-5 1 HR, 3 RBI in a 9-4 win over the Indians. Hopefully you started him like I suggested yesterday, as he racked up 31 fantasy points. In what is obviously a selective sample, Hunter is hitting 9-18 with 4 runs a homer, and 7 RBI in his last four games.
Angels: Josh Hamilton: 2-6 1 HR, 3 RBI in a 9-7 win over the Red Sox. Don't look now but the disappointing outfielder now has a hit in 11 straight games, including three multi-hit performances. He has nine RBI and is hitting .375 over the span of the hitting streak.
Mets: John Buck and Marlon Byrd both hit homers and drove in five of New York's six runs in their 7-6 loss to the Milwaukee Brewers.
Diamondbacks: Cody Ross went 5-5 with a stolen base in Arizona's 11-1 shellacking of the Rockies. Surprisingly though, Ross didn't record an RBI, which boggles the mind.
Braves: Brian McCann went 4-5 in the Braves 13-4 drubbing of the Phillies. The veteran backstop is hitting an absurd .571 with eight runs scored, two home runs and seven RBI in his last seven games.
Royals: Jarrod Dyson went 3-3 with a walk a run scored, an RBI and two stolen bases in a 4-3 win over the Athletics. Dyson is an excellent pickup for any team in need of speed as he continues to get regular playing time.
Braves: Jason Heyward supplied the Braves with a home run and a stolen base as a part of his 2-5 performance in Saturday's win over the Phillies. He's currently hitting .310 over his last eight games.
Draft Kings Team of the Day
My strategy for my team today will be to pick elite pitching and to try and pick guys with good platoon splits and who have been hot recently. I am specifically picking on pitchers Jonathan Pettibone of the Phillies, and "couldn't get me out if I hit left handed" Giants starter Chad Gaudin.
| | | |
| --- | --- | --- |
| Pitcher | Clayton Kershaw | $13,000 @ SF |
| Pitcher | Jeremy Hefner | $7,400 @ MIL |
| Catcher | Jarrod Saltalamacchia | $3,100 @ LAA |
| First Base | Adrian Gonzalez | $4,900 @ SF |
| Second Base | Dan Uggla | $3,600 @ PHI |
| Third Base | Jeff Keppinger | $3,200 @ TB |
| Shortstop | Jose Iglesias | $2,700 @ LAA |
| Outfield | Jacoby Ellsbury | $4,100 @ LAA |
| Outfield | Andre Ethier | $3,800 @ SF |
| Outfield | Jason Heyward | $3,900 @ PHI |