2013 Fantasy Baseball Daily Fix: May 16, 2013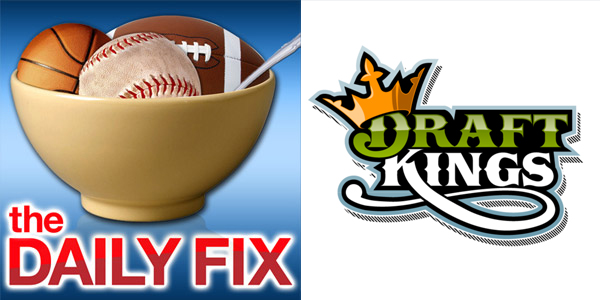 This Friday, be sure to to enter the "Spring Fling" over at DraftKings. It's your chance to turn an $11 entry fee into a $20,000 first place prize! Enter here!
The bleeding has officially stopped. Playing the one dollar play paid off, so we're going to do it again today. If you want to get in on the action, DraftKings is still offering their deposit bonus. You can get in on the action today if you want. Sure, playing for only a buck may seem lame, but the life of a public school teacher isn't as lucrative as you might think. It's enough to get my juices flowing.
That means we go back to the MLB Daily Dollar. It's only one dollar and brings some decent rate of return. Some might tell you to skimp on your pitching and go with some low salary alternatives. There are occasional bargains there, but make sure you get someone good even it means you pay a little more. On a winning team, pitching accounts for 40 to 50 percent of the total points.
My Lineup
Pitcher: Stephen Strasburg ($10,400)
Yup, he has only one win on the season. Wins account for five points in Draftkings. I want someone that I can guarantee will pitch fairly well and someone that has the potential of being dominant. That's Strasburg in a nutshell.
Pitcher: Alex Cobb ($9,400)
Last time he pitched he managed to fan 13 hitters in less than five innings (including an inning where he struck out all four hitters and still surrendered a run). Cobb is not necessarily a sure thing, but you have to take some chances and the schedule is thin on a Thursday.
Catcher: Devin Mesoraco ($3,600)
A scant two years ago, Mesoraco was one of the highest rated catching prospects in baseball. Since then he has taken a backseat to Ryan Hanigan. Hanigan has been hitting on the interstate all year, so Mesoraco is getting more starts.
First Base: Garrett Jones ($4,300)
Jones has quietly hit .300 with some pop this year as reflected in the solid 6.5 fantasy points per game rate he has going on Draftkings. Yes, that's not the best in the league, but you can't afford to the best in the league and decent pitching at the same time.
Second Base: Neil Walker ($3,900)
He's been back from the DL for a few days, so it is time to get him back in the lineup. Yes, he has struggled some, but you have to roll the dice some on Mondays and Thursdays when the schedule is lighter. Think of it this way, everyone is in the same boat as you.
Third Base: Ryan Zimmerman ($4,000)
Zimmerman has been hitting better of late. It's getting to the point in the season where it makes sense  to pay attention to trends. He normally is an equal opportunity producer, so this is a fairly solid play.
Shortstop: Jean Segura ($3,700)
Are you kidding me? Under 4,000 dollars for Jean Segura right now is a steal. He's averaging 10.8 FPPG in Draftkings because he's doing it all. He won't keep up this torrid pace forever, but he will give you the occasional steal even on a bad day, so it's a no brainer at this price.
Outfield: Carlos Gomez ($3,900)
Again, this is another scenario where a big time producer is way under-priced. Yes, there is no way he can continue this torrid pace, but even in normal circumstances he is good to hit .260ish with 20 homers and 30 steals. Under 4000? I'll take it.
Outfield: Denard Span ($3,700)
We are running out of dough, so the bread's not going to look so good. Span is one of those guys that will keep you afloat by hitting the occasional single, drawing the occasional walk, and stealing the occasional base. It's enough to keep your team afloat.
Outfield: J.B Shuck ($3,100)
I always liked Shuck when he was in the Houston system. All he did was get on base. He isn't going to hit any home runs, but he will just get on base and steal an occasional base. For the remaining 3,100 in our budget, we can't do much better than that.
Yesterday's Action
There were some interesting intra-division battles going on Wednesday. Traditionally, Wednesday is the last game of a series, so we can take some stock in what the implications are for the playoff chase. It may be May, but games in May count just as much as games in September.
Chicago White Sox vs. Minnesota Twins
The Twins have gotten off to a surprising start (18-19) while the White Sox have fallen back to the pack (17-21). Yet, it was the pale hose that were successful this day winning 9-4. Adam Dunn was the star of the day hitting two home runs. He lifted his microscropic average to .156. Yet, he has nine home runs and 18 RBIs on the season. On the Twins side, Joe Mauer continues to hit as he is now up to .349. He is an early favorite to win the batting title.
Texas Rangers vs. Oakland Athletics
Alexi Ogando goes to 6-2 on the season and lowers his ERA to 3.08 by working six innings and giving up only two runs. Meanwhile, Dan Straily continues to struggle. If there is a bright side in Oakland, it is that Josh Donaldson is quietly becoming one of the better all around third baseman in the game. Nelson Cruz and Lance Berkman did the damage for the Rangers.
Milwaukee Brewers vs. Pittsburgh Pirates
Wandy Rodriguez outduels Yovani Gallardo in this divisional battle. Rodriguez has long been one of the more underrated pitchers in baseball. Meanwhile, the work of Mark Melancon and Jason Grilli have proven that the Pirates don't miss Joel Hanrahan. Five Brewer regulars are hitting better than .300, but they managed only one run on this day. Somehow, a team with so many emerging stars is only 16-22.
Boston Red Sox vs. Tampa Bay Rays
Do you ever get the feeling that the Rays are consistently waiting for the super two deadline. Wil Myers is cooling his heels in Durham while the Rays offense sputters. Yesterday was no different as they lost 9-2 to the Red Sox. Jon Lester (6-0) and Clay Buchholz continue to carry the Sox through. Offensively, Stephen Drew was the hitting star after hitting his third home run and driving in four runs.