2013 Fantasy Baseball Daily Notes: July 12th 2013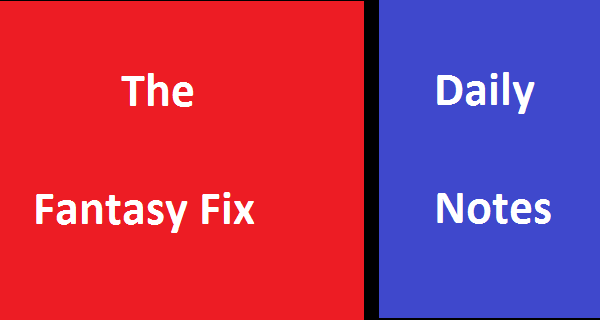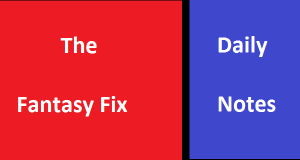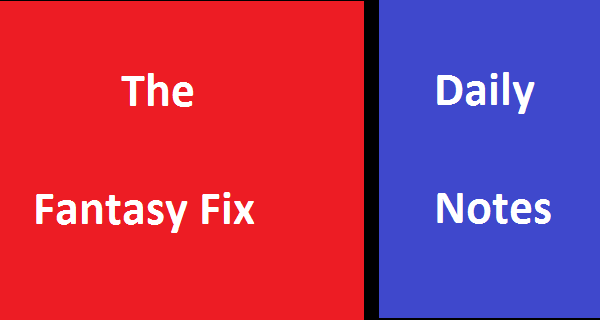 July 12th 2013
Sections: Injuries News and Notes, Three Up, Three Down, Stream-Em/Leave-Em
Pitching Injuries News and Notes:
According to MASN Sports, Washington Nationals starting pitcher Jordan Zimmermann is dealing with a sore neck and may skip the All-Star game. He is considered day-to-day. Zimmermann threw 6.1 innings Thursday, allowing eight hits and two earned runs while striking out six and walking none.
According to the Fort Worth Star-Telegram, Texas Rangers starting pitcher Yu Darvish will likely be on the disabled list for just the 15-day minimum, as the MRI on his trapezius muscle came back normal.
According to the Tampa Bay Times, Tampa Bay Rays starting pitcher Alex Cobb (head) threw his scheduled bullpen issues and reportedly had no issues. He is targeting an early August return.
Milwaukee Brewers starting pitcher Marco Estrada (hamstring) tweaked his back on Thursday. He was scheduled to return before the All-Star break, but now he'll be fortunate if he returns by the end of July. According to Milwaukee Journal Sentinel's Todd Rosiak, Estrada's Saturday bullpen session is now cancelled.
According to the St. Louis Post-Dispatch's Derrick Goold, St. Louis Cardinals starting pitcher Chris Carpenter (shoulder) will begin a rehab assignment with Double-A Springfield on Monday. This is a case of I'll believe it when I see it, in terms of my interest in Carpenter in any sort of shallow mixed league. He's extremely risky right now and isn't really even worth a stash until he proves his worth at least in the minors.
Hitting Injuries News and Notes:
According to the Chicago Sun-Times' Gordon Wittenmyer, St. Louis Cardinals outfielder Matt Holliday left Thursday's game with an apparent hamstring injury. Should Holliday be out for any significant length of time, this could be the path for playing time for Oscar Taveras. For the moment though, the playing time will be going to Matt Adams (who will man first base) and possibly Shane Robinson who will likely be the teams' fourth outfielder as they give Jon Jay, Allen Craig, and Carlos Beltran.
New York Yankees outfielder Brett Gardner had X-rays on his leg and they came back negative. He was out of the lineup on Thursday. We will continue to monitor this situation going forward but it looks for now as he's just day-to-day. Hopefully he can avoid a disabled list stint.
Atlanta Braves outfielder Jason Heyward left Thursday's game with an apparent hamstring injury, according to the Atlanta Journal Constitution. He hopes to avoid a trip to the disabled list. Unfortunately for the Braves, Evan Gattis is still coming off an oblique injury, so if Heyward hits the disabled list, Reed Johnson is going to benefit from more playing time going forward. Also, Jordan Schafer is on track to return after the All-Star break. Schafer's return gives Johnson a platoon mate should Heyward hit the disabled list. Johnson and Schafer are obviously guys who must be added in NL-Only formats.
New York Yankees shortstop Derek Jeter left Thursday's game, his first game of the season, following offseason ankle surgery, with tightness in his right quad according to the Newark Star-Ledger. It's almost becoming comical what is happening to the Yankees and all their old players. Injuries just keep plaguing this team; he'll head out for an MRI today.
Toronto Blue Jays outfielder Melky Cabrera (knee) will begin a rehab assignment at Triple-A Buffalo on Friday according to the National Post. Melky's return will spell trouble for Rajai Davis's owners. Rajai has 25 stolen bases on the season now after recording another last night.
Three-Up
Shin-Soo Choo went 2-4 with three runs scored and a stolen base. Choo is on fire lately with five multi-hit games during his nine game hitting streak. The stolen base was his second during the streak. He's on pace for his usual .280 20/20 season just like always, but this time he's on pace for 120+ runs scored.
Ben Revere went 2-4 with his 23rd steal of the season. He's got an OBP of .431 in the last 30 days, which is huge for Revere after he went through an insane cold stretch to start the year. Revere finished April with a .200/.234/.222 triple slash. He hit .312/.361/.351 in May, .354/.390/.414 in June, and is hitting .395/.395/.488 in July so far.
David Lough, Kansas City Royals outfielder, is now hitting .297 on the season and went 3-4 with a run scored in an 8-4 loss to the Yankees. Lough has been splitting time with Lorenzo Cain and Jarrod Dyson in the outfield in RF and CF. He's definitely worth a pickup now in deep mixed-leagues and if he's not owned in your AL-Only league, he's a must own. He is only owned in 0.8% of ESPN Standard leagues.
Three-Down
Jhonny Peralta went 0-3 Thursday against the White Sox and he now sports a .250 OBP in the last 15 days. This is simply Peralta regressing back to a .300 batting average. The key for Peralta this season has been his seeing more first pitch fastballs, which he hits for a .372 average over his career.
Ryan Dempster was absolutely throttled in his start against the Mariners. He lasted just 3.1 innings, allowing nine hits, seven runs (four earned) while striking out four and walking one. He needed 91 pitches to get through the 3.1 innings pitched. Our apologies for recommending him as a stream yesterday; though we did note that this type of start was coming, given his poor K;BB ratio over his ERA hot streak. We just didn't expect it to come against Seattle.
Ervin Santana got slaughtered against the Yankees, his worst start of the season. He gave up ten hits, and eight earned runs while striking out four and walking three in just five innings. Don't look now but Santana has given up 22 hits in his last three starts (18 innings). Over those 18 innings, he's also allowed 14 earned runs, struck out 14 and walked 9. Yuck. He still sports a solid 3.37 ERA and 1.11 WHIP on the season.
Stream-Em/Leave-Em
Stream-Em:
If you are in an NL-Only league and don't own Tom Gorzelanny, you should become a member of our Front Office package, I wrote about Gorzelanny likely making the rotation as soon as the horrible Johnny Hellweg was called up to start. Hellweg promptly blew up and Gorzelanny came in and pitched three solid innings of relief. Since then, Gorzelanny has recorded an excellent start against the Mets, going six innings and striking out eight. We recommend Gorzelanny against the Arizona Diamondbacks today. It is slightly risky though, but he should be fine. Gorzelanny is owned in 1.1 percent of ESPN.com leagues
John Danks vs. the Phillies; Danks has been excellent this season in terms of strikeout to walk rate. He's been missing location with too many pitches though, as he's already given up 11 home runs in just nine starts. However, Danks has given up just one home run in his past three starts, and each of those past three starts have been quality starts. He goes up against the awful Jonathan Pettibone for the Phillies. Danks is owned in just 1.7 percent of ESPN.com leagues.
Joe Saunders goes for the Mariners against the Angels. Saunders has given up just one earned run in six of his past eight starts. He's hot and worth the gamble against struggle Angels starter Jerome Williams.
Leave-Em
Nate Eovaldi has given up just seven earned runs in 24.2 innings pitched. He has just thirteen strikeouts and nine walks. Despite that, his ERA is 2.55 and his WHIP is 1.01. Even if he doesn't blow up against the Nationals, he faces Stephen Strasburg who is likely to absolutely destroy Eovaldi's Marlins.
Scott Diamond faces the New York Yankees, who are very left handed, and his success against them has been recent, and it has been good. Diamond threw 6.2 innings, allowed seven hits, allowed just two runs, and struck out five and walked one. While he has a chance to repeat that success, his last start against the Blue Jays was absolutely atrocious. He's given up six earned runs, four earned runs, and six earned runs in his last three road starts against the Blue Jays, Marlins and Nationals. He has just five innings or less in those road starts as well.
Bruce Chen replaces Luis Mendoza in the Royals rotation, but he's been all smoke and mirrors this season. Chen's walk rate is up to 8.8 percent which is astronomically high compared to his 5.9 percent mark last season. To make matters worse, Chen's strikeout rate has dipped too, down from 16.9 percent to 16.0 percent. Against the Cleveland Indians, this start has every making of a complete and utter disaster.