2013 Fantasy Baseball Daily Notes: July 23rd: Ryan Braun Suspended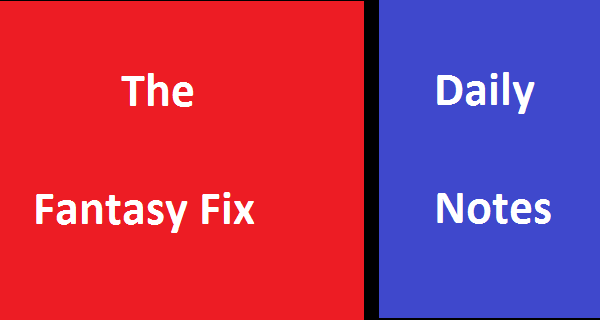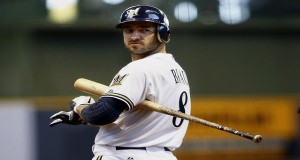 July 23rd Daily Notes: Ryan Braun Suspension
Hitting Injuries News and Notes:
Ryan Braun was finally suspended for his connections with Anthony Bosch and the Biogenesis scandal. He will miss the rest of the 2013 season. Braun took what was a plea deal of sorts, instead of serving what could've been a longer suspension, he took a suspension that will only end up being 68 games long. Logan Schafer will be the major benefactor of the playing time Braun leaves in his wake.
It should be noted that this indirectly effects the rest of the Brewers in some ways negatively, but for a few players positively. The Brewers manage Ron Roenicke has been one of the most steal happy managers in recent memory. Carlos Gomez racked up 30+ steals in the 2nd half last year, Segura nearly had 30 in the first half this year. The Brewers would like to still play the role of spoiler down the stretch, so look for a huge boost in stolen base production across the board. The player most affected by this is probably Norichika Aoki. He stole 30 bases last season, but racked up only his 11th last night.
Continuing the trend of studs going down, Miguel Cabrera left Monday's game with a sore hip. More specifically, it was diagnosed as a "sore left hip flexor" according to Chris Iott of MLive.com. We will have more on Cabrera's injury in the coming days.
Wil Myers of the Tampa Bay Rays was once again held out of the lineup with a sore wrist. Matt Joyce started in his stead.
Yoenis Cespedes also sat for the Oakland Athletics. He hasn't played in a game since before the All-Star break. His wrist injury is beginning to look more and more like it was caused by his HR Derby performance.
Pirates second baseman Neil Walker (oblique) is expected to be activated today. Nevertheless, we still don't advise rushing out to get him back in your lineups.
Marlins prospect Christian Yelich has gotten the call, and Marcell Ozuna has been sent down to Double-A Jacksonville. Yelich isn't a guy to target in shallow mixed leagues, but he must be owned in all 16-team mixed leagues or deeper. He should offer good batting average and some decent power and speed. He has seven home runs and five steals in 48 games in Double-A this year.
Pitcher Injuries News and Notes:
Pittsburgh Pirates closer Jason Grilli left Monday's game with right forearm discomfort. This could be a serious injury especially given Grilli's age (36). Mark Melancon has been absolutely terrific this season, sporting a WHIP and ERA both below 1.00. He should be added on speculation in all formats, especially Jason Grilli owners.
Former Cubs pitcher Matt Garza was traded to the Texas Rangers for third base prospect Mike Olt, starting pitcher Justin Grimm, prospect C.J. Edwards, and a player to be named later. This really helps Garza's fantasy value in terms of wins, and playing in the AL West with the Astros and Mariners shouldn't hurt Garza too much in terms of leaving the extremely weak NL Central.
Los Angeles Angels starting pitcher Tommy Hanson comes off the disabled list today and will take the mound against the Minnesota Twins.
As expected, Atlanta Braves starting pitcher Paul Maholm was placed on the 15-day disabled list Monday. The diagnosis is a left wrist contusion. Twenty-two-year-old Alex Wood will start Thursday in place of Maholm.
Cleveland Indians starting pitcher Zach McAllister will come off the disabled list today against Seattle.
Three-Up:
Boston Red Sox starting pitcher Brandon Workman pitched well enough to receive "Workman's Compensation" (a win) against the Rays on Monday, but was saddled with a loss due to being outdueled by Matt Moore. Workman has two straight quality starts as it stands, he is worth looking at now as a streamer in 14-team mixed leagues. We would like to see more of a body of "workman" from him going forward before recommending him in anything shallower than that.
Cubs centerfielder (but eligible as a shortstop in ESPN.com leagues) Junior Lake went 4-5 with a home run and three RBI Monday in a 4-2 win against the Arizona Diamondbacks. Lake is hitting 9-17 to start the season with a home run and a steal. He should be added deep mixed leagues and for certain in NL-Only.
Jayson Werth has now had two huge back to back games; Monday he homered twice for the second straight day after homering twice on Sunday as well. He is now four for his last seven with four home runs.
Three Down:
Milwaukee Brewers starting pitcher Tom Gorzelanny was obliterated Monday by the Padres. Apparently he remembered he was Tom Gorzelanny, as he gave up five earned runs on five hits in just five and two thirds innings. Gorzelanny still has been good as a starter though, as the three walks in this start equaled his walk total from the previous seven games combined!
Toronto Blue Jays starting pitcher Josh Johnson was atrocious again on Monday. He gave up five earned runs on seven hits in just two innings. He has now given up 12 earned runs in his past eight innings pitched (two starts). His ERA for the season sits at 5.66 and his WHIP is 1.57.
After giving up seven home runs in four straight games, then turning in two excellent starts at Miami and at Philadelphia, Dan Haren turned in a doozy of a performance against the Pirates. He gave up two home runs. His ERA now sits at 5.79 on the season and he needs to be left on the waiver wire indefinitely.
Stream-Em:
Jhoulys Chacin | COL | vs. MIA | 60.2 percent owned
Hector Santiago | CWS | vs. DET | 7.6 percent owned
Zach McAllister | CLE | @ SEA | 3.2 percent owned
Chris Capuano | LAD | @ TOR | 1.4 percent owned
Greg Reynolds | CIN | @ SF | 0 percent owned
Leave-Em:
Travis Wood | CHC | @ ARI | 95.3 percent owned
Jon Lester | BOS | vs. TB | 92.3 percent owned
Tony Cingrani | CIN | @ SF | 61.9 percent owned