2013 Fantasy Baseball, Hot Streak or Breakout? Clay Buchholz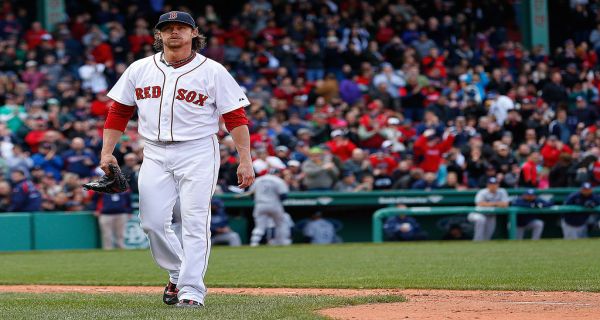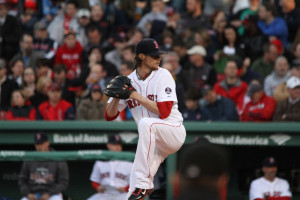 Buchholz's name has been all over the news to start the 2013 season. Buchholz leads all major league starters in ERA (1.01), and he's Top-15 in WHIP (0.96). Most impressive though, has been his strikeout rate at 27%. He currently has 47 strikeouts in just under 45 innings pitched. Is that strikeout rate legit?
Well, recently Blue Jays radio/TV guys Dirk Hayhurst and Jack Morris (both former pitchers), have accused Clay Buchholz of throwing a "spitter" – an illegal version of a change-up that involves doctored and changed baseballs or use of substances on the fingers in order to give the ball more break.
[am4show have='p4;p7;p3;' guest_error='Front Office' ]
Morris said "I found out because the guys on the video camera showed it to me right after the game," he said. "I didn't see it during the game. They showed it to me and said, 'What do you think of this?' and I said, 'Well, he's throwing a spitter. Cause that's what it is." He later added "I can't prove anything I cant prove anything."
More interesting quotes:
According to Joe Sheehan of Sports Illustrated.com, Joe had this to add about the situation: "The irony is that nobody wrote a better "how-to" explanation of using foreign substances than Hayhurst. In his book Out of My League, Hayhurst wrote about what's inside those backpacks pitchers carry to the bullpen. He wrote when describing the unpacking of the bag: "Then the real supplies came out: various goops and stick 'ems that some morally sensitive fans would call the use of cheating, while we in the business simply called having an edge." Those substances, Hayhurst wrote, include something called "Firm Grip . . . a knockoff of pine tar," shaving cream ("specifically the gel stuff") and sunscreen.
Read More, here.
There's no question Morris and Hayhurst, while speaking as Blue Jays broadcasters, have some expertise on the matter. Many others have also described Buchholz as having a "glistening forearm" and "he's doing something to his left arm this year that he didn't last year."
But let's look deeper into the numbers: Whatever Buchholz is doing, it's not aiding him too much against left-handed batters. Buchholz sports a 7.67 K/BB ratio against right handers this season, and a miniscule 1.85 K/BB ratio. What's aiding him is his unsustainable BABIP of .196 against lefties.
Or is it that simple? This is my long-term gripe with lazy analysis and BABIP numbers, especially for pitchers….
Let's look deeper into that .196 BABIP. John Farrell, former Red Sox pitching coach, and current manager, was with the club up to 2010, then left in 2011 and 2012, and is now back. Let's look at some cutter numbers from Buchholz.
| | | | | |
| --- | --- | --- | --- | --- |
| Year | Batting Avg | SLG | ISO | TAv |
| 2010 | .203 | .219 | .016 | .194 |
| 2011 | .241 | .379 | .138 | .238 |
| 2012 | .257 | .333 | .069 | .243 |
| 2013 | .139 | .167 | .028 | .168 |
John Farrell and Buchholz have clearly figured something out with that cutter. Furthermore, in addition to the above stats, Left-Handed Batters are 2-17 in At-Bats ending in a cutter (2-13 on cutters in the zone, which is a .154 batting average). Last season, Left-Handed Batters were 11-39 on cutters in the zone equating to a .282 batting average.
Here's some more food for thought to digest, for you BABIP monsters: Buchholz has a .684 BABIP against on line drives, which is exactly the area it should be sitting at. He's being aided by weak contact induced in GB's and FB's – as evidenced by the cutter numbers.
Or is it that simple?
Let's get back to that strikeout rate.
Despite his "dirty spitter", Buchholz is inducing swings at a much lower rate – 25.1% this year, and a 3-year average over 2010-2012 of 29.0%. The real deal here is his 37% Looking Strike Percentage – per Baseball-Reference.com. His 3-year average is a very rigid 27% (has not been above 28% or below 26% since 2008). As that looking strike percentage comes down (and it will), he will be getting into more unfavorable counts which will expose his fastball (.320/.637/.302/.345 last year) – (BA/SLG/ISO/TAv.)
There's no doubt in my mind that John Farrell's presence is aiding Buchholz. If Buchholz is in fact cheating (in excess to the normal levels of gamesmanship that pitchers use throughout baseball), than this could continue and result in a full-fledged breakout at a level nobody has ever seen before. But more than likely it's just a hot-streak and some minor skill improvements.
Realistically, Buchholz will probably regress for the full season to around a 21.5% strikeout rate (a career high to be sure), but have a walk rate of 10%. And as the walks come up, so will the HR's and mistake pitches. Think 2011 as his ultimate upside (3.48 ERA) but with the peripherals to back it up. But he won't be this years' Kris Medlen, because he simply doesn't have the control necessary to sustain a hot streak like this.
If you're in a league where someone actually buys Buchholz at this skill level, sell high, but in reality, you are probably reading this as a front office member because you are an advanced Fantasy player, looking to stay ahead of the curve, and you probably play with very solid owners who don't buy this at all. In that case, I'd keep him.
[/am4show]