2013 Fantasy Baseball: Pitching Targets For The Stretch Run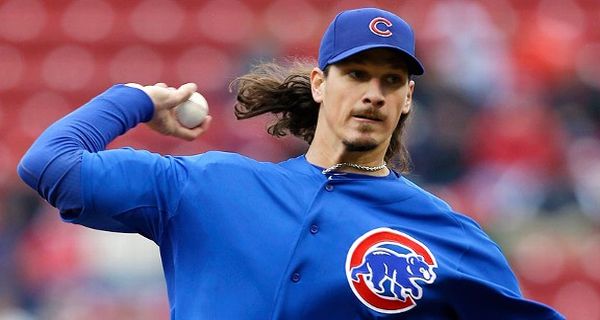 Most fantasy leagues probably have a trade deadline coming up pretty soon. The dog days of summer have been upon us for some time now and we've seen some pitchers struggle this summer while a few others have had excelled. I'm going to give you a few guys to target that could maybe help you down the stretch.

Doug Fister
Fister has had a pretty rough July so far (5.63 ERA). I've already traded for Fister in one redraft league and I'm looking to acquire him in another. Fister's velocity has stayed pretty consistent so I don't see any warning signs there. I'm thinking he is just going through a rough stretch. I usually don't put much stock into monthly splits, but July has been Fister's worst month in his career nearly every year he has been in the majors. His career numbers in August and September are all much better (3.49 and 3.38 ERAs respectively). I would buy him wherever possible.
I love the Shark. He started out the year on fire, but has seen his June struggles be amplified in July. The walks have skyrocketed in July to a whopping 13.5% versus his first three months average of 7.9%. He's simply not throwing as many strikes as he was earlier in the season. Granted, he generates a lot of swings outside of the zone. He's seen his chase% fall a little in July, but everything in the pitch mix looks fine. I'm buying hard on the Shark. He has ace potential and I believe much more in the sample size of the good results than I do this small stretch of poor pitching.
It seems like Delgado has been around for 10 years. Despite the fact that it feels that way, he's only 23 years old. He had an awful spring and was terrible at AAA, but has managed to post a 3.46 xFIP in 44.2 IP this season in Arizona. I live in Atlanta so I've seen my fair share of Randall Delgado. What has he changed since his time in ATL?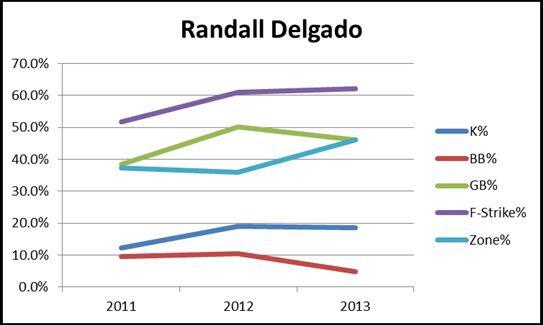 Delgado is throwing more strikes than he has in the past (zone%). His walks have also been cut dramatically. He's only walking 4.8% of the batters he faces this season which is a huge improvement over his average 10% mark in 2011 and 2012. All of this comes with a small sample size caveat due to his limited innings, but we have to analyze what's available. His GB% has gone down a little since 2012, but it's still sitting at a solid 46%. He's also altered his pitch mix a little.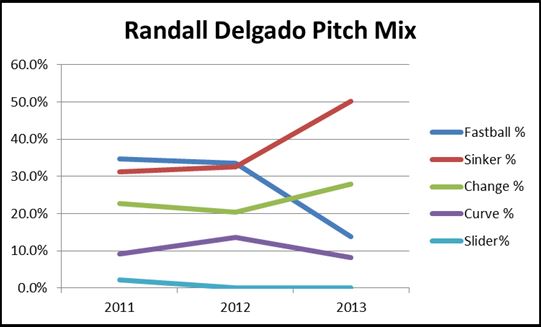 Delgado was always pretty similar to Julio Teheran in the sense that his change-up would likely end up being his best pitch at the major league level. He's utilizing it more this season. Oddly his change is also getting hit more, but I'd expect that to regress a little towards his career mean in the future. Delgado never had an ace ceiling in my opinion, but with his improved approach and new pitch mix he has possibly turned himself into a useful fantasy starter. He's available in 95% of Yahoo leagues and 96% of ESPN leagues. If you're not in the position to make a trade, be sure to keep an eye on Delgado.
I've written about Doubront before. I've always been a sucker for hard throwing lefties and Doubront is exactly that. His peripherals suggested he was much better in 2012 than where his final numbers ended up. He got off to a rough start in 2013, but thankfully the Red Sox had faith and stuck with him. That move is paying dividends at the moment. Doubront is hanging out in Boston with these numbers: 8.28 K/9, 3.86 BB/9, a 3.78 ERA, and a 3.88 xFIP. Doubront is also getting more groundballs this season than last season so that is helping him keep more balls in the yard. I would still like to see him cut his walks a little, but I like nearly everything about Doubront at the moment. He's only owned in 26% and 18% of Yahoo and ESPN leagues, respectively. Those numbers should be much higher due to his strikeout potential alone. Add him where you are able to.