2013 Fantasy Baseball, Total Run Series: Catchers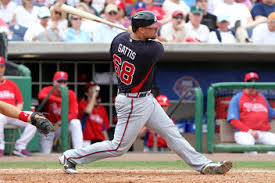 I personally love total run index, but total run index is a difficult tool to use on the fly. It is more useful during the offseason when you want to evaluate players for your draft. During the season, I look for other tools that are useful for quick evaluations. Enter Bill James' Total Runs. They can be found at his website Bill James Online. It only costs a few dollars every quarter and you can get some useful numbers you won't necessarily find at the traditional haunts.
For those that followed the total run index series, a few introductions are in order. The number looks different because it uses runs created as the primary hitting statistic rather than the offensive numbers I use. This is because he compares it with the replacement level player rather than the average like I do. His total runs include similar fielding and base running metrics as I do. For our purposes we will remove the fielding from the equation.
We will be doing this for every position. The general idea is to look at who is performing well for the first six weeks. Seeing this from a team perspective can give us an idea of who is going to be benched, who might get more playing time, and who might be looking to upgrade via trade. Sometimes you can find a match simply by looking at the numbers and using a little deductive reasoning.
The only club withheld from consideration was the Philadelphia Phillies since Carlos Ruiz just returned from suspension and no one on the roster before him was really a factor. First, let's take a look at the top 20. Players that could become trade candidates were bolded. We'll discuss those players briefly before looking at what I like to call the "trailers."
Why in the world would the Mets want to trade John Buck? I can think of two primary reasons off the top of my head. First, the John Buck we are seeing is not the real John Buck. Teams are generally more successful when they think of their players as commodities rather than human beings. It's not Buck's fault that no one has faith in him. Well, check that, he's entirely responsible.
He isn't responsible for the fact that the Mets have Travis d'Arnauld waiting in the weeds. He also isn't responsible for the fact that the Mets have about as much a chance of winning as any of the other also rans in the National League. Add in the fact that they still have a substandard farm system and you can almost guarantee a deal will done. The question will be when rather than if. When will D'Arnauld be deemed ready? I'm certain it will be before July 31st.
Similarly, Nick Hundley has surprised a number of folks. I called it before the season on TheFantasyFix.com podcast. Naturally, I didn't know much he would come back, but he gives the Padres a surplus. Yasmani Grandal will come back sometime in June to claim the regular catching job. Add in Hundley's contract and you have the recipe for a deal.
The Padres have young talent coming out of their ears, but they don't have a good cash flow situation. Chase Headley is due for a huge pay day and they are scraping all the pennies and nickels they can find to make him a franchise record offer. It may not be enough, but they have to try if they want to keep him as the cornerstone of the franchise. Otherwise, both will be sold off to continually stock a farm system that is already plentiful.
Evan Gattis is an early Rookie of the Year candidate, but Brian McCann has returned and is seemingly his old self. Gattis is playing some left field while Jason Heyward is hurt, but when he returns there won't be many spots left for Gattis. He is in the unenviable position of being good enough to be a regular catcher, but not good enough to supplant McCann or anyone else in the outfield.
So, the Braves will have to make the difficult decision of whether to move him, keep him on their bench, or send him back down to AAA. The problem there is that hot young catcher Cristhian Betancourt is poised to supplant McCann in another year or so. So, the time for Gattis is now and the Braves may never get anymore for him. The alternative is dealing McCann and hoping Gattis can hold down the fort until Betancourt is ready.
Kurt Suzuki and Wilson Ramos are sharing the catching duties in Washington. Both are good enough to play everyday, so that stands as a good position for the Nationals to be in. There may not be a deal done there, but if they feel they have deficiencies in other areas they may choose to make a deal from a position of strength. Of course, to make any deal you have to have a dance partner. Let's take a look at the trailers.
Just because a player finds himself here doesn't mean his team will want to make a deal. For instance, we've already noted that the Nationals have someone in the top twenty, so Ramos is not necessarily doing poorly. Also, the Yankees have a platoon situation with Francisco Cervelli and Chris Stewart. Additionally, some of these teams are out of playoff contention, so they won't be motivated to make a change. So, let's look at some prime candidates and discuss their situations individually.
Ryan Hanigan– Cincinnati Reds
The Reds are another team with two quality catchers. Ryan Hanigan was the primary guy last season primarily because of defense and receiver skills. He calls a good game, so the pitchers are comfortable with him. As long as he produced reasonably then he was destined to get 400 to 450 plate appearances. Mesoraco was going to have to be happy getting the remainder.
Hanigan's struggles change all of that. The Reds are going all in on a playoff run, so they can't afford to have anyone in the lineup that is this inept. The hope is that Mesoraco can tap into the pedigree that had him as one of the top offensive prospects at the catcher's position just two years ago. If that doesn't happen then they will have to look at option three.
Jose Molina– Tampa Bay Rays
Molina happens to be the least talented of the catching Molina brothers. Of course, that means he has still enjoyed quite a long career. The problem is that Molina really is a backup catcher masquerading as a semi-regular. Jose Lobaton isn't bad either, but neither is really a regular catcher at this point. The Rays simply hoped one of them would stand-up and take a hold of the position (+6).
Even with both of them we would still consider the entire group to be a trailer. Normally, having two good defensive catchers (Lobaton is actually -1 defensively) is not a bad deal when the rest of your lineup is hitting. Well, that's not exactly the case in Tampa. Their entire starting outfield and shortstop positions are also sucking hind tit.
Andrew Friedman hasn't gotten this far by making rash decisions. A lesser GM might panic and make a sudden trade for John Buck. That could end up being disastrous. So, look for the Rays to monitor the situation over the summer and act accordingly. If they can find a reasonable upgrade they will likely avail themselves of it.
Jesus Montero– Seattle Mariners
Are the Mariners in a position to trade for a catcher? Even they would not be that dumb. Mike Zunino has the look of a franchise catcher, but they want to make sure he gets enough seasoning. They wouldn't trade for someone that would block him when he is ready. What this means for him and you is that he likely will get a lot less playing time.
Kelly Shoppach does not have the offensive pedigree that Montero has, but Montero is weak defensively. He only warrants starts if he is producing and he hasn't done that since coming from the Yankees. Shoppach has some pop and can handle a pitching staff. That means that if you have Montero on your roster you might consider dropping him in favor of Shoppach.
Tyler Flowers– Chicago White Sox
The White Sox decided not to bring A.J. Pierzynski back. They thought Flowers would be good enough defensively to offset the loss in offense. He is solid defensively (+1) but offensively he has been sub-par. The White Sox are not likely to be buyers when the July 31st deadline comes. So, Flowers might still get the bulk of at bats for the rest of the season.
Still, I wouldn't be surprised if they make a run at a young catcher when they are ready to deal some veterans. If one of those is close to major league action they may end up getting serious playing time past the deadline. Who knows, maybe they will end up being buyers again. It wouldn't make sense, but little they have done in recent seasons makes sense.