2013 Fantasy Baseball Week 17 Waiver Wire: 3 to Cut, 3 to Catch, 3 to Keep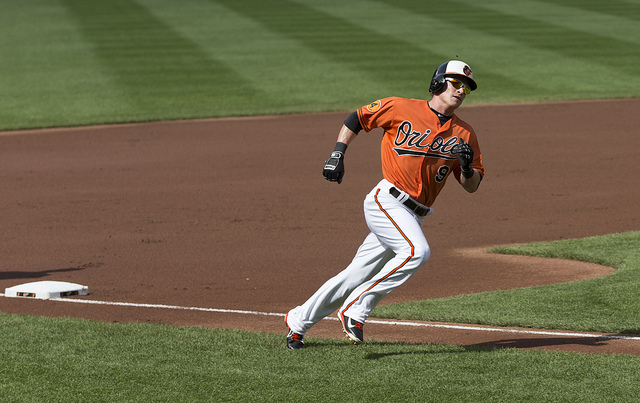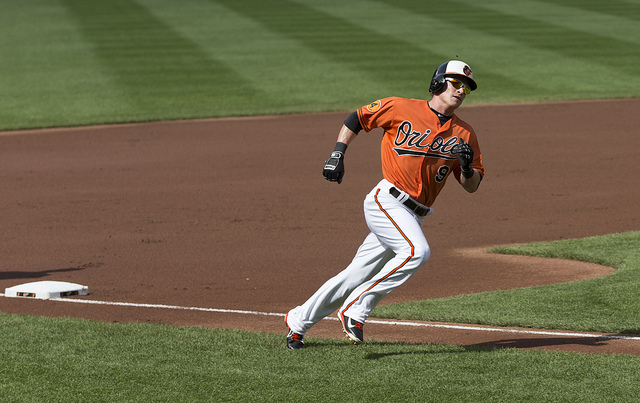 We're right on time for the Week 17 edition of fantasy baseball 3×3, where we're believing in John Lackey, buying stock in Chris Archer, and running far, far away from Nate McLouth (don't worry, he probably can't catch us).
There are plenty of waiver wire columns out there that provide an exhaustive list of the most added players in fantasy leagues. This isn't one of them. Here, we'll run down a few lesser-known, lesser-considered, or lesser-owned players, with perspective on who deserves a your attention, who deserves your patience, and who deserves to go straight to bed without dessert.
3 TO CUT
For the season as a whole, Nate McLouth ranks 20th among outfielders on ESPN's Player Rater, with over half of his value coming from stolen bases; among American League outfielders, only Jacoby Ellsbury has more.
Over the last 30 days, McLouth ranks 73rd among outfielders on ESPN's Player Rater. His strength in steals has completed evaporated; McLouth has stolen only one base in the last month. Prior to a successful steal on Saturday, he hadn't even attempted to swipe a bag since June 19th.
McLouth isn't much above replacement level in fantasy without stolen bases, and I don't see much reason to expect those steals to come back. His current full-season total of 25 is already a career high and he's never run as aggressively as this before. The closest he's come to the early season pace he set was a stretch of 22 steals in 382 plate appearances with Pittsburgh back in 2007. His Orioles are middle of the pack in the AL in terms of attempting steals, but over the last 30 days, the Birds rank dead last, trying only nine steals (and converting on just three of those attempts).
It's probably too late to trade Nate McLouth; I'd feel completely comfortable dropping him for the best speedster your waiver wire has to offer.
I'd trade/drop him for: Leonys Martin, Rajai Davis, Eric Young, Jr.
Much like McLouth's speed, Mike Napoli's power has all but disappeared after a sizzling start to the season. Napoli hit enough doubles in April and May to dent his signature into the green monster, but heading into Sunday night's action, he had just eight extra base hits since the beginning of June. His average fly ball distance has dropped from 298 feet in the season's first two months to 268 feet in the six weeks since, per Baseball Heat Maps; his HR/FB rate has predictably dipped in June and July after peaking at 22.2% in May.  Over the last 30 days, Napoli's .403 slugging percentage ranks 19th among qualified first basemen and 10th among qualified catchers.
When he's on, Napoli's fantasy value lies not only in the home runs he hits, but also in the doubles that beef up his RBI and R totals. On top of that, his approach doesn't yield many singles, which means that any dip in power production will come with a corresponding dip in batting average. His career high .378 BABIP has helped to deflect that trend, but even so, he's hitting just .257.
Napoli will bounce back to some degree, but he's not going to catch up to the pace he set earlier in the season. He's a perfect candidate to be dealt for a hitter who's moving in a more positive direction; his two bombs against the Yankees Sunday night should help grease the skids.
I'd trade/drop him for: Victor Martinez, Jonathan Lucroy, Brian McCann
I wanted to keep the faith, I really did. I love his little glove waggle and his impression of Will Ferrell's impression of Harry Caray, but Ryan Dempster just isn't a very good pitcher anymore.
His velocity's been wobbly, yet he's throwing his four seam fastball more often than ever. Unfortunately for Dempster, opposing hitters are handling that fastball to the tune of a .308 batting average and a .562 slugging percentage. He's largely turned to the four seamer at the expense of his sinker, which surprisingly enough, was actually a good decision. The sinker, which Dempster is still featuring about 10% of the time, has yielded a .758 slugging percentage. His slider is still very good and his splitter is a wipeout pitch, but neither pitch is very useful when hitters can tee off on his fastball.
Dempster's currently sitting on a 4.97 FIP, his worst since 2003. You should remember 2003. It was a landmark season for Dempster. You know, the one where his team decided he wasn't good enough to start anymore. You should remember his 2004 season too; that was the one he started in the bullpen.
I'd trade/drop him for: Ricky Nolasco, Edwin Jackson, Corey Kluber
3 TO CATCH
Chris Carter's strikeout rate isn't going anywhere. If you play in a league that counts Ks against hitters, you can go ahead and skip down to the next guy. I won't be offended.
Personally, I'm much more concerned with his walk rate. It was strong throughout his minor league career, but waned a bit in the early stages of this season. It's since bounced back, yielding a more than respectable .403 OBP over the last month. The batting average will still be terrible, but if you're willing to tolerate it, you can grab one of the best cheap power sources in fantasy baseball in 74% of Yahoo! leagues.
Carter is still baffled by breaking stuff (at least he has a sense of humor about it), but he's made a clear effort to spit on the offspeed pitches he knows he can't handle.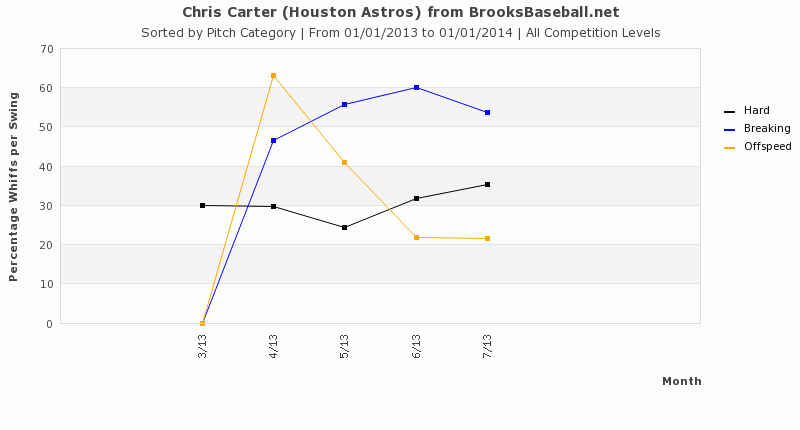 His whiff rate is still well above average on fastballs, but when he does make contact, he hurts baseballs. Per Brooks Baseball, Carter has seven homers and a .436 ISO against hard stuff since June 1, up from an already solid .257 through the first two months of the season.
To pick him up, I'd drop: Todd Frazier, Brandon Belt, Justin Morneau
Typically, I'm not one to get jazzed about a prospective closer who can't strike out more than 15% of the batters he faces and can't manage a K/BB over 2.00. However, when another piece of that pitcher's stat line is borderline historic, I'll go ahead and get jazzed, thank you very much.
The pitcher in question is of course Brad Zielger and the history in question is of course his ground ball rate, which currently checks in at an outrageous 74.6%. So far this season, no other pitcher has a GB% within even ten percentage points of him.
Ziegler is in the midst of  back-to-back seasons with a rate better than 74%. Over the last ten years, about one reliever every year breaks the 70% barrier, but nobody's done it twice in a row.
Interesting (and possibly historic) statistical quirks aside, the Arizona Diamondbacks' closer situation is in a state of dizzying, yet somehow predictable, flux. J.J. Putz is hurt because he's J.J. Putz and that's what J.J. Putz does, and the rest of the bullpen has been occasionally effective but generally inconsistent, because they're relief pitchers and that's what 90% of relief pitchers do. Ziegler, however, has been scored upon just twice in his last 19 outings and has notched saves three of his last five times he's been called in from the bullpen.
I can't claim to know what's going on in Kirk Gibson's head, but I'd bet that he's the type of manager who's less inclined to turn to an inconsistent pitcher with great stuff and more inclined to turn to a pitcher who just finds a way to get the job done. You know somebody with… ah, what's the word… oh, right… grit.
To pick him up, I'd drop: Francisco Rodriguez, Jim Henderson, Chris Perez
Chris Archer is currently at the top of ESPN's most added list. His ERA sits almost a run and a half below his FIP and just shy of two runs below his xFIP. His .238 BABIP and 79% strand rate are both shouting "REGRESSION" at a frequency that could shatter a wine glass. In short, Chris Archer's stat line looks like it belongs a much more negative section of this column.
I can't deny that he's been lucky, but his inclusion in this section has little to do with his final results and lots to do with what he's capable of in the near future.
Among starters, only Gerrit Cole, Matt Harvey, and Stephen Strasburg can boast a higher average fastball velocity than Chris Archer's 95.0. A young fire-breather will always draw the attention of fantasy owners, but in Archer's case, it's not just the velocity that's impressive; it's the slippery electricity at the plate makes his heater almost impossible for hitters to square up.
Hitters come up empty on more than 20% of their swings against Archer's fastball and foul the ball off on an additional 40%. When they are fortunate enough to put the ball into fair territory, they're more likely to pop it up than they are to drive it out of the park. Of the three other pitchers listed above, only Harvey's fastball can match those qualities.
Archer's secondary stuff is still developing and he's still honing his command, but the fact that he's been this fortunate early in his career can only help his confidence grow. He's a fantastic speculative add in all formats.
To pick him up, I'd drop: Andy Pettite, Wade Miley, Paul Maholm
3 TO KEEP
So, everybody's already clear on the whole "Hanley's been better than Puig" thing, right?
Ok, cool.
Now let's move on to the "Hanley's been better than pretty much everybody else" thing.
Since he's come back from injury, Hanley Ramirez has not only been better than Yasiel Puig, he's been better than just about every player in Major League Baseball, slashing a terrifying .390/.444/.706. The return of Hanley's groove hasn't only come from a finally clean bill of health, it's also been born from improvements in his pitch recognition.
During his disappointing 2011 and 2012 seasons, Ramirez struggled mightily against breaking stuff, slugging just .332 on over 1,000 pitches seen, per Brooks Baseball. Prior to those two seasons, Ramirez had slugged .483 and accumulated more hits than strikeouts in his career against breaking stuff. Against the 196 breaking balls he's seen this season, he's hammered his way to a .591 slugging percentage with 16 hits against only 14 strikeouts.
Ramirez' rebound is for real. He won't run enough to be the 30/30 threat that he used to be, but he's absolutely not a sell high candidate.
While I was typing this, I just saw Ramirez hitting another home run. Carry on.
I wouldn't trade/drop him for: Evan Longoria, Mark Trumbo, Ryan Zimmerman
John Lackey has never been a better pitcher than he is right now. He's never thrown his fastball harder, he's never struck out more batters, never walked fewer batters, never generated more ground balls, never posted a lower xFIP or ERA.
Lackey is succeeding by pitching on the fringe of the strike zone and not only getting hitters to chase, but limiting contact on offerings within the strike zone. He ranks ninth among qualified starters in O-Swing% and 22nd in Z-Contact. Only Matt Harvey, Julio Teheran, Homer Bailey, and Cole Hamels can match or better both of those rankings.
While it's more than a little weird for a pitcher to have his career year 11 years into his career, there's nothing in Lackey's stat line that suggests this is a fluke. You're probably not getting top-20 starter value for Lackey in a trade anyway, so you might as well ride it out the rest of way.
I wouldn't trade/drop him for: CC Sabathia, Matt Cain, Hisashi Iwakuma
After back-to-back seasons of well-rounded fantasy production, Miguel Montero has spent the whole of 2013 mired in a horrific slump. He's not hitting for as much power and his batting average has dropped by more than 50 points from the levels he'd set over the past couple of seasons.
It makes me nervous to attribute such an extended and precipitous drop to bad luck, but the changes in his batted ball numbers just don't add up to a 100 point drop in BABIP.
| | | | | | | |
| --- | --- | --- | --- | --- | --- | --- |
| Year | LD% | GB% | FB% | HR/FB% | FB Dist | BABIP |
| 2012 | 20.9% | 43.0% | 36.0% | 11.6% | 289 feet | .362 |
| 2013 | 22.5% | 47.1% | 30.4% | 11.0% | 289 feet | .276 |
His spray charts (courtesy of Texas Leaguers) from the first halves of this season and last tell the same story.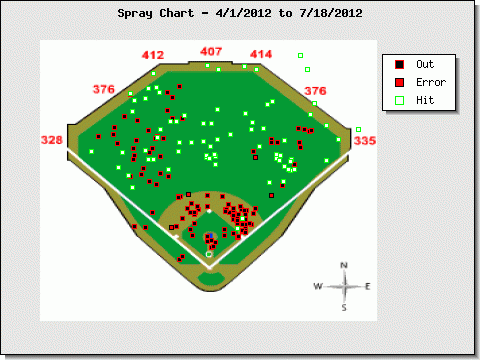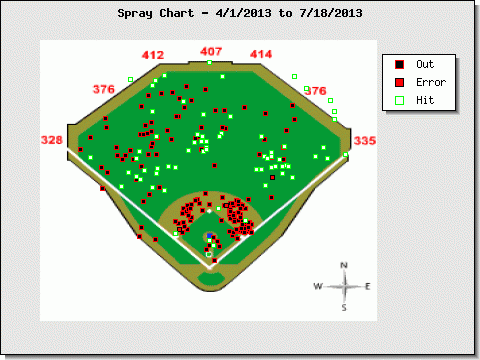 He's not hitting the ball much differently, it's just that some of the balls that dropped for his last year are finding their way into opposing mitts.
I wouldn't trade/drop him for: Mike Napoli, Salvador Perez, A.J. Pierzynski
Follow me on Twitter @gerardowrites and thanks as always to FanGraphs, Brooks Baseball, Texas Leaguers, and Baseball Heat Maps for the data.