2013 Fantasy Baseball, Week 20 Peaks and Valleys: Kershaw Cy Young of Advanced Stats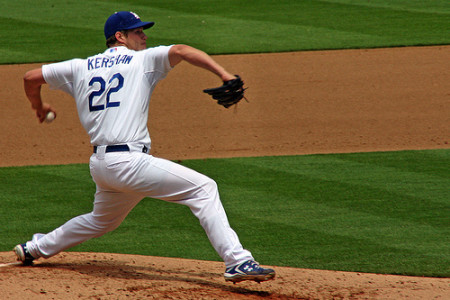 Baseball has over a month left to go before the playoffs begin, but I would like to cut off voting for the National League Cy Young now.
The race for best pitcher on the senior circuit has many names worthy of mentioning: Joe Fernandez, Matt Harvey, Adam Wainwright, and Francisco Liriano lead a list of great pitchers/stories for 2013. Even with that solid list, one pitcher is well ahead of the pack for the best in the National League and probably baseball: Clayton Kershaw.
If you ignore the 'Big 3' categories for pitchers (wins, ERA, strikeouts), Kershaw is one name that you will see towards the top of secondary and advanced statistics. Kershaw is tops in the league in complete game shutouts, WHIP, WAR (pitching and National League), hits per 9 innings, innings pitched, starts, adjusted ERA+, win probability, runs saved, and adjusted wins.
Take a breath.
Kershaw also ranks within the top 5 in batters faced, home runs per 9 innings, K/BB ratio, and complete games.
At this point in the discussion, is there anything else that needs to be said to state his case?
No. The answer is no, so please do not try.
Peaking
Alex Wood, Starting Pitcher, Atlanta Braves: Owners are still on the fence with the rookie pitcher, but need to jump on the bandwagon before it is too late. Wood has had one bad start over his last five. His start this week could be his redemption against the New York Mets after being pegged for 4 runs on 8 hits over 4.2 innings. The knock on Wood (see what I did there) is his inability to get past the 6th inning, which is tied in to the Braves stretching him out as a starter.
Tyson Ross, Starting Pitcher, San Diego Padres: 5 consecutive quality starts leading to 3 wins on a mediocre team means Ross deserves a fair shot this week. His start Tuesday will be against a Pittsburgh Pirates team currently stuck in neutral. I would start Ross with confidence.
Jose Iglesias, Shortstop, Third Base, Detroit Tigers: Iglesias was arguably the best acquisition at the trade deadline. His defense is legit, and so far, so is his hitting. After a mini-slump where he went 0-for-13, Iglesias proceeded to get 5 hits in 8 at-bats to close out this past week. He is worth an add as long as he continues hitting and can score a few runs a week for a powerful offense.
In the Valley
Rajai Davis, Outfield, Toronto Blue Jays: I mentioned Davis' limited at-bats a while back, but now the sparse chances should scare you away for good. Melky Cabrera and Colby Rasmus has dealt with injuries, and Emilio Bonifacio was shipped to Kansas City, and Davis is still in and out of the lineup. It stinks to leave 36 stolen bases on the waiver wire, but you have to.
Salvador Perez, Catcher, Kanas City Royals: If you are still holding out hope for a strong finish to Perez's season, stop. According to ESPN, Perez had a .256 slugging percentage in between his last two home runs on June 27 and August 17. The average is still good, but there is much better production available at the catcher position. At this point, I would rather have Jarrod Saltalamacchia. I hope I never type that last sentence ever again.
Jeff Samardzija, Starting Pitcher, Chicago Cubs: Owners should not roster a pitcher if that pitcher can only contribute to one category. Samardzija is a great strikeout pitcher, but nothing else.
This will be the last 'Peaks' for baseball as I shift to hockey and (maybe) football coverage. The Fantasy Fix has a ton of great coverage for the stretch run of fantasy baseball, so keep checking out TFF daily.
Follow Jeff on Twitter @jeffrotull44, and check out his work with The Sports Bank, where he covers the Chicago White Sox, St. Louis Cardinals, Chicago Blackhawks, and entertainment.