2013 Fantasy Baseball Week 26 Waiver Wire: 3 to Catch, 3 to Cut, 3 to Keep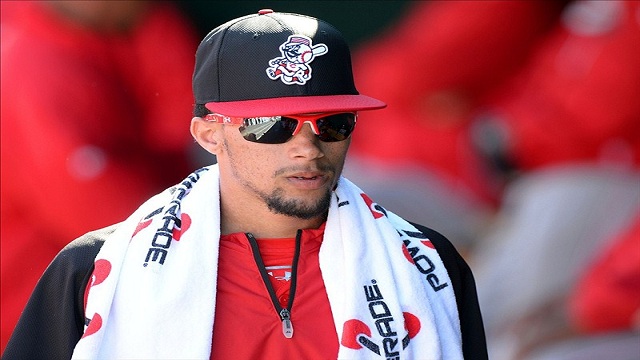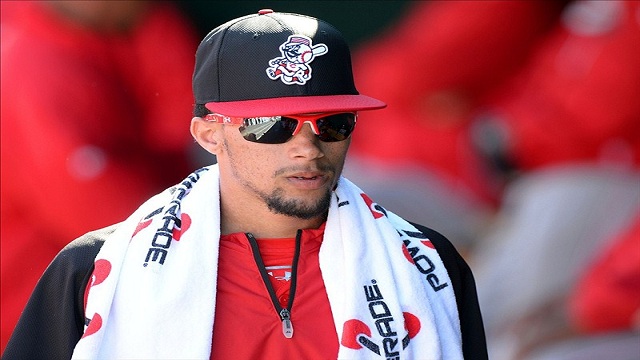 It's the last edition of 3×3 for the 2013 fantasy baseball season; where we're catching Billy Hamilton, cutting Jake Peavy, and keeping Matt Adams.
There are plenty of waiver wire columns out there that provide an exhaustive list of the most added players in fantasy leagues. This isn't one of them. Here, we run down a few lesser-known, lesser-considered, or lesser-owned players, with perspective on who deserves a your attention, who deserves your patience, and who deserves to go straight to bed without dessert.
I hope you all gleaned some useful advice from this column during the season, or at least enjoyed reading it. If you've liked what you've read, follow me on Twitter and check out my other stuff on The Fix. If there's anything you'd like to read about over the offseason or if you have any suggestions for next season's edition of 3×3, tweet me or drop it in the comments.
Thanks for reading!
3 TO CATCH
Billy Hamilton is absolutely fascinating, both as a player and a fantasy commodity. His wheels make him a generational talent, but of the five tools, speed generates the least amount of value in isolation. Unless Hamilton can hit enough to really tap into that speed or improve enough to become an elite defender in centerfield, there's no guarantee that he'll ever be a viable major leaguer.
Heading into Sunday's games, Hamilton had as many steals as plate appearances (10). In the short term, he's a must-own for any roto owner chasing points in steals.
If you're going to add Hamilton, don't try to yank him in and out based on the Reds' announced lineups; no player in baseball is as valuable in games he doesn't start. Playing Hamilton off the bench protects you from any negative batting average impact and although it limits the possibility from multiple steals, the Reds have been smartly aggressive about using Hamilton as a pinch runner late in games. Just leave him in there and watch him run.
To pick him up, I'd drop: Jean Segura, Erick Aybar, Marco Scutaro
The Chicago Cubs have moved Pedro Strop into the closer role, just to see if he can do it. This kind of move doesn't happen nearly often enough, but it makes perfect sense. There's almost no chance that Gregg will return to the Cubs next season, and if Strop can take this gig and run with it, Chicago will either have a cheap closer for next season or yet another trade chip to supplement Theo Epstein's rebuilding effort.
Strop has the skill set to be a closer and according to at least one teammate, he has the mindset as well. He pitched exceptionally well in his first opportunity, whiffing three Atlanta Braves for a perfect save. In fact, Strop has been magnificent throughout the entire month of September, registering by far his highest strikeout rate (37.1%) and lowest walk rate (2.9%) of any month this season.
It's unlikely that the Cubs will produce more than one of two save chances the rest of the way, but if you're scraping for every roto point you can get, those might just be the difference.
To pick him up, I'd drop: Kevin Gregg, Mark Melancon, Steve Cishek
One start at Seattle one at Chicago. Great bullpen will help to secure wins
Yordano Ventura doesn't just have overwhelming velocity, he has consistent overwhelming velocity:
That giddyup hasn't yet translated to strikeouts at the major league level, but with only a week to go in the season, it's worth a shot to see if it does. Ventura's gas demands a hitter's full attention, and his curveball is the kind of plane-changing pitch that can generate a ton of Ks when it's on.
Ventura has two starts this week, both on the road, but both against less-than-intimidating offenses. He faces the Mariners on Monday and the reeling White Sox on Saturday; no widely available pitcher has a better chance to notch two wins, if your league still counts that sort of thing. The Royals desperately need every win they can get, and KC's bullpen is well equipped to hold a lead after Ventura leaves the game.
To pick him up, I'd drop: Michael Wacha, Tanner Roark, Ryan Dempster
3 TO CUT
Jake Peavy has always been a fly ball pitcher, but it's become even more pronounced since the trade to Boston. He's generated ground balls on only 30.3% of batted balls as a member of the Red Sox, a rate that would rank as the lowest of his career. It's the sort of batted ball profile that plays just fine in a spacious ballpark; unfortunately for Peavy, his only remaining start of the season will be in Coors Field.
Peavy's strikeouts have been down significantly since the trade, meaning he'll be at the mercy of a lot of airborne baseballs. The Rockies aren't exactly at their offensive peak, but Coors is still Coors. If you're in a close ERA race or battling for a head-to-head championship, Peavy's last start isn't a risk I'd be willing to take.
I'd drop him for: Ervin Santana, Gerrit Cole, Chris Archer
Brett Gardner "has begun light exercises." Not a good sign with only seven days remaining in the season.
With a wildcard berth slowly fading out of sight, the Yankees will surely do everything they can to get Gardner back in the lineup, but there's really not much they can do for Gardner's oblique injury beyond just waiting until he's ready. In the unlikely event that Gardner does come back this season, it's even more unlikely that he'll run at all. Without steals, there's no reason to have him in your lineup. Gardner is droppable in all formats.
I'd drop him for: Leonys Martin, Denard Span, Angel Pagan
Welp, that was fun.
Tanner Roark announced himself to fantasy owners with three excellent September starts, including last week's six strikeout blanking of the powerful Atlanta Braves. He pounds the strike zone with a well-rounded arsenal; every one of his pitches gets a positive rating by Fangraphs' linear weights. It's a better than average outlook for the future, but it really doesn't matter too much for the rest of this season.
Roark is scheduled for two more starts, one in St. Louis, where he'll face one of the best offenses in baseball, and one in Arizona, where he'll pitch in one of the best hitter's parks in baseball. For a guy who doesn't miss many bats (his 6% swinging strike rate is more than 50% below league average), that's not a recipe for success. Unless you're desperate for innings, leave Roark on the waiver wire until next season.
I'd drop him for: Corey Kluber, Rick Porcello, Eric Stults
3 TO KEEP
Quick side note: For next season, I'm thinking about turning "Guys, we talked about this" into it's own category; I'd cover one or two players that I wrote about in earlier weeks and was right/wrong on in a big way. What do ya'll think? Let me know in the comments.
Matt Adams has maintained the everyday gig at first base for the Cardinals and just as we expected, he's continued to redistribute baseballs into the cheap seats. He's cranked five homers over the last two weeks and settled into the cleanup spot during the Cards' weekend series in Milwaukee. Assuming he stays in that spot, expect Adams to drive in plenty of runs hitting behind Matt Carpenter, Carlos Beltran, and Matt Holliday.
Adams is especially beastly at home, and wouldn't you know it, his last six games will all be in Busch Stadium; his season culminates with an especially juicy matchup against the Chicago Cubs.
I wouldn't drop him for: Mark Trumbo, Adam Dunn, Billy Butler
After a first half that earned him deserved status as the most jilted of All Star Game snubs, Hiroki Kuroda proceeded to post a second half that vindicated all of the fans, players, and managers who didn't vote him on to the team.
Ok, that's not completely accurate; Kuroda's strikeout rate actually improved in the second half, as did his home run rate. His BABIP, however, was not so lucky. An 80-point leap in BABIP has sent Kuroda's WHIP soaring, especially lately. He has only two quality starts in his last seven outings; Kuroda hasn't left a game with a clean sheet since early August.
It's not a pleasing trend, but I'll put quite a bit more stock in his increasing strikeout rate and sinking fly ball rate than than Kuroda's recent run of bad luck, especially knowing who's on his upcoming schedule. He faces the Rays on Tuesday in a mediocre matchup, then finishes the season against the floundering Astros in Houston. I wouldn't begrudge you keeping Kuroda on your bench on Tuesday, but he's a must-start for the last game of the year.
I wouldn't drop him for: Jeff Samardzija, Hisashi Iwakuma, Lance Lynn
The Pirates have shuffled Jason Grilli back to the end of their bullpen, pushing Mark Melancon into a setup role and on to fantasy waiver wires nationwide. Grilli has rehabbed his way back from a forearm strain that nearly ended his season. He was among the most effective closers in baseball before the injury and while he's not quite back to 100%, his promotion back to closer status gives him as good a chance as anyone to notch multiple saves in the last week of the season.
Grilli's lost a bit of zip off his fastball and a bit of bite off his slider, but he's still whiffing more than a batter per inning. At least for the Cubs series early this week, he should be in your fantasy lineup.
I wouldn't drop him for: Steve Cishek, Kevin Gregg, Rex Brothers