2013 Fantasy Baseball, Week 4 Tools of the Trade: Selling-Low On Giancarlo Stanton?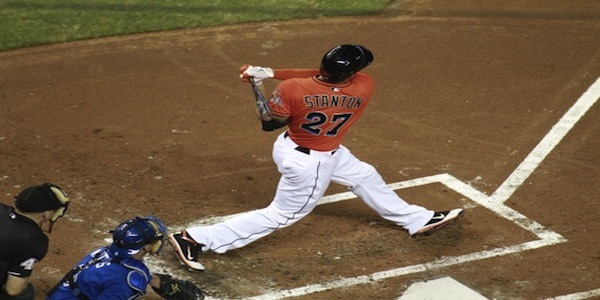 TheFantasyFix.com's "Tools of the Trade" is a unique guide for owners to use while attempting to make an even trade with their league-mates in a standard 12-team mixed, 5×5 head-to-head or rotisserie redraft league.
The values present in this guide are simply the basis for a trade. A full-blown analysis of each team's strengths and weaknesses are essential prior to proposing or accepting a trade offer.
How to use the guide: Ideally, owners will agree to a trade that will aid both sides and stay within $2-3 of each other in a one-for-one and $4-5 in a multi-player deal, according to our chart.
The Week 1 "Tools of the Trade" was free for all readers, and so is this weeks! But going forward, the "Tools of the Trade" will only be available to Front Office members. Learn the benefits of being a Front Office member here.

Without further ado, here is week 4's trade value chart:
I was listening to Buster Olney's podcast last week when he interviewed Dayton Moore, the General Manager of the Kansas City Royals, and I found that the fantasy baseball community could benefit from some of the comments Moore made. The public slammed Moore this offseason for trading one of baseball's top prospects, Wil Myers, to the Tampa Bay Rays for a package surrounding James Shields and Wade Davis. But Moore was 100% confident that his organization not only won this deal, but put themselves in a position to win now, without compromising their future.
Here are a few of the ideas/steps Moore indicated he took while struggling to deal Myers, with my added twist for fantasy purposes:
"Rank your players by position and category strengths. Remove players potentially in a deal, then reevaluate with potential addition of new players. If the deal still makes sense, do it. If you have enough talent to make a deal, then you've already done something right, and you should be happy about this. But if you focus solely on what you're giving up, it will paralyze you in a way that you won't make a deal. Focus on what you're getting and how they will help your team." -Dayton Moore
Trading isn't easy. It's fun, but not easy. Remember that you don't have to "win" the trade in order to pull the trigger. If you're improving your team, then you should pull the trigger.
Each-and-every week fantasy baseball owners send us their trade proposals and/or offers via our "Quick Fix" and Twitter to determine if the offer is fair and whether or not the trade should be proposed or accepted.
The theme of the week? Giancarlo Stanton.
Predictably, fantasy baseball owners make knee-jerk reactions early in the season due to their impatience — and more times than not, those owners sell-low too soon and miss out on said players' production that they initially anticipated.
Stanton was one of the most hyped players heading into the twenty-thirteen season as evidenced by his average draft positions of 14. So naturally, fantasy owners expect every player to come out of the gate like Justin Upton has this year.
Despite the Marlins trading most of their team to the Blue Jays in the offseason, no one anticipated a .200/.333/.255 start for Stanton with zero homers. This could be any combination of a "slow start," a lingering shoulder injury and/or pitchers giving him fewer pitches in the zone — just 36.2% (Zone%) of the pitches Stanton has seen thus far were in the strike zone.
But is it really a reason to sell the "star" for 75-to-80 cents on the dollar just three weeks into the season? Eh, Not yet.
Let's take a look at some of the deals made for this underperforming star:
@TheFantasyFix I gave Jordan Zimmermann and got Stanton in return. Couldn't pass up that offer!

— Bagio (@superbagio45) April 23, 2013
Trading an arm for a bat is difficult to analyze — especially without seeing the rest of the team. But in situations like this, hitters tend to provide more return on their value than the pitchers. A $26 Giancarlo Stanton for a $20 Jordan Zimmermann could make sense in some situations, but as much as I love JZimm, I think the team receiving Stanton got the edge here — for now.
@TheFantasyFix 12 team 5×5 roto and Giancarlo was traded straight up for Kimbrel.

— Matt Moczygemba (@MattMoczy) April 23, 2013
Again, an arm for a bat. But in this case it's a closer. Really? I know Kimbrel has been lights-out over the past few years, but haven't you heard about the "don't pay for saves" movement? The position is just too volatile. The owner receiving Stanton could be seen wearing a ski-mask on this one — even if he were to flop.
@TheFantasyFix I got Stanton 4 Gattis and League. #TYVM

— Matthew Foster (@1MattFoster) April 23, 2013
Really? The guy from the previous trade handed off his ski-mask to this owner. The Braves will struggle to fins a spot in the lineup for Gattis once Brian McCann returns and some expect for Brandon League to lose his job as closer at some point this season. Seems like a steal to me.
Have a question about our Week 4 Tools of the Trade? Leave it in the comments below.
The concept for the this trade value chart has been adapted from Dave Richard's fantasy football work at CBS.