2013 Fantasy Baseball: Will Starlin Castro Rebound in the Second Half?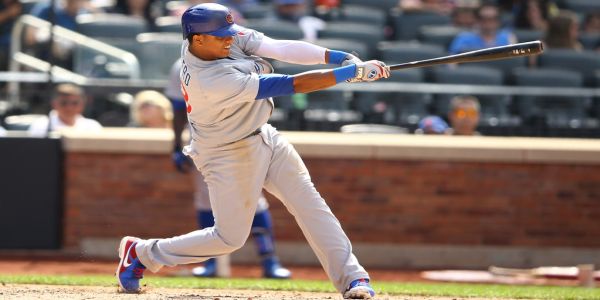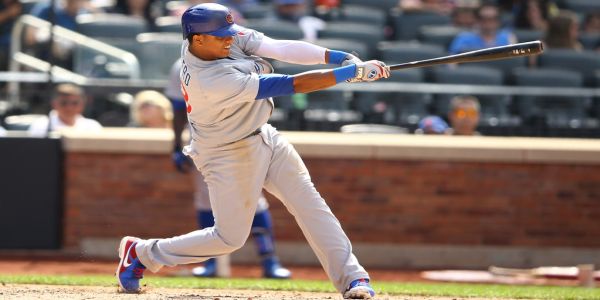 Starlin Castro came into the year with high hopes from fantasy owners everywhere. His draft position reflected the lofty goals that he had forced upon himself by having two solid seasons in 2011 and 2012 from a very shallow position. When you consider aging curves, most people expected Castro to take a leap forward in 2013. He came into year ranked 39 by Yahoo! and had an ADP of 37.4 on ESPN. If you took him around this value in your draft you've more than likely been kicking yourself for months. Unfortunately I cannot bring you any good news for the rest of the season. Castro has turned his season around somewhat in the past 14 days by posting a slash line of: .292/.346/.458. I'm not buying it. If you can get some value for him after his recent hot stretch, I would take it and never look back.
Batted Ball Profile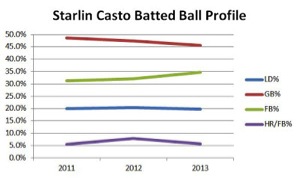 As you can see Starlin's batted ball profile has stayed pretty consistent over the past 2.5 seasons. He is hitting a few more flyballs than in the past, but those flyballs aren't leaving the yard at a very high percentage. His HR/FB% of 8% in 2012 might suggest he's getting a little unlucky in the power department, but he simply isn't hitting the ball as far.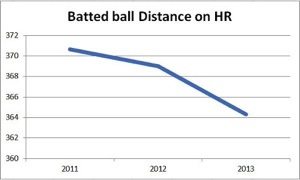 That 8% HR/FB rate in 2012 looks a little fluky now when you consider the home runs he did hit were actually shorter on average than 2011. This doesn't bode very well Castro in the future I'm afraid. Theoretically he should grow into more power, but this trend is pretty concerning.
BB% and K%
The main reason I am selling on Starlin Castro is due to his collapsing walk rate and escalating strikeout rate. Strikeouts aren't necessarily a bad thing if they're offset with more patience and power, but as we've noted above more power hasn't arrived.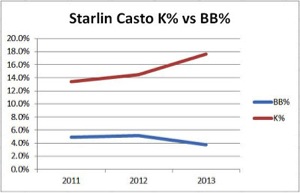 This trend is even more alarming than the batted ball distance in my opinion. Castro never walked much, but the fact that his rate was able to get even worse is definitely cause for concern. The K% has also risen every year in the majors for Castro. Both of these trends need to reverse a little for me to believe in Castro's future.
What is his Value?
Much of Castro's value is tied up in his positional eligibility and in his legs. He's running less than year and that is directly tied to his inability to get on base so far. Even though SS is seemingly weak on a yearly basis Castro is ranked just 21st on the the ESPN player rater for the 2013 season. As much as I want to believe in Castro now and in the future I just cannot. When considering the alarming walk and strikeout rates combined with the falling average distance on home runs I do not see much to believe in. Castro is young, so time is in his favor, but he'll need to adjust sooner rather than later. I see no reason for Castro to be owned in a standard ten team league, and maybe even in 12 team leagues. His keeper value has also collapsed for me. Unless you have him at a tremendous value or your setup allows you to keep a ton of keepers I see no reason to waste a keeper spot on him at the end of the year. Hopefully he turns it around, but I'll have to see it to believe it.
Written by Landon Jones exclusively for TheFantasyFix.com. You can follow Landon on Twitter @JonesLandon.