2014 Fantasy Baseball: Andrew Heaney's Newfound Value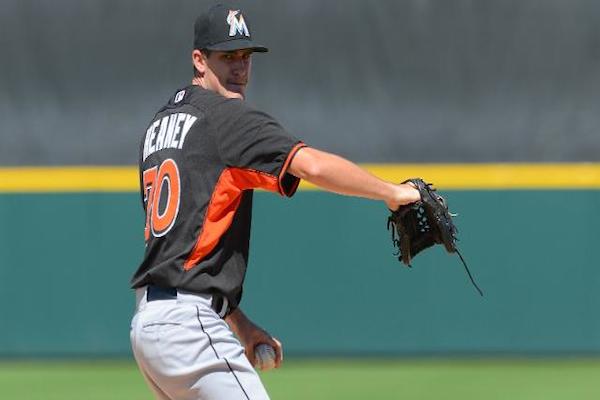 Jose Fernandez's injury is a travesty. I'm not sure I've ever felt so disheartened for a player in my life. It's unfair. It's unfair for a man to have to overcome so much (seriously, read that piece immediately after finishing this one), achieve his lifelong dream, own an entire league, and then have it ripped away. But that's life. It's baseball, in particular. We won't see Jose for awhile, at least not on a mound, but in an effort to fill his rotation spot we might see the Marlins call upon Andrew Heaney sooner rather than later.
We profiled Heaney early on. Most of that report still stands, but I wanted to freshen your memory, and perhaps my own.
Since being drafted, Heaney has always been labeled as "polished." The numbers seem to agree.
[am4show have='p3;p4;p7;p11;' guest_error='Front Office' user_error='Front Office' ]
| Year/Level | IP | K% | BB% | GB% | ERA | FIP |
| --- | --- | --- | --- | --- | --- | --- |
| 2012 – A | 20.0 | 22.6% | 4.3% | 43.3% | 4.95 | 2.23 |
| 2013 – A+ | 61.2 | 25.6% | 6.6% | 42.6% | 0.88 | 2.64 |
| 2013 – AA | 33.2 | 16.7% | 6.5% | 38.7% | 2.94 | 3.12 |
| 2013 – AFL | 27.2 | 22.0% | 8.3% | —– | 1.95 | 2.70 |
| 2014 – AA | 46.0 | 23.7% | 6.5% | 42.3% | 2.35 | 2.19 |
Heaney has torn through the minors on a mixture of stuff, poise, and moxy. His stuff is good, but it isn't ace-like. His approach, however, is fantastic and something to be marveled at.
Heaney doesn't hand out free passes. The worst walk rate of his career was 8.3%; posted in the Arizona Fall League. Aside from his stint in Double-A in 2013, he's never had a strikeout rate below 22%. His numbers scream ace, but scouting reports do not.
Keith Law's scouting report on Heaney shines a little light on how Heaney arrives at his gaudy numbers:
The Marlins' first pick (ninth overall) in the 2012 draft, Heaney showed himself to be more than just a "pitchability" lefty, working with a solid-average fastball and two plus secondary pitches as he dominated high Class A and came close to doing the same in Double-A in six August starts.

Heaney comes from an arm slot a little under three-quarters and cuts himself off slightly, but those two points both add to his deception, and the way he can manipulate the ball makes him even harder for hitters to square up. His slider and changeup are both in the upper 70s/low 80s, with the slider showing good tilt and angle and the changeup bringing good arm speed and downward fade, and he commands all three pitches.

If he threw harder and had a somewhat cleaner delivery, he'd be a top 10 or 15 overall prospect, but as is I think he's a good No. 3 starter trending up toward a No. 2 because of his control and how hard it is for hitters to pick up the ball.
So, it's fair to say Law likes Heaney quite a lot. He ranked him 34th in his top 100 after all.
Separating Heaney's fantasy value from his real life is a little tough. On one hand, major league batters are striking out more than ever so one would assume his strikeout rates would translate pretty well. On the other hand, Heaney's stuff has played up in the minors because of deception and polish. It's unclear if major league hitters will be as deceived as much by Heaney, but I'm betting they won't be.
There are two more checks in the positive column, though. First, Heaney will pitch in the NL – NL East specifically. Currently, the NL East is home to the 28th (Braves), 26th (Mets), 22nd (Phillies), and 13th (Nationals) ranked offenses. The NL East isn't exactly a murderer's row at the moment. Second, Heaney gets a fair share of groundballs, but it's not an overwhelming number. Luckily for him – and every other Marlins' pitcher – balls don't leave the yard very often in Miami.
If Heaney isn't called up to replace Fernandez, it won't be long before he's donning the black and orange (I guess those are their main colors now?). I'm not expecting a world beater, but I'm expecting an adequate fantasy starter. Steamer sees roughly the same thing. The projection system projects the following: 7.15 K/9, 3.30 BB/9, 4.14 ERA, and 4.05 FIP. Not too shabby for a rookie.
If you're looking for an immediate comp – based on the projection above – Zach McAllister seems like a decent one. As does Jose Quintana. Perhaps Dallas Keuchel fits as well. Of course, given his age and pedigree, there is always upside for more.
In short, Heaney should strike out a respectable number of batters and not beat himself by doling out free passes as if they're candy on Halloween. His ability to command all three pitches – I'm a sucker for a good change-up – should help his immediate impact. He won't save your rotation, but he shouldn't do much damage to it either.
If you're looking for help and the wire seems a little thin, Heaney could be a nice back-end option immediately after he receives the call.
[/am4show]