2014 Fantasy Baseball: Breakout Players — Center Fielders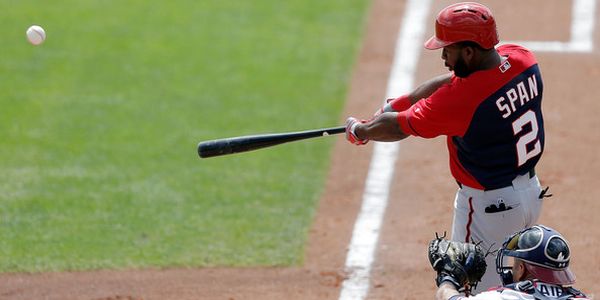 Center field is easily the glamour position in baseball. If you don't believe me, then simply look at the preseason rankings. The top player on the board was a center fielder and two of the top five guys were center fielders. Of the top six performers at the position this season, five were drafted in the top 75 in Yahoo leagues. Obviously, looking for unsung heroes is going to be a bit challenging.
But Ben Revere fits the bill. If the season were to end today, he would be the winner of the batting title in the National League. Granted, he has little to no power, so his overall value is limited. But when you consider that he was a waiver claim in most leagues, that is a pretty substantial surprise. Sadly, he isn't eligible for our little exercise because he is not currently among the top six in wRC.
In addition to runs created, we will look at the standard five fantasy categories. Additionally, we will take a look at runs produced. Runs produced is calculated by adding runs and RBI and then subtracting home runs. As we have seen, 150 tends to be the benchmark for a good season, but we will see a couple of guys that might shatter that mark by the end of the season.
| | | | | | | | | |
| --- | --- | --- | --- | --- | --- | --- | --- | --- |
| | PRE | AVG | HR | Runs | RBI | RP | RC | SB |
| | 1 | .286 | 31 | 93 | 100 | 162 | 107 | 14 |
| | 4 | .303 | 21 | 72 | 72 | 123 | 97 | 17 |
| | 13 | .287 | 24 | 80 | 81 | 137 | 89 | 7 |
| | 20 | .282 | 21 | 85 | 65 | 129 | 84 | 29 |
| | 303 | .301 | 4 | 87 | 32 | 115 | 77 | 28 |
| | 75 | .286 | 18 | 59 | 67 | 106 | 76 | 8 |
As you can see, the top four pretty much hold serve with where they were drafted. Interestingly enough, you'll notice that Mike Trout holds the top spot, but if you compare his season with the past couple of years, he is showing signs of slippage. He isn't a stolen base threat anymore, and he's hitting under .300 for the first time in his career. Still, he is the best offensive player in baseball. Unfortunately, he is about the last guy that would qualify as a breakthrough player.
Breakout Player of the Year: Denard Span– Washington Nationals
This one is basically by default. Span went undrafted in a majority of leagues. That seems insane given that a lot of leagues have five starting outfielders. True, 32 RBIs at this point in the season is a ridiculous sum, but he is on pace to score 100 runs, steal more than 30 bases, and hit over .300. I wouldn't necessarily want him as a front man on my fantasy team, but if I had stud corner outfielders (say Giancarlo Stanton), then I would be perfectly happy with Span as my center fielder.
That's how these things go. The key is not to look at the raw numbers necessarily, but the performance as compared to expectation. Span is playing like he did early in his career in Minnesota. Most abandoned him when his performance seemed to slip every single season. Sure, a .300 hitter with 30 steals and 100 runs might not look fantastic, but as a waiver wire addition, that's fantastic.
Runner Up: Matt Kemp– Los Angeles Dodgers
This is where we get into murky territory. Matt Kemp entered the season overrated. Too many people drafted him thinking he would be the guy he was in 2011. He isn't that 40/40 guy anymore, but Kemp has been a beast in the second half. He's hit .309 with 10 home runs and 32 RBIs. That has come in less than 200 plate appearances. If you extrapolate that over a full season you are looking at 30+ home runs and 100+ RBI.
This creates an interesting dichotomy that is rarely seen. On the one hand, you have a player whose numbers are not equal to where he was perceived before the season. Yet, his recent production gives fans of the Dodgers and fantasy players alike some hope. He likely will surpass 20 home runs on the season and he may get his average close to .300 by the end of the season. That's nothing to sneeze at, but the best thing about his season has been the strong finish.
Honorable Mention: Carlos Gomez– Milwaukee Brewers
Again, we are looking at slim pickings. It isn't because there aren't enough good centerfielders. Gomez is one of the best fantasy players out there. He gives you power and speed and is a part of one of the more prolific offenses in the game. Can you imagine someone that will likely hit 25 home runs and steal more than 30 bases being the fourth best player at his position? In a traditional five by five league he might actually be more valuable than Adam Jones.
He gets the nod here because he had only one good season coming into 2014. There's always the chance that he would turn back into a pumpkin, but he has continued to improve just the same. This is all while the other big time names in that offense have been fading. It has taken the likes of Khris Davis and Scooter Gennett to keep them among the top offensive teams in the league.