2014 Fantasy Baseball: Dumpster Diving — Ryan Hanigan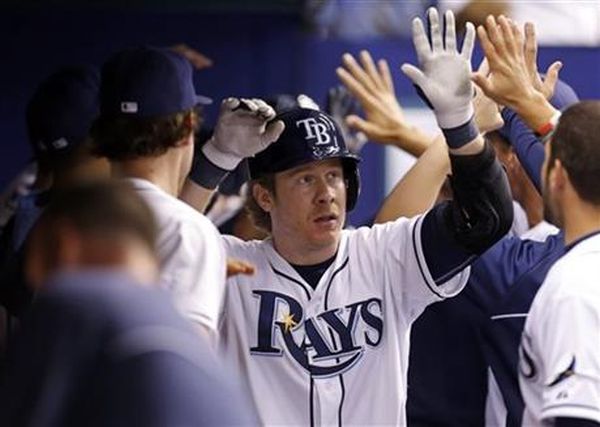 Depending on the league you are in, dumpster diving is a pastime that could lead you to the playoffs in your league. Some leagues limit your moves, but even then it pays to pay attention to your waiver wire. You can think of the waiver wire the same way that stock brokers look at stocks. Some stocks are the kind you hold onto for years and use them to stabilize your retirement. Others are the kind you hold onto for days or weeks at a time.
Fantasy players can be put into the same category. The key thing to remember with all players is that their numbers for you are the only ones that matter. So, if you pick up a player that is coming off of a hot streak then you probably are going to get burned. If you pick up a player who's numbers are artificially low then you may win in the end. So, we'll take a look at some players that fit that bill at the catcher position this week.
There are some numbers that are important to look at this time of year. The most important is batting average on balls in play (BABIP). The typical BABIP is normally around .300, so anything significantly lower is someone we might target to add. Someone that is performing well above that might be someone we target to dump. Our first player profile goes to Ryan Hanigan of the Tampa Bay Rays. He is still owned in only one percent of leagues despite a two home run game on Saturday. Was that a mirage or can we expect more from Mr. Hanigan (numbers as of Sunday April 20th).
AVG: 243
HR: 3
Runs: 4
RBI: 11
BABIP: .222
It usually is a bad idea to acquire someone after one big game, but Hanigan has a low BABIP even in comparison with his whole career. His career BABIP sits at .282 which would lead you to believe that he should continue to bounce back. Most fielding metrics also have him as above average, so it makes sense for him to continue to get playing time for the Rays. He may get 60 percent of the starts and that is enough to get 400 plate appearances. However, these aren't the only numbers to pay attention to.
LD%: 23.3, 22.0
GB%: 30.0, 49.1
FB%: 46.7, 28.9
SO%: 16.7, 10.2
BB%: 11.9, 12.0
The first number represents what he is doing so far early in the season and the second number reflects his career average. The line drive rate is well above average and should point to a better BABIP than what he has. Furthermore, the flipping of the groundball and fly ball rate would seem to indicate this his BABIP should be well over .300. In the short term, a lot luck is usually involved. In fact, all of these numbers point to someone that should be doing better than what he actually is. Hanigan looks like a guy that should be hitting .280 and if he were, those three home runs and 11 RBIs (at this point in the season) looks like an excellent guy to keep around.
As we begin this series, it is important to remember that if we estimate Hanigan finishing at .280/10/50/60 then he will have to hit better than .280 from here to get there. He might finish the last several months hitting around .300 and if you pick him up now then that will be the Ryan Hanigan you know. The one that hit .240 to this point won't count on your numbers. It takes some adjustment, but that is the kind of mindset you need to have on all of your guys. Some of them you will ride like you would blue chip stocks. Others you use while their hot and then go with someone else. Hanigan is a guy that is due for a hot streak.