2014 Fantasy Baseball: First Mock Draft Impressions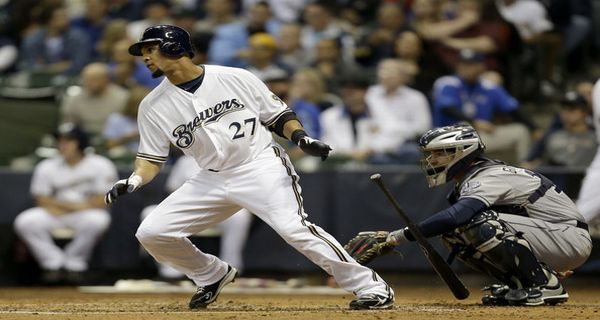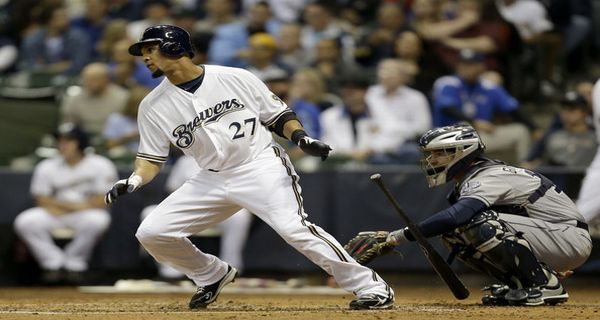 Last week I had the fortune – thanks to Howard Bender and his #MockDraftArmy – of participating in my first mock of the 2014 fantasy baseball season. It was a neat experience for me because I was able to draft with people whom I read often. I didn't begin writing publicly until late last summer, and I might not have at all if my girlfriend didn't encourage me to finally give it a shot. Apparently she felt others might be interested – not just her while we eat dinner.
As a result of my late foray into writing last season, I did not get to participate in one of the best parts of fantasy baseball – mock drafts – with other writers. I'm taking the premise for this piece from Fangraphs' Brad Johnson, who was also in this mock draft. Much like him, my mock is chock full of regrets, but the end result wasn't quite as terrible as I originally thought.
For a little background, on the draft, in case you haven't read Brad's piece yet:
We kept things short and simple; a 23 round snake draft with standard deep league positions, no bench, and 5×5 scoring. You can find the complete results here, which range from Mike Trout at pick 1-1 to Fernando Rodney at pick 23-12.
Pretty straight-forward stuff. If the link to the mock results in the quote above doesn't work, try this one.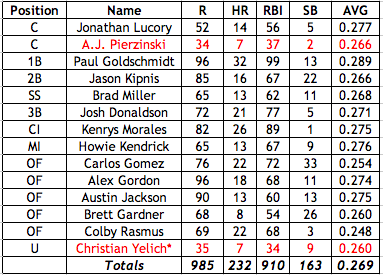 I've highlighted Christian Yelich and A.J. Pierzinski in red because their Steamer projections are rather light on games played, 86 and 81 games played, respectively.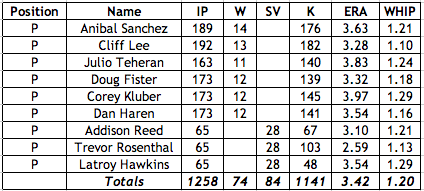 Once again, all caveats used are the same as Mr. Johnson:
The reported statistics are Steamer projections. For the average, ERA, and WHIP categories, I just pretended every player had equal playing time. I could have weighted things by at bats or innings pitched, but why spend the extra 3 minutes?
I'm somewhat pleased with my team – which I picked from the fourth spot in this snake format –  especially my pitching, because I believe Julio Teheran, Anibal Sanchez, and Corey Kluber all have the potential to blow past their respective Steamer projections. Much like Brad, I wish I had a few picks back, but alas.
I loved getting Goldschmidt at pick 4 because I value him a little more than McCutchen. But my favorite offensive pick was likely Carlos Gomez in round 3. It's not a huge discount, but I'm a huge believer in him going forward, and I was shocked to see him there in a 5-OF league. Pegging Brad Miller as a starter could be a little risky, but I'm a believer in his skills, and I'll take all of the multi-category contributors I can get.
A few of my later round power bat targets – Anthony Rizzo & Brandon Moss, specifically – slipped through my grasp, so I was happy to be able snatch both, Colby Rasmus and Kendrys Morales later on. I always somehow end up with more speed than power, and looking back I wouldn't have taken Yelich or Brett Gardner when I took them. Yelich in particular was a last minute decision because I could not make up my mind on my pick as time expired.
I'll feel like I'm just mimicking Brad at this point, but despite my negative feelings about the draft, the totals projected aren't awful. I wish I had a little more flexibility, but that's always going to be the case. While I have some sure things, I also feel like there is plenty of upside for the majority of my team.
One of the drafters in the league, Spencer Silva, took the time to project the standings based on Steamer projections. The projected standings can be found here. As you can see, my worries about not getting enough power came true, although a projected fourth place finish is still decent.
Mocks are fun. There is no pressure, but I'd be lying if I said I didn't want to have a good draft considering I was getting to mock with writers that I have long admired. Doing mocks are not only fun, but they also allow you to craft your strategy and try different routes to make the most optimal teams. You'll often make mistakes – as will I – but it's best to try to get those out of the way early on, say February or early March?
Best of luck to you in the next few weeks, and feel free to ask me any questions about ranks or drafts on Twitter @joneslandon.
'Til next time.