2014 Fantasy Baseball: Is Jose Altuve Overvalued?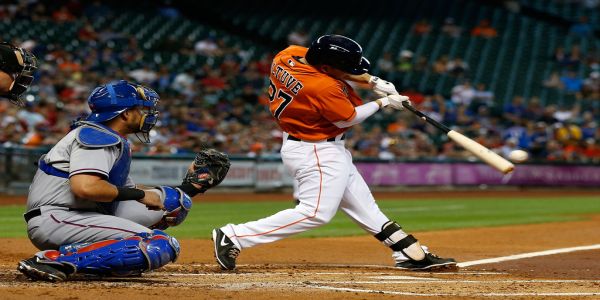 I had an interesting twitter exchange with another fantasy writer this week and it got me to thinking. He assumed that I was a fantasy writer first and a sabermetrician second. Actually, the reverse is quite true. It's difficult sometimes to separate the two and when we fail, we usually end up bringing up the rear in our league standings. Simply put, what is valuable in real life is not necessarily the same as what is valuable in real baseball.

One need look no further than second base for an example of this phenomenon. Sometimes, a little more is involved. In 2011, Jose Altuve burst on the scene in Houston and there was a lot of hype surrounding him. He was the little engine that could. Standing only 5'5" (officially), the baseball world was captivated by him. He signed for a pittance in comparison to other international stars, but all he did was produce at the minor league level. So, the excitement is certainly understandable and it continues to this day.
In order to prove this point, let's compare him with another second baseman with a similar track record and see which player really would be the best bet in terms of fantasy production. First, we will take a look at the last four seasons (as long as Altuve has been up) and simply look at the basic numbers (including walks).
| | | | | | | | |
| --- | --- | --- | --- | --- | --- | --- | --- |
| | PA | AVG | HR | Runs | RBI | SB | BB |
| Player A | 1682 | .284 | 15 | 183 | 111 | 86 | 89 |
| Player B | 1865 | .302 | 26 | 223 | 203 | 44 | 99 |
One of the problems with approaching baseball from a sabermetric perspective is that you suddenly start looking in terms of overall value. This ignores one of the tenants of fantasy baseball. It pays to pay attention to categories and here we see that Player A has a big advantage in stolen bases. Keep in mind though that we are looking over a three plus year period. When we look at it otherwise, the players are either neutral (runs and walks) or Player B is superior (average, home runs, RBI).
Of course, this is where the observant among you would point out that Player B has more plate appearances. You would expect him to have more counting numbers (home runs, runs, RBI, SB, BB) than Player A. However, over the course of those three plus seasons, and extra 200 plate appearances doesn't amount to as much as you think. Yet, to appease those folks, we will take a look at the players' per 162 average. Player B has some additional time under his belt, so his average will look a bit different.
| | | | | | | | |
| --- | --- | --- | --- | --- | --- | --- | --- |
| | PA | AVG | HR | Runs | RBI | SB | BB |
| Player A | 702 | .284 | 6 | 76 | 46 | 36 | 37 |
| Player B | 632 | .291 | 10 | 75 | 70 | 12 | 38 |
For those that haven't guessed, Player A is Altuve. Now, there is nothing wrong with having that kind of production from your starting fantasy second baseman. There aren't that many that will give you more than 30 steals and 700 plate appearances in a season. Altuve is as durable as they come and he is fairly consistent across the board. The question is how much stock you should put in a player like him. I'm an Astros fan and I love the idea of a little guy that overcomes adversity and that jazz, but I have to try to be as dispassionate as I possibly can be.
I remember discussing Player B with a fellow Astros fan and that fan said he wanted no part of him. He wouldn't be interested. Player B's per 162 OPS stands at .757 to Altuve's .701. He also is a superior defender even though it is more because Altuve is significantly below average. So, what gives? Player B happens to be Daniel Murphy of the New York Mets. As of this writing, only 78 percent of Yahoo owners own Murphy and I imagine maybe half of those play him every day. Altuve is owned by 94 percent of Yahoo owners and probably all of them start him.
So, here is the burning question: is Altuve more superior simply because of the stolen bases or are people missing out on Daniel Murphy because he doesn't have any one superior skill set. We know he is significantly superior to Altuve two of the other four major categories and roughly equal in two more. If you are looking at this from a global perspective, Murphy is the superior player. Yet, this is where we separate real baseball from fantasy baseball. In fantasy baseball, steals matter far more than they do in real baseball. For the data driven fan, that is a pretty significant adjustment.