2014 Fantasy Baseball: Javier Baez Promoted by the Cubs
The Chicago Cubs sport a 47-63 record and are destined to finish as cellar dwellers of the NL Central once again. In other words, all is normal for the Lovable Losers. While at first glance it would appear Cubs fans have little to look forward to the rest of the year, a beacon of hope arrived in the form of a simple tweet yesterday afternoon.
Congrats to my brother @javy23baez on getting called up! Welcome to the show baby!!

— Gadi Baez (@OMGADI) August 4, 2014
With that tweet, speculation on the potential call-up of Javier Baez ran rampant before it was quickly confirmed by Bruce Levine that Baez would indeed be called up to the Cubs roster prior to today's game against the Colorado Rockies. The Cubs already called up less-touted prospect Arismendy Alcantara a couple weeks ago and it appears the team is set to give Cubs fans glimpses of the promising future. Baez was the ninth overall pick out of Arlington Country Day (FL) HS in 2011, and he has risen through the farm system rather quickly. According to MLB.com and Baseball America, Baez was ranked as the fifth ranked prospect in all of baseball prior to the 2014 season.
The 21-year-old Puerto Rican has justified the hype by putting up a triple slash line of .260/.353/.510 to go along with 23 home runs, 80 RBI, 64 runs, and 16 steals over 104 games at Triple-A Iowa this year. Take a look at Baez's statistics the last three years in the minors in the table below.
| | | | | | | | | | |
| --- | --- | --- | --- | --- | --- | --- | --- | --- | --- |
| Year/Stat | HR | RBI | R | SB | AVG | OBP | SLG | BB% | K% |
|  2012 (A) | 12 | 33 | 41 | 20 | .333 | .383 | .596 | 3.8% | 20.4% |
| 2012 (A+) | 4 | 13 | 9 | 4 | .188 | .244 | .400 | 5.8% | 24.4% |
| 2013 (A+) | 17 | 57 | 59 | 12 | .274 | .338 | .535 | 6.2% | 23.1% |
| 2013 (AA) | 20 | 54 | 39 | 8 | .294 | .346 | .638 | 7.9% | 28.8% |
|  2014  (AAA) | 23 | 80 | 64 | 16 | .260 | .323 | .510 | 7.8% | 30.0% |
|  Totals | 76 | 237 | 212 | 60 | .268 | .326 | .531 | 6.5% | 26.1% |
In 2013, Baez hit .282 with 37 homers, 111 RBI, and 20 stolen bases split between Single-A and Double-A as a 20-year-old. You could say he's pretty talented. By breaking down the table, you can quickly see that Baez excels when it comes to power as evidenced by his 76 homers and .531 SLG%. His .263 ISO (not on chart) during his minor league career is rather impressive as well. Not to mention, he has some speed to boot as well. The power/speed combo often leaves fantasy baseball owners foaming at the mouth just thinking about the possibility of owning such a talent. The (soon-to-be) rookie possesses behemoth power as scouts gave him a 75 grade on a 20-80 scale. He also consistently demonstrates lightning-quick bat speed, which you can see in the following GIF. It's hard not to admire that gorgeous follow through.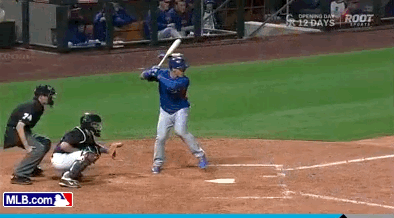 His batting profile does raise some cause for concern in certain areas of his game, though. Striking out 30% of the time is going to severely limit his ability to hit for average as rookie George Springer can attest, but as long as he provides power, owners will be able to stomach a sub-.250 average. Considering he hit .278 in the minors, it's a fair baseline to set. The average walk rate in MLB is 8.5 percent, so Baez could stand to improve a couple percentage points in that area if he wants to improve upon his career .326 OBP.
Although he's gone through the minor league system primarily playing his natural shortstop position, Starlin Castro isn't going anywhere this year and Addison Russell looks to be the shortstop of the future after being in the trade that sent Jeff Samardzija and Jason Hammel to the Oakland Athletics. Baez has been getting starts at second base in the minors in anticipation of finding a spot for him in the Cubs starting lineup, and his arrival will push Alcantara to center field.  The youngster has managed to post a .976 fielding percentage when playing second base this year so he should be able to hold down the fort. Baez is already eligible at SS and depending on the format of your league, he will gain second base eligibility within the next 5-10 games.
Baez needs to be scooped up in even the shallowest redraft formats as he's likely the best prospect in the most favorable situation to get called up the rest of the way. Apologies to Joc Pederson. Baez is available in 58 percent of Y! leagues and this would be one of those times to run to the waiver wire to add Baez. If you still have some of your FAAB budget to spare, you might want to break the bank for him.
Obviously, Baez is more valuable in keeper or dynasty formats compared to redraft formats for the time being, but that doesn't mean Baez can't be a valuable commodity down the stretch. In fact, Baez had been putting on a show at Triple-A prior to his promotion. After getting off to a horrendous start to the season as he owned a .142 average as late as May 15, Baez has gone on to hit .305 since then. Furthermore, Baez went bonkers in July (.300-10 HR-32 RBI), he hit .342 since the Triple-A All-Star break, and he hit two bombs in his last game on Sunday. It certainly seems like fantasy owners could be catching lightning in a bottle if his recent play is any indication.
There's no guarantee he will get off to a hot start though. Upon his promotions to High-A and Double-A, he struggled to adapt during the first month. Baez hit .188 over his first 23 games in High-A and .229 in his first 20 Double-A games before he made the necessary adjustments to succeed. Baez may be swinging a red-hot bat at the plate right now but the historical trends suggest he may have trouble initially. Something has to give.
The Baez ride may be a little bumpy from here on out, but it should be a fun ride nonetheless. Owners are dreaming about the potential impact Baez could have over the last 52 games and while the production may not fulfill outlandish expectations, the 'rook should be well worth owning the rest of the way.
Considering rookies often get thrown to the wolves so to speak, there's no better place for a rookie hitter to make his MLB debut than Coors Field. For the sake of Cubs fans and fantasy owners alike, lets hope the Javier Baez show starts off with a bang.
Projections: .251 average, 9 HR, 31 RBI, 26 runs, five steals
Thanks to FanGraphs, Yahoo, and ESPN for the statistical information. Be sure to comment below with any questions or remarks. You can follow me on Twitter @MattMoczy.