2014 Fantasy Baseball: Matt Garza to the Milwaukee Brewers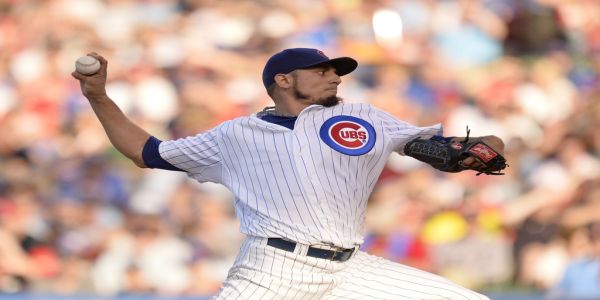 The Milwaukee Brewers announced on Sunday that they have agreed to a contract with Matt Garza. The base deal is for four years and 52 million dollars, but early reports are that there is an option year that will kick in if he meets certain performance incentives. The signing marks the second time in two years that the Brewers have handed out significant money to a free agent pitcher.
Last year, the Brewers added Kyle Lohse late in the offseason when it appeared as if he wouldn't sign with anyone. Garza didn't have to wait quite that long, but it was somewhat of a surprise that he had to wait until late January to sign a deal. It appears as if the market was waiting for Masahiro Tanaka to sign with someone before the floodgates opened for the rest of the free agent starters.
With Garza officially off the market, it appears that Ubaldo Jimenez is the next domino to fall. Of course, Jimenez has the disadvantage of having a tender attached to him. If a team signs him that has a draft pick in the lower part of the first round, they will surrender that pick to the Indians (unless they have already signed another tendered free agent).
As for the Brewers, they are shaping up to have an interesting rotation this coming season. If Yovani Gallardo ever approaches the form he enjoyed even two seasons ago, they will have three very good starters on top of the rotation and two up and comers waiting in the wings. Naturally, the key with Garza has always been health.
If we exclude his first two seasons in Minnesota, we find that Garza became a full-time big league pitcher in 2008. Since that time, he has never had an ERA over 3.95 and never had an ERA+ under 100. So, immediately, Brewers fans should feel good about what Garza can bring to the table. Unfortunately, he hasn't thrown for 200 or more innings since 2010 and has missed significant time in each of the past two seasons.
Take away the injury concerns and you have a pretty stable performer. Mind you, he's not an elite pitcher by any stretch. The Cubs were lucky to get a pretty good package from the Rangers for his services. The good news is that he is returning to the National League where he has had a good deal of success.
Matt Garza
FIP: 4.14, 4.17, 4.42, 2.95, 4,17, 3.88
GB%: 41.7, 39.7, 35.8, 46.3, 47.3, 38.6
HR/FB: 8.4, 10.2, 10.0, 7.7, 16.3, 11.6
K/9: 6.24. 8.38, 6.60, 8.95, 8.33, 7.88
BB/9: 2.88, 3.50, 2.77, 2.86, 2.78, 2.43
As you can see from the numbers above, we have a pretty clear picture of who Matt Garza is as a pitcher. In the National League, he is a guy that will strikeout more than eight batters per nine innings and walk fewer than three guys per nine innings. His home run per fly ball rate will likely drop to ten percent, and his ground ball rate should surpass 40 percent again. That combination predicts a pitcher to have an ERA under 4.00 and good counting numbers along the way (assuming he is healthy).