2014 Fantasy Baseball: Nelson Cruz Signs with Baltimore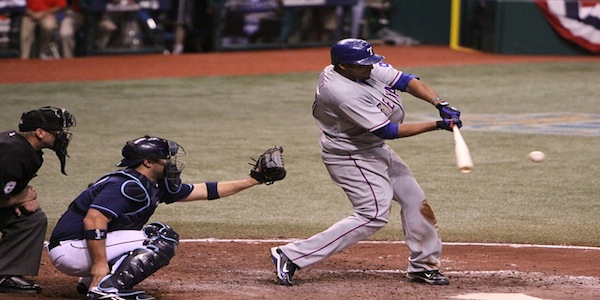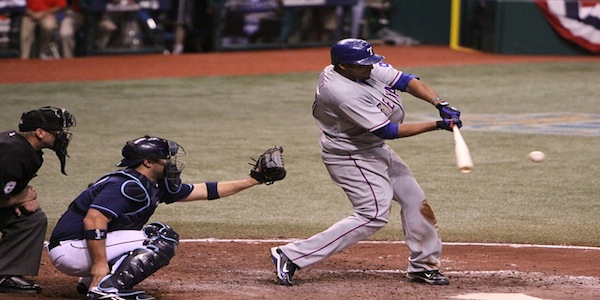 Nelson Cruz had been searching for a lucrative long-term deal the whole offseason, and to his dismay, was unable to find one. But on Monday the Baltimore Orioles finalized a one-year, $8 million contract with the 33-year-old slugger. What made signing Cruz such an arduous task was the fact that he had draft pick compensation attached to any deal he signed, which was further complicated by the long-term deal he was seeking.

After the Orioles signed Ubaldo Jimenez to a four-year, $50 million deal last week, which forced them to surrender the 17th pick in the 2014 Major League Baseball draft, the Orioles were only required to give up a second-round pick, 55th overall, to sign Cruz. While this news is good for the Orioles, we're in the business of deciphering how news like this will impact Cruz in terms of fantasy baseball.
How Cruz Fits in with the Orioles
It wouldn't seem the Orioles need help in the power department since they led MLB with 212 home runs last season, but it never hurts to have too many quality hitters in your lineup. According to Orioles beat writer Eduardo Encina of The Baltimore Sun, Cruz has frequented the fifth spot in the batting lineup 268 times, the most out of any spot he's batted in throughout his career. It seems like a safe bet to slot Cruz into the five hole and with Nick Markakis, Manny Machado, Chris Davis, and Adam Jones slated to bat ahead of him, Cruz should have ample RBI opportunities.
Although Cruz is leaving the hitter-friendly confines of the newly named Globe Life Park in Arlington, which isn't exactly ideal for his fantasy value, Oriole Park at Camden Yards was the fourth best stadium for home runs in 2013 as evidenced by the 1.275 rate calculated by ESPN's Park Factors. Cruz has always possessed great power so this trait should translate well to Baltimore. Additionally, most of the other AL East stadiums are considered hitter-friendly venues, so Cruz should still be able to put up solid offensive numbers and will fit right in as a masher in the middle of the lineup.
Cruz was primarily a right fielder for his former team, the Texas Rangers, but he is expected to primarily serve as the Orioles designated hitter for the upcoming season while occasionally playing left field when Nolan Reimold and David Lough need a day of rest. Defense has never exactly been Cruz's strength and in fantasy baseball we only care about offensive players offensive output, but he can now solely focus on hitting with the Orioles. Just to give you a quick laugh, check out the gif below of his misadventure in the outfield, which coincidentally occurred against the Orioles.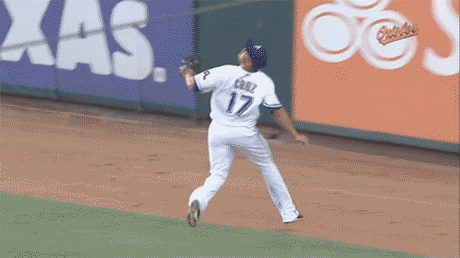 Past Production for Cruz
Since Cruz became a full-time player for the Rangers in 2009, he has been extremely productive when he has been on the field. He was well on his way to a career-best year in 2013 before a 50-game suspension for his involvement with Biogenesis derailed his season. Cruz batted .266 with 49 runs, 27 home runs, 76 RBIs, and added five steals over 109 games.
Over his last five seasons, Cruz has averaged a .273 average, 67 runs, 27 home runs, 81 RBI, and 12 steals. Those are largely productive numbers, but he's essentially a two-category producer since his average and runs are mediocre. His stolen base totals have also dropped each of the last five seasons, going from 20 in 2009 to five in 2013. Don't be expecting any more double-digit steal seasons from Cruz.
Staying on the field has been a big problem for Cruz throughout his career as injuries have caused him to miss an average of 36 games a year since 2009. During that time, Cruz has only managed to play 150+ games once (2012), while playing fewer than 130 games in the other four seasons. You know you're getting plenty of HR and RBI when Cruz is playing, but he becomes a risky proposition for fantasy owners because he's more likely than most to miss a sufficient amount of time during the course of the season.
Advanced Statistics and Batted Ball Profile
| | | | | |
| --- | --- | --- | --- | --- |
| Year/Statistic | BB% | K% | ISO | BABIP |
| 2009 | 9.5% | 22.9% | .264 | .278 |
| 2010 | 8.5% | 18.2% | .258 | .348 |
| 2011 | 6.4% | 22.6% | .246 | .288 |
| 2012 | 7.5% | 21.8% | .200 | .301 |
| 2013 | 7.7% | 23.9% | .240 | .295 |
If you calculate the averages for these four statistics, Cruz averages a 7.9 BB%, 21.9 K%, .241 isolated power (ISO), and a .302 BABIP. I bolded the 2013 BB% for Cruz since it was the closest number to his average, which rates between below average to average. Cruz's 23.9 K% last year is indicative of him being a bit of a free swinger and rates as a below average to poor number. A .290-.310 BABIP is about league average so Cruz falls right in there for that statistic, with 2010 being a major outlier where he also posted his best batting average (.318). He really excels year in and year out at ISO (.241 average), which makes sense considering his lauded power.
| | | | | |
| --- | --- | --- | --- | --- |
| Year/Statistic | LD% | GB% | FB% | HR/FB |
| 2009 | 16.1% | 38.3% | 45.6% | 21.2% |
| 2010 | 18.0% | 37.2% | 44.9% | 15.2% |
| 2011 | 15.7% | 41.4% | 42.8% | 18.7% |
| 2012 | 18.5% | 40.8% | 40.8% | 13.1% |
| 2013 | 16.9% | 41.9% | 41.2% | 21.3% |
Cruz's average line drive (17%) and ground ball (39.9%) rates are both below average compared to the MLB averages of 20% and 44%. This partially explains why his average tends to hover in the .260-.270 range. Cruz excels at putting the ball in the air though as evidenced by his FB% of 43% compared to the league average of 36%. According to this FanGraphs chart, Cruz displays a great average HR/FB ratio of 17.9%, and he is a virtual lock for 25+ homers with the ability to hit over 30 if he can stay healthy.
As you can see by the spray chart above, Cruz is largely a pull hitter, especially when he hits home runs, but he also shows that he has no problem smacking extra base hits to center or poking it to right field. He may never hit over .300 again, let alone .290, but an average in the .260-.275 range won't be killing your batting average by any means.
Cruz Projections
According to the NFBC ADP data, Cruz has been selected early as 101 and as low at 230 with his ADP currently standing at 171, which would make him an early 15th round pick in a standard 12-team mixed league. Although Cruz certainly has the potential to be a top 150 fantasy commodity and is an excellent source of HR and RBI for owners in need of those statistics, those are really the only two categories he will help you in. With that being said, he should be one of the top 35 OF's taken off the board.
The fact is Cruz doesn't possess much upside at this point in his career and carries a considerable risk of injury and you certainly shouldn't be overzealous about picking Cruz if the price isn't right. You can't completely dismiss his PED suspension and how it might have helped him either. For me, anywhere between rounds 13-15 would seem like an appropriate place to select Cruz as your OF4/OF5.
As for my prediction for Cruz, I see him hitting .264 with 63 runs, 28 home runs, 84 RBIs, six steals, and a .318 OBP in 135 games played.
Thanks for reading and thanks to ESPN, Baseball-Reference, FanGraphs, BrooksBaseball, and NFBC for the statistical information. You can follow me on Twitter @MattMoczy and feel free to send me any fantasy related questions you may have.