2014 Fantasy Baseball: Prince Fielder and Ian Kinsler Trade Places
The Texas Rangers and Detroit Tigers rocked MLB tonight with a trade that sent Prince Fielder to Texas and Ian Kinsler to Detroit. The fantasy baseball impacts of this deal are many – and almost all positive. A home run hitter moves to a home run hitter's park, and his former team gets a perfect-fitting puzzle piece.
Let's start by running down the impact for the traded players…
For Prince Fielder
This is wonderful. Not only does he move to an income tax-free state, but he moves to one of the friendliest parks in baseball for left-handed power.
Check out his last two seasons: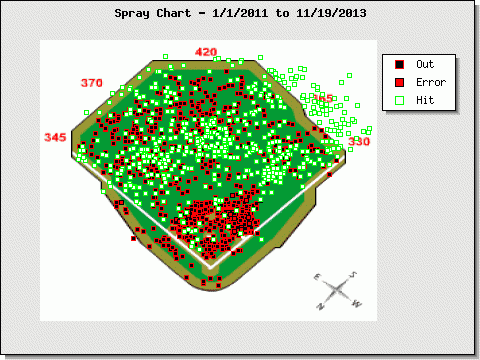 I can't say for sure that all of those warning track fly balls would have cleared the Arlington fences, but I can say, with almost complete certainty, that Prince Fielder will topple the 30-homer high-water mark he posted as a Tiger. Fielder hit 55 homers in two seasons with Detroit; he could very well hit 55 in one season in Texas.
Ok, that's probably too much.
Yes, Fielder is a limited, declining player, but as a fantasy commodity, I don't care that he can't run and can't field. All I know is that he still has power, that he's now in a great environment to show off that power, and that finding power at first base is becoming increasingly difficult. All this taken together means a nice boost for his fantasy value. Despite a horrific performance in the playoffs, Prince is still a top five first baseman.
For Ian Kinsler
This one's a little bit more complicated. On the whole, I think this will turn out to be about a wash for Kinsler's fantasy value, but that'll depend on a few answers that we just don't have yet.
Where will he hit in the lineup?
My guess is that Kinsler will hit leadoff, which gives him a great chance to post a Matt Carpenter-like (or perhaps Matt Carpenter-lite) season in 2014. His OBP has declined in recent seasons, but Kinsler's proven that he can take a walk. Austin Jackson scored 99 runs last season in 614 plate appearances worth of .337 OBP; a healthy Kinsler could easily post a .350-plus OBP and score 110-plus runs.
Will Brad Ausmus let him run?
Who knows. Ausmus has never been a major leauge manager, so there's not way to know what his proclivities will be, but in the recent past, the Tigers have been one of the most conservative teams in the league on the basepaths. Under Ron Washington, the Rangers have consistently been one of the most aggressive. With that in mind, it's rational to expect Kinsler's steals to go down a bit – the unanswerable question is: how much? We won't know until we actually see Ausmus manage some games.
Will he stay healthy?
This is always the question with Kinsler. In this case, as in every case, I'll admit it: I don't have a friggin' clue. There's always a risk that one tweak could wipe out his whole season. That's always going to mitigate his value, but at this point in his career, that risk is already baked into his ADP.
On the whole, I think this is mostly a lateral move for Kinsler's overall value. A few levers will be dialed up, a few will be dialed down, but the overall impact should be minimal. He probably won't run as much and he almost certainly won't hit for as much power, but there's a good chance he could evolve into a guy who can almost win a category by himself.
That's all for now… keep an eye on this space for more.