2014 Fantasy Baseball Team Previews: Seattle Mariners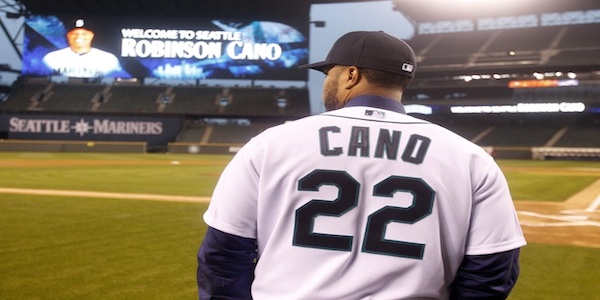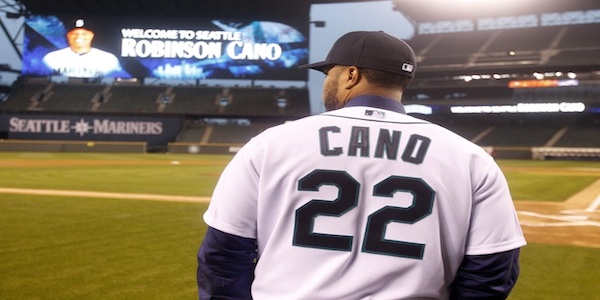 Note: This article is simply a preview of content that was originally published in TheFantasyFix.com's 2014 Fantasy Baseball Draft Guide. Average draft position and other data have not been updated since. This preview does not contain all the content from the original piece. You can find the draft guide here.
OFFSEASON OVERVIEW
The Seattle Mariners look to be a vastly improved team following an array of off-season moves. The marquee addition was of course Robinson Cano, but they also added Corey Hart, Willie Bloomquist and Logan Morrison. The starting rotation remained intact and the Mariners have a bevy of talent throughout their pitching staff.
TOP DRAFT PICKS (STUDS)

Robinson Cano (2B) is the cream of the crop when it comes to second baseman, and although he moves from hitter-friendly Yankee Stadium to the cavernous Safeco Field, he will still post gaudy statistics. Over the last five seasons, Cano has belted at least 25 homers every year. He's always on the field, having never missed more than three games in a season. Cano posted a career high in OBP (.383) and BB% (9.5%) last season and should keep the good times rolling. Cano remains a surefire first or second round pick.
Felix Hernandez (SP) is known as "King Felix" and for good reason. Hernandez had another stellar season on the mound in 2013, pitching his way to career bests in K/9 (9.51) and BB/9 (2.03). Like wine, Hernandez only seems to get better with age. Although it seems like he's been in the league forever, Hernandez is still only 27. Don't hesitate to spend an early round pick on Hernandez; he's a top five option for starting pitchers. Not to be forgotten is fellow ace Hisashi Iwakuma (SP). Iwakuma had a breakout year in his first full season in the rotation, pitching to a 2.66 ERA while also posting a miniscule 1.72 BB/9 ratio. If there is a weakness to Iwakuma's game, it would have to be the longball. Iwakuma surrendered a whopping 25 homers last year, but that's just nitpicking his game. Fantasy owners won't complain about a sub-3 ERA and Iwakuma is a top-20 starting pitcher option.
HIGH UPSIDE (SLEEPERS)
Kyle Seager (3B) put together his finest season yet in his sophomore campaign in 2013, notching 22 home runs, 79 runs, 69 RBI and swiping 9 bases. Seager is currently projected to hit second, one spot ahead of Cano, which should ensure he sees a lot of pitches to hit. Seager's power is real and it's a safe bet to pencil him in for 20+ homers. He should be a solid mid to late round pick with upside as he can contribute across the board. Michael Saunders (OF) possesses a ton of upside considering he won't cost you much on draft day. Although Saunders hit only .236 last year, he still managed to hit 12 homers and stole 13 bases, while also increasing his BB% to 11.5, almost four percentage points higher than in 2012. Saunders has the potential to hit 20 homers and if he can increase his batting average to the .250-.260 range, more steals should come. If you're looking for a cheap player with 20-20 potential towards the end of the draft, Saunders is your man.
HIGH DOWNSIDE (BUSTS)
Corey Hart (DH/OF) missed the entire 2013 season after undergoing surgery on both of his knees. Staying healthy has been a major problem during Hart's career, as he has only played over 150 games once. Hart used to be a fun player to own due to his speed/power combo, possessing easy ability to hit over 20 homers and steal over 20 bases. At this point in his career though, injuries have sapped his explosiveness on the base paths and he can no longer be counted on to provide double digit steals. Although he should still hit over 20 bombs, it will be tough sledding at Safeco Field compared to Miller Park.
Justin Smoak (1B) has never been one lacking for talent, but his inability to put the ball in play has put a damper on his once promising career. If you are looking to add Smoak to your squad, it certainly is for his power and not his abysmal average. Smoak is a career .227 hitter and he eked out a .238 average last season. If you need some power on your team, sure he might be worth a late-round flyer, but only if you can stomach his swing and miss prowess.
CLOSER SITUATION
26-year-old journeyman Danny Farquhar (RP) came out of nowhere last season and notched 16 saves after taking over the closer job from Tom "The Bartender" Wilhelmsen. Farquhar is expected to be the everyday closer for the Mariners in 2014, but if he struggles Wilhelmsen could get another crack at the job, making him the handcuff to own. Farquhar struck out 79 batters in only 55.2 IP last season, leading to an obscene 12.77 K/9. His 4.20 ERA and command issues leave plenty to be desired but his solid peripherals give reason for hope. With a fastball averaging 94.5 mph coupled with a devastating curveball that had a SwStk% of 25%, Farquhar should be a solid closer with the potential to join the upper echelon of closers.
EDIT: Fernando Rodney signed with the Mariners and is slated as the team's Opening Day closer.
IMPACT MINOR LEAGUERS
Taijuan Walker (SP) is one of the best pitching prospects –if not the best — in all of baseball. The 21-year-old phenom dominated during his stints at Double-A and Triple-A and flashed his potential in his three MLB starts in 2013. Walker will be given every opportunity to claim a spot in the starting rotation coming out of spring training, and should be an early to mid-season call-up in a worst-case scenario. Walker oozes talent and fantasy owners should keep a watchful eye on his spring performance. James Paxton (SP) showed well after his September call-up to the Mariners. Paxton won three of his four starts and sported a 1.50 ERA while also limiting his opponents to a .172 BAA. Like Walker, Paxton has a great chance to lock up a spot in the rotation with a solid spring training. Given his past success, it seems likely that he will.
SURPRISING STAT
Erasmo Ramirez (SP) posted a disappointing 3.24 BB/9 last season compared to 1.83 BB/9 in 2012. Ramirez has always been known for his good command, and with expected return to standard form, he should be in store for a bounce back campaign. Ramirez remains a nice value pick in the later rounds.
Written by Matt Moczygemba exclusively for TheFantasyFix.com's 2014 Fantasy Baseball Draft Guide.