2014 Fantasy Baseball: The Corey Dickerson Bandwagon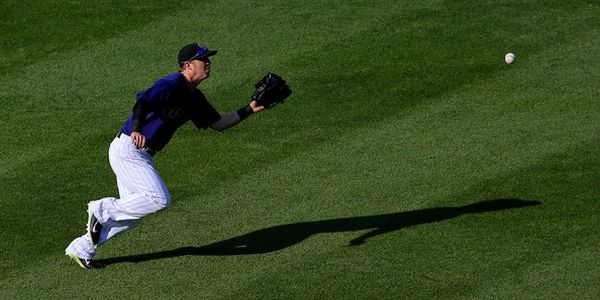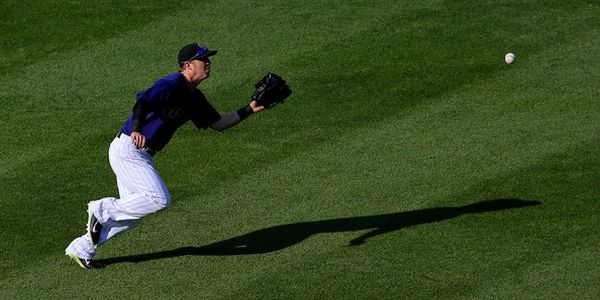 I love Coors Field. The Rockies' pitchers – pitchers of any team really – might not. Hitters do, obviously. Last year, Michael Cuddyer revived his career in the Mile High City. Justin Morneau did so this year. Troy Tulowitzki did his usual: crushed and then got hurt; Carlos Gonzalez, too. Nolan Arenado has taken a step forward as well. Perhaps lost in all of that is this: Corey Dickerson is awesome.
Using wOBA (probably more useful in this context than wRC+, because a dinger is a dinger in fantasy after all), Dickerson has been the fifth best hitter in the major leagues; if you adjust for Coors, he's seventeenth. Despite only coming to the dish a little over 400 times so far, Dickerson has hit 22 home runs, good for ninth among outfielders. And he has swiped eight bags in the process while hitting for a fantastic average.
[am4show have='p3;p7;p11;p13;' guest_error='Front Office' user_error='Front Office' ]
Platoon? Not An Issue … Maybe
Any time a young left handed batter comes up, platoon questions arise. Most of the time they're valid. In Dickerson's case, though, maybe they won't be. The Rockies have limited his exposure versus left handed pitching so far, but that seems to be more because of the way their roster is constructed than Dickerson's abilities: Drew Stubbs mashes left handed pitching; Michael Cuddyer, too; Brandon Barnes is phenomenal in center field. Dickerson's basically been a full time player in the second half, and that should be the expectation for him going forward because he isn't dead weight versus left handed pitching.
| Period | PA | BB% | K% | AVG | OBP | SLG | ISO |
| --- | --- | --- | --- | --- | --- | --- | --- |
| 2012 – Minors | 124 | 5.6% | 18.5% | 0.342 | 0.39 | 0.587 | 0.245 |
| 2013 – Minors | 106 | 6.6% | 20.7% | 0.339 | 0.386 | 0.576 | 0.237 |
| 2014 – MLB | 76 | 9.2% | 25.0% | 0.275 | 0.342 | 0.449 | 0.174 |
Dickerson hasn't been as good versus left handed pitching as he was in the minors, but, on some level, that's expected. We're also dealing with small samples. For the most part, though, Dickerson is fine versus left handed pitching. He doesn't have to be a world beater against them, he just needs to be good enough to see regular playing time. The rest should take care of itself.
Coors Field & Playing Time: Just What The Doctor Ordered
As with any Colorado player, Dickerson's going to benefit from Coors Field, and that's okay. Hell, it's more than okay. Dickerson's power is notable. And while it isn't fair to say: "he's a Coors Field product," it is an important factor, because no field boosts BABiP quite like Coors. Given Dickerson's ability to use the entire field, that's huge. Also equally as huge: getting consistent playing time. From Fangraphs' Eno Sarris:
For Blackmon, perhaps the number one reason for his breakout this year has been comfort. "Having a role that I'm comfortable with, a role that allows me consistent at-bats" was more important than anything, the outfielder said before a game with the Giants in mid June — "the hand-eye coordination has always been there." But confidence lead to the everyday role, and that confidence came from success — "Having some success allows me to relax and just play the game."

Teammate Dickerson was even more specific about the link between his role and his confidence. "Being comfortable, where every game is just like a game you played in the minor leagues, instead of the game is on the big stage," is huge, he said. "You know you're going to be in the lineup again if you go oh-for-four — You're not really worried about failure as much. You're going to fail, but you don't have to worry about it and think that one at-bat is going to matter so much."

…

For Dickerson, his adjustment been more about the type of pitch than the location. "If you can eliminate what he's going to throw to your weakness, then maybe you can be better with your strength," he said of scouting the opposing pitcher. If he boils it down to something he can remember easily at the plate, he can be "thinking about two pitches instead of three pitches or his whole repertoire."

Though this sounds like a per-game thing, there has been a change in the pitches Dickerson is offering at. He had the hardest time with sliders from right-handers for some reason, so according to Brooks Baseball, it looks like he started swinging at them less (and cutters):

| Pitch Type | Swing 13 | Swing 14 | Whiffs 13 | Whiffs 14 |
| --- | --- | --- | --- | --- |
| Fourseam | 46.46% | 47.31% | 11.38% | 10.75% |
| Sinker | 45.83% | 40.91% | 4.69% | 8.33% |
| Change | 52.78% | 57.45% | 11.11% | 17.02% |
| Slider | 60.55% | 57.45% | 21.10% | 17.02% |
| Curve | 60.47% | 62.75% | 15.12% | 13.73% |
| Cutter | 60.87% | 44.23% | 10.14% | 5.77% |

To some extent, both players have a skill that's uniquely useful for their home park. Coors field inflates batting average on balls in play as much as than anything, and these guys can put the ball in play to all fields.

| Player | Pull% | Center% | Oppo% |
| --- | --- | --- | --- |
| Blackmon | 32.3% | 37.4% | 30.4% |
| Dickerson | 36.1% | 36.6% | 27.3% |
| League | 38.8% | 36.1% | 25.1% |

Dickerson says this is a goal: "I try to go where it goes — make hard contact wherever it's pitched." For Blackmon, it's more of a necessity. "I'm not a guy who has a ton of power — if you come watch me in BP you'll be incredibly unimpressed," he said. "I understand that. I don't go out there and try to hit home runs. That's not how it works. I'm a guy that is strong enough that if he makes really good contact, can hit it over the fence."
Getting consistent playing time is important – it's hard to get better results and comfortable with your role if you aren't playing.
2015 Outlook
Dickeron has proven he can play. Obviously, he can hit. And he's rated out decently in the outfield, which is important, because being poor on defense is a surefire way to losing playing time.
I have no idea what the Rockies' plan is this offseason. They just re-upped Jorge De La Rosa for two seasons. Cargo and Tulo are seemingly always on the block, yet they're never close to being traded. If Cargo were to be moved, though, Dickerson's road to a full-time gig is easy to see. But even without a trade the road to playing time isn't too crowded: Cuddyer will be a free agent; Stubbs will be around, but he's a platoon player who is most valuable in center, anyways; Barnes will be cheap, but he can't hit; and Charlie Blackmon, who started hot, but has faded since, will be there, but in centerfield. (There's always the option that Dickerson or Blackmon could be traded, but that seems unlikely given their cheap salaries and club control.)
To me it lines up this way: Gonzalez, Blackmon, and Dickerson will be the core of the outfield; Stubbs and Barnes will step in when someone needs a breather or an injury happens. All told, Dickerson should come to the plate at least 500 times next season, barring injury. And, honestly, he might do more with those 500 appearances than lesser outfielders do with over 600.
Using early, early projections, Dickerson's projected to go 21/13 next season. I'm taking the over. Dickerson's ability to hit the ball to all fields for power, while adding in a little value on the bases is very, very important. Given what we know about Dickerson's track record, situation, and potential, is it that difficult to see him doing an Adam Jones – with a better OBP – impression? Jones is currently projected to finish the year with 28 home runs and nine steals. It might be high praise, but given over 600 plate appearances, I believe Dickerson can do that. There is just so much to like: batting average, power, some speed, park (although, to be clear, Dickerson's a good hitter; Coors just helps), and age. Dickerson's going to be interesting to watch because there is sure to be tons of helium.
Late edit: I'm not alone, apparently: Eric Karabell loves him as well ($). Load up on the wagon, friends.
[/am4show]