2014 Fantasy Baseball: Too Early Top Ten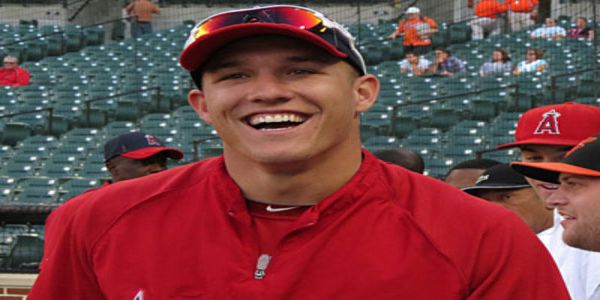 I've been working on my top 10 for 2014 for a few days. My Braves suffered a devastating loss last night and despite not wanting to think about baseball for a long while, I couldn't let it go.
I began doing some preliminary research on my top 10 for 2014 about a week ago. I was surprised at how hard I had to work in order to actually get 10 players in it. After my first 4 or 5 slots, I'm not sure I'm comfortable taking anyone in the first round. Nearly everyone after pick 4 has a tremendous amount of questions. Without further ado:
1. Mike Trout – Angels – OF1 – Final 2013 Rank: 2
This one was easy. He's the best player in the game. He finished first on ESPN's player rater in 2012 and second in 2013. That's about as good of an outcome as you can hope for from your first round pick. Trout has been written about by nearly everyone, so this doesn't require too much explaining, but I'll try. Despite his counting numbers being down a little (R, HR, SB) he was actually better in 2013. He had a much better OBP and his slugging stayed roughly the same; as did his batted ball distance. (280 in 2012 vs. 282 in 2013) If you have the number one pick, you're taking Mike Trout.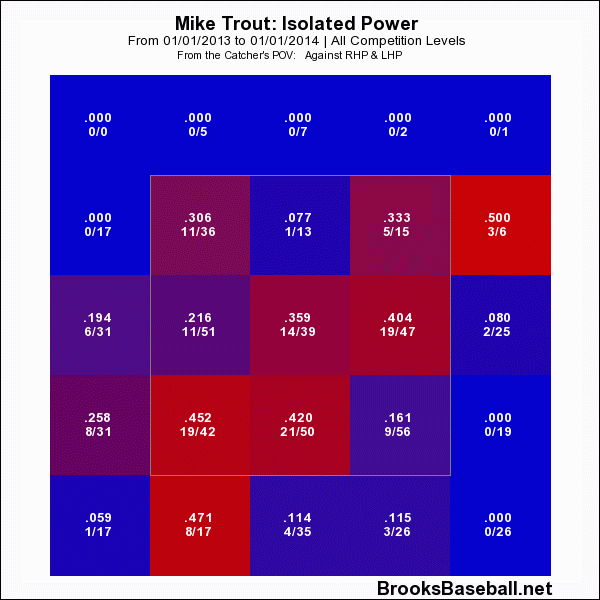 Mike Trout is the perfect baseball player; real life or fantasy. He has no large flaws. He demolishes nearly anything in the zone.
2. Miguel Cabrera – Tigers – 3B1 – Final 2013 Rank: 1
Miggy put together another fantastic season. Just like Trout, it was better than his 2012. Cabrera is the best hitter in the game. The gap might not be quite as wide as it was over Trout as it was in 2012, but it's still there. Cabrera is an absolute force in four of the five most commonly used categories. His lack of speed is what puts him behind Trout for me. His legs are his only weakness, although his big body could begin its inevitable breakdown at any moment.
3. Andrew McCutchen – Pirates – OF2 – Final 2013 Rank: 6
McCutchen should win his first MVP next month. Like Trout, McCutchen's counting stats actually took a hit in 2013. He still managed to put up a .317/.404/.508 line complete with 21 dingers and 27 steals. That may not seem like top 3 production, but in today's era of suppressed offense it is. McCutchen is a consistent 5 category performer. He's played no less than a 154 games in the past 4 seasons. Also keep in mind that he'll be 27 years old next season. Ahh, the mythical age 27 season. *swoons*
*Disclaimer: After pick 3 it's a complete crap shoot. You could throw these names in a hat, pull them out, and place them in a random order and I wouldn't disagree with you very much.*
4. Paul Goldschmidt – Dbacks – 1B1 – Final 2013 Rank: 5
I was fortunate enough to get Goldy in the 5th round this past season. That won't happen again. Goldschmidt put up the best offensive season in the NL (among qualifiers) by wOBA (.404) in 2013. Metrics are nice, and my go-to. However, fantasy stats are what matter for this piece, and he didn't disappoint there. Goldschmidt put up a .302/.401/.551 line complete with 36 homers and 15 steals.
His best performance, in my opinion though, was his vastly improved approach versus right handers. Goldy's main area of disappointment in 2012 was his performance against RHP. He posted a .257/.326/.412 versus righties in 342 at bats. That's not good enough. He knew it, improved his approach, and good results followed. He posted a .300/.406/.534 line versus righties in 453 at bats this season. That's a tremendous improvement. Even if he gives a little of that back and hits only .270/.350/.485 versus righties in 2014, his ability to mash lefties and swipe an occasional bag make him a first round talent.
5. Carlos Gonzalez – Rockies – OF3 – Final 2013 Rank: 32
Gonzalez put up another typical 20/20 season in 2013. He hit homers. He stole bases. He missed time. When he's in the lineup he's a top 3 producer, but he has a little trouble staying on the field. His home road splits are still daunting, even though they were improved in 2013 (small sample size alert). Gonzalez is a risk/reward pick this early. When he produces he's worth it, but I have trouble penciling him in for more than 130 games.
6. Clayton Kershaw – Dodgers – SP1 – Final 2013 Rank: 3
I would never take a pitcher in the first round, but he's the best player not on this list. He's led the league in ERA 3 years in a row and is only 25 years old. He never misses a start and he rarely blows up. He's the perfect pitcher in the perfect park. He's also about to make a Federal Reserve's worth of cash. Wins are always a crapshoot, but Kershaw has a shot at leading the league in the three main pitching categories (ERA, WHIP & K's). If your league rewards pitching a little more, then Kershaw could possibly be worth a first round selection. Always remember that pitching is a weird ordeal. Verlander was considered as sure a bet as he could possibly be entering 2013. He was still good, but not nearly good enough to warrant his late first/early second round draft pick.
7. Hanley Ramirez – Dodgers – SS1 – Final 2013 Rank: 68
I love HanRam. He's similar to Gonzalez and Gonzalez's teammate, Troy Tulowitzki, in respect to staying on the field. When he was on the field in 2013 he was far and away the best player in the NL. Remarkably, in 2013, he threw up a .345/.402/.638 slash line complete with 20 bombs and 10 steal in 86 games. I almost puked while writing that; Jesus what a season. Positional eligibility is also a factor here. We could argue for weeks over who is a better bet out of Hanley and Tulowitzki, but I'm taking Hanley due his ability to swipe a few more bags.
I usually don't try to read much into the mental aspects of the game simply because you can never be sure what a player is going through, but Hanley seems happier than he was in the past. He said as much during the WBC. He will be 30 next season, but he looks to be back to 2008/2009 form when he was one of the most feared players in the game. I hope he stays there for awhile, because man is he fun to watch.
8. Robinson Cano – FA – 2B1 – Final 2013 Rank: 13
Robinson Cano has been a mini Miguel Cabrera at second base for years. He puts up nearly the same numbers every season and never misses a game. The only worry I have about Cano would be a potential move out of Yankee Stadium. He has good power, but it's no secret that Yankee Stadium's RF dimensions are an absolute joke.

Cano is the perfect first round pick if you value safety and Cabrera isn't there. He does nearly the same thing every season. He's one of the most consistent performers in the game. And there's value to be had in that.
9. Adam Jones – Orioles – OF4 – Final 2013 Rank: 10
I'll admit that this feels weird, but they're aren't many options here. I could have gone with Ellsbury, but his injury history and lack of power scare me. Adam Jones is very consistent. He mashed 30 home runs and stole 13+ bags for the second year in a row. He has terrible plate discipline (3.6% walk rate), but he somehow gets the job done. He might not be a very sexy pick, but he's one I'd consider making right here.
*In an OBP setup, Jones would not crack my top 10.*
10. Chris Davis – Orioles – 1B2 – Final 2013 Rank: 4
Davis has always had power, yet I doubt anyone correctly predicted he would destroy 53 baseballs in 2013. He still strikes out a ton, but he did begin walking a little more in 2013 to help offset them a little. His home ballpark is phenomenal for him and so is his league. He'll rarely miss time due to the DH.
He went the other way with authority and that is why he is here for me.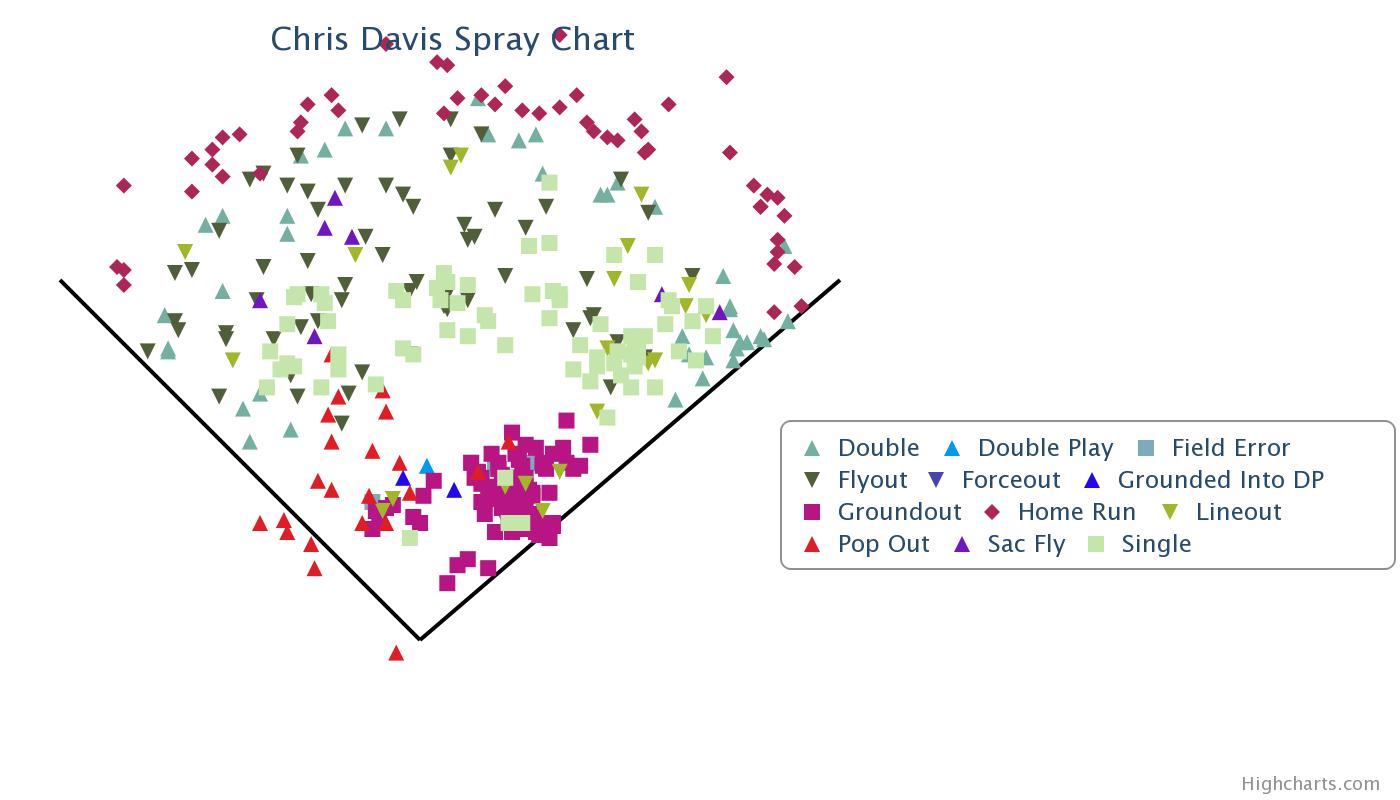 Davis' ability to drive the ball the other way should allow him to keep an average within the .270 range, which is plenty fine in today's game. I feel pretty confident penciling him in for .270/40 homers/115 RBI. First base isn't as deep as it used to be and Davis could be the game's most prolific slugger behind Miguel Cabrera.
Just Missed
Troy Tulowitzki – Rockies – SS2 – Final 2013 Rank: 57
His injury history scares me, but taking him at the end of the first round/early second could pay tremendous dividends.
Jacoby Ellsbury – FA – OF5 – Final 2013 Rank: 7
Same as with Tulo. The injury history bothers me. His impending free agency is also of concern. Ellsbury's power laden 2011 might be one of the greatest fluke seasons of all time. He can still run with the best of them, but he isn't nearly as sexy in Chicago or Seattle.
Carlos Gomez – Brewers – OF6 – Final 2013 Rank: 9
I simply need a bigger sample size. He's spoken about the changes he's made in his approach. I believe him, but the plate discipline still worries me.
All in all the first round doesn't feel nearly as deep as it has in recent seasons. After picks 3 & 4 I'm not exactly sure where I want to be. As a matter of fact, if I'm not in the top 3 I think I'd prefer to draft near the end of the round and wrap around in order to possibly land Davis/Tulo or something of the sort. This, of course, will change because drafts are greatly affected by how the rankings are done on whichever site you play on.
Most Likely To Produce Like A First Rounder
I wanted to identify a player that will likely go outside of the top two rounds that I believe has the best shot of producing like a top 10 talent. Ryan Braun seems too easy, because he's done it multiple times. I'm a Jason Heyward fanboy, but his lack of stolen base attempts in 2013 worries me a little, as does his luck (babip, jaw, appendix, etc.). That leaves me with Bryce Harper. Not very bold when you consider his torrid start to 2013, but I could see it happening.
Despite 2013 being a down year by most everyone's standards, Harper was still pretty good. He ended up with a .274/.368/.486 line complete with 20 homers and 11 steals (15 attempts). There is undoubtedly more in the tank for Harper. It's only a matter of time before he taps into it. The most worrisome thing about Harper's game is struggle so far with left handed pitching.

He crushes righties and struggles mightily against lefties. It isn't abnormal for a young lefty to struggle against left handed pitching. I'm a little concerned, but I believe Harper is more than talented enough to at least become league average against same handed pitching. If you're looking for a little hope, look no further than Jason Heyward. Heyward's wRC+ (a stat the weights offensive contributions and adjusts for park and league, 100 is average) versus LHP starting with his rookie year were: 110, 61, 73, & 126. Heyward was very good versus lefties in his rookie year before struggling a ton versus them in years two and three of his career. He hit them very well this season in 124 PA (small sample alert). It may not continue, but the upward trend is very encouraging.
Harper, like Heyward, took a step back in their second season versus left handed pitching: 93 wRC+ in 2012 versus 86 in 2013 (they both also played through injuries). Harper may never crush lefties. The good news is that he doesn't have to. Harper is similar to Goldschmidt in that his platoon splits were one of the only things holding him back. If Harper can solve his, we're possibly looking at a top 10 player in 2013. Would it really surprise anyone to see him hit around: .270/.370/.520 next season? I wouldn't be shocked one bit.
Who's in your top 10?
If there are any players you'd like for me to take a look at and see what went right or wrong, feel free to comment below or message me.