2014 Fantasy Baseball Week 12 Waiver Wire: 3 to Catch, 3 to Cut, 3 to Keep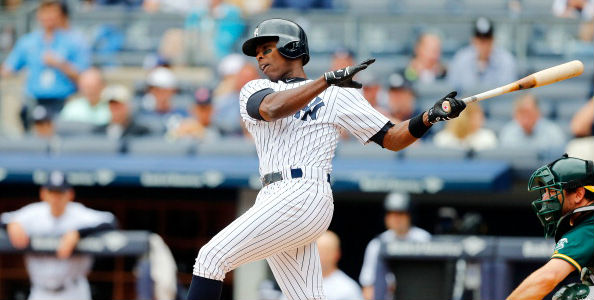 In the Week 12 edition of fantasy baseball 3×3, we're trusting Alfonso Soriano's projection, escaping Carlos Gonzalez' tentacles, and giving due credit to Ben Revere.
There are plenty of waiver wire columns out there that provide an exhaustive list of the most added players in fantasy leagues. This isn't one of them. Here, we'll run down a few lesser-known, lesser-considered, or lesser-owned players, with perspective on who deserves a your attention, who deserves your patience, and who deserves to go straight to bed without dessert.
Any questions, thoughts, World Cup predictions? Hit me in the comments or on Twitter.
3 TO CATCH
Alfonso Soriano | New York Yankees | OF
Dave Cameron wrote a great piece earlier this week about trusting the projections. The whole article is definitely worth your time, but the gist is that in aggregate, regardless of whether a player starts fast or slow, looks lost or rejuvenated, they almost always come back to the projections.
Alfonso Soriano is an excellent test case for this approach.
Soriano has looked old this season. He's hit only six home runs, scored only 21 runs, and driven in only 22 in 213 plate appearances. He's only attempted one stolen base and sports a .249 OBP that ranks second-worst among major league regulars.
But ZiPS projects him for 16 homers the rest of the way, and I believe it wholeheartedly. Soriano isn't going to suddenly start stealing bases or hitting for average, but he's going to hit home runs. Prior to this season's first half, he'd slugged at least 15 homers in each his last four half-seasons. He hit a total of 34 homers last season, and he's never had a season-to-season drop of more than 13 homers in his career. That 13-homer drop happened after his career high 46 in 2006, in a 2007 season in which he registered over 100 fewer plate appearances than the previous year. Even if he repeated that drop this year, he'd finish with 21 homers, leaving 15 for him to hit the rest of the way.
Sure, he's getting older, but his 38th birthday present wasn't an instantaneous loss of the ability to hit baseballs long distances, it was probably some golf shirts, or a monogrammed cigar cutter, or something. Soriano isn't the player he was, but he's still a useful player. If you're in need of power, scoop him up.
To pick him up, I'd drop: Curtis Granderson, Mark Teixeira, Marlon Byrd
Jaime Garcia | St. Louis Cardinals | SP
Why exactly is Jaime Garcia owned in less than 25% of Yahoo! leagues? I mean, I know he's probably going to get hurt, but until he does, he's certainly worth more to your fantasy team than the Tom Koehler and Wei-Yen Chen types that surround him on the waiver wire. His season-long numbers don't look great, nor does his game log, but it's explainable: Garcia has been the victim some historically bad luck with runners in scoring position.
Prior to his start on Sunday, he had faced 22 batters with runners in scoring position. He struck out four of them, walked one, and hit one. Of the remaining 16 batters who put the ball in play, nine reached base safely, good for a .533 BABIP (which would lead the league if he qualified). Garcia's strand rate with men in scoring position is a Blutarskian 0.0%. Allowing every runner who reaches second base to score is no way to go through life, son.
Rather than dwell on his terribly-timed misfortunes, let's focus on the good stuff. Namely, that Garcia's 18.6% K%-BB% would rank 14th in baseball if he'd pitched enough innings to qualify. That's better than upstarts like Dallas Keuchel and Jesse Chavez; it's even better than his Cy Young-winning teammate, Adam Wainwright. Garcia certainly isn't Waino, but he's good enough to be at least a streamer in any and every format.
To pick him up, I'd drop: Jason Vargas, Jake Peavy, Drew Hutchison
I can't imagine how Alejandro De Aza could have had a much worse start to his season. He followed up his horrid .185/.255/.359 April line with an even worse .161/.237/.195 line in May. Perhaps his most amazing feat came in that month, when he somehow managed a sub-Mendoza batting average alongside a 30.5% line drive rate.
I don't know what happened on June 4th, but man, things have been great for De Aza since then. So far in June, he's hitting .409/.500/.682 with a couple of stolen bases and more extra base hits than he collected during the entire month of May. Just like his first two months, it's not representative of what we should expect from De Aza going forward, but it is proof that not all hope is lost.
And it's not just bad luck turning to good. In addition to the suddenly positive results on the surface, De Aza has made strides with his plate discipline, including a huge improvement in his contact rates against offspeed and breaking stuff.
All told, he's going to end up somewhere near the middle of the endpoints he's established so far. De Aza is projected to hit about .250 with seven homers and double-digit steals the rest of the way. There's always cheap speed to be found in some dusty corner of the waiver wire, but it doesn't typically come attached much, if any, power. That's what makes De Aza worth a look.
He's playing just about every day in left field, though I wouldn't be surprised at all to see Robin Ventura sit him against tough lefties (he's hitting .048 against left-handers on the season). He's a pickup in deeper formats, but keep an eye on the lineups for daily leagues.
To pick him up, I'd drop: B.J. Upton, Brock Holt, Norichika Aoki
3 TO CUT
Carlos Gonzalez | Colorado Rockies | OF
It had tentacles.
After already spending weeks on the disabled list with an injured finger, Carlos Gonzalez had surgery last Tuesday to remove an unidentified fatty object from his finger. He's expected to miss a few weeks, and those missed weeks are going to have a massive impact on his fantasy value.
The Rockies have already played 69 games this season. Let's say Gonzalez misses a month, which would be about 25 games. Then, let's say he plays almost every day when he returns, we'll call it 60 games total. Even though he'll certainly not be himself right from the start, let's be optimistic (ignoring the fact that finger/hand injuries tend to linger) and say he'll deliver 90% of the per-plate-appearance production that ZiPS projects.
So, how valuable is 60 games-worth of 90% of CarGo? Well, according to ZiPS, it's:
11 home runs
32 runs scored
35 runs batted in
7 stolen bases
.251 batting average
Now, here are the number of outfielders that ZiPS projects to outperform my projection for CarGo in each 5×5 category.
| | | | | |
| --- | --- | --- | --- | --- |
| HR | R | RBI | SB | AVG |
| 24 | 92 | 50 | 64 | 101 |
Sure, it's a bit of ham-handed calculation, but it serves to illustrate just how much all of this lost playing time is going to matter. He's still an elite talent, but with the time lost to injury, he's not anything close to an elite fantasy commodity for 2014.
It's not easy to trade an injured player, but a superstar like Gonzalez still has a ton of name value. If you're floundering in the standings now, trading Gonzalez for an overachieving, unproven, or less multi-dimensional player, might feel like trading one dollar for two quarters, but in the end, it'll turn out to be the right move.
I'd trade/drop him for: Jayson Werth, Brandon Moss, Yoenis Cespedes
Alfredo Simon is a below average major league pitcher. He has a below average strikeout rate, an above average walk rate, and, wait for it, a below average strikeout-to-walk ratio. His contact rate is above average. His whiff rate is below average. His FIP- is 119, or, in the parlance of this blurb, 19% worse than average.
The few things that Simon has done at a better than average rate (notably, his BABIP and strand rate) only serve to make his mediocrity more clear. Simon has been quite lucky this season and that luck is probably going to run out soon.
Steamer projects him to make 17 starts the rest of the way with a 4.38 ERA. Get something, anything, for him while you still can.
I'd trade/drop him for: Phil Hughes, Nathan Eovaldi, Travis Wood
Jedd Gyorko | San Diego Padres | 2B
I really liked Jedd Gyorko before the season, but I've got to wave the white flag on this one; I can't see any sign of a rebound coming.
Opposing pitchers have slightly changed their approach against Gyorko this season. Rather than trying to get him to chase pitches down and out of the strike zone, they're pounding the zone low and away. Both Gyorko and the pitchers attacking him seem to know that he can't do much of anything with pitches down, away, and in the strike zone. For his career, he has a .061 ISO when he makes contact with pitches in that location. Gyorko's approach this season has been to lay off the offerings he knows he can't drive. It's not necessarily wrong, but that choice has allowed pitchers to get ahead in the count and Gyorko hasn't been able to recover; his 25.3% strikeout rate is the worst he's ever had, at any level. When he does make contact, his ground ball rate is up against every pitch type.
When he's able to elevate the ball, he's not displaying the same kind of power he flashed last season. His average fly ball distance has dropped by ten feet from 2013. Especially in sprawling San Diego, that kind of drop can have a huge impact on home run production, as proven by Gyorko's shrinking HR/FB rate.
Gyorko might still develop into something, but at this point, I can't be confident that it's going to happen for him this season. He doesn't merit a spot on your roster, even if you can stash him on the DL. Unless you're in an NL-only format, there's a better option on the waiver wire.
I'd trade/drop him for: Brad Miller, Danny Santana, Kolten Wong
3 TO KEEP
Ben Revere | Philadelphia Phillies | OF
Ben Revere's deficiencies are obvious (and exceptionally entertaining), but the there are few players better at the couple of things that he is actually good at. Over the rest of the season, ZiPS projects only five players to steal more bases than Revere; only 15 are projected to hit for a better batting average. Yet he sits unowned in more than a quarter of ESPN leagues and nearly half of Yahoo! leagues.
I can't really imagine what's causing people to drop him; he's been almost exactly what we all expected him to be. I suppose it's possible that fantasy teams with an unexpected power deficiency or an unplanned influx of stolen bases can no longer tolerate his (almost) complete lack of home run production, but even in those cases, why not make a trade? Surely there's at least one owner in every league who could benefit from the addition of Revere's very particular set of skills.
Aside from maybe saves, no roto category offers a better opportunity to make up ground late in the season than stolen bases, and aside from maybe Rajai Davis, no non-universally owned player offers a better opportunity to make up that ground. Don't underestimate his value.
I wouldn't trade/drop him for: Rajai Davis, Michael Bourn, Adam Eaton
The season-long numbers look pretty good for James Shields, but things have been quite rough lately. Shields has allowed more than three runs in four of his 15 starts this season, something he did only six times all of last season. Prior to last Thursday's excellent outing against the Yankees, he'd allowed a total of 20 runs over a four-start stretch. Though he hasn't been particularly reliable lately, there's no need to panic. Shields won't maintain the 2.03 ERA pace he set in April, but I'm completely confident that he will return to his post as one of the most reliable arms in the game. ZiPS and Steamer both project him for an above average strikeout rate and an ERA around 3.70 the rest of the way; that sounds just about right to me.
Shields' strikeout rate, walk rate, and BABIP are almost perfectly in line with his career averages. He's throwing strike one just as often as ever, though his contact rates have increased slightly. That's a problem, but an easily solvable one, given that the decline is almost certainly due to Shields' decreased use of his changeup, which remains his best pitch. I can't explain why he's chosen to attack right-handed hitters with his cutter, rather than his signature slow ball; his cutter is an average pitch and his changeup still performs very well against righties in both generating whiffs and weak contact.
I can explain, however, why he should be throwing more changeups. In the three starts in which Shields has thrown more than 30 changeups this season; he's struck out 17 batters and allowed a total of one earned run. Something tells me he'll get back to throwing more changeups soon…
I wouldn't trade/drop him for: Scott Kazmir, Tim Hudson, Mark Buerhle
Joe Nathan | Detroit Tigers | RP
There may not be a player that makes it harder to trust the projections than Joe Nathan. He has been has been an absolute disaster lately, surrendering runs in five of his last seven outings. It's June 15, and he's only two earned runs away from doubling the number of runs he surrendered all of last season. History will see this as an off-the-cliff season for Nathan, no matter what happens next. His final line is a lost cause, but that doesn't change the fact that he remains one of the most sturdily entrenched closers in baseball. The Tigers didn't pay $14 million for two years of a middle reliever. Joba Chamberlain has been effective from the second chair, but he's stumbled his way to a 4.18 FIP in high leverage situations.
Short of Nathan swearing at Brad Ausmus from the mound…
Scratch that, let's start over.
Short of greeting Ausmus with a Stone Cold Stunner the next time the manager trots out to remove his closer, the job belongs to Nathan. Ausmus doesn't have another option. There is no young, hotshot challenger, nor does there seem to be much motivation for Detroit to acquire a replacement via trade. This is Joe Nathan's ship to command, no matter how many icebergs he runs over along the way.
There will undoubtedly be more hiccups, but let's not forget that Nathan has had some good outings this season. From April 29 through May 16, Nathan registered saves in seven consecutive outings while allowing just four base runners. For what it's worth, his stuff really hasn't changed much throughout the year; his velocity and movement have remained relatively consistent, or at least haven't varied in any pattern that syncs up with his results.
He's not the elite closer that you may have thought you were getting during your draft, but he's still a valuable asset. His trade value couldn't possibly be lower right now, the only move is to send him to the bench and wait for him to work things out.
I wouldn't trade/drop him for: Addison Reed, Jason Grilli, Ernesto Frieri