2014 Fantasy Baseball: Week 13 Free Agent Fixes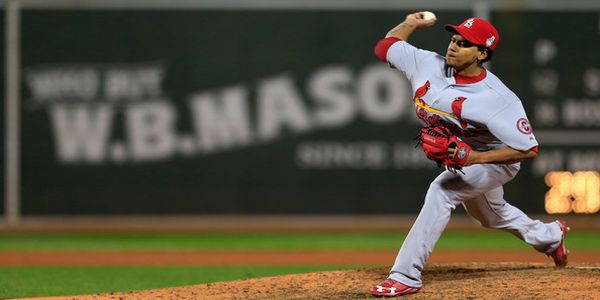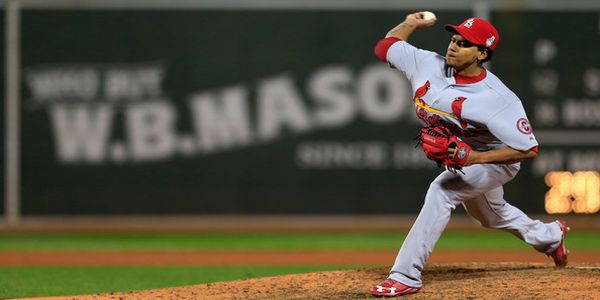 This week's article is pitcher friendly with a trio highlighted. A pair of American League Central outfielders get the nod as mixed league recommendations, and a catcher/outfield eligible hitter is the AL-only pick this week while a second baseman/shortstop is the NL-only pick.
Rubby De La Rosa, Boston Red Sox, SP/RP
Ownership: ESPN: 4.1% Yahoo!: 9% CBS: 32%
De La Rosa underwent Tommy John surgery in August of 2011, spent almost the entire 2012 rehabbing, and the bulk of 2013 pitching at the Triple-A level. Now back in the majors, and in the Red Sox rotation, he's thriving. Baseball Prospectus has the hard throwing right-handed pitcher's fourseam fastball as the 12th fastest among starter's heaters thrown at least 100 times. The pitch isn't a bat misser, but it does have a goundball/ball in play rate of 58 percent according to Baseball Prospectus.
The fastball alone is a nice pitch, but he backs it with a slider that he can use against same handed hitters, and a changeup to neutralize left-handed foes. De La Rosa has only thrown 49 sliders according to Brooks Baseball's PITCHf/x data, and a fun fact, Baseball Prospectus' PITCHf/x leaderboard shows it generating an identical whiff/swing percentage to Chris Sale's at 36.36 percent. His changeup is even filthier. De La Rosa is generating a 36.56 percent whiff/swing percentage, 17th best among starters that have thrown a minimum of 100.
Looking beyond the pitch-by-pitch analysis, De La Rosa's 24.0 percent strikeout rate is much better than what FanGraphs has as the league average, 20.3 percent, and his walk rate of 6.4 percent also bests the league average of 8.0 percent. The young hurler is in the strike zone more often than the league average pitcher (47.2 percent zone rate for De La Rosa compared to 45.7 percent for the league average), but he's struggling to get ahead of hitters with a paltry 50.4 percent first pitch strike rate (60.4 percent is the league average). The low first pitch strike rate scares me a bit, but the rest of his profile, which also features a hearty 49.4 percent groundball rate, is tantalizing. Jump all over him in all but the shallowest of leagues.
Carlos Martinez, St. Louis Cardinals, RP
Ownership: ESPN: 4.4% Yahoo!: 29% CBS: 27%
Little did I know how soon a rotation spot would fall into the lap of Martinez when I touted him last week. Both Michael Wacha and Jaime Garcia hit the disabled list Sunday with shoulder injuries, and given Garcia's history of shoulder trouble, it looks like Martinez might get a lengthy audition as a starter. The slender right-handed pitcher has one of the most electric arms in baseball, and even working as a starter against the Mets early last week, Brooks Baseball had his fourseam fastball averaging a mind boggling 98.31 mph. He allowed three earned runs in his second start of the year on Sunday, but he only allowed three hits, one walk, and struck out five. Expect better days ahead.
Martinez isn't just some carnival act pumping out big numbers on the radar gun, the pitch is very effective at inducing groundballs (59 percent groundball/balls in play rate in relief according to Baseball Prospectus). It is also a solid bat misser and his whiff/swing percentage of 19.42 percent on it in relief would translate to the 36th best mark out of 163 if thrown as a starter (minimum 100 thrown). His secondary pitches, slider and changeup, are also outstanding.
He has thrown 134 sliders this year according to the PITCHf/x data at Brooks Baseball, and it has a 48.5 percent groundball per ball in play rate, and a huge 25.37 whiff percentage. His changeup, which he's only thrown 40 times this year, has a 50.0 percent ground ball per ball in play rate and a sweet 20.0 whiff percentage. Knowing how often all of his pitches miss bats, it's not shocking to see that he has a 12.0 percent swinging strike rate (9.2 percent is league average according to FanGraphs).
With a clear path to pitching in the rotation for a while, my evaluation of his value this year is more favorable. Martinez should be owned in 12-team mixed leagues or larger and all NL-only formats. His control leaves something to be desired (10.4 percent walk rate), and he's not striking out batters at as high a rate as one would expect with his top shelf repertoire (16.7 percent strikeout rate), but I expect his strikeout rate to rise and his walk rate is palatable when mixed in with the rest of his profile.
Jon Gray, Colorado Rockies, SP
Ownership: ESPN: 0.0% Yahoo!: 3% CBS: 20%
The Rockies rotation is a mess. Tyler Matzek has followed up a shockingly good debut with two clunkers, and Christian Friedrich, he of the 7.89 ERA in 13 Triple-A starts, was pummeled (shocking I know) in his start for the parent club on Saturday. Meanwhile, Gray is pitching very well at the Double-A level.
The 2013 first round pick in the MLB Amateur draft has a 3.77 ERA with a 22.8 percent strikeout rate and 6.7 percent walk rate through 14 starts. Minor League Central has his groundball rate at only 37.5 percent, which could be trouble at Coors Field, but it hasn't caught up to him in his hitter friendly home ballpark with Tulsa. Jeff Moore of Baseball Prospectus wrote in a recent Minor League Update (June 10) that there are reports of Gray's fastball and slider grades being down a tick from where they were when he was drafted, but the ceiling on both pitches remains high and Gray is still one of the top pitching prospects in the game.
Because of the pitfalls that come with pitching at Coors Field, shallow league gamers can ignore Gray until he reaches the majors and shows he can overcome the obstacle of pitching there. Owners in larger mixed leagues (think 14-team or bigger) and NL-only formats that have an open bench spot and a need for pitching should stash him. He won't be an every start option, sitting him against tough offenses at Coors Field will be necessary at least out of the gate, but the talent is too immense to not take the plunge on in advance of a call-up. I recently added him in a 15-team mixed league with five bench spots and weekly roster changes.
Alejandro De Aza, Chicago White Sox, OF
Ownership: ESPN: 26.1% Yahoo!: 21% CBS: 23%
De Aza was horrible through the first two months of the season. This month, though, he's hitting .364/.420/.591. In April and May combined he struck out in 24.0 percent of his 200 plate appearances, but in 50 plate appearances in June he has struck out just 10.0 percent of the time. It looks like he's getting back to being the helpful fantasy player he was the last two years.
From 2012-2013 De Aza totaled 1,260 plate appearances and hit .271 with 26 homers, 46 stolen bases. Even in a down campaign this year he's still showing a nifty combination of power and speed with five homers and 10 stolen bases. Over the last 30 days his contact rate would fit in well with last season's, and he's been an aggressive hitter attacking pitches in the strike zone while spitting on offerings thrown outside the strike zone. The left-handed hitting outfielder hadn't shown a problem with facing his same handed counterparts the last two years, but he's been horrific against them this season. He has been fine against right-handed pitchers this year, and all-in-all, De Aza looks like a guy capable of matching his .264 batting average from last year the rest of this season.
The total package from De Aza makes him a well rounded contributor in 12-team mixed leagues or larger that use five outfielders. Even if his struggles against lefties continue, he's done well enough against right-handed pitchers to warrant ownership. His full season numbers this year make his low ownership rate across fantasy baseball providers understandable, but De Aza looks the part of the guy he was the last two years.
J.D. Martinez, Detroit Tigers, OF
Ownership: ESPN: 33.0% Yahoo!: 24% CBS: 37%
Martinez has parlayed his white hot play in Triple-A to open the year into a look with the Tigers. He's carried his scorching hot stick up the ladder with him, and he's hitting .310/.344/.593 with seven homers in 122 plate appearances for the Tigers. He's even tossed in two stolen bases for good measure. Chatter from fantasy experts on Twitter prompted me to dig into his numbers a bit, and I come away underwhelmed.
His walk rate of 5.7 percent and strikeout rate of 25.4 percent are actually both worse than his career marks of 6.3 percent and 23.5 percent. The 26-year old has kicked an already free swinging approach at the plate up a notch, swinging at 60.5 percent of pitches thrown to him (46.1 percent league average). It's not as if he's just attacking pitches in the strike zone either, he's really swinging at just about everything (41.7 percent swing rate on pitches out of the strike zone and 82.0 percent on pitches in the strike zone versus league averages of 30.1 percent and 65.1 percent respectively). Worse yet, Martinez has a poor contact rate of 73.0 percent (79.4 percent is the league average according to FanGraphs).
What's fueling Martinez's breakout is a 26.3 percent line drive rate and an unsustainable 25.0 percent homer-per-flyball rate. Martinez has a line drive rate of 21.4 percent in his career, and that's a more realistic expectation going forward. Baseball Heatmaps doesn't have his average homer and flyball distance, but Hit Tracker online shows that his average true distance on his homers this year is the lowest of his career. It's ideal to use all of his outfield flyballs in determining whether or not a player is hitting for more power, but using what I've got available doesn't paint a favorable picture for Martinez continuing his power outburst.
I'd much rather have De Aza, and moving Martinez for literally anything of value is advisable. If you are in need of pitching, selling Martinez for recent Free Agent Fix suggestions such as Jake Arrieta, Kyle Gibson, and both Rubby De La Rosa and Carlos Martinez from this week's article gets two thumbs up for me. Dealing him for hitters becomes a little trickier since one-for-one offers will result in the owner you offer him to investigating Martinez's production, but slipping him into a multi-player deal is a good way to possibly mitigate the scrutiny.
AL-Only Pick
Stephen Vogt, Oakland Athletics, C/RF
Ownership: ESPN:0.6% Yahoo!: 2% CBS: 4%
An injury to outfielder Josh Reddick has opened up fairly steady playing time to the versatile Vogt. Rostering a catcher that isn't donning the tools of ignorance is always dreamy. The left-handed hitting Vogt has become another cog in the A's platooning machine, and he only has three plate appearances against southpaws this year. Josh Reddick is expected to out until at least next Tuesday as he begins a rehab assignment this week, and that will give Vogt the chance to prove he should get regular playing time against right-handed pitchers even when he returns.
The former Ray won't supplant Reddick in right field, but because he's capable of playing right field, catching, and he even saw time at first base on Sunday, he's versatile enough to carve out a role for himself. Furthermore, Alberto Callaspo has gotten regular time at designated hitter and he doesn't set the bar high for Vogt to surpass him in the pecking order for at-bats.
At 29-years old, expectations should be tempered for the never highly regarded Vogt. That said, he wasn't a total train wreck last year against right-handed pitchers posting a 92 wRC+ (a stat that says he was eight percent worse than the league average hitter), and he's scalding the ball hitting .378/.396/.511 in 48 plate appearances this season. Further fueling my optimism for Vogt earning playing time is his success in the minors. Since 2011 Minor League Central credits him with 998 plate appearances against right-handed pitchers and he's hit .323/.378/.528. Finding a happy medium between this year and last year's production in the majors would yield a useful second catcher in two catcher mixed leagues, and a uniquely versatile option in AL-only leagues. .
NL-Only Pick
Joe Panik, San Francisco Giants, 2B ESPN, 2B/SS Yahoo!, SS CBS
Ownership: ESPN: 0.1%, Yahoo!: On Waivers, CBS: 4%
After enduring a skid that saw the Dodgers take a chunk out of their sizable National League West league, the Giants decided to shake things up with the promotion of Panik. The decision likely wasn't a difficult one with Brandon Hicks and Ehire Adrianza doing little at the keystone. Panik was a first round pick in the 2011 Amateur Draft, but he's not a toolsy player that will make a huge splash in fantasy baseball now or in the future.
The greatest thing Panik has going for him is a chance at claiming second base playing time all to himself. Beyond that, Panik has strong command of the strike zone and walked in 8.3 percent of his plate appearances for Triple-A Fresno while striking out in just 10.1 percent of them. He hit five homers and stole three bases, but his power will be limited to doubles, and his speed and base running acumen aren't enough to suggest more than a handful of steals. Baseball America noted in a staff report on June 4 that Panik's bat speed is improved from last year. The rookie second baseman hit .321 in Triple-A before his promotion, and with a high contact approach, Panik has a chance to contribute a hollow batting average to NL-only teams and large mixed league squads from the middle infield position.