2014 Fantasy Baseball: Week 14 Free Agent Fixes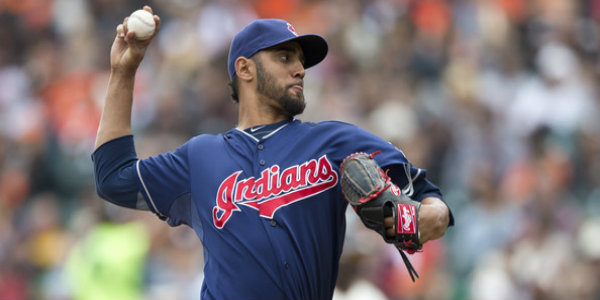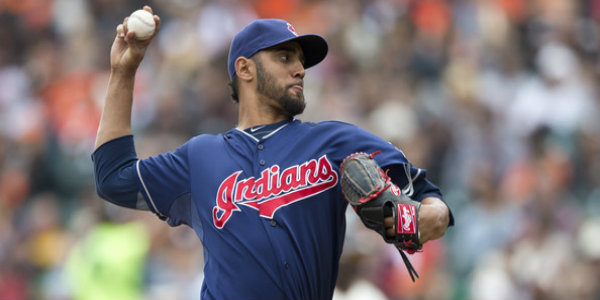 In a lighter mid-week addition of this week's article, a flame throwing right-handed pitcher has gotten his parent club's attention and he could be on the way back to the majors very shortly as a result. Also, a pair of outfielders were promoted on Tuesday and immediately inserted into their team's starting lineups. They are joined by an AL-only pick at first base that gets a boost thanks to his manager's ridiculous lineup construction tendencies, and an NL-only pitcher that has somewhat quietly been very good for about a month.
Danny Salazar, Cleveland Indians, SP
Ownership: ESPN: 25.2% Yahoo!: 33% CBS: 29%
I was one of the fantasy baseball writers feeding the hype machine for Salazar entering the year, and his poor start to the season and subsequent demotion have derailed any hopes of him finishing the season with the final stat line I envisioned. That doesn't mean he can't be an impact starter in fantasy leagues this year, though.
It would appear that an injury that sent him to the minor league disabled list could have been at least partly to blame for Salazar's awful start. According to the data at Baseball Prospectus, Salazar hit the minor league disabled list on May 31 and was activated on June 15. He's been brilliant in four starts since his activation pitching 23.1 innings, striking out 29.3 percent of the batters he's faced while walking just 6.1 percent of them according to Minor League Central.
His last start was his sharpest, and he allowed just one earned run on five hits and one walk with nine strikeouts in 7.1 innings pitched. The reports from the game were glowing, and Indians pitching coach Mickey Callaway has noted that he expects Salazar to make a similar impact for the team this year as he did last year according to quotes from Jordan Bastian's article at MLB.com. T.J. House has done a passable job in the rotation and his overall line is skewed by a dreadful start against the Rangers, but he's not the type of arm that will block Salazar if the team truly believes he's back to his electric form. When he is promoted, his ownership will skyrocket quickly, so if you're in need of pitching help and have a bench spot to work with in a league as shallow as a 12-team mixer, Salazar is worth scooping now.
Oscar Taveras, St. Louis Cardinals, OF
Ownership: ESPN: 13.8%, Yahoo!: 32%, CBS: 68%
If a sour first cup of coffee for Taveras caused his owner to cast him to the waiver wire, reap the rewards and add this special hitter immediately in all leagues. His prospect stock remains high thanks to a bat capable of special things, and he's thoroughly conquered the upper minors hitting .313/.358/.485 in 448 plate appearances at the Triple-A level.
Cardinals manager Mike Matheny wasted no time placing Taveras in a favorable lineup slot hitting him second on Tuesday night against the Giants and right-hander Tim Lincecum. Matt Holliday received the night off, so it remains to be seen where Matheny will choose to hit Taveras when the youngster plays center field (where I presume he'll get the bulk of his playing time), but his bat has enough upside to generate fantasy worthy numbers even in the unfortunate event he hits down order. With excellent numbers against left-handed and right-handed pitchers in the minors, Taveras is an everyday player. It wouldn't be shocking to see Matheny juggle players a little bit initially, but I have the utmost faith in Taveras taking this job and running with it and relegating Peter Bourjos and Jon Jay to reserve outfielders.
Domingo Santana, Houston Astros, OF
Ownership: ESPN: 0.0%, Yahoo! Waivers, CBS: 12%
Santana isn't in the same class of prospect as Taveras, but few are. His high strikeout rate (27.5 percent in Triple-A this year) doesn't portend well to a seamless transition to the majors, and he did strikeout three times in four plate appearances in his first start on Tuesday night. However, he is willing to work a walk (11.1 percent walk rate this year and 9.7 in Double-A last year), and has top shelf power.
Power is always at a premium, and even with an average that falls closer to his 2013 Double-A mark of .252, or lower, than his 2014 Triple-A mark of .304 becomes palatable if he's hitting bombs. Santana isn't a complete plodder, either, having stolen five bases in seven chances this year and 12 in 17 attempts last year. If you're in a 14-team mixed league or larger or an AL-only format, Santana is a good speculative add. Santana should get a chance to settle in at the big league level while Dexter Fowler is on the disabled list, and if he does the club will find playing time for him even when Fowler is activated.
AL-Only Pick
Carlos Pena, Texas Rangers, 1B
Ownership: ESPN: 0.1%, Yahoo!: 0%, CBS: 1%
On MLB Tonight on MLB Network last week it was mentioned that Pena was planning to join the staff there as an analyst just prior to getting another crack in the bigs with the Rangers. The 36-year old first baseman may not have anything left in the tank, but his discerning eye was still on display in a dreadful 2013 season when he walked 13.1 percent of the time, and the biggest drag on his power was a huge jump in groundballs.
If he's able to get back to lifting the ball (which isn't a given due to his advanced age), he could be a decent source of power as a corner infielder or utility player in AL-only leagues, especially since Global Life Park in Arlington will help him max out the thump left in his stick with its left-handed batter homer park factor of 113.
Furthermore, there is more run production upside with Pena than there should be thanks to Ron Washington's clueless lineup construction in which he's hitting the longtime Three-True-Outcomes hero third in the order against right-handed pitchers. Your leash with rostering Pena should be short, but power starved owners in AL-only formats and 14-team or larger mixed league owners using a corner infield and utility spots shouldn't feel too guilty about hoping for one last hurrah from him.
NL-Only Pick
Jeff Locke, Pittsburgh Pirates, SP
Ownership: ESPN: 8.1%, Yahoo!: 11%, CBS: 47%
Locke won't help you in strikeouts, let's get that out of the way. He has turned into an otherwise stellar contributor, though, and a good portion of his production looks sustainable. After a strong eight inning showing against the Pirates on Tuesday his ERA dropped to 3.46 and is largely supported by his 2.90 FIP and 3.54 xFIP.
FanGraphs has his groundball rate at a stellar 48.4 percent, and he's walking only three percent of the batters he's facing. Again, his 15.9 percent strikeout rate requires the rest of the fantasy staff picking up the slack, but in NL-only leagues and large mixers his profile is very rosterable. It's also possible that a few more strikeouts could be on the way, as his 10.8 percent swinging strike rate entering his start on Tuesday was 9.3 percent. The reason for holding off optimism on a big spike is that fact that his changeup is what's generating the empty swings, and his curveball does little in the way of missing bats.
The awesome PITCHf/x data at Brooks Baseball shows that Locke has all but abandoned his fourseam fastball this year throwing it just 0.47 percent of the time after throwing it 35.99 percent of the time last year. He's throwing his sinker a ton, using it 63.55 percent of the time, and he's throwing it frequently to both lefties, 71.43 percent of the time, and righties, 62.69 percent.
He's using his curveball almost equally to left-handed and right-handed batters, throwing it just over nine percent of the time to each. While the pitch isn't a big bat misser (in fact it has a zero percent whiff rate to lefties), it has induced groundballs on 100 percent of the balls put in play by left-handed batters this year, so it certainly has its purpose. The pitch hasn't been pounded in the ground by right-handed batters like it has by lefties, but a 13.89 percent whiff rate gives it value to mix in to them.
His changeup is his real weapon versus opposite handed batters, generating a whiff percentage of 28.04 percent. Even when right-handers aren't swinging through the offering, they're doing little with it pounding out a 75.86 percent groundball rate on balls in play.
There is a lot to like here with Locke, and that's saying nothing of his home run and run suppressing home ballpark, PNC Park. He's a fantastic glue guy to round out rotations in 14-team mixed leagues or larger, and he must be owned universally in NL-only formats. If he's already owned by someone else in your NL-only format, it might be worth kicking the tires on his availability in the event his owner has an irrational fear of another second-half meltdown similar to Locke's 2013 disaster. Knowing how he's changed his approach, expecting a similar collapse is unwarranted.