2014 Fantasy Baseball Week 15 Waiver Wire: 3 to Catch, 3 to Cut, 3 to Keep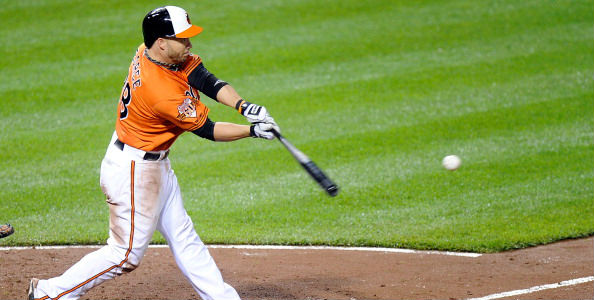 In the Week 15 edition of fantasy baseball 3×3, we're keeping up with Dee Gordon, cutting ties with Chris Johnson, and tapping into Steve Pearce's potential.
There are plenty of waiver wire columns out there that provide an exhaustive list of the most added players in fantasy leagues. This isn't one of them. Here, we'll run down a few lesser-known, lesser-considered, or lesser-owned players, with perspective on who deserves a your attention, who deserves your patience, and who deserves to go straight to bed without dessert.
Any questions, thoughts, David Price trade rumors? Hit me in the comments or on Twitter.
3 TO CATCH
Players to be picked up; available in most standard leagues
Steve Pearce | Baltimore Orioles | 1B
I'm typically not the reactionary type. I'm typically not the type to get all excited about facts like "over the past month, only five hitters have a higher ISO than Steve Pearce's .300". For instance, I'm not excited to write that one of those players is J.D. Martinez. I don't tend to buy that one mechanical adjustment overwrites a career of streaky, undisciplined hacking.
But I am buying in on Pearce, who seems less like a human hot streak and more like a talented player who's never really gotten a consistent chance to prove himself. The Orioles are his fourth team in three seasons, but prior to that, he was regarded as a spectacular prospect. In 2008, Baseball America ranked his hit tool, power, and plate discipline as the best in the Pittsburgh Pirates organization. The same Pittsburgh Pirates organization that counted Andrew McCutchen as its best prospect. It'd be silly to much much stock in a prospect ranking from more than five years ago, but it does serve to illustrate that Pearce's talent is real.
If I'm really going to believe that a player who'd been touted in the past has finally tapped into his potential, I'd need to see a change in approach, ability, or, ideally, both.
Well, lookie there, it's a change in approach! Pearce's stayed disciplined enough to lay off pitches outside the strike zone, but his overall swing rate is up to a career high level.
Yeah, you're right, that's probably not specific enough. We'll need to see how that approach manifests itself in more detail. Check out the difference in Pearce's zone profile against hard stuff over his first seven big league seasons and this season (click to enlargify):
Pearce has not only been more aggressive on pitches up in the strike zone, he's done a ridiculous amount of damage when he's attacked those offerings: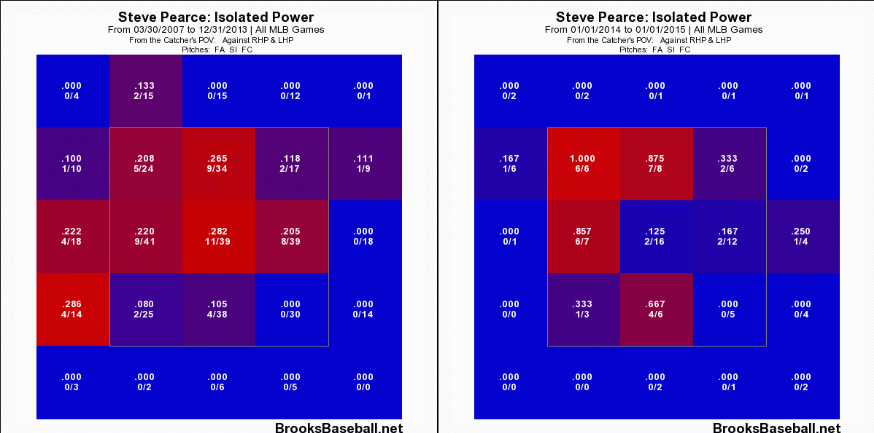 It's probably not possible for him to continue this pace, but there's real improvement here. He's settled into the cozy two-hole in a very good Baltimore batting order, where he's tagging both lefties and righties. His average fly ball distance puts him in the right company; Pearce trails Brandon Moss, Matt Kemp, and Carlos Gomez by less than a foot. His 17.2% HR/FB rate fits in well too. It paces just a tick behind Moss and a few percentage points ahead of Kemp and Gomez. It'll likely decline a bit over the rest of the season, but he's got enough power to maintain something in the 14-15% range. Pearce has posted ISOs better than .200 in three separate stints in Triple-A; it just took until now for that power to translate to the major league level.
To pick him up, I'd drop: Mark Teixeira, Ryan Howard, J.D. Martinez
I'm hopeful that Sunday's start is enough to keep him with he big club over the long term, but man, the Orioles have turned Kevin Gausman's development into a friggin' obstacle course. Not only has he been jerked back and forth from the majors to the minors, the few starts he has made at the MLB level have come against some of the best offenses in baseball: the Tigers, the A's, the Blue Jays, and recently, the white-hot Rays.
In the face of those challenges, Gausman has ridden his 95 mile per hour gas to a very respectable 3.51 ERA and 3.32 FIP. When he finally had a chance to face the slumping Red Sox on Sunday, he shut them down, fanning seven and allowing only one run and six baserunners.
There's no questioning Gausman's electric stuff; the question with him is whether he can polish it up enough to be an effective big league starter. His pitch usage chart is starkly bland: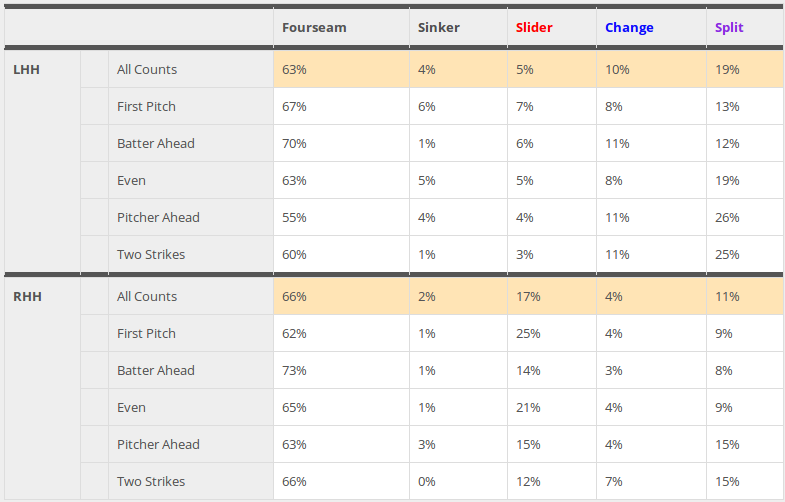 There's nothing wrong with leaning on your fastball when you've got Gausman's heat, but it doesn't look like he's quite figured out which of his pitches are his best weapons in particular counts and situations. Eno Sarris went into great detail on Gausman's arsenal a couple of weeks ago at FanGraphs; I'll agree with Eno's assessment that Gausman has too much talent to pass up on the waiver wire. He's a great speculative add, especially in deep-ish formats.
To pick him up, I'd drop: Ubaldo Jimenez, Ricky Nolasco, Drew Hutchison
Dan Straily wasn't the sizzliest prospect to change hands in the Jeff Samardzija trade, but for fantasy players in redraft leagues, he's certainly the most interesting. He struggled to find his footing in Oakland this season, but proved last year that he can consistently miss major league bats. In just over 150 innings, he registered a better swinging strike rate than Chris Sale, Stephen Strasburg, and Felix Hernandez. It netted out to a slightly below average strikeout rate because Straily struggled to consistently put hitters away. Check out his strikeout rates from 2013 through two-strike counts: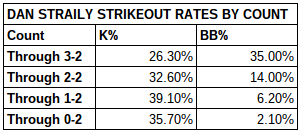 Now, as a point of comparison, let's look at the same numbers for Sale, who had a nearly identical swinging strike rate and a very similar chase rate last season: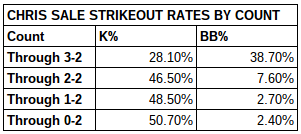 Obviously, Straily shouldn't be held to a Sale-ian standard, but a pitcher of his quality shouldn't be giving away so many strikeout opportunities. He's got the stuff to put big league hitters away; a few relatively minor improvements in his command and pitch sequencing will eventually translate that raw stuff into excellent strikeout rates.
His move to the National League will almost certainly speed that development process. Although the Cubs are going to start Straily at Triple-A Iowa, I'm not convinced that Chicago's major league rotation has much stability, especially when I see these kinds of things on MLB Depth Charts:

I do think the Cubs will stick to their statement and keep Straily in the minors for a few starts, but I'd bet he's up with with big club right around the end of July.
To pick him up, I'd drop: Trevor Bauer, Jeff Locke, Tom Koehler
3 TO CUT
Players to be traded or dropped, depending on the depth of your league
Chris Johnson | Atlanta Braves | 3B
Chris Johnson is one of 44 big leaguers to hit .300 or better over the last 30 days. It's not a huge surprise, considering that Johnson was one of the best batting average producers in the National League last season. It is, however, a huge surprise, considering that Johnson is one of the most undisciplined (and unsuccessful) hackers in baseball. Of those 44 hitters, none has a higher chase rate than Johnson's 45.8%, and none has a worse contact rate on pitches outside the strike zone; for all of his flailing, Johnson has connected on less than half of his swings at pitches outside the zone.
This recent charge isn't a return to form, it's a return of luck. Johnson's .422 BABIP ranks as the fourth best in baseball over the last month.
Batting average is a fickle beast and Johnson has value as a guy who will consistently hit around .275, but last season was a fluke, not the emergence of a future batting champion.
I'd trade/drop him for: Josh Harrison, Nick Castellanos, Juan Francisco
Tim Lincecum | San Francisco Giants | SP
As a baseball accomplishment, no-hitters are overrated. Perfect games are indescribably great, but happening to have one game with a .000 BABIP? That's not always something to write home about, especially when it comes attached to six strikeouts, one walk, and a pitcher who only just turned 30 years old, but is already well past his prime.
As a fantasy baseball opportunity, no-hitters are wonderful. They're rarely an indication of progress and often a signal sell-high spike in perceived value. Lincecum's no-no is a perfect example, coming against the hapless Padres in the midst of an otherwise mediocre season. It's certainly not the sign of a change. Lincecum's track record couldn't be simpler. When he had a big fastball, he was one of the best pitchers in baseball. Since he's lost the big fastball, he's been below average.
Just in case you're more of a visual learner:
Lincecum is learning to adjust to his lost velocity, but he's still not a pitcher that deserves to be owned in most mixed leagues. If his fastball comes back, I'll buy in to a renaissance. That isn't happening, so I'll sell everywhere I can.
I'd trade/drop him for: Ian Kennedy, Jesse Hahn, Marcus Stroman
Jesse Chavez | Oakland Athletics | SP
Jesse Chavez has been unexpectedly excellent as a starter this season, but he might become a victim of his own versatility. The Athletics' move to acquire Samardzija and Jason Hammel doesn't immediately bump him from the rotation, but it should have him nervously scouring the internet for news on Drew Pomeranz' readiness to come back from the disabled list.
There's no specific timetable for Pomeranz' return, but he because he followed Crash Davis' advice and didn't punch with his pitching hand, he's been able to continue a throwing program while his right hand heals. As soon as he's able to receive throws with his glove hand, Pomeranz will either head down to Triple-A or bump Chavez back to the bullpen. Oakland's bullpen isn't exactly hurting (it ranks fourth in baseball in ERA and sixth in FIP), but a team that has clearly declared its "World Series or bust" intentions isn't going to leave any asset on the table. Billy Beane and Bob Melvin will want this team rolling into the playoffs with the best 25-man roster it can possibly have. The Oakland pen is already loaded with lefties, which means the only way Pomeranz is likely to help the team is as a starter.
Chavez has been better than Pomeranz this season, but he's an experienced reliever and Pomeranz isn't. Chavez made 35 very strong appearances out of the Oakland bullpen last year and posted a better FIP, strikeout rate, and WHIP as a reliever than he has as a starter this season.
I could pontificate all day about which move would be the right one, but that doesn't really matter. What does matter is that Chavez's fantasy value now sits squarely under a guillotine. If you can get value for him in a trade, make the move now.
I'd trade/drop him for: Taijuan Walker, Carlos Martinez, Jose Quintana
3 TO KEEP
Players to hold or trade for; owned in most standard leagues
Dee Gordon | Los Angeles Dodgers | 2B/SS
Entering the season, the most optimistic projection system had Dee Gordon down for 41 steals. In just over half a season, he has 42. It's safe to say that just about every fantasy owner who drafted Gordon has already reaped considerably more value than he/she expected.
There are certainly real improvements in skill backing up his skyrocketing stat line, but over the last six weeks or so, there have been some disturbing declines in his production. After swiping an outrageous 34 bases before the end of May, he's only managed eight steals since the beginning of June.
At first, I thought this meant that the rest of the league had caught on to Gordon's schemes, but after a closer look, there a couple of outside factors almost certainly drove this decline, neither of which I expect to persist much longer.
First, Gordon fought through a hip injury in early June. It didn't send him to the DL, but it almost certainly held him back on the basepaths. He stole a base in the Dodgers' game on June 5, then suffered the injury on June 7; he didn't steal another bag until June 18. That ten-game drought is his longest of the season.
His second-longest drought followed shortly after, but it wasn't due to a recurrence of the injury. Gordon attempted two steals during his eight-game dry spell from June 26 through July 3 but was caught both times, once by the Cardinals' Yadier Molina and once by the Indians' Yan Gomes. Not at all coincidentally, Molina leads the league in caught stealing percentage, throwing out 50% of attempted base stealers. Gomes ranks fourth at just over 36%. Luckily for Gordon, the Dodgers play only three more games against a top five throwing catcher this season.
Gordon isn't Vince Coleman, but he's a really good base stealer who will continue to do swipe bags like crazy the rest of this season. His BABIP, batting average, and OBP have all been on the rise. That increase in opportunities will eventually get him on track to steal at least 20 more bags the rest of the way.
I wouldn't trade/drop him for: Jose Reyes, Ian Desmond, Elvis Andrus
In the month of June, only one starting pitcher had a better ERA, FIP, and strikeout rate than Jake Arrieta. His name is Clayton Kershaw, he's pretty good at baseball, and his June included (by one metric) the second-best pitched game in MLB history.
No, I'm not actually saying that Arrieta is nearly as good as Kershaw and yes, Arrieta benefitted from some luck. His BABIP and strand rate were both among the most favorable in the league during June. But don't let that get in the way of the fact that he struck out a third of the batters he faced and allowed more than one base runner per inning just once in six starts.
It's only one month, and he wasn't as good in May as he was in June, but I think that was mostly just Arrieta getting himself stretched out. He pitched well enough to record a 3.20 ERA, 2.67 FIP, and 23.4% strikeout rate in May, but failed to make it through the fifth inning in four of his first six starts. He didn't throw more than six innings in a start until June 13, but he's thrown at least seven innings, struck out at least nine, and walked no more than one in every start since.
I wouldn't trade/drop him for: Gerritt Richards, Rick Porcello, Shelby Miller
Chris Davis | Baltimore Orioles | 1B
As Nelson Cruz continues slug his way toward making me look like an idiot, his Baltimore bash brother couldn't be more thankful for the redirected spotlight. Chris Davis looks like he's been teleported back to Texas this season. Heading into Sunday's action, he had hit only one home run and just two extra base hits in his last 71 plate appearances.
It's a really disturbing run, but a quick look at his game log gives me some hope. The results have been poor, but he's remained disciplined. Davis has walked 13 times in his last 17 games; his 23.3% chase rate over that time period is more than 13 percentage points below his career average. His contact rate and batted ball rates are pretty close in line with last year's numbers, indicating that Davis hasn't lost the ability to drive the ball, he's just been more patient than ever in waiting for a pitch he can drive. Unfortunately, he's been spectacularly unfortunate on balls in play. His .171 BABIP is more than 100 points lower than the .280 mark he put up in 237 plate appearances prior to this run.
ZiPS has Davis projected for a league-leading 17 home runs the rest of the way; I've seen nothing this season to make me think he can't reach that number. If anything, his more patient approach could lead to even more power in the second half.
I wouldn't trade/drop him for: Albert Pujols, Victor Martinez, Brandon Moss