2014 Fantasy Baseball: Week 21 Free Agent Fixes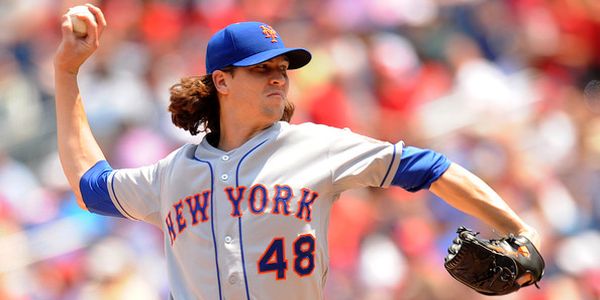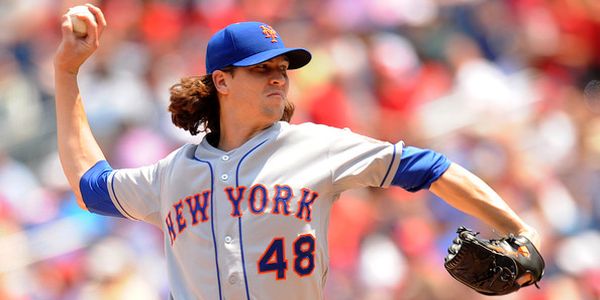 There are a couple of players that should be universally rostered that are highlighted in today's Free Agent Fixes. They are joined by a pair of toolsy outfielders, a rookie shortstop who can help AL-only owners, and an NL-only starting pitcher who has returned to fantasy relevance after being left for dead earlier in the year.
Jacob deGrom, SP, New York Mets
Ownership: ESPN: 22.7%, Yahoo!: 43%, CBS: 75%
Barring a setback in a throwing session this week in which deGrom will mix in breaking balls, he looks slated to get a turn against the Dodgers on Saturday. The matchup isn't especially good since the Dodgers have been one of the better offenses against right-handed pitchers this year, but with deGrom on the disabled list, now is the time to scoop him up and stash him in the event he was cast to the wire in your league.
The Mets rookie hurler has been outstanding and needs to be owned universally. His 3.05 FIP this year is better than fellow New York rookie Masahiro Tanaka's 3.06 FIP, and among starters with a minimum of 100 innings pitched, deGrom ranks 22nd in the category. He's had a bit of home run prevention luck, but a 3.40 xFIP is nothing to turn your nose up at either. According to FanGraphs the league average in strikeout rate is 20.3%, and deGrom is besting that with a 22.9% strikeout rate, and his walk rate is just a wee bit above the league average.
It hasn't been a case of smoke and mirrors with the rookie either. The stuff is legit, and according to the Baseball Prospectus PITCHf/x leaderboard, deGrom ranks 33rd in average fourseam fastball velocity (94.35 mph) and ranks even higher ranking 23rd in average sinker velocity (93.86 mph). He backs his two fastballs with a pair of breaking balls, curveball and slider, and a changeup. The deep arsenal has allowed him to keep both left-handed batters and right-handed batters in check (.311 wOBA allowed to left-handed batters and a .280 wOBA allowed to right-handed batters). It should also be noted that both his curveball and changeup are bat missing pitches, with his curveball ranking 21st in whiff/swing percentage among starters who have thrown a minimum of 100 (128 qualified pitchers), and his changeup inducing the 18th highest whiff/swing percentage (minimum of 200 thrown) out of 66 qualified starters. He should be owned in all leagues.
Kennys Vargas, 1B, Minnesota Twins
Ownership: 20.0%, Yahoo!: 8%, CBS: 34%
I guess I have to pound the drum for Vargas again as he remains under owned. The rookie first baseman has hit cleanup for the Twins in 10 straight contests prior to Tuesday's contest, and he hasn't been overwhelmed. His BABIP is unsustainable, .395, and his walk rate and strikeout rate paint the picture of a free swinger, which his plate discipline stats at FanGraphs have supported, but he should eventually settle in once he's forced to adjust. In the mean time, he's shown off his above average raw power reaching the seats three times in 70 plate appearances.
It's too early to put much stock in batted ball data, but his 23.9 percent line drive rate is stellar, and he's only hit one infield flyball thus far (7.1% IFFB). He's a switch hitter who has fared well against both left-handed and right-handed pitchers in the minors, posting an .830 OPS against lefties and a .865 OPS against righties as an opposite handed since 2011 according to Minor League Central. Vargas should be owned in all but shallow mixed leagues, and if his plate discipline numbers improve as he settles in down the stretch, he could force his way onto rosters even in those formats.
Rymer Liriano, OF, San Diego Padres
Ownership: ESPN: 2.2%, Yahoo!: 7%, CBS: 30%
Liriano is another repeat visitor to the column, but unlike Vargas, his plate discipline has been impressive as his fantasy stats have been more good than great. The toolsy outfielder has walked five times in 26 plate appearances, and he's avoiding offering at pitches out of the strike zone with a 25.9% O-swing rate (league average is 31.0% according to FanGraphs). His patience and willingness to work walks is huge for his fantasy value since he is an above average base stealer (20 stolen bases in 28 chances in the minors and one in one attempt in the majors).
It's not all about speed with Liriano either, he also has some pop and has belted one homer in the Show already and ripped 14 in the minors this year. The Padres offense and his lineup slot will cap his run production upside, and his strikeout rate will hurt his average, though, he is better than the .211 hitter he's been thus far. His power and speed combination makes him rosterable in large mixed leagues starting five outfielders and NL-only formats.
Avisail Garcia, OF, Chicago White Sox
Ownership: ESPN: 9.2%, Yahoo!: 20%, CBS: 40%
Garcia's season was thought to be lost to injury, but he beat recovery time tables and was activated from the disabled list on August 16. He hit cleanup in his first game back, and has batted fifth in two contests since that one. The jacked outfielder has hit the ground running after a scorching hot rehab assignment, and he's recorded at least one hit in all three games played including a pair of doubles.
Garcia's tools are loud, but his approach and ability to turn them into game time skills at the dish is somewhat questionable. Even on a hot rehab assignment Garcia walked just one time in 53 plate appearances at the Triple-A level while striking out 16 times. He gets a partial pass since he was shaking off the rust of a lengthy layoff, but working walks has never really been a part of his offensive game.
His shortcomings aren't enough to turn me off of gambling on his tools when considering they come with a friendly lineup slot in a homer happy ballpark. Owners in large mixed leagues starting five outfielders and those in AL-only leagues would be wise to scoop up Garcia and hope he goes on a heater down the stretch. Even if he only plays to his big league career level of production (.290 average with nine homers and three stolen bases in 352 plate appearances) for the rest of the year, he'd be a welcomed addition to rosters.
AL-Only Pick
Chris Taylor, SS, Seattle Mariners
Ownership: ESPN: 5.4%, Yahoo!: 4%, CBS: 10%
Taylor isn't like the two rookies preceding him in this column, he doesn't have eye catching tools, but he's done nothing but hit at a high level in the minors. He forced his way to the big leagues, and has earned more playing time than fellow young shortstop Brad Miller of late. The playing time could be fluid down the stretch, but with the Mariners in the midst of a playoff chase, they don't have time to let Miller figure it out, and the better shortstop will play.
Taylor has hit above .300 at High-A (2013) and Triple-A (this season) while sandwiching in a .293 average at the Double-A level (2013). He adds a patient approach that has resulted in walk rates north of 10 percent at each stop, and north of 13 percent at the High-A and Double-A levels. His power is below average, but his ability to reach base plays to his greatest offensive and fantasy tool, his speed. Taylor stole 38 bases in 43 attempts in 2013 between High-A and Double-A, and he snagged 14 bases in 20 attempts at the Triple-A level this year before his promotion. He's only attempted one steal and been caught in the majors, but don't sleep on his speed. He's a down order hitter, which hurts his run production upside, but with the state of shortstop and middle infield being as ugly as it is, Taylor is worth a grab in AL-only formats and even some large mixed leagues for middle infield needy owners.
NL-Only Pick
Trevor Cahill, SP/RP, Arizona Diamondbacks
Ownership: ESPN: 1.6%, Yahoo!: 3%, CBS: 15%
It's shocking to me that I'm writing favorable words about Cahill after an ugly start that resulted in him being designated for assignment and working things out in the minors. To his credit, he's turned things around, and surprisingly done so after a Triple-A stint where he struggled mightily with his control. Over the last 30 days Cahill has an 18.0% strikeout rate and a 4.7% walk rate while inducing groundballs at his usually high clip of 52.1%. The result has been a 3.23 ERA that is supported by his 2.41 FIP and 3.15 xFIP.
The most obvious change I can see in his PITCHf/x profile is an increase in changeup usage since getting back to the majors. The changeup has earned a healthy number of whiffs, and when hitters have made contact with it they've routinely pounded it into the ground. His sinker is huge for keeping his groundball rate swollen, and even in a down year his curveball remains a really good pitch. In fact, among starting pitchers who have thrown a minimum of 100 curveballs, none have a higher whiff/swing percentage than Cahill. He isn't the type of player to trample other owners in a race to the wire for, but owners needing starts and innings down the stretch could do worse than grabbing Cahill, especially in NL-only leagues where he remains widely available.