2014 Fantasy Baseball Week 24 Waiver Wire: 3 to Catch, 3 to Cut, 3 to Keep
In the Week 24 edition of fantasy baseball 3×3, we're moving on to Edward Mujica, moving on from Anthony Rizzo, and moving on up with Javier Baez.
There are plenty of waiver wire columns out there that provide an exhaustive list of the most added players in fantasy leagues. This isn't one of them. Here, we'll run down a few of the most interesting players for fantasy owners, with perspective on who deserves a your attention, who deserves your patience, and who deserves to go straight to bed without dessert.
Any questions, thoughts, totally unrelated links to your fantasy football podcast?
Well, I've got one of those… Click here to hear Ryan Noonan and I preview Week 1, and look out for new pods on the site (and eventually iTunes) every week.
For anything else, hit me in the comments or on Twitter.
3 TO CATCH
Players to be picked up; available in most standard leagues
Edward Mujica | Boston Red Sox | RP
Koji Uehara has finally discovered what it feels for every other pitcher with a fastball that can't touch 90 miles-per-hour. He's been tagged for at least one run in five of his last six outings. It's an odd development; it's shocking to see a pitcher who'd been among the most reliable in the league for the past few seasons suddenly lose it, but at the same time, Uehara was bound to blow up at some point. The Red Sox have rightly decided that it's just not useful for a rebuilding team to keep sending a struggling 39-year old out to handle its save chances, especially when that closer is in the last year of his contract. Instead, the Sox have slotted Edward Mujica in as closer. He's no spring chicken himself, but at least Mujica is under team control in 2015. The move is said to be "temporary", but the gap between "temporary" and "permanent" is narrowing significantly by the day.
I imagine that Mujica earned at least half of a proven closer pendant of life from his days working the ninth inning in St. Louis, which should buy him a couple outings' worth of rope if he's not great right away. Truthfully, he hasn't been great overall this season (neither his 17.2% strikeout rate and 3.85 FIP engender much confidence) but now, more than ever, saves are saves are saves. As long as Mujica isn't a total tire fire (you know, like Michigan's offense on Saturday), he should snag a few saves over the last few weeks of the season. If you're within striking distance of a roto point or two in that category, there's nobody more valuable on the waiver wire.
To pick him up, I'd drop: Koji Uehara, Addison Reed, LaTroy Hawkins
Steve Pearce | Baltimore Orioles | 1B/OF
Steve Pearce is re-finding his groove at just the right time. After struggling mightily in July, his ISO rebounded in a huge way in August, leaping up by more than 200 points. August marked the second time this season that he'd popped five homers in a single month; September sets up as maybe the most power-friendly month of his season.
Over the next three weeks, he'll play ten games at Camden Yards, where his wRC+ is 24 points higher than it is on the road. When his Orioles do have to leave town, they'll go to Fenway Park, Rogers Centre, and Yankee Stadium. Both Fenway and Rogers Centre rank as top ten in run scoring environments this season and Yankee Stadium has been the fourth-best park for home run hitters in 2014.
I made my thoughts on Pearce's legitimacy known earlier this season and despite his intermittent struggles, I stand by that recommendation. Given his talent and schedule, he's as good a power threat as you'll find out there for free.
To pick him up, I'd drop: Allen Craig, Michael Morse, Eric Hosmer
Through six starts as a Marlin, Jarred Cosart hass racked up a sub-2.00 ERA and sub-1.00 WHIP. He's logged quality starts in five straight outings, allowing one run or fewer in four of those games. Cosart has benefitted from a bit of BABIP and strand rate luck, but there does seem to be a real change in approach here. In his five August starts with Miami, Cosart focused more on his best pitch, his cutter, mostly at the expense of his curveball.
Throwing more cutters hasn't helped his already lagging strikeout rate, but I'm not sure that more breaking balls would do much good either. Cosart's curveball whiff/swing rate ranks 15th worst among starting pitchers; hitters offer at 57% of his two-strike benders, but only miss on 9% of swings.
Without a real putaway weapon, it's good to see him focusing on pounding the strikeout with his cutter. Cosart has dropped his walk rate to 5.1% since his move; that would rank 20th among qualified starters and represents a huge step forward for a guy who struggled with control earlier in his career.
Cosart doesn't have huge upside for this season, but his recent changes are molding him into a pitcher with a very high floor. He's gone seven innings or more in four of his last six starts and hasn't allowed more than eight baserunners in any of them. If you're pacing a bit behind your starts/innings limit in a deeper league, Cosart is an excellent low-risk way to fill the gap.
To pick him up, I'd drop: Edinson Volquez, Kyle Hendricks, Jason Vargas
3 TO CUT
Players to be traded or dropped, depending on the depth of your league
Anthony Rizzo | Chicago Cubs | 1B
Now is not the time to be sentimental. Anthony Rizzo has had a breakout season and has earned a great deal of admiration from his fantasy owners, but this news renders him just about worthless in redraft leagues. We're at the point in the season where playing time has bypassed talent as the most valuable characteristic of a fantasy asset. If you're scrambling to make up ground in counting categories or scrapping through the first round of a head-to-head playoff, you need somebody who's going to play. Rizzo isn't a sure thing to sit out the rest of the season, but he's definitely not going to play enough to make a big impact. Even if he returns to play a few games, he'll be coming off a period of nearly two weeks without picking up a bat. Not exactly the perfect prelude to a hot streak.
This advice is obviously moot for owners in keeper leagues, but in redraft formats, there's almost definitely somebody out there who's better equipped to help your team this season, no matter how slim the pickings may seem at first base.
I'd trade/drop him for: Kennys Vargas, Adam Dunn, Steve Pearce
Wade Miley | Arizona Diamondbacks | SP
On the whole, Wade Miley has out-pitched his 4.18 ERA this season. Based on the way his schedule sets up over the last few weeks of the year, I don't expect that his numbers will catch up to his talent until sometime in 2015. Arizona's remaining 2014 slate is absolutely brutal. The D'Backs will play six games against San Francisco's white-hot offense on top of a four-game set at Coors Field, not to mention a three-gamer against St. Louis, one of the league's most devastating offenses against left-handed pitching. There are a couple of safe zones against the Twins and Padres, but overall, it's a gauntlet. Miley isn't like to be a worthwhile streamer again this season.
I'd trade/drop him for: Marcus Stroman, Shane Greene, Kevin Gausman
Wil Myers | Tampa Bay Rays | OF
Wil Myers is still only 23-years old and is still brimming with talent, but I think we can close the book on the fantasy usefulness of his 2014 season. A wrist injury siphoned the gas out of his tank early on, and based on his recent results, he hasn't ever pushed the dial much above "E". His HR/FB rate has dropped by more than half and his average fly ball distance has declined by 23 feet from the levels he set as a rookie last season. Things are even worse if you only look at his 71 post-injury plate appearances. His strikeout rate has spiked, and while he is hitting fly balls with a bit more authority, his soaring ground ball rate means he's putting considerably fewer balls in the air.
It sucks to write off a player with so much promise, but much like with Rizzo, this is a necessary move for owners in redraft leagues. Myers just isn't going to produce at a useful level for the rest of this season.
I'd trade/drop him for: Khris Davis, Marcell Ozuna, Angel Pagan
3 TO KEEP
Players to hold or trade for; owned in most standard leagues
Javier Baez | Chicago Cubs | 2B/SS
Yes, Javier Baez looks overmatched. Yes, he's striking out at a rate that would make Rob Deer blush. I don't care. He hits home runs, and not many middle infielders can do that.
It's September, the steady hand-type middle infielders are becoming less and less valuable every day. When I'm evaluating whether to keep or add a player, I'm looking for the potential for standings-changing production in at least one category. Regardless of how many times he strikes out, I know that Baez can give that to me. How many other non-elite middle infielders can you really say that about? Just about all of the widely available speed threats are outfielders and there's no other middle infielder with anything close to Baez' explosive power. Any middle infielder who hits high enough in the lineup to earn voluminous run-scoring or run-producing opportunities is already owned, except of course for Derek Jeter, who is terrible, yet is inexplicably hitting second for the Yankees.
If you're on the cusp of gaining or losing points in batting average, fine, you can drop Baez, but if those categories are already decided (in most leagues, they probably are), your best move is to hang to the Cubs' young hacker.
I wouldn't trade/drop him for: Jedd Gyorko, Dustin Ackley, Brandon Phillips
Sean Doolittle could be back in the lineup as soon as Monday and I expect that A's manager Bob Melvin will slot him into the closer role as soon as he returns. Oakland has been reeling in recent weeks and will fire every bullet it can to make sure it keeps a vice grip on a playoff spot. Several Athletics relievers have pitched well this year, but nobody in the Oakland pen can match Doolittle's propensity for punchouts. His 36% K%-BB% is more than ten percentage points better than any other A's reliever's strikeout rate!
I wouldn't trade/drop him for: Eric O'Flaherty, Joe Nathan, Rafael Soriano
At this point in the year, I tend to evaluate pitchers as much on their schedule as I do on their ability. When I started to investigate whether James Paxton might be a good guy to write about this week, I was a bit disheartened by Seattle's tough schedule for the rest of September. Not enough to suggest cutting Paxton, but probably enough to steer me away from…
Aw, screw it. Dude is dealing right now. I don't care who he's facing.
Sunday's quality start dropped Paxton's ERA to 1.50 for the season. His strikeout rate hasn't quite reached the ceiling he showed in the minors, but his curveball is unquestionably one of the most devastating in baseball, comparing favorably in both swing rate and whiff rate with the breakers featured by Yu Darvish, Jose Fernandez, and Jake Arrieta. His fastball results haven't quite caught up, but with consistent 95-plus heat and more than ten inches of vertical break, I'm sure it'll be fine. The velocity and movement profile of Paxton's fastball lines up well with that of guys like Yordano Ventura and Brandon McCarthy, both of whom rank among the best in baseball in fourseam whiff rate. And Paxton's dynamite stuff has proven to play against any competition; he's already thrown quality starts against the Angels, Orioles, Tigers, and Athletics this season.
Oh, I almost forgot the obligatory drool-inducing Paxton gif. Let's go with a fastball this time, just to mix things up.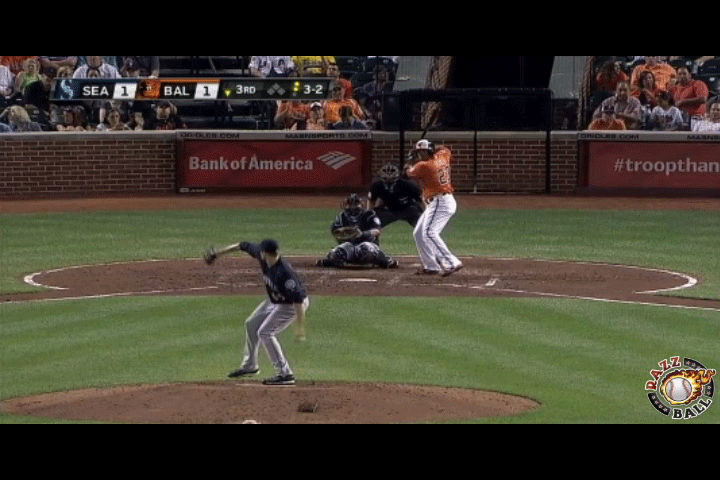 Goodnight everybody!
I wouldn't trade/drop him for: Jake Peavy, C.J. Wilson, Michael Pineda