2014 Fantasy Baseball Week 3 Waiver Wire: 3 to Catch, 3 to Cut, 3 to Keep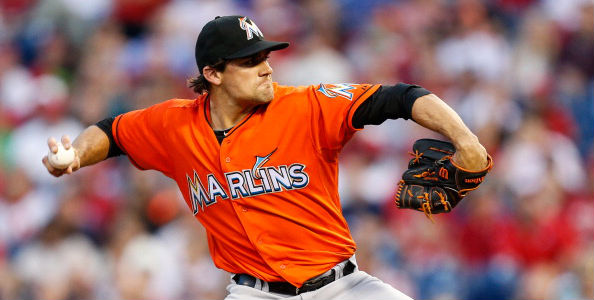 In the Week 3 edition of fantasy baseball 3×3, we're picking up Nate Eovaldi, giving up on Brett Lawrie, and keeping up hope for Carlos Martinez.
There are plenty of waiver wire columns out there that provide an exhaustive list of the most added players in fantasy leagues. This isn't one of them. Here, we'll run down a few lesser-known, lesser-considered, or lesser-owned players, with perspective on who deserves a your attention, who deserves your patience, and who deserves to go straight to bed without dessert.
Any questions, thoughts, vacation destination recommendations? Hit me in the comments or on Twitter.
3 TO CATCH
Nate Eovaldi | Miami Marlins | SP
By fWAR, Eovaldi has been the fifth-best pitcher in baseball so far this season. It's not that surprising to see a young power pitcher in that spot, but Eovaldi isn't your typical young flamethrower.
He racks up plenty of strikeouts, but does it without missing a ton of bats. His 7.4% swinging strike rate isn't an aberration. His slider pretty good, but not outstanding. His changeup is more of a credible rumor than an actual major league pitch. His fastball is elite, but it actually doesn't get a ton of whiffs.
I suppose you could say that Eovaldi pitches to contact, just contact that doesn't end up in the field of play. At 97 miles per hour, on average, hitters just can't square up his heater. The foul ball per swing rate on his fastball is nearly four standard deviations above league average, per Brooks Baseball.
His four-seamer gets on hitters so quickly and has so much life, Eovaldi can just pound the strike zone with it, knowing he'll either end up with a strikeout or weak contact most of the time. It's a great approach, and one he's executed exceptionally well this season. His 71.8% zone percentage leads the major leagues; his 66.2% first strike percentage ranks 15th.
This all has to be taken with a bit of caution, as Eovaldi has struggled with his control in the past, but if he can continue to hammer the strike zone with his fastball, there's no reason to think these excellent results won't continue.
To pick him up, I'd drop: Bartolo Colon, Ubaldo Jimenez, Garrett Richards
Plouffe was Brian Dozier before Brian Dozier was Brian Dozier. He cranked 24 homers in 465 plate appearances foir the Twins n 2012, but was largely ignored heading into both this season and last, mainly because of the depth of more interesting options at third base. Like his teammate, he won't consistently hit for a high average, but so far this season, Plouffe has been disciplined enough (and lucky enough) to get on base anyway. After taking a walk on Sunday, he joined the rather exclusive club of hitters who've drawn more walks than strikeouts.
It shouldn't come as a surprise. Plouffe has always had a good eye, and he's cut down his chase and swinging strike rates in each of his five big league seasons; both are well below league average in 2014. His line drive rate has been on a similarly positive trend, peaking at a career high 31.4% this year.
Plouffe hasn't left the yard yet, but his spray chart is very encouraging.
He's laced a couple of extra base hits to the warning track and hammered the ball all over the outfield. The homers will come, but based on the way Plouffe is using the whole field, some batting average might come along as well.
To pick him up, I'd drop: Chase Headley, Chris Johnson, Yangervis Solarte
David Freese | Los Angeles Angels | 3B
Freese isn't a great hitter, but he's better than the guy who hit .262 with only 9 homers last season, and he's certainly better than the guy who's hitting .154 with only one home run now.
His problem last season was hitting too many ground balls, but he seems to have solved that issue so far. Freese is on pace for a near career-low ground ball rate, along with a career best line drive rate. He's been more selective at the plate; swinging much less often, but making more (ostensibly better) contact than ever before. That bodes well for not only an improved batting average, but improved power production as well.
This early season slump is just that, a slump. Freese will soon turn it around and be the useful corner infielder he should be.
To pick him up, I'd drop: Chase Headley, Chris Johnson, Yangervis Solarte
3 TO CUT
Brett Lawrie | Toronto Blue Jays |3B
I think it's time that we collectively decided to stop holding on to the potential that Lawrie showed in 2011. That was a great quarter-season, but in two years since then, he's failed to replicate either the power or speed potential he flashed as a rookie.
He looked lost at times last season and looks even worse to start of his 2014 campaign. His strikeout rate has never been higher, ditto for his chase percentage, contact rate, and swinging strike rate. His BABIP is criminally low, but with a line drive rate sitting below five percent, it's awfully difficult to be sympathetic.
Yes, it's a tiny sample size, but the point at which you can no longer get full draft day value for Lawrie is fast approaching, if it hasn't passed already. The home run he hit on Sunday afternoon may feel like an indication of future success, but I'd say it's just as likely a red herring. At the very least, it's good ammunition to start some Lawrie-centric conversations on the trade market.
I'd trade/drop him for: Nick Castellanos, Anthony Rendon, Nolan Arenado
"Scott Feldman, Opening Day Starter" was a favorite punchline of mine prior to this season, but through three starts as a Houston Astro, Feldman has shoved it in my face, winning two of his three starts, inducing grounders on 50% of batted balls, and surrendering just one run and seven hits along the way. The surface returns have been incredibly positive, but unfortunately, I can't imagine how  the underlying stats could possibly be much worse.
In his 20.2 innings, Feldman has fanned a grand total of seven batters, a number which looks even worse when compared to the nine walks he's allowed. His fastball velocity is down a full two miles per hour from last season and his swinging strike rate, which hasn't been above average since he pitched out of the Rangers bullpen in 2006, has sunk to just 4.8%, the third-worst mark in the league.
Feldman has excelled because he's been the luckiest pitcher in baseball. His .119 BABIP and 95% strand rate are both among the most favorable in MLB. The difference between his 0.44 ERA and 4.39 FIP isn't so much a gap as a yawning, inescapable crevasse. His ERA- is 11. Regression is on the way.
He's droppable in mixed leagues, but you might be able to deal him for something useful in AL-only formats.
I'd trade/drop him for: Nate Eovaldi, Jon Niese, Jarred Cosart
Generally, I'm the type to say that saves are saves. I've drafted, picked up and advocated for many a terrible pitcher solely because he happened to squirm his way into an opportunity to close games. I can usually tolerate the risk of an occasional blow up for the chance at a few cheap saves.
But I have to draw the line somewhere
Jose Valverde is a special kind of terrible. He still has a very good splitter, but his fastball has gone from a necessary set-up pitch to a dangerous liability. He doesn't throw particularly hard anymore, nor does he have even average control. Without the ability to consistently get ahead of hitters, Valverde is forced to keep his splitter in his back pocket, or try to throw it up in the zone for strikes, neither of which is a favorable proposition.
In the 29 high leverage innings he's pitched since 2012, Papa Grande has a robust 5.59 ERA. He allowed a total of 18 walks, 25 hits and 19 runs in those situations.
He's actually been ok for the Mets, save for surrendering a very poorly timed longball on Raul Ibanez. Use that to your advantage and trade him now. Aging, portly pitchers don't just suddenly return to their prime form. I mean, come on, that's completely ridicu…
Oh, right, this guy.
Ok, sometimes they do, but things haven't been going well for Valverde's rotund teammate lately. I'll take my chances on the open market. Trade the big potato for whatever you can get.
I'd trade/drop him for: Jonathan Broxton, Matt Lindstrom, Edward Mujica
3 TO KEEP
Like Eovaldi, Wheeler's stuff has never been in question, only his control. So far this season, both have been on point. He's improved his strikeout rate this season while more than halving his walk rate from last year. Wheeler won't maintain a BB/9 below 2.00 all year, but I think he can keep it down in the low threes. With the stuff that he features, that'll go a long way toward bringing his ERA closer to the 2.89 xFIP  he's posted this season.
Wheeler's fastball sits at a cool 94 mph, backed by a show-me changeup and an improving curveball. The curve has been above average at generating whiffs throughout his career, and he's added more vertical and horizontal movement to the pitch this season.
The key for Wheeler is getting strike one. He's significantly boosted his first strike percentage through his first couple outings of this season. If he can maintain that discipline and command, he'll continue to be successful.
I wouldn't trade/drop him for: Yovani Gallardo, R.A. Dickey, Jake Peavy
I believed in a breakout season from Dexter Fowler in March; as we near the halfway point in April, I've seen nothing to change my opinion. His strikeout and walk numbers don't match the excellent form he showed earlier in his career, but the underlying plate discipline numbers are pretty consistent; I think it's just a small sample hiccup.
Speaking of small samples, it's a tiny sample of just six hits, but Fowler ranks third in baseball in fly ball distance with an average drive of just over 326 feet. He's not that kind of hitter, but that early production definitely bodes well for his future power output (Fowler has two doubles and a triple to go with the lone home run he's hit this season). It also helps to explain why he's yet to steal a base. Fowler has only reached first base six times this season, on four singles and two walks.
Fowler has plenty of talent and a great approach at the plate. Stick with him, the homers and steals will come soon.
I wouldn't trade/drop him for: Andrelton Simmons, Jed Lowrie, Asdrubal Cabrera
Carlos Martinez | St. Louis Cardinals | SP/RP
In the Week 1 edition of this column, I advocated for dropping Nick Markakis as a way to say that you shouldn't be filling the back of your bench with low-upside players early in the season. I'll reinforce the same point now by saying it's way too early to move on from Carlos Martinez.
He hasn't found a fantasy-relevant role yet, nor has he really been able to put a leash on his electric stuff, but I'm quite confident in betting that one of the smartest organizations in baseball will find a way to use a pitcher who's put up a 13.9% swinging strike rate so far this season.
He won't challenge Trevor Rosenthal for save chances, but with Shelby Miller reeling, I wouldn't be surprised at all if Martinez got a look as a starter sometime in the next few weeks.
I wouldn't trade/drop him for: Rex Brothers, Mark Buehrle, Ubaldo Jimenez