2014 Fantasy Baseball Week 4 Waiver Wire: 3 to Catch, 3 to Cut, 3 to Keep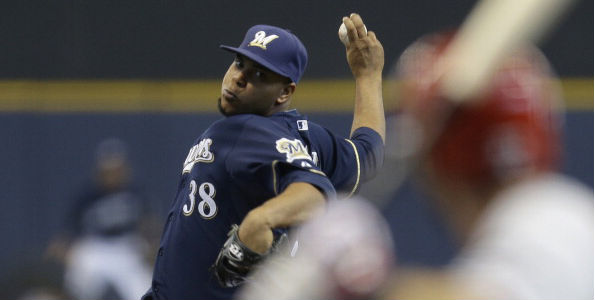 In the Week 4 edition of fantasy baseball 3×3, we're sighing about Khris Davis, smiling about Wily Peralta and Nick Castellanos, and joining Billy Beane in giving Sean Doolittle's new contract a Cheshire Cat grin.
There are plenty of waiver wire columns out there that provide an exhaustive list of the most added players in fantasy leagues. This isn't one of them. Here, we'll run down a few lesser-known, lesser-considered, or lesser-owned players, with perspective on who deserves a your attention, who deserves your patience, and who deserves to go straight to bed without dessert.
Any questions, thoughts, hard-carved mahogany furniture to sell? Hit me in the comments or on Twitter.
3 TO CATCH
Wily Peralta | Milwaukee Brewers | SP
After struggling in his first outing this season, Peralta has been excellent in three consecutive starts, allowing no more than two earned runs in each and coming away with the win every time. He hasn't posted gaudy strikeout totals, but he also hasn't walked more than two batters in any of his four starts. Peralta seems to have reigned in his previously shaky control; his zone percentage has jumped three percentage points from last season.
And he hasn't done it by backing off.
Although velocity tends not to peak until later in the summer, Peralta's fastball is already up half a mile per hour over last season, which is pretty remarkable considering he already had the fourth-fastest heater in baseball. Much like last week's subject, Nathan Eovadi, Peralta isn't an elite bat-misser. Instead, he uses a heavy sinker and hard slider to generate gobs of grounders; both his sinker and his slider generate ground balls on over 55% of contact. Peralta has added some depth to his slider this year, nearly doubling the pitch's vertical movement from last season. That certainly deserves some credit for his elite ground ball rate, but over time, it should increase his whiff rate a bit as well. He's also achieved above average whiffs with his seldom-used changeup, but he doesn't seem willing to use it more than a few times per game.
He's not an elite starter, but just like his Brewers, while Peralta is probably not quite as good as their results look, he's certainly better than we give him credit for. His FIP is a bit elevated, but don't let that scare you off. He's a great pickup in mixed leagues and a terrific trade target if his owner is looking to sell high in deeper formats.
To pick him up, I'd drop: Garrett Richards, Martin Perez, Ubaldo Jimenez
Sean Doolittle | Oakland A's | RP
As much as fantasy owners complain about the arbitrariness and volatility of the save as a statistic, it's done far wonkier things to the paychecks of major league relievers than it's ever done to a fantasy team. A few saves here or there mean a heck of a lot more to a reliever's next contract than any number of strikeouts or stranded runners.
Take Ernesto Frieri for example. Prior to 2013, he'd never made more than $0.53 million in a season. He saved 37 games last year, but otherwise performed in typical Frierian fashion in terms of walks, strikeouts, and fly balls. In fact, a bit of unfortunate luck led him to post a 3.80 ERA that ranked as the highest of his big league career. Sounds like something that might have a negative impact on his contract, right?
Nope, the Angels avoided arbitration by inking their closer to a $3.8 million deal.
Teams are beginning to pay elite relievers, as guys like Matt Belisle and Sean Marshall have received multi-year deals recently, but the prevailing wind still blows in favor of racking up saves and in favor of teams using proven closers to scuttle the market value of cost-controlled young relievers.
Billy Beane certainly seemed to have that approach in mind when he signed Jim Johnson to snag the closer gig ahead of young fireballers Sean Doolittle and Ryan Cook, but Johnson has since done his own scuttling, racking up a 7.00 ERA and walking eight batters in only nine innings. He was quickly, unceremoniously, and deservedly booted from the closer role.
In a not unrelated development, Beane signed Doolittle to a five-year deal last week. It's possible that this deal is another in the vein of the contracts that Belisle and Marshall received, but I'm banking it's something a bit different: a hedge on Doolittle becoming the closer. Now that Doolittle remains cost-controlled until at least 2018, the Athletics can slide him into end game situation as needed, without much fear of contractual retribution.
For his part, Doolittle has been electric this season, walking none against 11 strikeouts in ten innings. He has surrendered a couple of home runs, but after allowing a total of seven homers in the previous 116 innings of his career, I'm not worried.
He'll have a bit of a hurdle to climb in the surpassing  the steady Luke Gregerson, but even so, there's no more talented reliever than Doolittle in the Oakland bullpen and no more valuable reliever than him so widely available in fantasy leagues. I believe he'll be a full-time closer within the next couple of weeks.
To pick him up, I'd drop: Cody Allen, Kyle Farnsworth, Jonathan Broxton
Villar swiped 18 bags last season in only 241 plate appearances. Over a season of 600 plate appearances, that pace translates to just about 40 steals, a number that only eight players and two shortstops matched last season. A lot of shortstops run, but that kind of speed just isn't typically available in the middle infield. The Rajai Davises of the world are great, but rostering them comes at the opportunity cost of some really solid outfielders. Though speed is generally plentiful, quality middle infielders aren't.
Yet, as I write this, Villar sits unowned in 57% of Yahoo! leagues. I'd rather give up a middle infield slot currently occupied by whoever's been pulling the strings behind Derek Jeter's Weekend at Bernie's routine to pick up Villar than drop a useful outfielder to pick up somebody like Davis.
Sure, he's flailing a bit at the plate, but that .211 BABIP will rise; Villar's no Billy Hamilton. He's already hit three homers this season and has two minor league seasons with more double-digit dingers on his record. The batting average will still be bad, but that's nothing new. Besides, no matter how much he struggles, the Astros are too smart to rush top prospect Carlos Correa and too cheap to go out and sign a replacement. Villar's job is completely secure.
ZiPS and Steamer both like him to pop ten bombs and snag 30-plus bags the rest of the way; I absolutely agree. He's a great pick up if you're in need of some speed, or just want a solid value buy.
To pick him up, I'd drop: Asdrubal Cabrera, Jhonny Peralta, Andrelton Simmons
3 TO CUT
Khris Davis | Milwaukee Brewers | OF
Like many young power hitters, Khris Davis punishes fastballs.
Like many young power hitters, Khris Davis is downright helpless against quality breaking stuff.
Last season, he saw fastballs about two-third of the time. This season, he's seeing heaters just a shade over half the time. The uptick in offspeed stuff has had him flailing as pitches out of the zone more than 50% more often than last season; it's run his overall swinging strike percentage up to a ghastly 18.7%. Davis has come up empty on nearly two thirds of his cuts against sliders and has missed on almost half of his swings against changeups.
On the rare occasion that he does make contact, he's rolling over. Davis' ground ball rate on offspeed stuff is up significantly from his rookie season, which may actually be even more concerning than his escalating whiff rate. Davis didn't hit for a high average against offspeed stuff last season, but he did hit for a little bit of power. That power's not coming back unless he can start to elevate the ball against non-fastballs.
The league's got a book on him and he's not going to see anything different until he proves he can handle the finesse-heavy approach that's dismantling him right now. Davis will adjust, but this is more than just a sophomore hiccup. The power he showed last season was over and above what he'd displayed in the minors and unless he adjusts overnight, it's not coming back this season. I'll take the under on the 16 homers that ZiPS projects him to hit the rest of the way.
I'd trade/drop him for: Dexter Fowler, Colby Rasmus, Nick Swisher
I'm just gonna leave these here:
.143 BABIP
90.5% Strand Rate
25.4% Ground Ball Rate
1.83 K/BB
4.46 xFIP
You can't take these 25 innings away from Aaron Harang, he's been great. But that doesn't mean that these 25 innings have to change any of what we already know about Harang. He is not a very good pitcher anymore. He can still miss some bats, but whatever strikeouts he does produce are cancelled out by his above average likelihood to surrender both walks and home runs. Ride the hot streak in deep leagues if you must, but know that when his ends, it's going to be really ugly.
How ugly, you ask? Last season, Harang followed up a run of five solid starts with a stretch in which he gave up an even seven earned runs in four out of eight outings.
I'd trade/drop him for: Corey Kluber, Ian Kennedy, Rick Porcello
Neil Walker | Pittsburgh Pirates | 2B
For his career, Walker has hit a home run about once every 40 plate appearances. He picked up his power pace at bit last season, clearing the fence about once every 35 plate appearances. This season, he's homered once every 14 plate appearances.
The run he's on is impressive, but it's nothing we haven't seen from Walker before. Last season, Walker cranked six of his 16 homers during a nine day stretch in September. The year before that, he hit four of his 14 jacks during an eleven day stretch in July. In 2012, he hit four of his twelve homers on consecutive days as the calendar turned from August to September.
Walker's batting average will rebound, but I'm betting against a power breakout for the 29-year old. Steamer projects him for 12 bombs the rest of the way, even that seems a bit high to me. In deep leagues, he's a great trade candidate.
I'd trade/drop him for: Martin Prado, Aaron Hill, Jedd Gyorko
3 TO KEEP
Nick Castellanos | Detroit Tigers | 3B
Castellanos came up with a reputation for a very mature approach at the plate. Sometimes that compliment turns out to be shorthand for a player with too much experience for his level, but Castellanos displayed his veteran approach while being among the youngest players in every league in which he played. Since joining the Tigers as the everyday third baseman this season, the 22-year old hasn't disappointed.
You'd be hard pressed to find a more random distribution anywhere. I'm most struck by the lack of ground balls to the left side; pitchers aren't fooling Castellanos into getting out on his front foot and rolling over. His strikeout and walk rates are perfectly in line with the numbers he posted in the minor leagues. The power is still developing, but his outrageous 42.9% line drive rate shows that he's having no trouble tracking big league pitching.
The fact that the Tigers have had a few rainouts and already played a National League team on the road (Castellanos sat two games to accomodate Victor Martinez) has artificially depressed his counting stats a bit, which might help you make a play for him now. At the very least, he's a steady source of batting average hitting in a very good offense. At his best, he's the top Rookie of the Year candidate this side of Masahiro Tanaka.
I wouldn't trade/drop him for: Chris Johnson, Todd Frazier, Brett Lawrie
Early in the season, counting stats can take fluky turns that throw off fantasy value rankings. Salvador Perez is a great example of this; as of Sunday afternoon, he was the 30th-ranked catcher in one of my leagues.
Perez has reached based 24 times in 70 plate appearances this season, but he's scored only three runs. Among hitters with as many plate appearances, only Yunel Escobar (he of the .278 OBP) has scored fewer runs. Like I said, fluky counting stats.
Soon, this oddity will fade and Perez will settle in as exactly what we know he is, a very good contact hitter with a little bit of pop. That's quite valuable at catcher, especially if Perez keeps taking walks like he has this season. He's drawn eight unintentional walks in 17 games this season, which represents a massive jump in patience. He coaxed only 21 free passes in 138 games last year and just 12 in 76 outings the year before. Even a modest improvement in walk rate would be a nice boost to his OBP, which would (somewhat ironically) be a boon to his run scoring.
I wouldn't trade/drop him for: Jason Castro, Miguel Montero, A.J. Pierzynski
Andrew Cashner is a bona fide fantasy ace. You should not be worried about the four runs he surrendered on Monday. He is not a sell high candidate.
Since the beginning of last season, only Clayton Kershaw's fastball has been more valuable by linear weights (min. 200 innings). Over that same time period, only three starters have a better ground ball rate and only four have a better ERA. The only thing missing is an elite strikeout rate, but Cashner's been up to that task this season.
His chase rate has been up near the levels he posted as a Chicago Cub and he's getting strike one with greater frequency than ever before. He hasn't quite found his wipeout slider yet, but his fastball is plenty to subdue right-handers and his changeup is turning into a weapon against opposite-handed hitters. Lefties are coming up empty on almost 40% of their swings against his change-piece.
Cashner is an incredibly talented pitcher who's finally stayed healthy long enough to really learn how to pitch. He also happens to play half of his games in a park perfectly suited to his skills. Unless you can get a top ten starter in return, hang on for the long haul.
I wouldn't trade/drop him for: Hyun-jin Ryu, Julio Teheran, Jon Lester