2014 Fantasy Baseball Week 8 Waiver Wire: 3 to Catch, 3 to Cut, 3 to Keep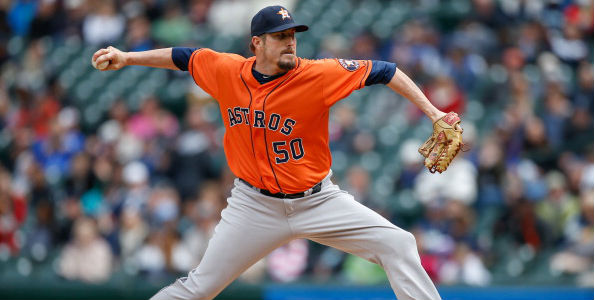 In the Week 8 edition of fantasy baseball 3×3, we're giving Chad Qualls his due, sharing in Alex Wood's frustration, and waiting for Garrett Richards to get things under control.
There are plenty of waiver wire columns out there that provide an exhaustive list of the most added players in fantasy leagues. This isn't one of them. Here, we'll run down a few lesser-known, lesser-considered, or lesser-owned players, with perspective on who deserves a your attention, who deserves your patience, and who deserves to go straight to bed without dessert.
Any questions, thoughts, favorite grilling recipes? Hit me in the comments or on Twitter.
3 TO CATCH
Chad Qualls | Houston Astros | RP
Bo Porter named Chad Qualls the Astros' closer on Friday, but nobody seems to care. As of Sunday night, Qualls remained unowned in 80% of Yahoo! leagues and 90% of ESPN leagues.
I get it, the honor of finishing games in Houston isn't exactly fantasy baseball knighthood, but in a season when closer transience seems to be at an all-time high, there's incredible value in the security that comes with an official label, especially when that label comes attached to a sneakily talented pitcher.
Qualls is in the midst of the best season of his career, on pace to post his best strikeout rate and second-best walk rate for a single season. He still has the same good slider he's always had, but Qualls' fastball has now become a weapon as well. Its velocity is actually down a tick from last season, but a bit of additional movement has yielded an excellent 20.8% whiff rate. And he's using it as more than just a setup for his breaking pitch; Qualls is throwing more sliders early in counts and using his fastball more often as a finishing pitch. The improved heater is missing bats up in (or above) the strike zone, something Qualls hadn't been able to do with regularity earlier in his career.
There's nothing in Qualls' profile to suggest that these improvements can't be maintained, nor is there any hotshot young reliever waiting in the wings to take his gig. Qualls is a great pickup in all formats.
To pick him up, I'd drop: Hector Rondon, Joe Smith, LaTroy Hawkins
Dallas Keuchel leads all major league starters with a 65.1% groundball rate, that alone makes him worth a look. I could add that he's doing a much better job of keeping his sinker, slider, and changeup down in the zone and that he's significantly decreased the number of home runs he's allowed, but that was probably apparent from the first sentence. At this point, any more information supporting that fact would be gratuitous. But, hey, charts are fun!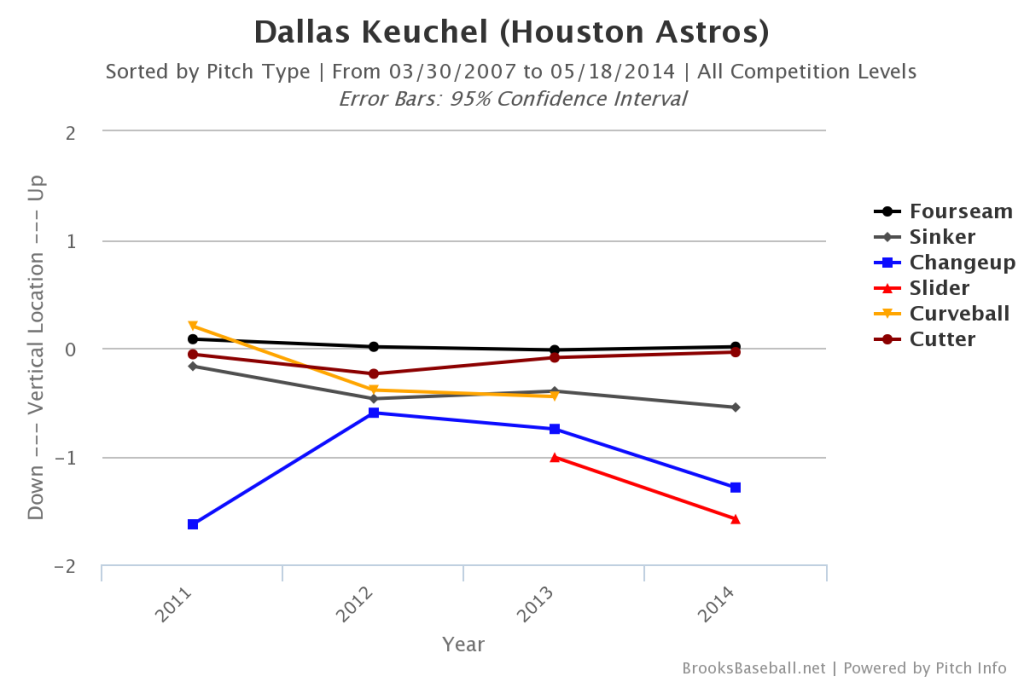 Keuchel is getting almost exclusively grounders with his sinker and missing more bats than ever with both his changeup and slider. His overall chase rate, swinging strike rate, strikeout rate are all at career high levels. He's pitching a bit over the ceiling he set during his minor league career, but the big adjustments supporting his improvements make me think it can stick. He's a great pickup for his two starts this week.
To pick him up, I'd drop: Jordan Lyles, Drew Pomeranz, Jason Vargas
A.J. Pollock | Arizona Diamondbacks | OF
It seems that A.J. Pollock has finally emerged from the crowded purgatory of the Arizona Diamondbacks' outfield. He's second among D'backs outfielders with 137 plate appearances, more than doubling the workload of his biggest competition, Cody Ross. Mark Trumbo will get an everyday gig when he's healthy, but based on the way playing time has been dished out lately, his job won't come at the expense of Pollock's. It certainly looks like Kirk Gibson is committed to keeping Pollock in the lineup; he's started ten straight games, bouncing between five different slots in the batting order.
Gibson's commitment make sense. Pollock is growing into power beyond what he showed as a minor leaguer. All of the doubles he hit earlier in his career are now starting to clear the fence. His average flyball distance has jumped more than ten feet from last season; it currently ranks 43rd among qualified hitters, surpassing proven power sources like Edwin Encarnacion, Carlos Gonzalez, and Brandon Belt.
If the power sticks (and I think it will), Pollock becomes a really interesting fantasy commodity. He has the wheels to steal 20 or even 30 bases and if his BABIP cooperates, he can absolutely post a batting average in the .290-.305 range. There's 15/25 upside here; Pollock is well worth a pickup in mixed leagues.
To pick him up, I'd drop: Adam Eaton, Norichika Aoki, Khris Davis
3 TO CUT
Garrett Richards | Los Angeles Angels | SP
Garrett Richards is breaking out. He's somehow humped up on his already overwhelming fastball, averaging 96.8 mph with just enough wildness to keep opposing batters on their toes. Nine out of ten hitters agree, a Richards heater up-and-in shaves closer than any razor on the market.
The velocity is impressive, but the improvements have spanned across his repertoire. Richards has added at least four percentage points to the whiff/swing rate on every single one of his pitches, as compared to his previous career averages. His overall swinging strike rate and contact rate are both career bests. There are real signs of growth here that can at least partly overshadow the BABIP, strand rate, and home run rate luck Richards has enjoyed so far. Unfortunately, there's still one glaring problem that's going to hold him back.
That wildness I mentioned earlier isn't going away. Richards' 9.6% walk rate is palatable, but he can't survive pitching behind in the count this much. He's the only starter in baseball who's thrown strike one less than half the time.
I don't see any signs of Richards improving his command; until that happens, I can't buy in to this breakout.
I'd trade/drop him for: Ian Kennedy, Tyson Ross, Nathan Eovaldi
I've considered writing about Yangervis Solarte a couple of times this season, but I ended up deciding that it'd be a waste of time. By the time I got around to writing something, I figured, regression would set in a quickly make him irrelevant to fantasy owners.
Much to my surprise, the opposite has happened. Regression hasn't yet set in, and Solarte's ownership percentage in ESPN leagues has jumped by more than 60 points in the last week; he's riding more momentum than any player in fantasy. I suppose he deserves it after collecting at least two hits in five of his last 11 games, but there are parts of his game that I just can't see sticking around for long. For one, his walk rate is up to 11.1% after settling at 7% in his last two seasons in Triple-A. As that fades, so will his .386 OBP.
Next, his power. Five homers doesn't sound like much, but it sets a 20-homer pace that I can't see Solarte maintaining. While Yankee Stadium has certainly helped, the fact that every single one of his homers has leveraged the benefits his home park to their fullest doesn't exactly give me confidence, nor does the fact that he ranks 190th in baseball in average flyball distance. Solarte never hit more than 12 homers as a minor leaguer, despite spending his Triple-A seasons at hitter-friendly Round Rock; I doubt he'll reach that mark as a big league rookie.
Solarte is a great story and a truly excellent contact hitter, but he can't keep the power and plate discipline up all year. He does have the nearly guaranteed playing time that comes with being the most durable piece in a kiddie pool-deep infield, but even a full season's worth of plate appearances won't likely net more than a large sample of decent batting average.
I'd trade/drop him for: Xander Bogaerts, J.J. Hardy, Jonathan Villar
Tim Hudson | San Francisco Giants | SP
Tim Hudson is in the midst of something unprecedented. Through 60 innings of work, he's issued only four walks, good for a ridiculous 0.60 BB/9. Obviously, Hudson's mark leads all qualified starters, but it's incredible even in a broader historical context. No other pitcher has ever maintained anything close this kind of keyhole control this late into his career; few have even done half as well.
In the last 50 years, only there have been four player seasons in which a pitcher over the age of 35 threw at least 150 innings while maintaining a BB/9 of 1.20 or lower. Greg Maddux did it in 2007 and David Wells did it in 2003, 2004, and 2005. It's a pretty nice list of pitchers to be on, but based on that sample of seasons, a low walk rate for an aging pitcher doesn't necessarily correlate with strong overall performance. The best ERA achieved in any of those four seasons was 3.73, despite the fact that two of them were pitched primarily at one of the best pitcher's parks in baseball history: the original edition ofPetco Park.
I don't mean to diminish Hudson's accomplishment, but we can't logically expect this level of production to continue. At some point, his walk rate is going to increase. That means more baserunners. And that means more runs allowed, especially considering that Hudson has already been outrageously lucky with runners on base. His .175 BABIP in those situations ranks as the sixth-lowest in baseball this season.
Hudson is having an incredible year and has proven to be a spectacularly shrewd acquisition for the Giants, but it's foolhardy to think he can keep up this pace. Shop him around and see what you can get in a trade.
I'd trade/drop him for: Yordano Ventura, Scott Kazmir, Corey Kluber
3 TO KEEP
Alex Wood | Atlanta Braves | SP
There's certainly some potential downside to the way that the Braves are jerking Alex Wood around, but don't let that push you toward trading him. After the injuries that have threatened the futures of guys like Kris Medlen, Brandon Beachy, and Mike Minor, I suppose we should cut the Atlanta brass a bit of slack for their caution. Hell, I'll volunteer to help them baby-proof the bullpen.
Sunday's hiccup aside, Wood has been outstanding this season regardless of what role he's been in. He's delivered every bit of the swing-and-miss stuff he featured in the minor leagues and has significantly improved his control. His groundball rate is down a bit, but I'll trust in his minor league track record and assume that his elevated home run rate will come back to earth soon. In about 140 professional innings prior to this season, Wood allowed only five home runs. He's already allowed six this season.
He's not starting at the moment, but don't think for a second that Wood won't be back in the rotation later this season. The Braves have every intention of contending this season and they know that they'll need to full strength of every arm on their staff to do it. Wood will continue to spot start at the very least, but he'll likely slide into a full time role when Aaron Harang and/or Gavin Floyd turn into pumpkins, or peaches, or whatever organic material their fairy godmother happened to have lying around when she granted their wish for one last good run.
Wood will end the season with something in the neighborhood of 140 innings pitched and probably 15-20 starts. It's a bit disappointing that he won't pitch more, but he'll produce strikeouts in bunches along with an excellent WHIP and ERA.
I wouldn't trade/drop him for: Dan Haren, Jered Weaver, Doug Fister
Austin Jackson has always been kind of confusing as a fantasy asset. When he hit for a great batting average, he struck out so often that you could never really feel confident about his ability to maintain it. He was touted for his great speed as a prospect, but that speed never seemed to turn into many stolen bases at the big league level. He sourced much of his fantasy value from the fact that he hit at the top of one of the best lineups in baseball, but he's been moved out of that role this season.
If he was simply going to replicate the .272 batting average, 12 homers, and 8 steals that he produced last season as a number six hitter, I wouldn't have him on this list. But so far this year, it looks like the shift has liberated Jackson.
He been more cautious on pitches outside the zone and more aggressive on pitches he can handle. He's drastically cut down on his whiffs with no discernible decline in power. Hitting fewer ground balls has taken a bite out of his famously elevated BABIP, but more flyballs means more power; Jackson has only hit two homers, but he's on pace for a career high in doubles and has improved his average fly ball distance to almost 290 feet. The dingers will be coming soon.
And oh yeah, he's running. The Tigers have paid off on manager Brad Ausmus' promise to be more aggressive this season. Through only 133 plate appearances, Jackson has already attempted more than half the number of steals he tried all of last season.
I think we can finally say that we know what Jackson is. He's not an elite run-scorer anymore, but he'll maintain a pretty good batting average with real potential for 20/20 in homers and steals. He may not be the player you expected when you drafted him, but he's definitely an asset worth holding on to.
I wouldn't trade/drop him for: Michael Brantley, Desmond Jennings, Melky Cabrera
Nobody has ever questioned Brandon Moss' power, but it had always been limited by his struggles against lefties. Looking over his splits from the past few seasons, I hoped to see a trend toward Moss handling same-sided pitchers better as the years have gone by. It's not there. Moss still flails against lefties, but man, can he sting the ball against right-handers.
He's been a more disciplined hitter against righties this season, and he's done it without sacrificing any power. Heading into Sunday's action, Moss had 13 walks against just 22 strikeouts (trust me, that's a tiny number for him) with eight homers and seven doubles in 118 plate appearances against righties. He hit two more doubles and a triple on Sunday. Moss won't continue to hit .300, but the improvements in his contact rate mean .275 is absolutely attainable.
And it's not as though Moss has feasted on a schedule of hitter's parks; he's cranked six of his nine homers at cavernous O.co Coliseum. He's finally got some favorable scheduling coming up, as the A's visit the Yankees and Orioles next week. It'd be a terrible shame if you traded him now and missed out on the four homers he's going to hit on the road trip, wouldn't it?
I wouldn't trade/drop him for: Anthony Rizzo, Eric Hosmer, Prince Fielder