2014 Fantasy Baseball Week 9 Waiver Wire: 3 to Catch, 3 to Cut, 3 to Keep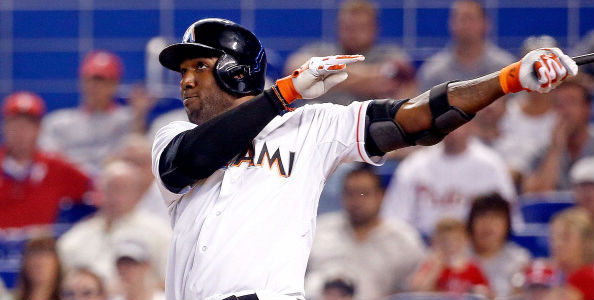 In the Week 9 edition of fantasy baseball 3×3, we're changing our tune on Marcell Ozuna, reaffirming our faith in Justin Verlander, and passing on Country Breakfast.
There are plenty of waiver wire columns out there that provide an exhaustive list of the most added players in fantasy leagues. This isn't one of them. Here, we'll run down a few lesser-known, lesser-considered, or lesser-owned players, with perspective on who deserves a your attention, who deserves your patience, and who deserves to go straight to bed without dessert.
Any questions, thoughts, Game of Thrones predictions? Hit me in the comments or on Twitter.
3 TO CATCH
Marcell Ozuna | Miami Marlins | OF
I warned fantasy owners about Marcell Ozuna last year. I didn't like him because his major league stat line looked like that of a different hitter than he'd been in the minors. I wrote that the Marlins rushed him through the minors and his production was propped up by an unsustainable BABIP. Ozuna was never the high average slap hitter he seemed to be early last season. His minor league profile shows that he's happy to trade average for leverage; he slugged 22, 23, and 24 homers each in his last three full MiLB seasons, years in which Ozuna was 19, 20, and 21 years old. His power didn't kick in at the major league level last season, but for a 22 year-old with almost no experience above High-A, immediate success is an unreasonable expectation. After nearly a full season of big league service time, however, he's starting to tap into the skill that got him promoted in the first place.
Ozuna's average has predictably dropped a bit, but he's raised his fly ball rate and nearly quadrupled his HR/FB rate from last season; his 16% mark ranks 14th among outfielders and paces ahead of sluggers like Yoenis Cespedes and Carlos Gonzalez. It's the kind of jump that would seem suspicious until you consider the fact that Ozuna has raised his average fly ball distance by more than 25 feet from last year. According to ESPN Home Run Tracker, six of his eight home runs would've left every yard in baseball. His 280-foot average distance isn't yet elite, but it puts him in the right company, sandwiched on the leaderboard between Cespedes and Brian McCann.
Ozuna is still developing, but this kid's got serious raw talent. If you're in the market for power, he's a great add in any format.
To pick him up, I'd drop: Curtis Granderson, Christian Yelich, Marlon Byrd
Now that Prince Fielder is officially done for the year, the door is wide open for Mitch Moreland. With doubles in three consecutive games over the weekend, it looks like Moreland is fully prepared to take advantage of his opportunity.
The home run power hasn't shown up in a big way yet, but Moreland ranks among the league's heavy hitters in terms of fly ball distance; he's one of only 20 hitters to average more than 300 feet on a sample of at least 20 fly balls. His power began to break out last season and I fully expect that to continue with regular playing time in 2014.
Moreland has spent much of his career bouncing between roles and positions; he just seems like the kind of guy who thrives in the rare situations when he knows what's coming. At least, that's what it's looked like since Fielder left the lineup. In Moreland's last nine games, all of which he started at first base, he's slugged four doubles and a home run with three walks against only five strikeouts in 38 plate appearances.
Moreland is a worthwhile flier in mixed leagues and a must-buy in AL-only formats.
To pick him up, I'd drop: Mark Teixeira, Adam Lind, Ryan Howard
I'm not typically one to recommend a player while he's sporting a .456  BABIP, but if you just lost Nolan Arenado to injury, you could do a whole lot worse than Lonnie Chisenhall as a replacement.
Sure, he's not going to hit .381 all year, but the elevated BABIP isn't just a result of good luck. Chisenhall leads all MLB third basemen in line drive rate (31.9%). If he keeps spraying line drives on a third of his batted balls, a .300 batting average isn't out of the question.
Chisenhall is also starting to flash some power; he's hit four doubles and two homers in the last week. He's been a bit lucky on fly balls, but it's been ducksnort luck rather than dinger luck. He leads all third basemen in fly ball BABIP. The average will go down. He's only hit two home runs, despite having a higher fly ball rate and longer average fly ball distance than hitters like Adam LaRoche and Matt Joyce. The power numbers will go up.
The "Carlos Santana, Major League Third Baseman" experiment will take some playing time away from Chisenhall as long as it persists, as will the fact that he's been damn near helpless against left-handed pitching (the Tribe have only allowed him to log ten plate appearances against southpaws this season), but he'll play enough to fill injury-related gaps for fantasy owners at third base or corner infield.
To pick him up, I'd drop: Chris Johnson, Casey McGehee, Kelly Johnson
3 TO CUT
Billy Butler | Kansas City Royals | UTIL
I hate to do this to the subject of one of the best nicknames in sports, but Country Breakfast just doesn't have much fantasy value anymore. Get ready for some competent fantasy analysis and terrible food jokes!
Billy Butler only produced one season of more than 25 home runs and two of more than 20, but he always hit for just enough power to keep his fantasy owners on the sunny side. So far this season, that power well is drier than unbuttered toast. His ISO has dipped to a career-low .064. By that measure of power, Butler currently ranks behind Emilio Bonifacio, Adeiny Hechavarria, and several other light-hitting infielders whose names I'm proud to have spelled correctly. Not exactly bringing home the bacon.
Butler's decent fly ball distance would seem a harbinger for a rebound, but in this case, that stat is deceiving. You see, in order to produce power numbers, one must actually hit the ball in the air. Butler's fly ball rate has been on four year plunge; it currently sits at a career-worst 24.5%.
Making matters worse, Butler is no longer producing the batting average that used to define his unique skillset. He's on pace for a career low in average and his plate discipline has never been worse; Butler is chasing more than 30% of pitches outside the strike zone for the first time in his career.
At this point, I wouldn't trade a side order of hash browns for this version of Country Breakfast. He's getting to the point where he's droppable in mixed leagues; anything you can get in a trade is just gravy.
I'd trade/drop him for: Domonic Brown, Juan Francisco, Garrett Jones
Josh Beckett | Los Angeles Dodgers | SP
There's never going to be a better time to trade Josh Beckett than right now. He'll never have more national exposure than he has on the day following his no-hitter, nor will he ever carry more risk than in the days and weeks following a start in which he tossed a career high 128 pitches.
Beckett pitched an incredible game and he deserves credit for that, but he didn't suddenly become a better pitcher than he's been the past few seasons. He said it himself in the postgame interview.
He was very lucky on Sunday and he's been very lucky all season. His .211 BABIP is 79 points below his career average. His 85.4% strand rate is 12 percentage points better than his career average. His 15% K%-BB% is actually quite good, but even if Beckett is able to maintain it, I don't trust him as an injury risk, nor do I trust his ability to limit the home run ball.
ZiPS and Steamer both project him for an ERA just under 4.00 in fewer than 15 starts the rest of the way. That sounds about right to me.
I'd trade/drop him for: Nathan Eovaldi, James Paxton, Brandon McCarthy
It's tough being a pitching prospect for the Houston Astros. It's a constant exercise in making something out of nothing, not exactly the best way to start a career. Thankfully for Jordan Lyles, he's moved on to a new destination this season, one where he's backed by the best offense in baseball and gets to pitch in… aw crap… Coors.
Luckily, Lyles has adjusted to the hard knock life, juicing his ground ball rate up to a career-best 55.1%. That's helped him maintain a 3.45 ERA, but so have a favorable .268 BABIP and 73.2% strand rate. A great ground ball rate isn't enough on it's own, especially for a pitcher with a worse than average walk rate. If Lyles is going to succeed over the long term, he's going to have to miss bats, and he just hasn't shown the ability to do that yet. Four of Lyles' five pitches are below average whiff rates. Only his changeup is above average, and he's only thrown it 43 times this season.
Until he shows a reliable putaway pitch, I'm not ready to buy in to the risk of an unproven Rockies pitcher. Without any chance of above average strikeouts, he's just not worth it. Shop Lyles around on the trade market or drop him outright for a pitcher with more upside.
I'd trade/drop him for: Jorge De La Rosa, Drew Hutchison, Jake Odorizzi
3 TO KEEP
Justin Verlander | Detroit Tigers | SP
Justin Verlander has sadly reached the point in his career at which I'm more likely to use the phrase "getting up there" to describe his age instead of his fastball velocity. His swinging strike rate, chase rate, and first strike rate are all down, his K%-BB% has dropped to just over half his career average, and his 4.04 ERA is his worst in five years. His average fastball velocity has declined for the fifth consecutive season, settling in at a spectacularly average 92.1 miles-per-hour.
Still, amid all of these negative trends, I just can't believe that Verlander's done. I can't believe that has suddenly Verlander has lost the the thing that made him a true ace and one of the most feared and respected pitchers in the game.
No, I'm not talking about Kate Upton (as far as I know, they're still dating), I'm talking about Verlander's ability to dial it up in high leverage situations.
From 2009-2013, Verlander's 2.69 FIP in high leverage situations ranked fifth in baseball, just 0.01 behind the greatest high leverage pitcher of all time, Mariano Rivera. Only two pitchers could best his 21.1% K%-BB% in those situations: Craig Kimbrel and Greg Holland, arguably the two best closers in the game right now. So far this season, Verlander's 3.91 FIP in high leverage situations ranks as the 47th-worst mark in MLB. He has a 1:1 K/BB ratio in those situations. After pacing alongside Mariano and Kimbrel for the past five seasons, Verlander has suddenly become worse than kerosene-peddling Chris Perez with the game on the line.
This can't continue. I just can't believe that Verlander has lost the ability to bear down when he needs to. In each of the last four seasons, he's learned how to dominate with decreased velocity; I have to believe that he can do it again.
I can't say I'd be aggressively targeting Verlander, but if I own him, I'm not looking to sell at a discount. A pitcher with his track record deserves some patience.
I wouldn't trade/drop him for: Jordan Zimmermann, Gerrit Cole, Shelby Miller
For a closer, there's no higher compliment than to be called "predictable" and there isn't a more predictable pitcher in baseball than Sean Doolittle. He might as well post in on the scoreboard: he's going to throw fastballs and he's going to throw them in the strike zone. Doolittle has relied more and more on his heater as the season's gone on, peaking at 85% usage so far in May. He throws it with unflappable control; he's walked only one batter all season and his 71.9% F-Strike rate is more than ten percentage points better than the major league average.
It would stand to reason that hitters would eventually punish Doolittle for using only one pitch and constantly living in the strike zone. It hasn't happened yet, though hitters never seem to tire of trying.
Opposing batters offer at a league-high 60.4% of Doolittle's fastballs. They foul off 42.4% of those pitches and come up completely empty 30.3% of the time. To recap, Sean Doolittle's fastball is enticing enough to coax swings more often than any heater thrown at least 200 times this season, yet only 27.3% of those swings actually result in a ball in play. It's arguably the best fastball in baseball, featuring more horizontal movement than Zack Greinke's slider and gets more whiffs than Madison Bumgarner's changeup.
Guys, we talked about this. As soon as Bob Melvin said the words, Doolittle became a top ten closer. If he's somehow still available in your league, scoop him up immediately. If you were smart enough to add him early, hold on tight.
I wouldn't trade/drop him for: Trevor Rosenthal, David Robertson, Francisco Rodriguez
Matt Carpenter | St. Louis Cardinals | 2B/3B
Matt Carpenter probably won't finish ranked as high among second basemen as I thought he would, but it's not really his fault. He's performed a bit below expectations, but his shift down the second base ladder has been more about other player exceeding expectations. I didn't expect Dee Gordon to swipe 30 bags before the end of May. I didn't expect Brian Dozier to be halfway to a 20/20 season before Memorial Day. Those two have moved up ahead of Carpenter, but I don't think the Cardinals' third baseman will let anybody else pass him by.
For the most part, his struggles so far have the result of bad luck. His .340 BABIP is somehow below his career average, but that's not the luck I mean. Carpenter was great last season because he was an elite run scorer and run producer as a second baseman. That requires skill, but it also requires that skill to be displayed at times when it can produce the most impact on the scoreboard. Both Carpenter and the Cardinals did that at a historically great pace last season. That pace has predictably regressed this year, but it's gone far beyond where we should expect it to land.
Last season, the Cardinals hit .313 with men on base, by far the best mark in the majors. So far this season, the Cards are 17th-best in batting average with men on base.
Last season, Carpenter he hit .392 with men on base, by far the best mark among second basemen. So far this season, Carpenter ranks 16th-best among second basemen.
Both rates should bounce back a bit, driving up the run scoring and run production numbers that support Carpenter's fantasy value. I expect that his power production will tick up a bit as well. Carpenter isn't much of a home run hitter, but I still believe you can count on him to reach double digits. His HR/FB distance is down a bit from last season, but a 2.2% HR/FB rate? That's just ridiculous.
I wouldn't trade/drop him for: Ben Zobrist, Chase Utley, Brandon Phillips