2014 Fantasy Baseball: Week Ten Free Agent Fixes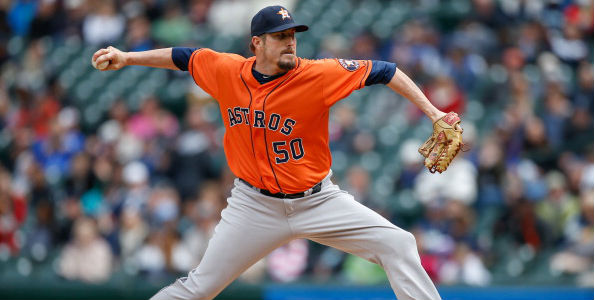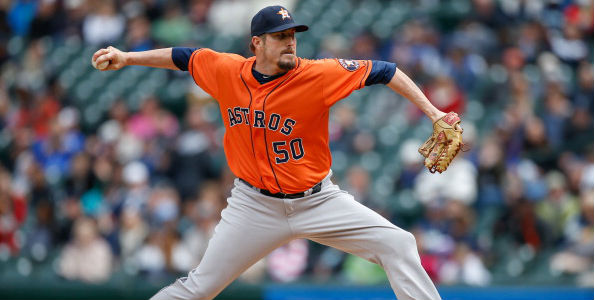 The Astros are set for takeoff. Alright, maybe not, but two members of their club are highlighted in today's article due to being under owned. Interestingly enough, each of the other four players featured as Free Agent Fixes this week were considered top prospects at one time. That's not to say all are young, in fact each member of the quartet is at a different point in their career path.
Chad Qualls, RP, Houston Astros
Ownership: ESPN: 42.4%, Yahoo!: 34%, CBS: 37%
I can't say as though I entered this season thinking I'd ever be touting or rostering Qualls, but here I am doing both. The owner of 51 career saves entering this year is settling in at the end of the Astros bullpen and he has five saves this year. He was effective working out of the Marlins bullpen last year, inducing groundballs at a very high rate, 63.3 percent according to FanGraphs, striking out a reasonable number of batters (19.4 percent of the batters he faced), and keeping his walks in check with a 7.5 percent walk rate. Only his groundball rate was jaw dropping, and as a fastball/slider pitcher he looked more the part of a ROOGY than a closer, though, his platoon split was not huge last season.
His numbers this year look more on par with a late game stopper. The 35-year old reliever is striking out a whopping 29.2 percent of the batters he's faced while walking just 4.2 percent of them and coaxing groundballs at a still excellent 55.6 percent clip. The real shocker in his statistical profile is his nearly 10 percent jump in strikeout rate, but it looks legit. FanGraphs has Qualls swinging strike percentage at an enormous 14.1 percent, and batters are foolishly chasing 42.6 percent of his pitches out of the strike zone. His sinker's whiff percentage is the highest of his career according to Brooks Baseball, and his slider's whiff percentage is the highest it has been since 2007.Digging a little deeper, you'll see his sinker has more vertical movement than it has ever had in his career, which adds credibility to the jump in whiff percentage, and his slider is shorter and tighter judging by his horizontal and vertical movement on the pitch.
With Qualls pitching so well on a rebuilding Astros squad, I'd set the odds on him being dealt very high, much like they did with 2013 closer Jose Veras. In the mean time, he's a must own in all but shallow formats. The mantra of saves are saves fits in the sense that you take them where you can get them, but with this reinvigorated Qualls on the mound, his owners also get a boost in their ratios and strikeouts.
Jonathan Singleton, 1B, Houston Astros
Ownership: ESPN: 30.2% Yahoo!: 44% CBS: 71%
The Astros were unable to hammer out a long-term deal buying out George Springer's arbitration years, but they've done so with Singleton and he joined the active roster on Tuesday. His ownership is going to skyrocket as a result, as it should. I wrote about Singleton a few weeks ago, and my assessment of his immediate potential remains the same.
The young first baseman's power should translate immediately, but his batting average won't be an asset. It's important to be cognizant of your league scoring, though, since he's a patient hitter that works walks and will be valuable in on-base percentage. Singleton needs to prove himself before being rostered in shallow mixed leagues, but he's a utility or corner infield option right out of the gates in large mixed leagues and AL-only formats.
Gordon Beckham, 2B, Chicago White Sox
Ownership: ESPN: 26.3%, Yahoo!: 12%, CBS: 38%
Beckham's star shined brightest in his rookie year, but it has lost all of its luster due to struggles in every season since then. With expectations at an all-time low, he's quietly settling in as a useful second base option in AL-only leagues and a playable middle infielder in large mixed leagues. His turnaround began last year, but is in full force this season thanks to a little bit more punch.
Beckham squeaked out just five homers in 408 plate appearances last year, but he's already reached the seats four times this year. He's not a huge home run threat, but the 10.5 percent HR/FB rate that FanGraphs has him at this year is much more in line with his career mark of 7.5 percent than his itty bitty 3.8 percent HR/FB rate last season. Looking further into his batted ball distribution, Beckham is carrying over a big line drive rate and a reduced infield flyball rate from last year to this season. Line drive rate takes quite a while to stabilize, as you can see here, but he's on his way to validating his high marks and has already proven that his reduced rate in infield flyballs is legitimate.
I expect Beckham's batting average to settle in somewhere between the .267 he hit last year and the .285 he's hitting this year. The second baseman won't steal more than a couple more bases this year, but he should finish in or near the low-teens in homers and not be a total dud in runs and RBIs since manager Robin Ventura slots Beckham second in the order. It's not the sexiest overall profile, but it's rosterable in AL-only leagues and large mixed formats.
Nick Castellanos, 3B/OF, Detroit Tigers
Ownership: ESPN: 13.5%, Yahoo!: 27%, CBS: 47%
Now is prime buying time, or adding time, on Castellanos. A little over a week ago I jumped into a Twitter conversation between my colleague here, Ryan Noonan, and Associate Managing Editor at Beyond The Box Score,Neil Weinberg, about Castellanos. Both talked about him figuring it out, and I backed Ryan's love of his line drive rate, but pointed out my concerns about his low contact rate.
I still love the fact he's ripping line drives, even if we know that it's not a stabilized stat yet, and my concerns about his still low contact rate (69.5 percent according to FanGraphs) are lessening. The reason I'm not as concerned about his low contact rate now as I was then is simple, he's demonstrating a better understanding of the strike zone. Over the last two weeks Castellanos has walked in 14.3 percent of his plate appearances, and his swing rates support his surge in walk rate. He's offering at just a hair over one-quarter of the pitches that pitchers are throwing out of the strike zone in that time frame, a far cry from his season o-swing percentage of 36.4 percent. Since his low o-contact rate is dragging his overall contact rate down significantly, it stands to reason that if he waits for pitchers to attack him in the strike zone instead of expanding, he'll make more contact.
The 22-year old third baseman ranked highly on prospect lists when he was still prospect eligible because of his bat, and its exciting to see him figuring it out at the highest level. He's part of a talented Tigers offense that can provide him run production opportunities even near the bottom of the order. The only leagues where Castellanos should be sitting available are shallow mixers, and he needs to be rostered everywhere else.
AL-Only Pick
Jesus Montero, C, Seattle Mariners
Ownership: ESPN: 0.0%, Yahoo!: 0%, CBS: 5%
This is basically a gut pick, which is something I rarely do. Montero has done everything in his power to fall out of favor with the Mariners front office, but he's hitting in Triple-A while making the conversion to playing first base full-time. The former catcher is hitting .273/.346/.465 in the hitter friendly Pacific Coast League, and his 107 wRC+ puts that line in better perspective, with 100 being league average. He's walking in a healthy 10.1 percent of his plate appearances, and even his 20.2 percent strikeout rate is palatable.
Finding updated scouting reports on him has been just about impossible for me. Montero's inclusion as an AL-only pick is based in large part on him still owning catcher eligibility, but also based on the fact that little stands in his way to getting another chance with the Mariners. The Mariners have been dreadful at first base and designated hitter. Corey Hart figures to fill one of those spots when he's activated from the disabled list, but Justin Smoak needs to have the plug pulled on playing everyday,and Logan Morrison has done little to provide an impetus to Montero getting another crack. Designated hitter has been a revolving door where regular position players such as Dustin Ackley and Mike Zunino have gotten a day off, and other duds such as Endy Chavez, John Buck and Stefan Romero have played in the absence of Hart and Morrison. Eventually Montero will get another shot sooner rather than later for the contending Mariners. Keep an eye out and an ear open for news of a promotion. It's premature to stash him now, but at the first suggestion of a call-up AL-only gamers need to be ready to pounce.
NL-Only Pick
Yusmeiro Petit, SP/RP, San Francisco Giants
Ownership: ESPN: 0.2%, Yahoo!: 1%, CBS: 3%
Petit has served as a good swingman for the Giants, but he doesn't have a clear path to a rotation spot with Matt Cain set to return from the disabled list later this week and the other four starters, Madison Bumgarner, Tim Hudson, Ryan Vogelsong, and Tim Lincecum healthy. Only Lincecum is pitching terribly, and considering the fat two year contract he signed in the offseason, it's hard to imagine he doesn't have a lengthy leash to right the ship. One thing that should be clear to all baseball fans at this point, though, is that pitchers frequently get injured and spot starts will crop up for Petit. It's also not crazy to expect the club to do something like skipping a start for Lincecum in order to help him right the ship, and in that case, Petit is the man to get the turn.
In the mean time, while he serves as a middle reliever, the late blooming former Mets prospect can help NL-only gamers in strikeout rate and possibly ratios while picking up the occasional garbage win. The 29-year old right-handed pitchers transformation from soft tossing punching bag to legitimate strikeout pitcher has been astonishing, and it's not hard to figure out how he's doing it. Petit is throwing a little bit harder than he did earlier in his career, but he's seen his swinging strike rate skyrocket with an increase in curveball usage. His curveball is a filthy pitch that has a whiff percentage north of 28 percent since last year according to Brooks Baseball. It's one of the hardest curveballs to put wood on in the game. The optimal Giants rotation would feature Petit and his excellent peripherals and silly curveball in it, but for now, NL-only owners should find some room on their roster for him and large mixed league owners should be willing to find room for him if the injury bug bites one of the arms in front of him in the Giants rotation.