2014 Fantasy Baseball: Why Chris Sale Made a Change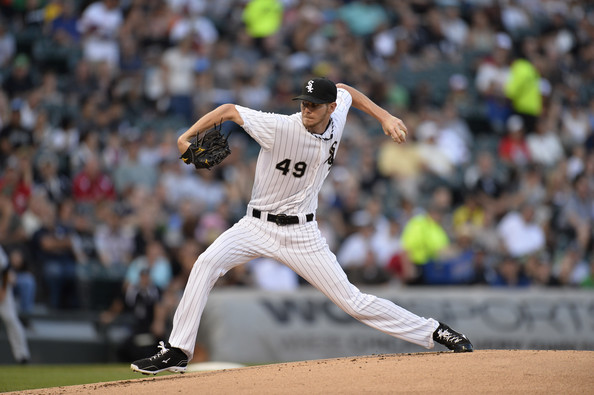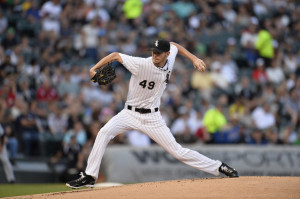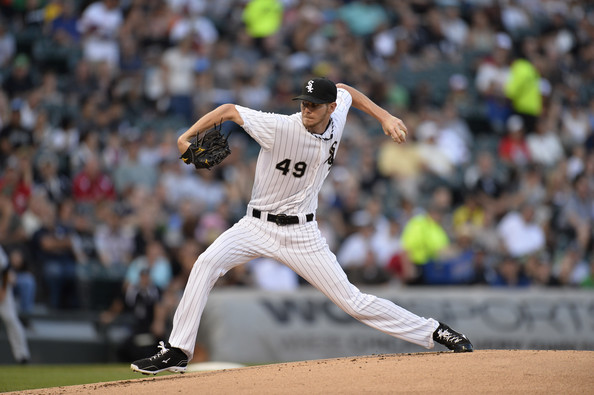 Death, taxes, and arm injuries. They're all that a Major League pitcher is guaranteed in life, or so it seems. We all know the laundry list of starting pitchers that went down earlier this season with arm injuries. "Arm-ageddon 2014" if you will. You won't? Eh, too late.
The eyeball test has told us for years that Chris Sale is a guy that's due for a major arm blowout. Good news for you, I'm not here to teach you all about bio-mechanics, though we'll talk about Sale's in a moment. Today, I want to dig deeper into why the changes that he's made to his pitch repertoire have made this pre-season second tier starting pitcher a top five pitcher in the game and how those changes could save his career.
The 'inverted W' delivery used by Chris Sale (both elbows are above his shoulder at the moment his front foot hits the mound) is cause for concern, and has led to mechanical changes for pitchers such as Mark Prior and Stephen Strasburg in the past. The problem with the 'inverted W' is the strain it puts on the shoulder and the elbow. With his elbow up and the ball down below his shoulder, bio-mechanically Sale is forced to manipulate his arm into getting more out of each pitch when compared to the more common 'L' or 'horizontal W' deliveries.
One could argue that a slider-dependent pitcher is the one that we should expect to see injured, regardless of his delivery, sooner than later. The strain that the pitch puts on ones arm is taxing, and catches up with most eventually. The strained flexor tendon that knocked Sale out for a month earlier this season was the first DL stint in his career, and if it's to stay that way, he'll need to continue using his circle grip change-up as his second pitch and move away from his dependency on the slider. It appears as though Sale is doing so, and with great success. Let's compare the change-up and slider usage for Chris Sale over the past two seasons;
2013
| | | |
| --- | --- | --- |
| Pitch Type | Frequency | Velocity |
| Slider | 29.44 | 79.17 |
| Change | 19.22 | 83.56 |
2014
| | | |
| --- | --- | --- |
| Pitch Type | Frequency | Velocity |
| Slider | 16.61 | 80.99 |
| Change | 32.58 | 85.25 |
Sale is lessening the impact on his arm while increasing the stress of each batter by becoming a three-pitch pitcher, not just a fastball/slider guy. If anything, he's clearly a fastball/change-up guy now, but he still has one of the best and whiffiest (definitely not a word) sliders in the business. It's not going away so don't worry. The batting average against his slider is just .125 this season, down from his career number of .151. The drastic improvement is not just in the raw number of change-ups thrown, but the lack of success hitters have had when facing the pitch. Last season batters hit .246 against the change, but the new and improved pitch is seeing just a .194 BAA so far in 2014.
The change-up's uptick in velocity makes the pitch look even more like his 95-mph four-seam fastball and is educing some of the weakest contact in all of baseball. Not only is his line drive-against percentage down 5%, but all four of his pitches (he also mixes in a sinker) are getting fouled off more than last season. That tells me that hitters aren't able to recognize what he's throwing them until it's too late. Add to the fact that he's in and around the strike-zone more than ever, and he's quite a handful every time he's on the mound. His elite strikeout rate (27.9%) is only getting better, while keeping the free passes in check (5.3% as well. His 22.6% K-BB rate is the 4th best in the league. It's fun to watch a great pitcher become even better at his craft. It's even better when there's a likelihood that becoming better, in this case, will keep Chris Sale in the White Sox rotation and near the top of our fantasy game for many years to come.
Follow Ryan on Twitter, @RyNoonan.  You can also hear Ryan once a week on 'Caught Looking-The Fantasy Baseball Podcast' for TheFantasyReport.net.