2015 Fantasy Baseball: Deep League Digging, Week 14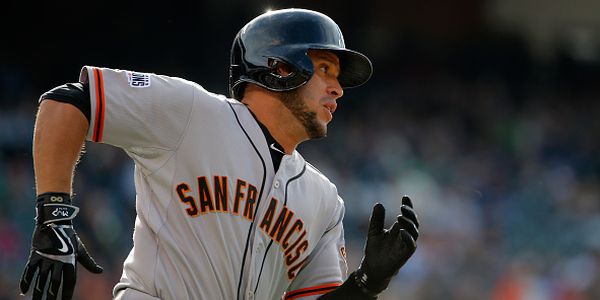 With the All-Star break just a week away, this is a great time to stock your team up using your league's waiver wire. In deeper leagues, it's important to add players who are on recent hot streaks and capitalize on them before they're scooped up.
As per usual, all suggested players are under 10 percent owned in ESPN fantasy baseball leagues.
(All player stats and ownership percentages are through Saturday's games)
Gregor Blanco, OF, San Francisco Giants (6.1% owned)
Injuries to Hunter Pence (arm) and Nori Aoki (leg) have allowed Blanco to step into the Giants' everyday lineup. Since June 23 (11 games), the 31-year-old veteran has hit an incredible .462 (18-39) with two doubles, a home run, nine RBI and five runs scored. The one thing he has been good for in the past — stolen bases — haven't shown up in the box score, but with him getting on base at this clip, they are bound to come. Pence isn't due back till after the All-Star break, and Aoki may be out till August, so unless the Giants trade for another outfielder, Blanco's spot in the lineup looks safe for at least the next 3-4 weeks.
Scooter Gennett, 2B, Milwaukee Brewers (4.4% owned)
Gennett has been on a tear since being called up from the minors on June 11. He missed three weeks while down on the farm, but has made up for lost time by hitting .301 with three home runs, five doubles, two triples, 12 RBI and five runs scored in the 22 games following his return. All those extra-base hits have given him a .546 slugging percentage in that span — quite the accomplishment for a 5'10" second baseman. The Brewers bats are smokin' hot right now (NL-best .362 wOBA in the past two weeks), and Gennett will continue to reap the benefits. Don't forget, the left-handed hitter had a .289 average with nine homers and 54 RBI in 2014, so this isn't new territory.
Jedd Gyorko, 2B, San Diego Padres (5.2% owned)
He's had a season to forget, but since his call up from Triple-A last week, the Gyork Store has been open for business. Jedd Gyorko hit 23 HR in a promising rookie season, which prompted the Padres to hand him a six-year, $35 million contract extension. But all he's done since pen hit paper was stink up Petco Park worse than an actual Petco grooming station. He was so bad that the Friars demoted him to the minor leagues in early Jiune. However, he was brought back up to the big club when Cory Spangenberg landed on the DL, and he's done a pretty decent job in that short time, hitting .368 (7-19) with a homer and two RBI. We know he has the power, but if he can keep making decent contact and reduce the strikeouts, he'll be a sneaky guy to own down the stretch; it's not like Spangenberg is an all-world player. Add Gyorko if your team needs some pop, but don't bid like crazy to do so.
Welington Castillo, C, Arizona Diamondbacks (3.0% owned)
Owners in deep leagues, and especially two-catcher leagues, need to take notice of the new backstop in Phoenix. Since being acquired from the Seattle, Castillo has done nothing but hit, smacking four home runs and driving in 12 in just 62 at-bats. Not bad considering he only had two long balls and seven RBI in 68 AB while with the Cubs and M's. He's not playing every day, but that's probably a good thing for his bat, as sitting out will keep him fresh. Chase Field is a hitters haven, and Castillo could easily surpass 15 total home runs. He hit 13 with the Cubbies last year.