2015 Fantasy Baseball: Deep League Streaming Options, Week 17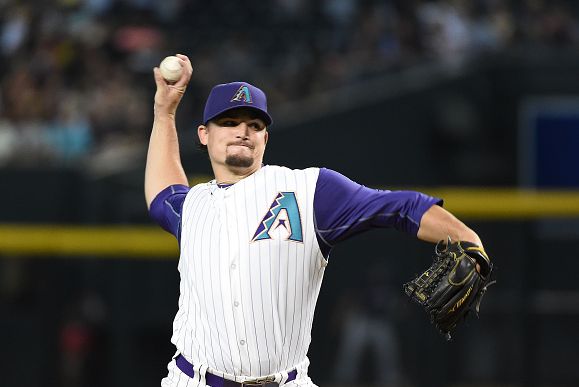 We're going STREAMING! We're going streaming through the quad and into the gymnasium!
Undressing and heading to the wire to pick up some pitchers sounds like a lot of fun, but we can't all be as carefree drunk and unabashed as Frank the Tank. Slouching in front of a computer while your dog nags you to take him for a walk is more realistic.
Deep leaguers would be wise to get a head start on the weekend by adding some starting pitchers with solid matchups. Whether you choose to do it in the nude is up to you, but be aware of your surroundings; no one at the office wants to see you bidding on baseball players while sitting buck naked at your desk.
Because this column is for deep leagues, all suggested players are under 10-percent owned in ESPN fantasy baseball leagues.
(All stats and ownership percentages through Tuesday's games)
Zack Godley, Diamondbacks (5.8% owned)
Since being called up to the majors, the 25-year-old righty has been, well, godly. He's posted a 1.50 ERA in three starts, yielding just three runs in 18 innings pitched. The D-Backs' hurler will look to continue his omnipotence with a matchup at home against the Cincinnati Reds, who have the majors fourth-worst wOBA (.293) on the road. The Snakes have been playing well lately, winning seven of their last 10, and their offense should give Godley some run support against Reds' rookie Keyvius Sampson, who sported a 5.08 ERA in seven Triple-A starts.
Arguably the Braves' top pitching prospect, "Folty" has struggled for much of the 2015 season. The former Astros' farmhand may end up being better suited for closer duties (which could be the topic of a whole other article), but for now, the Braves are using him in their rotation.
Folty got blasted in his last start, allowing six earned runs on nine hits — four of which were home runs — in a no decision to the Giants, but Saturday's matchup is a lot more approachable from a fantasy perspective. The Braves will host the Miami Marlins, who are swooning right now, losing 18 of 26 games since July 4. The Fish are clearly missing Giancarlo Stanton's bat, as they've managed a mere .250 wOBA over the past two weeks, good for 29th in baseball. In that span, they've scored a league-worst 35 runs and have hit a a paltry six homers. Only one team — the A's — have less long balls in that span.
Foltynewicz hasn't pitched all that well this year, but his matchup is ripe with upside, and in deeper leagues, he's worth a gamble.
The A's have a history of acquiring pitchers, developing them, and of course, eventually trading them. Chris Bassitt is one of those great acquisitions.
The 26-year-old was part of the off-season traded that landed the A's Marcus Semien in exchange for Jeff Samardzija. With Jesse Hahn sidelined and Scott Kazmir shipped off to Houston, Bassitt has offered much-needed support to the A's rotation. Over six starts, the right-hander has a 2.43 ERA and a 25/5 K/BB ratio, and he'll be coming off his best performance yet — a spectacular seven-inning shutout over the Orioles on Tuesday.
On Sunday, he'll oppose former A's pitcher Dan Straily. Once a highly regarded prospect in Oakland's system, Straily's control issues and propensity to give up the long ball got him traded to the Cubs, who then sent him to Houston in exchange for Dexter Fowler. He's fared no better in Houston, compiling a 5.87 ERA in three starts.
Taking advantage of Bassitt's hot streak, and coupling that with Straily's sheer awfulness, is a recipe for success this weekend.