2015 Fantasy Baseball: Real Offensive Value — Right Fielders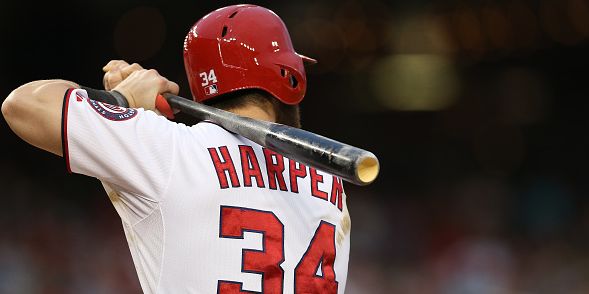 It shouldn't be any surprise that right field is the premier fantasy position according to real offensive value (ROV). After all, we've done other profiles of the positions in the past and right field usually comes out on top. Any good metric is going to reveal many of the same things as other commonly used metrics. After all, if I had a metric that said Jeff Francouer was the best outfielder that ever lived, I would be laughed out of the room and rightfully so.
I don't need fancy numbers to tell me that Bryce Harper and Giancarlo Stanton are having pretty good seasons. You don't come to this site to read about how Harper and Stanton are pretty good at baseball. You want to see if you can get some good information on other players that will help you win your league. Hopefully, ROV can give you a nugget or two. If you've already been reading the series, I sincerely hope it helped you make one positive roster adjustment. If not, I suppose the pressure is on.
Real offensive value marries batting average and the combination of isolated power and isolated patience (ISO2). The league average has been .227 for the metric this season. I've been dividing each position into elite starters, fringe starters, and look away. Normally, the look away category is dedicated to players with a ROV under .200, but we can't do that here. There are no qualifying right fielders with an ROV under .200. That's remarkable. So, the look away crowd will be players under the league average.
Elite Starters
The numbers Harper is putting up are just stupid. He is by far the MVP of the National League, and that is considering the fact that Stanton was on pace to hit 60 bombs and drive in 140+ runs before his injury. I think everyone was reasonably sure that Harper would become a stud, but no one was confident that it would come this soon after his struggles the past few seasons. As for Stanton, he would have been the NL MVP last year if he hadn't been hit by the pitch in early September last season. Another year and another month to six weeks missed for him.
Like I said earlier, they don't pay me the big bucks to wax poetic about great baseball players. The first table is full of fantasy studs, but I'm betting that most of your leagues watched J.D. Martinez go by a few rounds too many. When he got off to a slow start batting average wise, I'm sure a few people were more than willing to let him go. It just goes to show the power of patience. He is threatening to pass up Nelson Cruz in most of the categories outside of batting average.
Jose Bautista was obviously a first or second round selection universally, but he might be one of the more underappreciated superstars in the game. He is almost as good as Stanton according to these numbers. To be perfectly fair, he only plays up in six category leagues, but if your league goes with an on-base element (either OBP or walks), then you should not overlook him ever again.
Fringe Starters
Thumbing through a list like this produces two questions. First, if I didn't get one of the top seven guys, which of these guys is good enough to start in a 12-player league? Ryan Braun is the most obvious answer. He got off to a slow start but has been producing like a 30 home run, 100 RBI guy since May. Josh Reddick has been that kind of guy this year as well. Beyond that, you're going to have to take some chances and overlook some flaws.
George Springer has the speed to be a four category producer (five in six category leagues). His big problem is that he has been prone to prolonged slumps. If this article had been written a week ago, he would have been the in the first group. Those kinds of violent swings are not the mark of an elite player. However, if you're looking in the aggregate he might be a good bet as well in six category leagues.
Carlos Beltran and Carlos Gonzalez were pretty crappy for the first six weeks of the season, but they have been good for the past month. Do you want to roll the dice that they will continue to produce like that over the last three plus months of the season? Torii Hunter and Steve Souza are both productive players with major flaws. If you put them together, you might get a top flight player. Souza has a low batting average, but in six category leagues you might be able to overlook that in a pinch.
Look Away
Right field is the only position where there aren't any players with real offensive values under .200. Kemp was close, but in the last week he has begun to catch on fire. This certainly is not your average look away crowd. Polanco is among the league leaders in the National League in steals, and if Kemp catches fire like he did in the second half last season, he will wind up being solidly above average.
This doesn't mention the two guys on top that are clearly close to being average big league producers according to ROV. In five category leagues, their batting averages help them play up to average. I wouldn't necessarily want them in my everyday lineup, but they would be nice bench players because of their versatility.