2015 Fantasy Baseball: Trade Deadline Profile — Milwaukee Brewers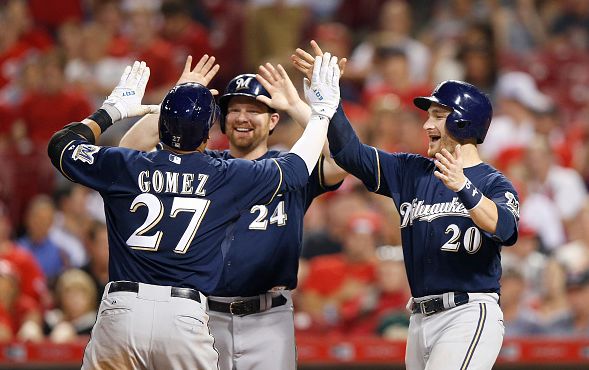 Now that the all-star game is behind us, the sport changes its focus immediately on the non-waiver trade deadline on July 31st. I could choose to focus on individual players or positions, but I'm choosing to look at likely sellers. For the fantasy baseball player, trades can make a significant impact this time of year. Sellers are sellers because their teams suck. Teams suck for a reason and that has a way of affecting even its better players in a number of ways.
Pitchers suffer from poorer fielding behind them and they don't get the wins they deserve when they pitch well. Relievers obviously get fewer opportunities for saves and holds. Hitters obviously get fewer runs and RBI opportunities, but sometimes teams that play from behind also are a little more cautious when it comes to stealing bases. Even more than the hard facts comes the emotional bump that comes from joining a contender.
The Brewers may not be the most obvious sellers on the landscape, but they have a 38-52 record at the break and stand in last place in the National League Central. Only the Philadelphia Phillies have a worse record than the Brewers, but with their regime change it is questionable as to whether they will deal anyone (although we will profile them later). If any team will move multiple players it is like the Brewers.
Hitters
C Jonathan Lucroy (.241, 2 HR, 22 Runs, 17 RBI, 19 BB, 0 SB)
Lucroy has a decent chance of being dealt as he is signed through 2017. If Doug Melvin wants to clear the deck, then this is a good spot. The problem is that he is signed to a relatively minimal amount given his more recent production.
1B Adam Lind (.292, 15 HR, 39 Runs, 52 RBI, 40 BB, 0 SB)
Lind is a much more likely trade target than Lucroy. He is signed through 2016, but he has a buyout clause so teams can get out of the 2016 year. It's a perfect contract for teams to take on. If he continues to be productive then you keep him around for 2016. If he struggles, then you can let him go without being on the hook for 2016.
3B Aramis Ramirez (.234, 10 HR, 21 Runs, 39 RBI, 14 BB, 1 SB)
Teams like the Mets have been rumored to have some interest in Ramirez, but that interest has been tepid. You combine the fact that Ramirez says he's retiring after the season with the fact that the offensive numbers aren't exactly up to snuff. However, he has been better recently, and some team might be willing to take a shot by trading a C level prospect in exchange for a couple of months of Ramirez.
SS Jean Segura (.273, 3 HR, 31 Runs, 24 RBI, 9 BB, 12 SB)
I bring up Segura only because he has been mentioned occasionally on MLBTR as a possible trade piece for the Brewers. Segura might end up being a sweetner the Brewers throw in to get a team to take a more expensive player off their hands. He is still pre-arbitration, so he's cheap. The problem is that he has seemingly regressed offensively. His sub-.300 OBP will likely keep him in a Brewers uniform.
LF/RF Ryan Braun (.275, 16 HR, 51 Runs, 56 RBI, 30 BB, 12 SB)
Braun's contract escalates next year to the five year, 105 million agreement he signed before he was busted for PEDs. The Brewers would like to get out of paying him superstar money if possible. This season's numbers are closer to the numbers he's produced in his non-MVP seasons. If Segura were producing he would be the perfect sweetener to get more out of a would be trade partner.
CF Carlos Gomez (.273, 8 HR, 38 Runs, 41 RBI, 13 BB, 7 SB)
Gomez missed about a month's worth of action or his numbers would be around career norms. Like many of the Brewers, he's signed through next season. You can often get more for guys when you deal them before their walk year. He is probably their most marketable asset, so they can hold out for a lot on him.
Pitchers
SP Kyle Lohse (5-10, 108.0 INN, 6.17 ERA, 1.398 WHIP, 80 K)
Lohse is a free agent after the season, so he is a perfect buy low candidate (similar to Aramis Ramirez). He has a 4.84 FIP, so his numbers are a bit inflated. He is a perfect example of the kind of player that would likely see a bump in production with another team. He isn't capable of being a playoff starter anymore, but if a team is looking for an end of the rotation guy they could do a lot worse.
SP Matt Garza (4-10, 99.0 INN, 5.55 ERA, 1.545 WHIP, 68 K)
Garza is currently on the shelf with right shoulder tendinits. It is anyone's best guess as to how long he will be out. Tendinits is one of those things that can linger for a long time. He will have to likely have at least one healthy start to be dealt. For that reason, he is more likely an post July 31st trade candidate. He's signed through 2017, so a team would be getting a more permanent solution. His 4.96 FIP is somewhat encouraging, but again we're looking at an end of the rotation arm.
CL Francisco Rodriguez (0-2, 19 SV, 1.41 ERA, 0.875 WHIP, 37 K)
KRod is signed through next season. He is a perfect bullpen trade candidate. He is having a very nice season, but save opportunities are hard to come by in Milwaukee. What always makes trading closers difficult is that contending teams often don't need closers. They are looking for bullpen depth. If your league uses holds then he might be valuable in another way, but in a standard 5×5 league it's probably better if he stays put.
RP Jonathan Broxton (1-2, 0 SV, 6.61 ERA, 1.500, 34 K)
Broxton has ten holds despite his horrible ERA and some pretty good peripheral numbers. His 3.81 FIP and 3.01 xFIP are the numbers of a pretty good 7th or 8th inning reliever. He has closing experience and a mutual option for 2016. He is a perfect buy low option for a team that needs bullpen depth. Broxton has served in a variety of roles, so he would not come in and rock the boat by demanding to serve in a certain role.