2015 Fantasy Baseball Week 12 Waiver Wire: 3 to Catch, 3 to Cut, 3 to Keep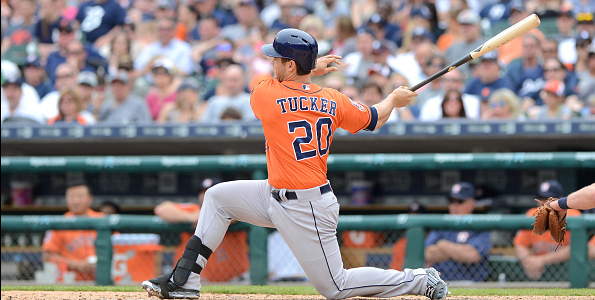 In the Week 12 edition of fantasy baseball 3×3, we're admiring Preston Tucker, doubting Robbie Ray, and adjusting to the new Cameron Maybin.
There are plenty of waiver wire columns out there that provide an exhaustive list of the most added players in fantasy leagues. This isn't one of them. Here, we'll run down a few of the most interesting players for fantasy owners, with perspective on who deserves your attention, who deserves your patience, and who deserves to go straight to bed without dessert.
Any questions, thoughts? Hit me in the comments or on Twitter.
3 TO CATCH
Players to be picked up; available in most standard leagues
Preston Tucker | Houston Astros | OF
Preston Tucker can hit a fastball. That's the first box to check for a player on the path to becoming a major league power hitter, and so far, Tucker has marked it in permanent ink. Since pounding his way to a promotion to Houston, he's hammered hard stuff for a .509 slugging percentage and .228 ISO, collecting nine extra base hits in 57 at bats that have ended with a heater. Even on 0-2, he's ready to mash when he sees a heater.
He's still feeling out offspeed pitches, but I'm really encouraged by the fact that half of his four homers have come against soft stuff. And he's not just punishing mistakes, either.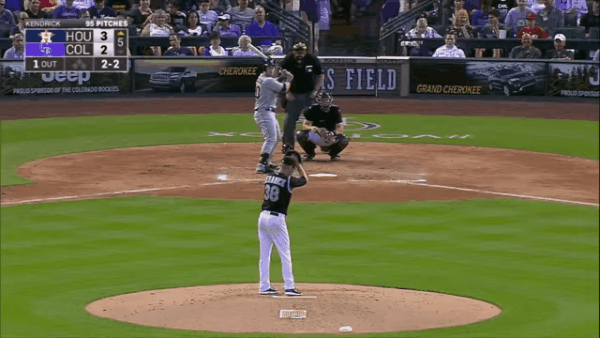 That's a pitcher's pitch that Tucker deposits over the centerfield wall. He's not lucky to make contact, he's looking for something else; he reads the speed and break in that changeup and goes with the pitch, with gusto.
Tucker isn't a superstar, but he is a legitimately good power hitter who, assuming he maintains regular playing time, has a great shot to pop double-digit homers with a .250 average over the rest of the season. That player should be owned in more than 3% of Yahoo! leagues.
To pick him up, I'd drop: Austin Jackson, Nick Markakis, Marlon Byrd
Rougned Odor's full season stats look horrifying right now and will probably at least look disappointing at the end of 2015, regardless of what he accomplishes over the balance of the summer. Hitting .144/.252/.233 for the first month-plus of the season will do that. But Odor seems to have set aside his earlier struggles and I think it's time that we all do the same. In fact, we might all want to collectively thank his earlier struggles for acting as the smokescreen that's enabling smart owners to pounce on him now.
Ok, maybe that's a step too far.
But undeniably, Odor has wrecked shop since his demotion. He hit .352/.426/.639 in Triple-A and has already smacked six hits in 16 at bats since his return. Round Rock is a notoriously hitter-friendly environment, but that dominant line over 124 plate appearances, plus the fact that he walked more often than he struck out, really makes me think that he's turned things around.
And the projection systems agree. Along with Brian Dozier, Jason Kipnis, Ian Kinsler, and Kolten Wong, Odor is one of only five second basemen projected to hit at least seven homers and steal at least seven bases over the rest of the season. FanGraphs Depth Charts has him as Devon Travis' equal the rest of the way.
He's gold in an AL-only formats in which he was dropped and is a terrific find for mixed league owners in need of help in the middle infield.
To pick him up, I'd drop: Chase Utley, Addison Russell, Jace Peterson
Matt Moore | Tampa Bay Rays | SP
The younger kids among you may not remember him, but Matt Moore was pretty good at baseball back in the day. Way back in 2013, the Rays' ace whiffed nearly a batter per inning on his way to a shimmering 3.29 ERA.
He snapped his UCL just two starts into his 2014 season and has been on the comeback trail ever since. Moore made his fourth rehab start for the Durham Bulls on Sunday and posted an excellent line, striking out seven against one walk in seven innings.
Moore is worth owning in deepish mixed leagues, but he's been out of the game so long that he's not the type of guy that many owners will stash. In Yahoo!, he's owned in only 19% of leagues. By comparison, Alex Cobb and Drew Smyly are both owned in about a third of Yahoo! leauges. Jose Fernandez is owned in 84% of Yahoo! leagues!
I'm certainly not going to say that Moore is anywhere near Fernandez' level, but the same kind of logic applies. He's going to be an asset in the second half of the season and you're running out of time to get him essentially for free. Though a return date hasn't been announced yet, Moore is likely within a few weeks of returning to the big club, and he's a player that can help a whole lot of fantasy teams. If you've got an empty DL slot, Moore is a no-brainer add.
To pick him up, I'd drop: Rick Porcello, Kyle Lohse, Matt Garza
3 TO CUT
Players to be traded or dropped, depending on the depth of your league
Robbie Ray | Arizona Diamondbacks | SP
Robbie Ray looks like he should be a promising major league starter. He stands 6'2" on the mound, throws left-handed, and slings some intimidating gas. He's maintained a sparkling 1.78 ERA through his five starts this season, but he despite how appealing this package might look, he hasn't proven that he has all of the raw materials necessary to maintain anything close to that level of success.
Let's start on a positive note; his fastball is actually a pretty good pitch. He's throwing it harder this season, touching 95 with regularity, which is really impressive from a young lefty. The pitch gets excellent horizontal movement and generates a decent amount of whiffs, yet opposing hitters don't seem to struggle much to square it up, slugging .445 for Ray's career, per Brooks Baseball.
Still, it's a decent enough pitch to build on. Unfortunately, Ray doesn't appear to have constructed much more than a teetering tower of Lincoln Logs on top of it.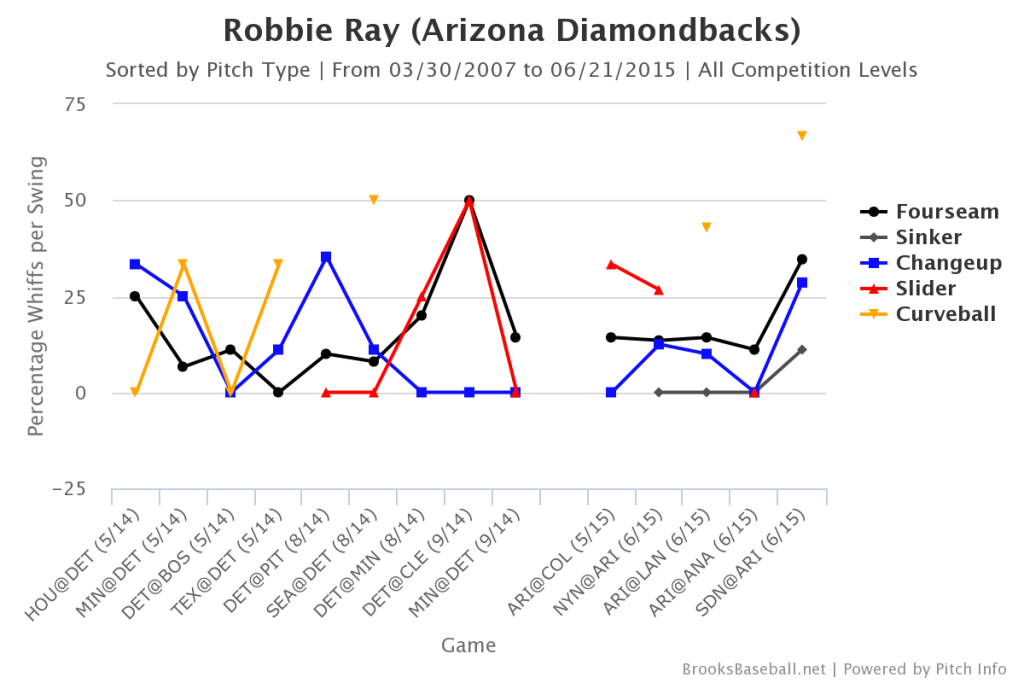 There's no consistent secondary pitch that he can count on to miss bats every time he takes the mound. Ray's changeup is good once every four or five starts and his breaking ball literally disappears and reappears between outings. Judging by their similar movement profiles, his slider and curve are probably just different classifications of what's supposed to be the same pitch, but that only further underscores the inconsistency of Ray's breaking stuff.
It's pretty clear that unless something gets appreciably better, he's not going to start generating significantly more whiffs; his eye-popping minor league strikeout numbers are out of reach.
Instead, he's succeeded as a Diamondback not by piling up strikeouts, but by limiting home runs. While we don't yet have a large sample of data on his power-limiting skills as a big leaguer, I don't see much reason to expect that this trend will continue. He allows a great deal of fly balls and he pitches in Chase Field, which plays as one of the friendlier parks in the league for power, especially right-handed power. Ray's changeup helps a bit to diffuse righty pop, but he's already surrendered four homers to righties this season, all of which have (luckily for Ray) come with the bases empty.
Ray is going to start getting punished for his inability to miss bats. His BABIP and strand rate are going to spike and the home runs he's bound to allow are also bound to be less well-timed (from his perspective). Try to deal him now.
I'd trade/drop him for: Rubby de la Rosa, Adam Warren, Trevor May
The Toronto Blue Jays are pounding the league into submission and Chris Colabello has ridden that unstoppable force to a surprising season of fantasy relevance, slashing .344/.385/.497 with five homers and a pair of steals. He's settled into an everyday role over the past few weeks, often cozying up behind the terrifying trio of Josh Donaldson, Jose Bautista, and Edwin Encarnacion in the fifth slot in Toronto's the batting order. It's an enviable position, to be sure, but not likely one that Colabello will occupy with such consistency for much longer.
Over the last month, he's been among the league leaders in BABIP, which is rarely a good sign for the longevity of an unproven hitter's hot streak. It's not completely unearned in this case; Colabello is slicing line drives at a terrifying rate, but still, expecting anything close to a .447 BABIP for the rest of this season is folly. In his two earlier major league stints with the Twins, he hadn't managed a BABIP better than .308. That regression will take a hefty bite out of his slash line.
It'll likely come at the worst possible time, as Michael Saunders isn't far off from giving Colabello some competition for his starting gig in the outfield. And without that BABIP-boosted offensive production, Colabello won't be able to make much of an argument for playing time. Essentially, he has to keep hitting like this in order to balance out the negative effects of his "contributions" on defense.
Despite only logging 308 innings in the outfield this season, Colabello has already cost the Jays 11 runs with his defense, per FanGraphs. By Inside Edge's estimation, he hasn't successfully made a single play classified as tougher than "routine". Saunders, on the other hand, profiles as a solid defender in an outfield corner, which is all the Jays need with Kevin Pillar doing his best Jim Edmonds impression in center.
Saunders may seem like the worse offensive option, but the Jays are currently such an imbalanced team that I expect will be inclined John Gibbons to prioritize helping his floundering pitching staff over possibly goosing his already outstanding offense. Outfield defense will take precedence over outfield offense. Once he's back, I think Saunders plays most days. Colabello will squeeze out the occasional start in left or at first base, but with Justin Smoak's bat perking up there, I don't expect that Colabello will reach 400 plate appearances on the season. With regression coming anyway, that makes him wholly expendable in mixed leagues.
I'd trade/drop him for: Adam LaRoche, Billy Butler, Logan Forsythe
Yovani Gallardo is at his peak value. Last week, he diced up the Dodgers, who are arguably the best team in baseball, then followed it up with another excellent outing against the White Sox, who are… also a professional baseball team. I think.
Still, he's peaking. Which is why you should look to trade him immediately.
It's not that Gallardo is a bad pitcher, far from it. I just can't imagine  a scenario in which he's much better than he's been in the early part of this season.
From the right angle, you can look at his career in aggregate and anticipate that he's regaining the best parts of what made him valuable back in his Milwaukee days, but that's just not the case. No matter how well he's pitching now, those strikeouts are not coming back.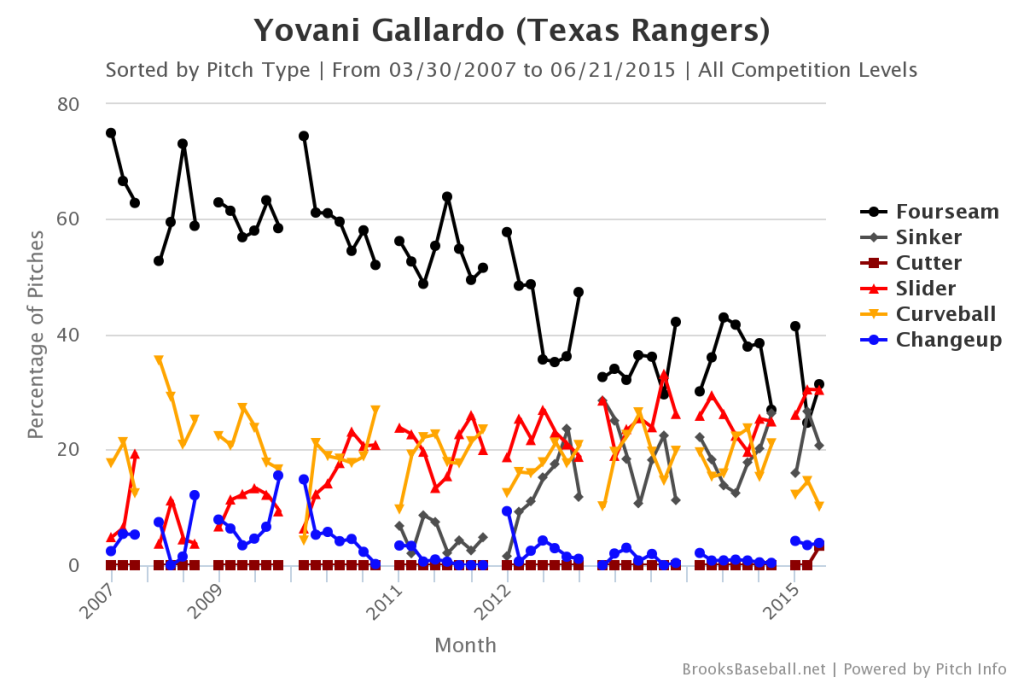 He's significantly dialed back the use of his fourseamer in recent seasons, mixing in more sinkers to generate more ground balls. That's been a boon to his ERA and WHIP; having confidence in the sinker has allowed Gallardo to challenge hitters in the strike zone more often, but it's slashed through his strikeout rate. It's the right move for a pitcher moving toward the twilight of his career, but it makes Gallardo a different sort of fantasy asset.
He's no longer an upside play. He's a guy you plug into the back of an AL-only rotation thinking "this guy can't hurt me too badly, right?"
He looks more like the upside play right now, but that'll change soon. His BABIP, which has been remarkably consistent, staying within an eight-point range over the last four seasons, has sunk 20 points below his career average. His home run rate, which has been higher than 0.90 HR/9 in five of the six full seasons he's pitched, sits well below his career average as well. Regression and the Texas heat will form a powerful alliance to bring that back in line.
The projection systems are right more often than not, and both Steamer and ZiPS have Gallardo pegged for a 4.00-plus ERA and 1.30-plus WHIP the rest of the way. Now is the perfect time to aggressively pursue a deal.
I'd trade/drop him for: Clay Buchholz, C.J. Wilson, Jesse Chavez
3 TO KEEP
Players to hold or trade for; owned in most standard leagues
Cameron Maybin | Atlanta Braves | OF
Anytime Cameron Maybin gets traded, returns from injury, or otherwise momentarily re-enters the national baseball discussion, the refrain is always the same.
"Well, he's still relatively young, and damn, is he talented."
Injuries and inconsistency have conspired to scuttle what was supposed to be a superstar career. He's flashed his potential now and again, but this looks different. In his first season as an Atlanta Brave, Maybin has been remarkably steady. His plate discipline has been superb, with a walk rate better than 10% and a strikeout rate well below 20%. It's a fantastic sign for a player whose fantasy value largely rides on his speed; the more times he gets on base, the more times he's able to unleash his exceptionally efficient wheels on the basepaths.
But what's really unlocked his potential is the fact that he's finally adjusted his approach at the plate to best suit his skill set. What's really to blame for his career-best .366 OBP is the fact that he's finally taking what opposing pitchers are willing to give him.
Maybin, like most hitters in today's game, sees a steady diet of pitches down and away.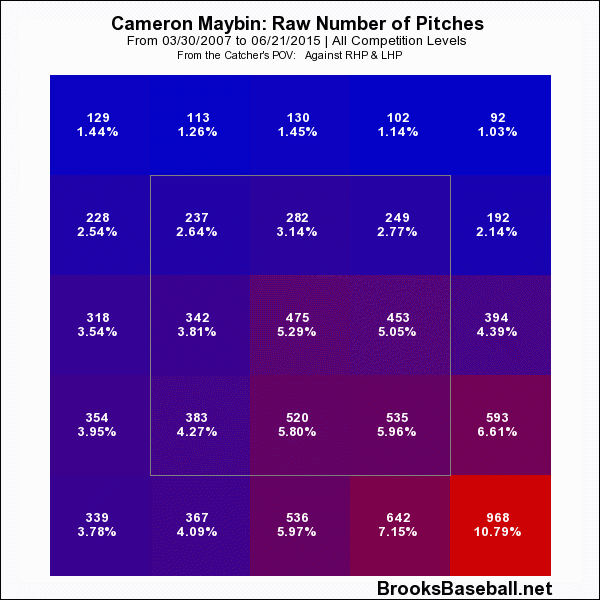 Earlier in his career, he wanted to unleash his power on everything. He tried to yank those pitches to the left side. He didn't have much success.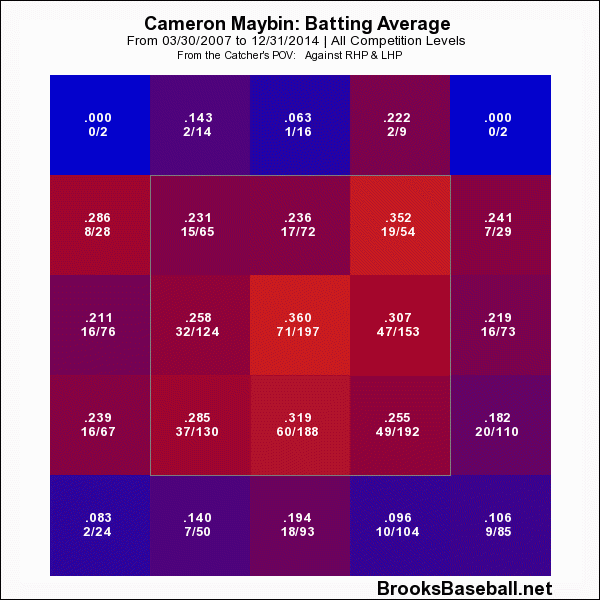 He struggled against pitches in the far bottom corner of the zone and was absolutely helpless against anything that dove further down and away. Fastballs on the outer half often became easy groundballs to shortstop. But this season, he's changed his approach, slapping those hard pitches to right field instead of trying to pull them. And it's been quite successful.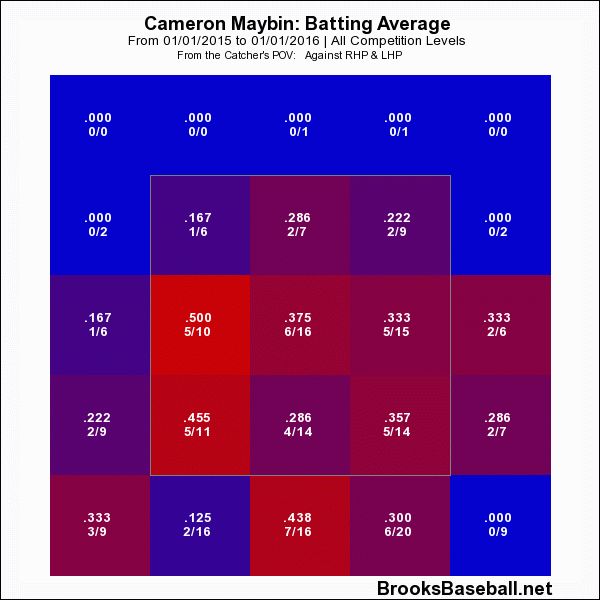 Maybin's hitting over a third of batted balls to the opposite field, which is by far a career high. Comparing this season's spray chart to what he'd accomplished earlier in his career, that cluster of black dots in short right field really sticks out. He hit a career high .263 back in 2011, but didn't show nearly as efficient an approach against the outside heat as he's shown this season. It looks like some of those grounders to short are turing into base hits to right.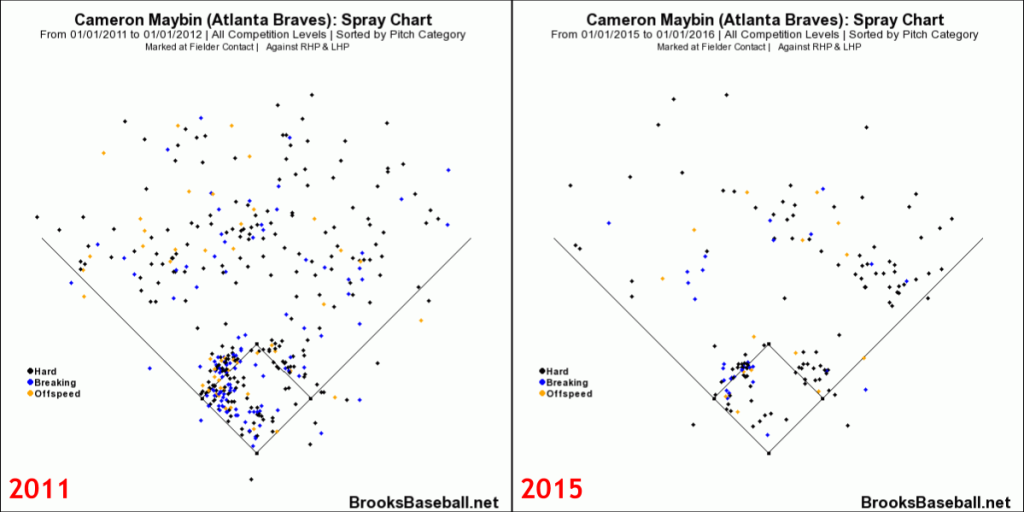 Unsurprisingly, most of those right field dots on this season's spray chart are hits.
We know Maybin is going to run, and with this new approach, we have reason to believe that he's going to get on base too. He's a unique fantasy asset, a player who runs like crazy, hits for a decent average, and has a little bit of pop. He ought to be owned just about everywhere.
I wouldn't trade/drop him for: Gregory Polanco, Torii Hunter, Nori Aoki
Mark Trumbo | Seattle Mariners | 1B/OF
Things have been rough in Mark Trumbo's first couple of weeks as a Seattle Mariner. He finally broke the home run seal on Saturday, letting out his frustrations on a Dallas Keuchel slider that didn't bite quite enough.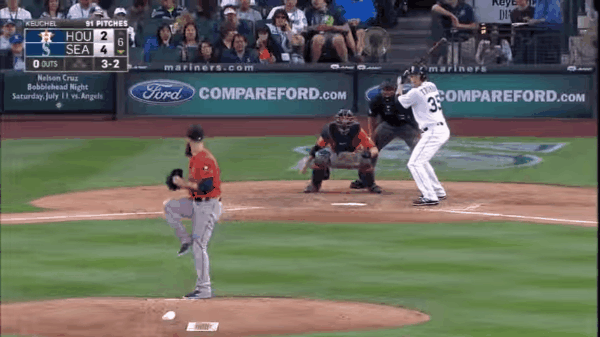 That looks more like the Mark Trumbo we've gotten used to.
And even as he struggled to a sub-.250 slugging percentage as a Mariner, he's been something close to the Mark Trumbo we're used to. He's just been a little bit worse at the stuff that Mark Trumbo isn't any good at. He's striking out a bit too much, not walking enough, and hacking at too many pitches outside the strike zone. None of this is good, obviously, but I do feel a better about Trumbo eventually turning things around when I know that there's not some new bugaboo that's haunting him in Seattle. It's just Mark Trumbo dealing with regular Mark Trumbo stuff.
The adjustment period has already strung out longer than any of his owners would like it to, but I do think he'll bounce back. His spot in the lineup is almost assuredly secure. The Mariners are throwing everything they can at an attempt to contend this season; I'd be floored if they chose to bench their newly acquired slugger.
I wouldn't trade/drop him for: Kendrys Morales, Shin-Soo Choo, Jay Bruce
A few rough starts have spiked his ERA to 4.67. His strikeouts are down sharply, as are his groundballs. Even going back to his mid-season trade last year, he hasn't been quite as good as an American Leaguer.
All of this is true, but Jeff Samardzija is going to be fine. His velocity is fine. His movement is fine. Well, it's close to fine. His splitter hasn't been quite as sharp, but he's actually getting a bit more vertical drop on his slider. Point is, there's nothing in his arsenal waving a bright red flag. He's actually getting more swings at pitches outside the strike zone, hitters are just making a bit more contact with those pitches than they have in the past.
That said, his approach has changed a bit, which initially had me concerned.
According to Brooks Baseball, he's using his cutter far more often as an opening salvo against lefties and as a comeback pitch when he's behind in the count against righties. He's still finishing lefties off with his splitter, but has mostly kept that pitch in his pocket in similar situations against right-handed batters. Given that, and the fact that his cutter hasn't been all that effective overall this season, I expected to see his performance dip against righties.
For his career, Samardzija has been excellent against righties and just a little bit worse against lefties. This season, Samardzija has been excellent against righties and just a little bit worse against lefties.
The change in pitch mix has certainly contributed in some way to his results this season, but where it's felt most, in his approach against right-handed batters, his output has been pretty much the same.
A couple of weeks ago, White Sox pitching coach/guru Don Cooper spoke about a solution to Samardzija's struggles:
"We have to keep it simple for him and continue try and make pitches. That is what we are working on."
It sounds oversimplified, but that's all Samardzija really has to do. He's got the stuff, he just has to make pitches. It's not that surprising to see him hitting a bit of a speed bump as he adjusts to a new team and a new pitching coach; I completely trust Cooper and Samardzija to figure this thing out.
I wouldn't trade/drop him for: Julio Teheran, Alex Wood, Alfredo Simon