2015 Fantasy Baseball: Week 17 Two-Start Pitchers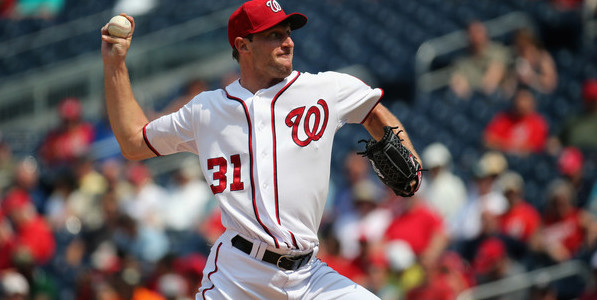 A fantasy owner's best friend is the waiver wire—where finding value can make the difference between a great week and a very disappointing week. Most pitchers see the mound once a week, but if you want to maximize the number of starts per week, it's important to look for pitchers pitching twice and exploit favorable matchups if they exist. With that, let's take a look at some pitchers you should be starting this week, and some you should just leave on your bench.
Elite
Max Scherzer | Washington Nationals
 Opponents: Patrick Corbin (ARI), Eddie Butler (COL)
Do I really need to explain why everyone needs to start Scherzer this week? Exactly. This is the easiest decision anyone will ever have to make in life.
Garrett Richards | Los Angeles Angles
 Opponents: Corey Kluber (CLE), Chris Tillman (BAL)

Don't discourage yourself from using Richards this week because he's facing Kluber. The Indians and Orioles finished in the bottom half of the league in runs scored in July and Richards has shown the ability to go deep into games. He's coming off a rough outing against the Astros, but I expect him to rebound in this start. Roll him out there and expect two very good starts.
Felix Hernandez | Seattle Mariners
 Opponents: Eddie Butler (COL), Colby Lewis (TEX)
King Felix is coming off a rough start against Arizona and has to travel to Coors Field to take on the Rockies. Fantasy owners may be tempted to bench Hernandez because of the Coors start, but I'm not one of those people. Outside of this last start, the righty had only given up eight runs in seven starts. The Rockies finished with the best team batting average in July, but they aren't the same team anymore after trading away Troy Tulowitzki and Carlos Gonzalez coming back down to earth. His second start is at home against the Ranger, a matchup that every fantasy owner won't want to pass up on. With fantasy baseball slowly coming to an end, now's the time to roll with the 29-year-old and let him carry your team to the next round.
Other must start options: Jake Arrieta, Scott Kazmir, Tyson Ross, Jon Lester.
 Mediocre
 Corey Kluber | Cleveland Indians
 Opponents: Garrett Richards (LAA), Phil Hughes (MIN)
Don't get me wrong; Kluber is an excellent pitcher, but I don't expect him to be an elite option this week. For starters, the Angels and Twins aren't big strike out teams, so he won't rack up as many punch-outs as he usually does. The Angels finished eighth last month in team batting average (.274) and second in runs scored (132). The Twins haven't been as dominant as the Angels, but they did managed to hit 25 homeruns and drive in over 100 runs as a team. Kluber may surprise everyone and have an excellent week, but I wouldn't bet my life savings on it.
David Price | Toronto Blue Jays
 Opponents: Ervin Santana (MIN), Ivan Nova (NYY)
Price will make his first two starts as a Blue Jay Monday and Saturday, but I'm not sold that he will blow everyone out of the water. The Twins have had success against lefties this season and the Yankees have been the hottest team since the all-star break, hitting .290 as a team and driving in 103 runs. The Jays can score a bunch of runs, so it's likely that Price will pick up at least one win this week, but chasing wins isn't how fantasy baseball works. For owners who have the lefty as their ace, roll him out there and hope the Yankees don't hit him too hard.
Francisco Liriano | Pittsburgh Pirates
 Opponents: Jon Lester (CHC), Brett Anderson (LAD)
Liriano has been extremely solid over the last month. The 31-year-old hasn't lost since June 20th and hasn't given up more than two runs in his last six starts. The lefty gets the Cubs on Monday, who lead the league in strikeouts, and the Dodgers on Sunday. Liriano should be able to rack up double-digit strikeouts against the Cubs and pitch a quality start against the Dodgers.
Other options to consider: Jake Odorizzi, Bartolo Colon, John Lackey, Andrew Cashner, Jimmy Nelson, Lance McCullers, Masahiro Tanaka.
Bench
Rick Porcello | Boston Red Sox
 Opponents: Masahiro Tanaka (NYY), Justin Verlander (DET)
If Rick Porcello is still on your fantasy team, you should probably give up. The Red Sox starter has been garbage all season and should continue to be garbage this week. Porcello gets to face the Yankees and Tigers; two teams that can absolutely destroy the baseball. His ERA currently sits at 5.81 and his WHIP at 1.44. With numbers like that, the 26-year-old is just not someone I can get behind this week or the rest of the season.
 Justin Verlander | Detroit Tigers
 Opponents: Danny Duffy (KC), Rick Porcello (BOS)
Verlander has been stellar in his last two starts, pitching eight innings and giving up one run in both starts. It may seem like the old Verlander is back, but I'm not buying his recent success. The Royals are a very good hitting team that doesn't strikeout much and the Red Sox can still hit the baseball. I expect the former Cy Young winner to get hit hard this week and go back to be the terrible pitcher he was most of the season. Leave him on the waiver wire and look for other options.
Other players to bench: Phil Hughes, Colby Lewis, Chris Tillman, Anthony DeSclafani, Jerome Williams, Tom Koehler, Eddie Butler, Marco Estrada, Jake Peavy, Patrick Corbin.
Stats and references provided by www.MLB.com and www.ESPN.com